Planning that perfect desert getaway in Jaisalmer
Think of the desert and the 1st place in India that pops up is none other than Jaisalmer. This Golden City of Rajasthan is also home to exuberant forts and glorious palaces. But it is the charm of the bounteous golden sand dunes and desert safaris that attract majority of visitors into this beautiful city.  
Sush and I finally got to fulfil our long pending dream of desert camping in Jaisalmer and we are still drooling over all that we experienced. We watched the most seductive sunset over the golden sand dunes, slept under a sky full of stars, luxuriated in the most graceful folk performances and had a thrilling dune bashing escapade. And behind all this was hours of research and browsing that helped us plan this trip in the best possible way. So here is all you need to know for planning that perfect desert getaway in Jaisalmer.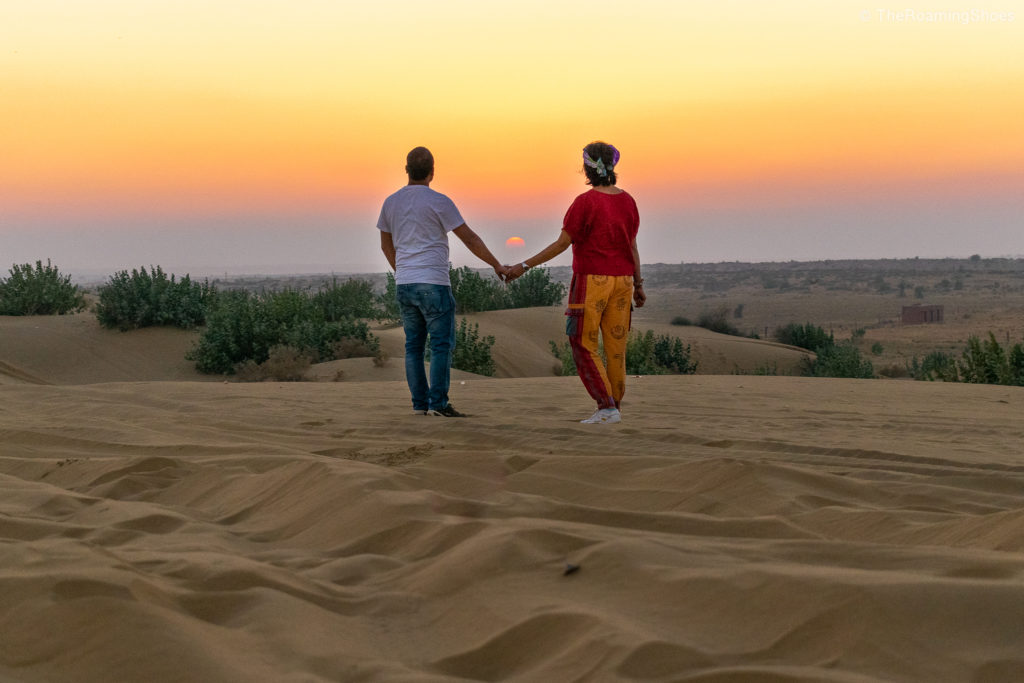 Best time to Visit Jaisalmer
Oct – Dec (excluding the Christmas Holidays): This is the best time to plan your desert trip. The days are not too harsh and nights are moderately cold. The crowd would not have arrived by this time, so it is much more peaceful and exclusive.
Jan-Feb: The winter months are also a good time to visit. But expect more crowd and very cold mornings and nights.
Our time of Visit: Mid Jan
Avoid summer months as the days are too hot.
Deciding on the location
Let's address the 1st question about desert camping – WHERE.
There are 2 popular villages in the Thar Desert that provide overnight camping and desert safaris – Khuri and Sam. Where Khuri provides a more rustic experience with houses made of mud and straws for accommodation, Sam is popular among visitors for its numerous campsites and their proximity to the sand dunes. So it is up to you to choose any of these 2 suiting your taste. We chose Sam for our stay.
How to reach Sam Sand Dunes
Sam Sand dunes are around 40 kilometres away from Jaisalmer main town. The most convenient way to reach the campsite from Jaisalmer is to book a cab.
Approximate cost for taxi: 1000-1500 INR depending on the season.
Choosing the right accommodation/package
We all know how important it is to choose the right accommodation on a trip. Especially in the desert when you are going to spend most of the time in your tent/room, it is crucial to find a place where you feel all comfy and easy. If you decide on staying in Sam, then there is a plethora of stay options to choose from. The area around Sam is wreathed in a bevy of camps from different providers. These camps provides accommodation for different budget ranges, majority of these being tents and few cottages. Some of these accommodations may claim themselves to be luxurious properties, but the definition of luxury in these campsites is quite different than what we normally see in the city. Luxury here means clean, spacious and with facilities like room heater or AC.
Accommodation in the desert camps are more like complete packages including food, sand dunes visit, camel safari and cultural program in the evening. So before making a reservation, read the reviews well to make sure that their services are up to the mark.
We chose Sultan Resorts for our stay. The resort provides tented accommodation at reasonable price. We went for the premium tents which are a bit farther from the reception area and away from the noise of the highway. The tent was spacious and came equipped with a room heater. Hot water was provided in the morning and evening for limited time, but I guess that is the case in every stay in the desert. Food was okay and definitely needs improvement. But the ultimate reason why we recommend this camp is for its exceptionally nice and service-oriented staff. They took care of every small thing we asked and made sure we had a comfortable stay. The desert safari as well as the cultural program included in our package were executed flawlessly and each one of the people involved were really sweet and helpful.
Price paid for premium tents: 3500 INR
If you are travelling in the high season (Dec-Feb), book your tents beforehand to avoid any last minute surprises.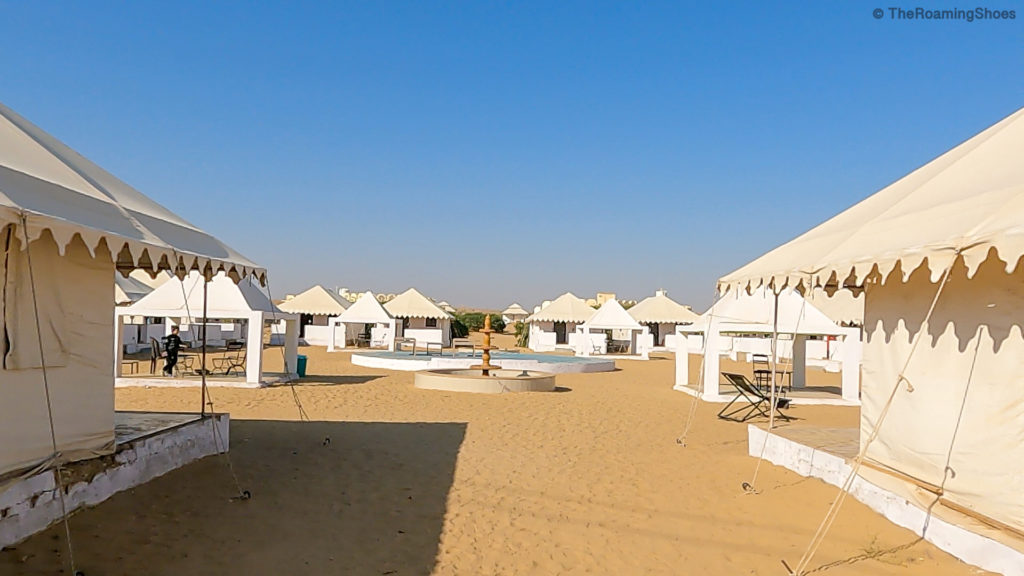 What to expect from desert camping in Jaisalmer
Sunset that feels like magic
Desert sunsets are nothing short of magical. As the evening sun paints everything around in a dreamy orange hue, it feels as if the desert has become one with the sky. Then it gradually turns into a deep red fireball vanishing across the horizon leaving everyone in a state of haze. The providers normally ferry the guests to the desert around 4pm so that you can enjoy dessert safari and end your day with the sunset.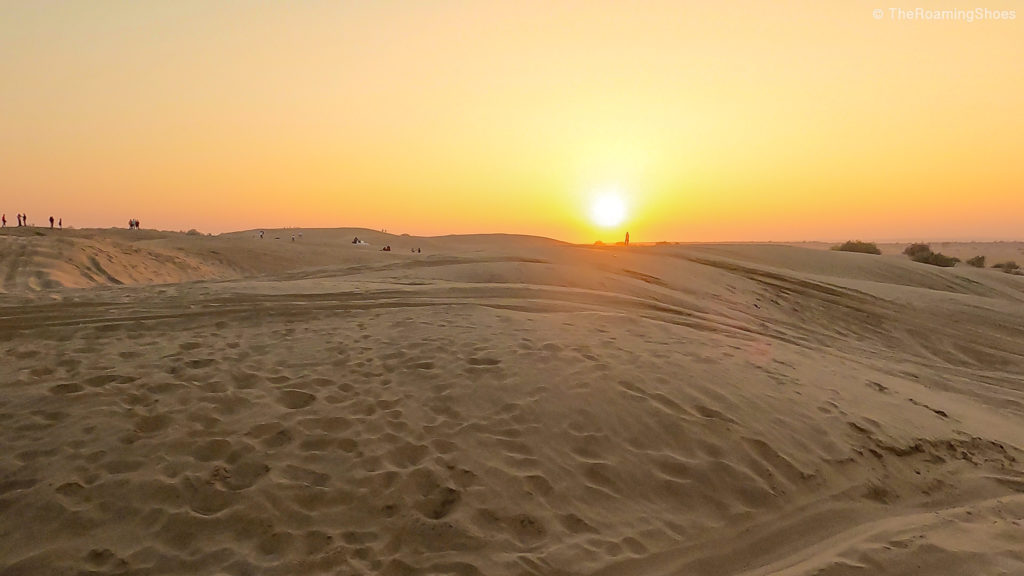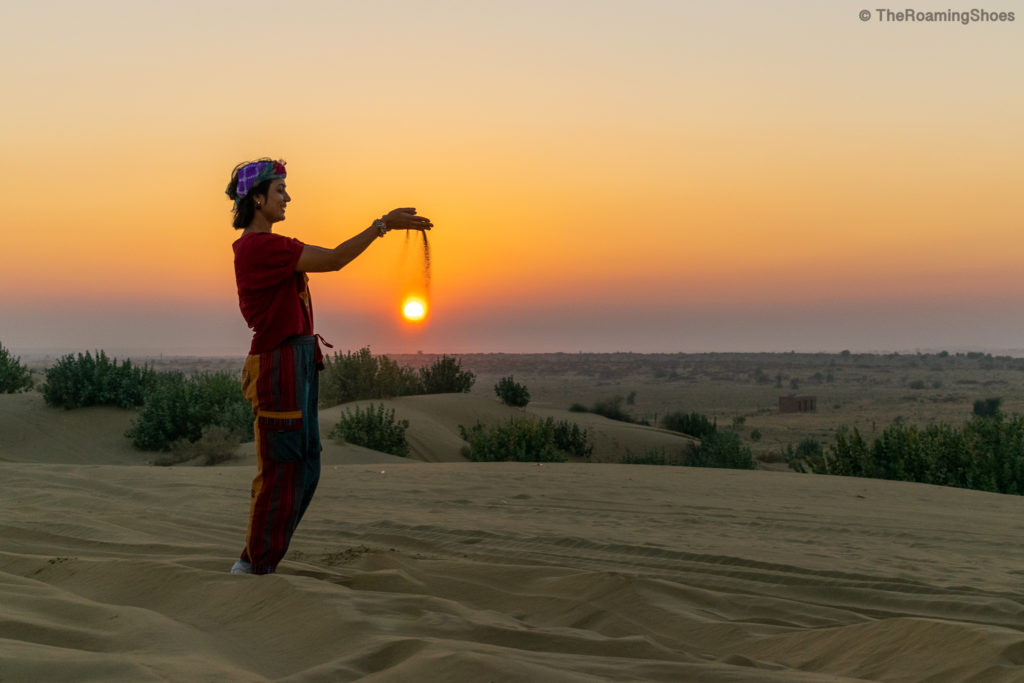 Desert Safaris And Adventure Activities
There are basically 2 options for desert safaris – Camel Safari and Jeep Safari. Camel Safari will always be part of your package. Normally it is a 15 minute (approx.) camel ride over the dunes, but you can always pay extra and check out the the farther end of the desert.
If you are an adventurous soul, Jeep Safari is something you should definitely opt for. This comes at an extra cost 1000 INR. But the thrill of bashing the sun-kissed sand dunes in an open jeep (and thumping hearts🙂 ) is absolutely unparalleled and totally worth the money. Do remember this might not be suitable for old people, very small kids and people with neck or spinal problems.
Apart from the safari, you can also engage in other adventure activities such as quad biking and parasailing in the sand dunes. These activities come at an additional cost.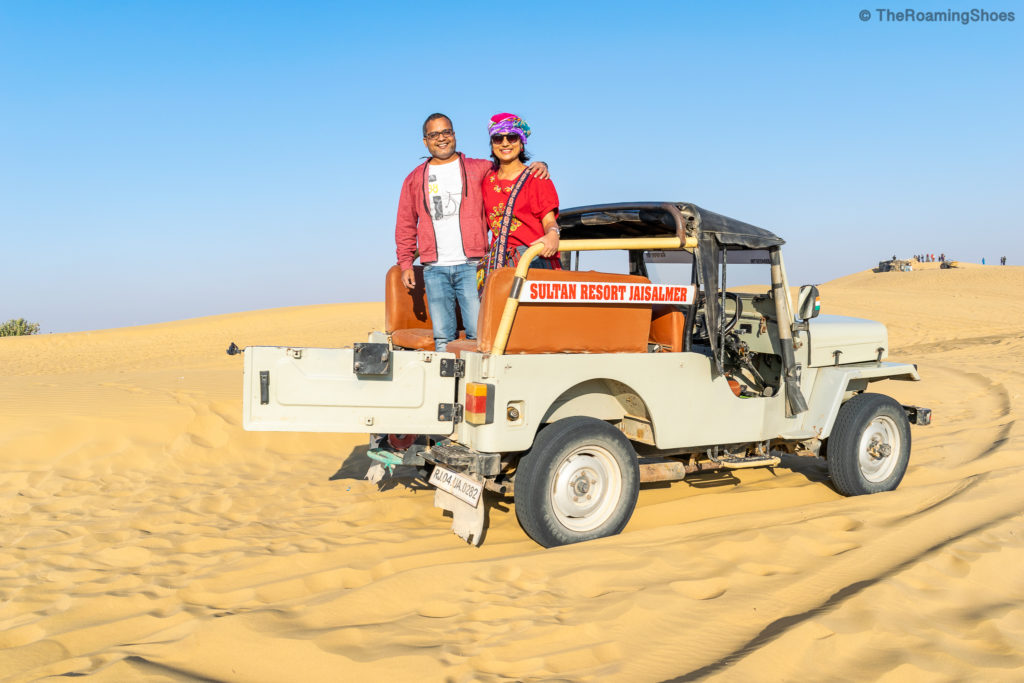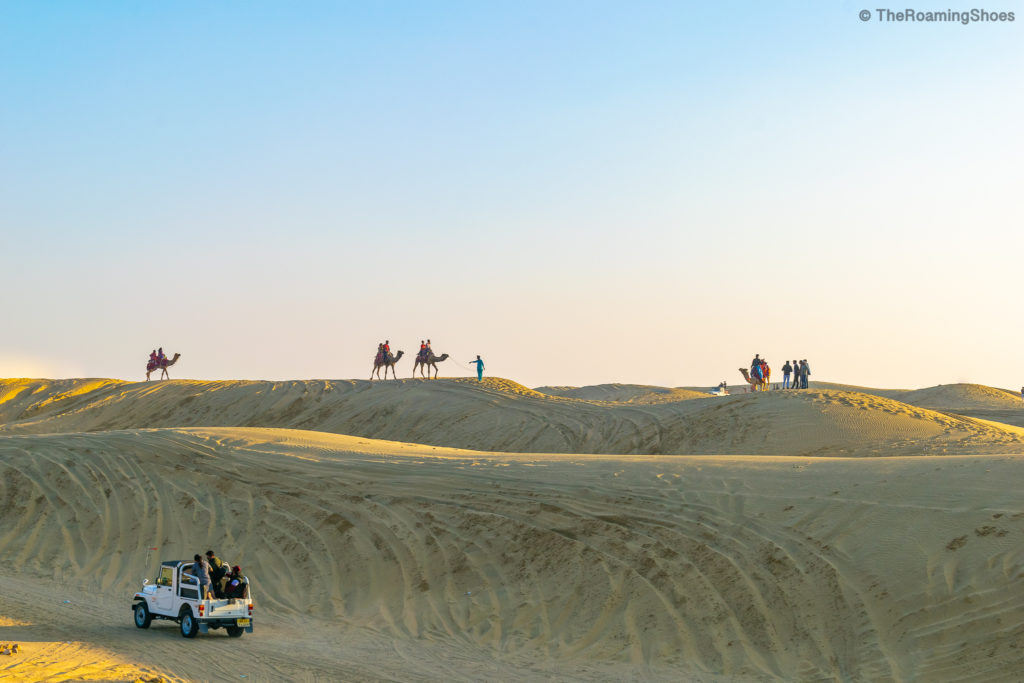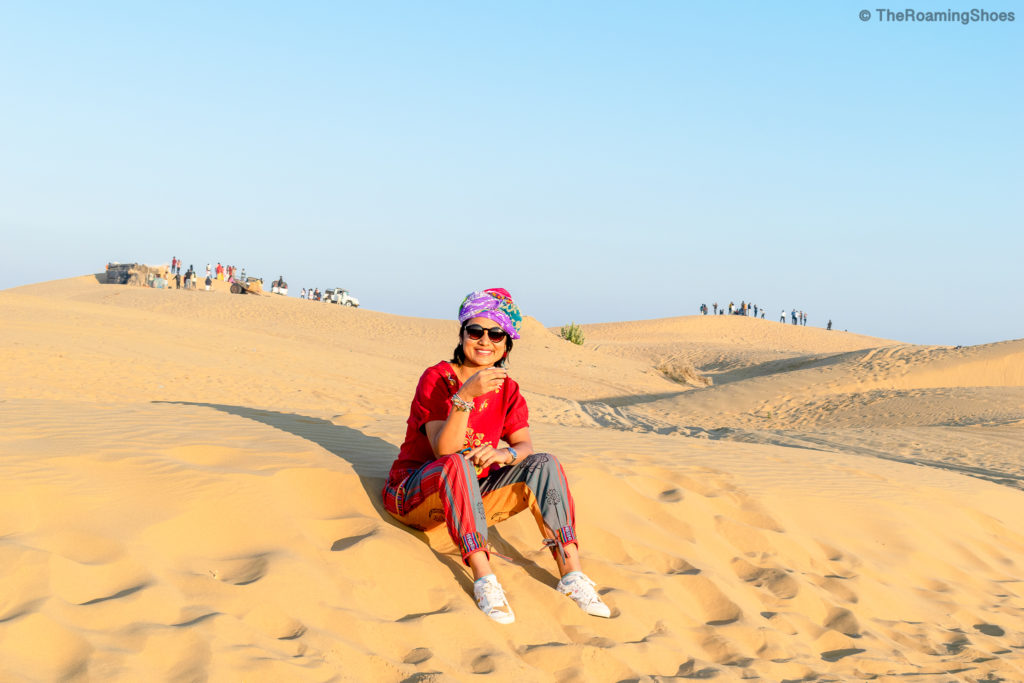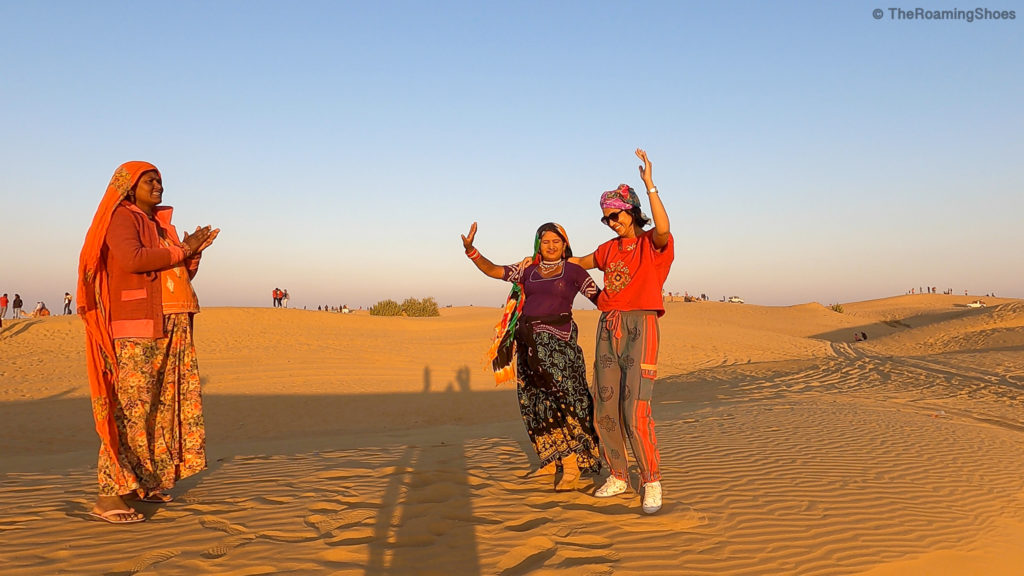 Evening laced with Traditional Performances
Evenings in the desert camps are the most zestful imbued with traditional music and dance performances. Seating arrangement is made in an open area of the camp where local artists perform different Rajasthani art forms. Whether it is the eloquent "Padharo Mhare Desh" song or the incredible Bhavai Dance, all performances are bound to regale your senses.
Starry nights and Tranquil Mornings
The mornings and nights in the desert are extremely beautiful. Nights come with starry skies and mornings start with scattered colours of the sunrise. These are perfect times to slow down and enjoy the tranquil surrounding setting aside all the worries. You can also opt for a sunrise trip to the sand dunes (at additional cost).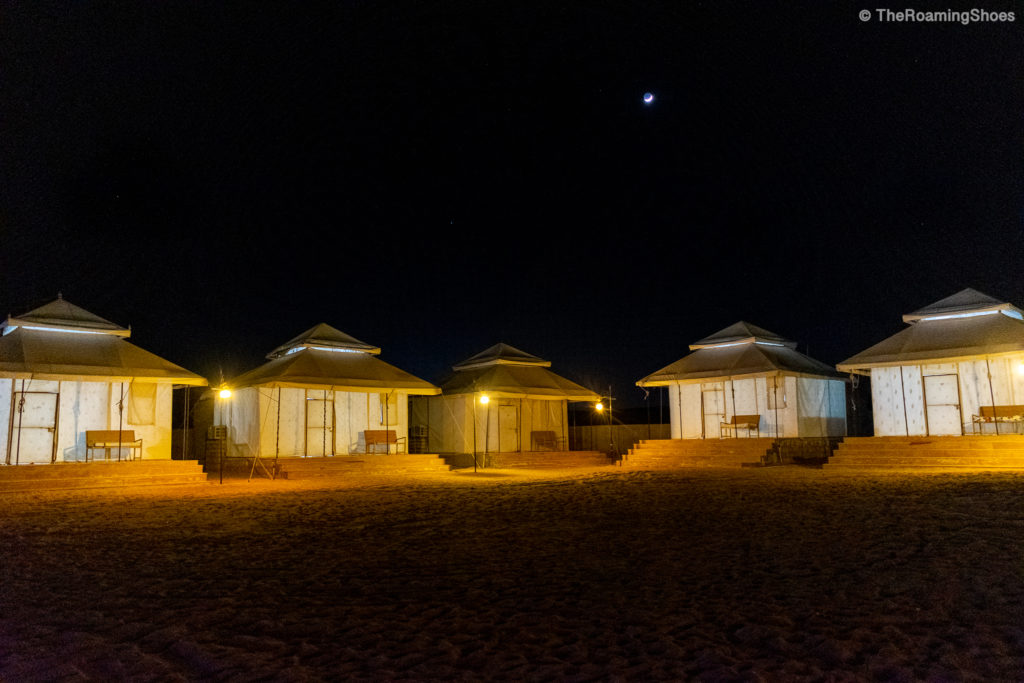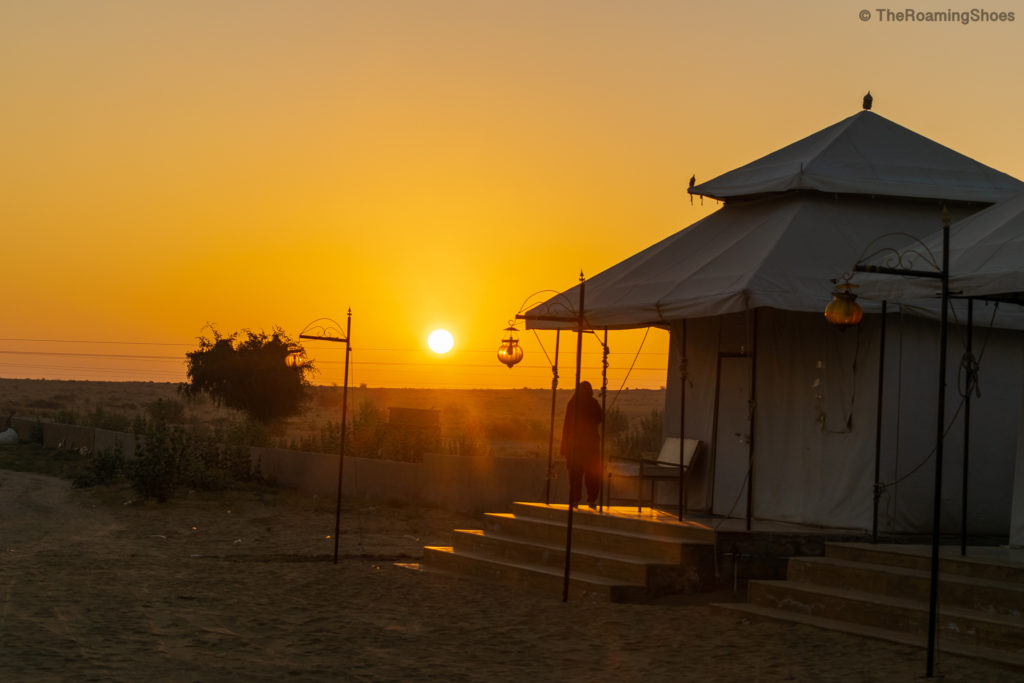 Packing Essentials for the desert
Scarf: An absolute necessity to save your hair from the sand. I had to manage with a cloth shopping bag as I forgot to carry one 😀
Sunscreen: Even in the winters, the sun in the desert is very harsh. So carry a good sunscreen.
Moisturiser, Shampoo and other toiletries: As I said before, the stay in the camps are not exactly luxury. Even though they provide soap and shampoo pouches, it is better to carry your own moisturiser, shampoo and toiletries.
Shoes: Walking in the sand dunes is much easier with shoes. Try wearing shoes that go little higher above the ankle to avoid sand getting inside.
Medicines: Pack necessary medicines as we did not see any medicine shops near the camp area.
Winter Clothing: Evenings and mornings in the desert get quite nippy even though the days are hot. Especially if you travel in the winter months of Nov-Feb, make sure to pack a good jacket or jumper, beanie, warm socks and gloves. We also recommend packing a light shawl or blanket as you may need it while watching the cultural program in the open-air podium.
Almost everyone in Jaisalmer expects tips and they are quite open about it🙂 . So keep some change considering this. It could be a little overwhelming when some people ask a bit much. But you always have the freedom to pay what you find reasonable.
That's it. We have tried to provide every detail that you may need to plan your desert getaway. If you have any other queries, do let us know in the comments.
Like this blog? Subscribe to get regular updates on different places of interest, hidden gems, weekend getaways and detailed itineraries.