Varsey – A Trek through the forest of Rhododendrons
Ahhhh Varsey! Where do I start? Should I talk about the magical forest, the colourful Rhododendrons, the awe-inspiring mountains or the night a cute furry friend nearly gave me a heart attack? May be I will tell you a little bit of everything and give you a glimpse of our trip to this beautiful place which was remarkable in every way.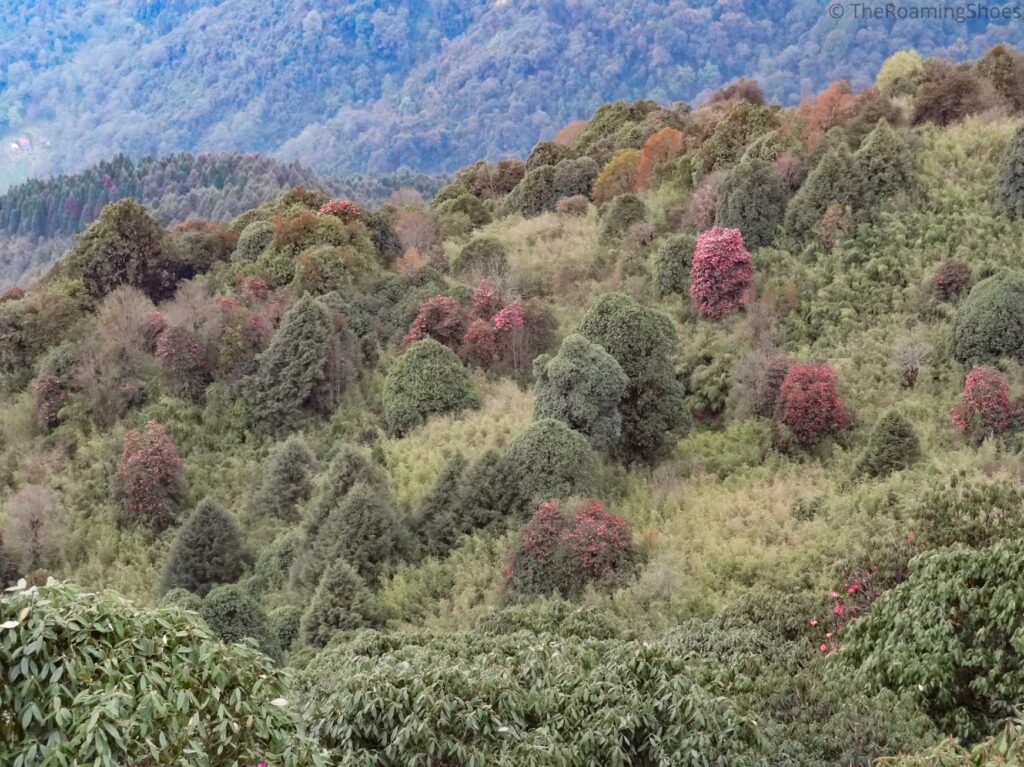 A little about Vasrey
Varsey (also called Barsey) is a relatively lesser known destination in West Sikkim that is famous for its Rhododendron sanctuary. This sanctuary turns in to a riot of colours in March-April during the Rhododendrons bloom. Apart from the Rhododendrons, the sanctuary is also home to several species of Primula, Oak and Pine. If you are lucky you might even spot a Red Panda in its natural habitat while walking through the sanctuary. The place also offers majestic views of Kanchenjunga range and is a bird watcher's paradise.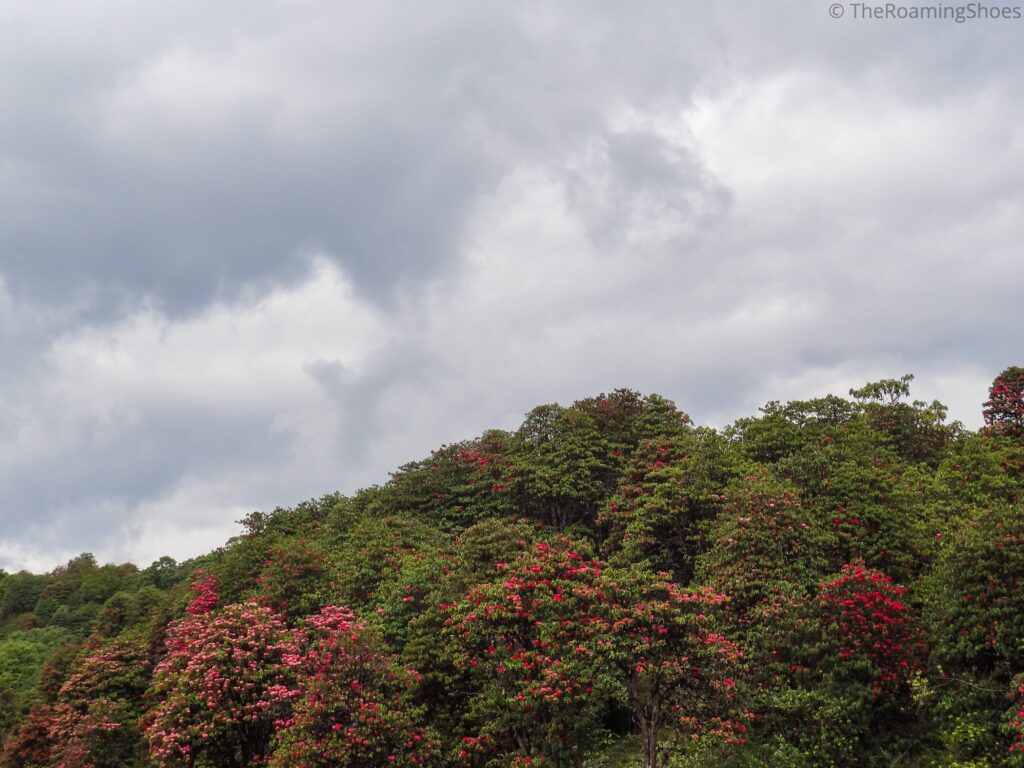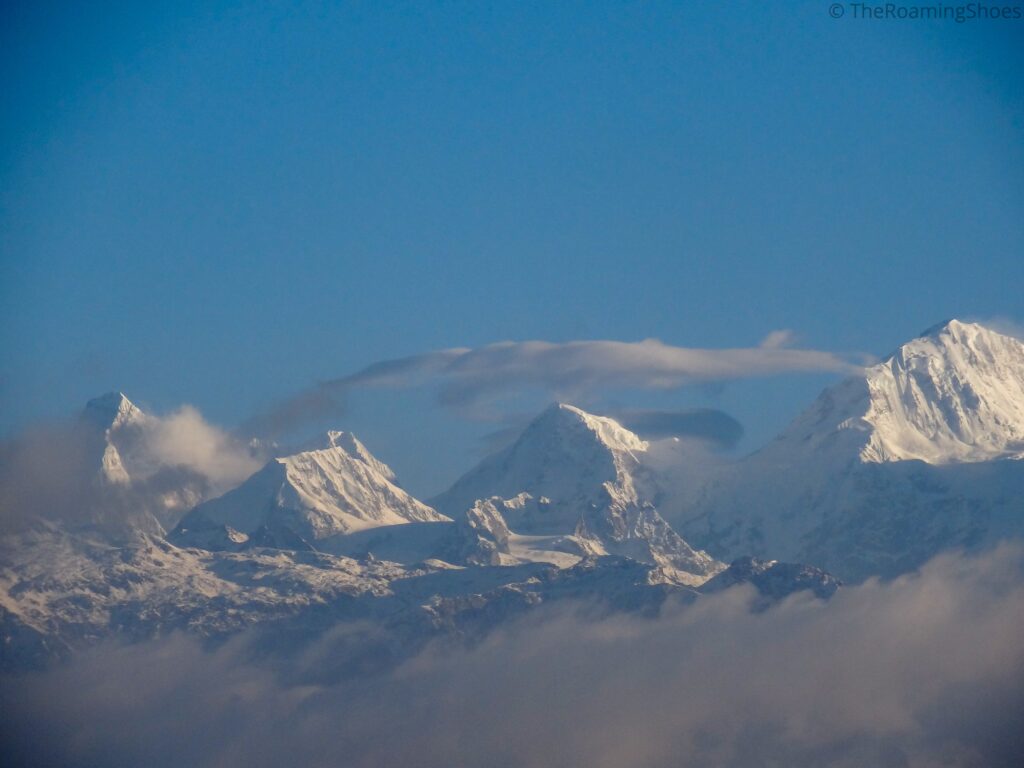 About the trek
The trek through the sanctuary covers 4.5 kilometres and takes on an average of 3 hours. It is a soft trek mostly through the plain path except for the last 1 and half kilometres which is a little steep. So any beginner interested in trekking can try this out.
The forest is safe and the well laid path does not require any guide. But if you want to know more about the various flora and fauna, then you can take a local guide with you.
You can avail the entry permit for the sanctuary from the counter near the entry gate.

Permit Charge: INR 50 per head, Still Camera Charge: INR 20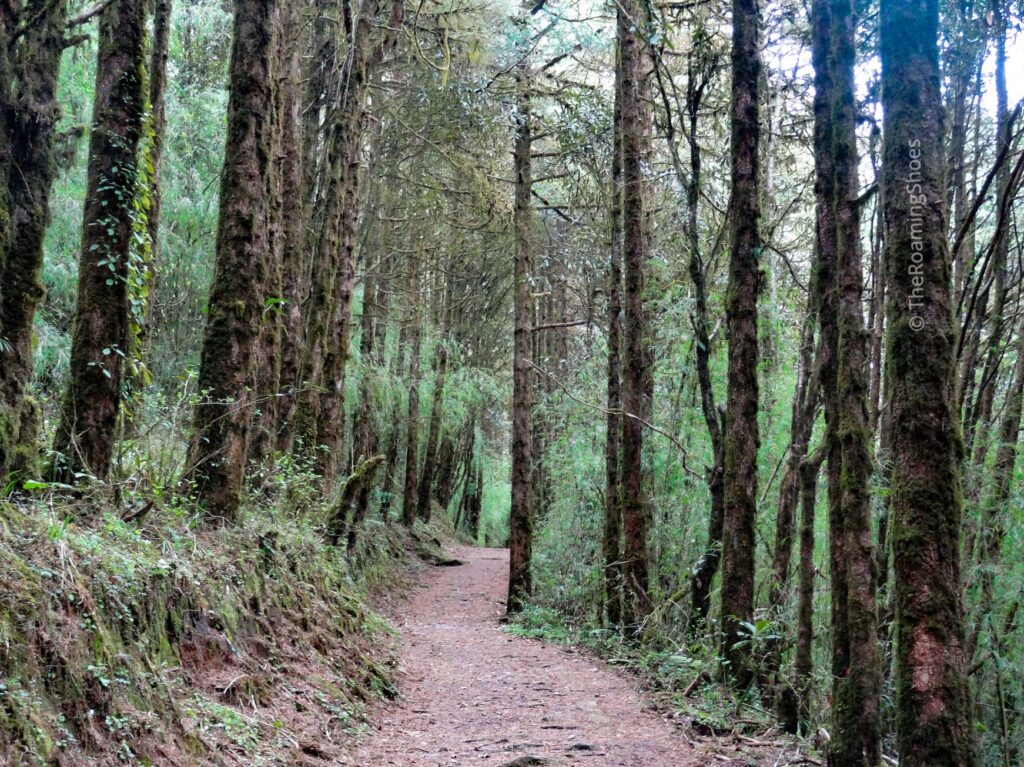 Best Time to Visit
Varsey can be visited any time of the year except the rains and snowfall time. But if you are keen on seeing the Rhododendrons, then the official flowering time is April and May. However, the most suitable time as per the locals is from March last week to 1st week of April. Even though flowers bloom every year, there is a mega bloom in every three years where the whole forest turns colourful. There was a mega bloom in 2010 and another in 2013.
How to reach
You can reserve a vehicle from Siliguri station to Varsey. This is a bit expensive, but is faster and convenient if you are in a group.
If you are in budget mode or backpacking, then the cheaper option is to use shared vehicles. Take a shared vehicle till Okhrey and then reserve a small car from Okhrey to Hilley (one of the entry points into Varsey sanctuary). This way the whole journey is broken in to three parts which will be Siliguri to Jorethang, Jorethang to Okhrey and then Okhrey to Hilley.
Siliguri to Jorethang
If you reach Siliguri early, then there is a bus to Jorethang at 7:45 am. You can catch the bus from Tenzing Norgay bus terminus at Siliguri. Otherwise, there are shared jeeps available from Jorethang Stand in Siliguri near Payel Cinema and they charge Rs 170 per head. You need to take an auto from Siliguri station to reach Payel cinema. Siliguri to Jorethang by shared vehicle takes around 3 hours.
Jorethang to Okhrey
If you reach Jorethang by 12:30 pm, then you can get the service vehicle to Okhrey which costs Rs 100 per head. Otherwise you have to reserve a vehicle that would cost Rs 1200-1500. The journey from Jorethang to Okhrey by service vehicle took us around 3 hours with a 45 minute stop at Sombarey.
Okhrey to Hilley (Varsey sanctuary entry point)
Okhrey to Hilley is around 11 kms that takes half an hour by car and a small car costs around Rs 500 to 600. You have to reserve a vehicle for this as there are no shared vehicles available for this route. Also, while coming back you need to pre-book the vehicle to pick you from Hilley as there will be nothing available there.
While coming back, if you start early from Okhrey then you can get a service vehicle to Jorethang on shared basis. The last service vehicle leaves from Okhrey at 9am. Otherwise, you can reserve a small car till Sombarey which costs around Rs 500 and then catch a shared vehicle from Sombarey to Jorethang that should not cost more than Rs 100. Jorethang to Okhrey takes around 2 and half hours for the 60 odd kilometres due to bad road conditions.
Accommodation in Varsey
Varsey has only 2 accommodation options, Trekker's Hut (also called as Guras Kunj) and Forest Barrack, set opposite each other and having very basic facilities. If you go for look and feel, then I would say Guras Kunj is the better option. But as it is quite known, it gets really tough getting accommodation in Guras Kunj during peak season. We stayed in Forest Barrack and found it pretty okay for one night's stay.
Guras Kunj
Guras Kunj is a two storey wooden hut which has one dormitory in the 1st floor that can accommodate 16-20 people. There is no bed available in the dormitory and people are provided bed rolls to sleep on the bare wooden floor. It also has 2 rooms in the ground floor with beds that can accommodate 2 people each and they share the same toilet with the dormitory. There is one double bed room with attached toilet that costs Rs 2200 for two people inclusive of food and it is quite spacious and good. The charge for other two rooms as well as dormitory is INR 800 per head including food. Apart from this, they also set up tents in the lawn when there are more tourists in peak season and a tent for 2 people costs Rs 1800 including food.
If you want to book the double room with attached toilet in Guras Kunj, make your bookings at least 3 months earlier in the peak season.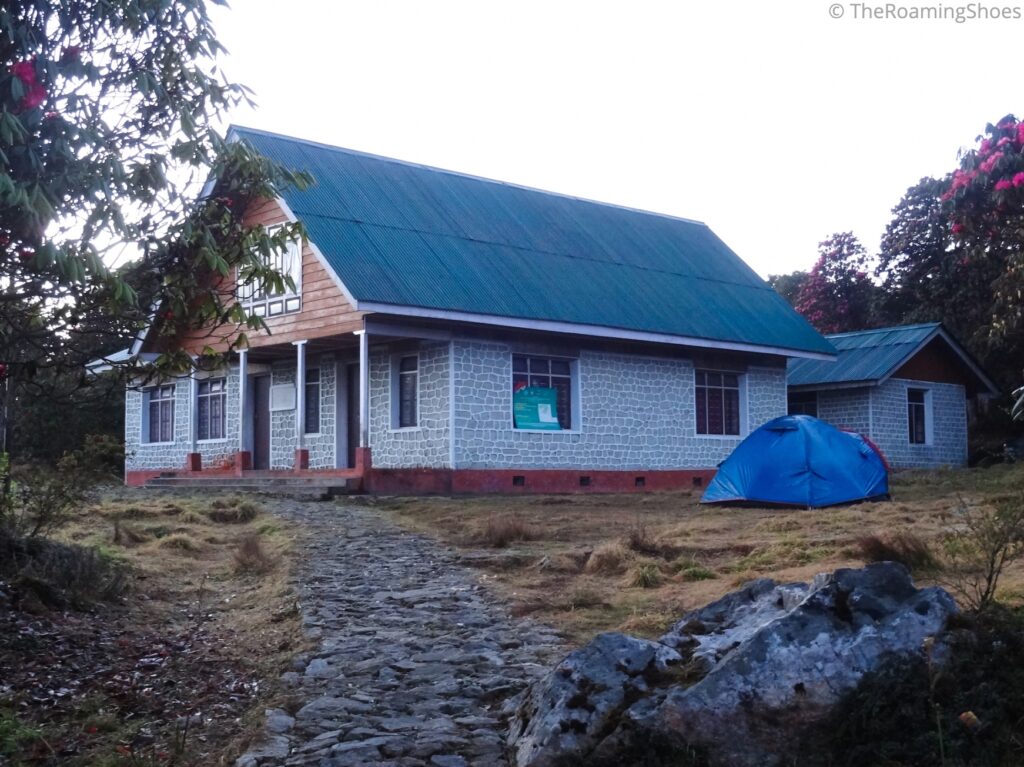 Forest Barrack
Forest Barrack has 3 rooms (can accommodate 2 people each) and one dormitory (can accommodate 8 people). One of the rooms has an attached toilet and for others there are 2 shared toilets outside. The double bedded room with attached toilet costs Rs 1600 for 2 people including food. For dormitory, they charge Rs 800 per person including food. Just remember that the floor in Forest Barrack is cemented unlike the wooden floor in Guras Kunj and gets really cold at night.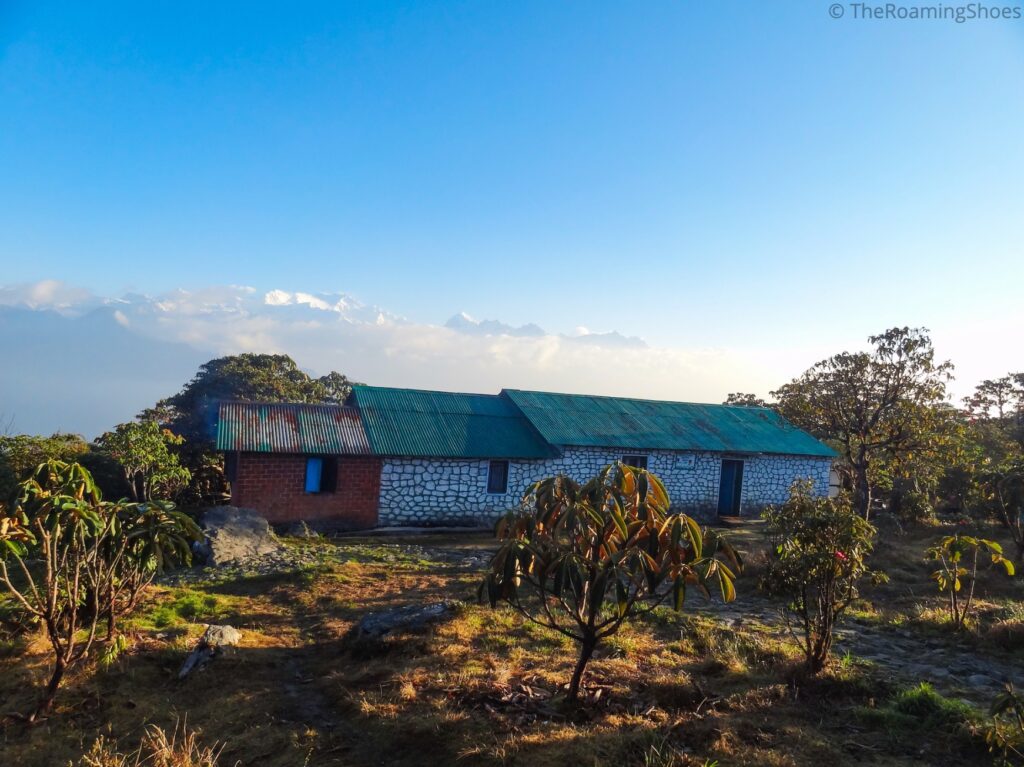 Booking the Accommodation
Now coming to the challenges of booking these accommodations, it got really difficult for us to get the stay booked in Barsey. The phone number given for Guras Kunj did not work and Endeavour Tours (the one in Kolkata which can get you the booking) did not respond to our calls or emails. Seems like you have to go to their office to get the booking confirmed. This is when Mr M.N. Sherpa from our lodge in Okhrey came to our rescue and helped us getting a reservation in Forest Barrack. So you can either contact Mr Sherpa or go to the office of Endeavour Tours in Kolkata to make a booking for your stay in Barsey. Contact details below.
Mr. M.N. Sherpa : 09735975880
Endeavour Tours
Contact Person: S.K. Bhaumik (Proprietor) (Rtd.) O.S.D. Sikkim Tourism, Kolkata
Address: 1, Indra Roy Road, Bhowanipur, Kolkata-700025.W.B., India
Phone: (033) 2486 0583
Mob. No.: (+91) 9836464632 / (+91) 9831107246 / (+91) 9814187540
Sikkim Tourist Information Centre, 4/1, Middleton Street, Kolkata-700017, Ph: 033-22815328
Planning the trek
It is quite tiresome to trek to Barsey after an arduous journey of around 6 hours that too in very rough road conditions. So we recommend to break the journey by staying overnight at Okhrey and then starting the trek the next day.
A little about Okhrey
A small hill town 11 kilometres from Varsey, Okhrey is mostly used as a stopover by people going for the trek. Apart from this, we have never heard anyone boasting of Okhrey as a tourist destination as such. But we are glad that we chose Okhrey for the stay as the place is not touristy and provides majestic views of the mountains and a tranquil atmosphere to loosen yourself. This is a perfect place to soak in the balmy weather, sip numerous cups of coffee or watch the gorgeous sunset over the hills. While at Okhrey, you can also visit the monastery on one of the hill tops that could be reached by half an hour trek. The monastery is small, but it has an excellent location providing 360 views of the surrounding hills.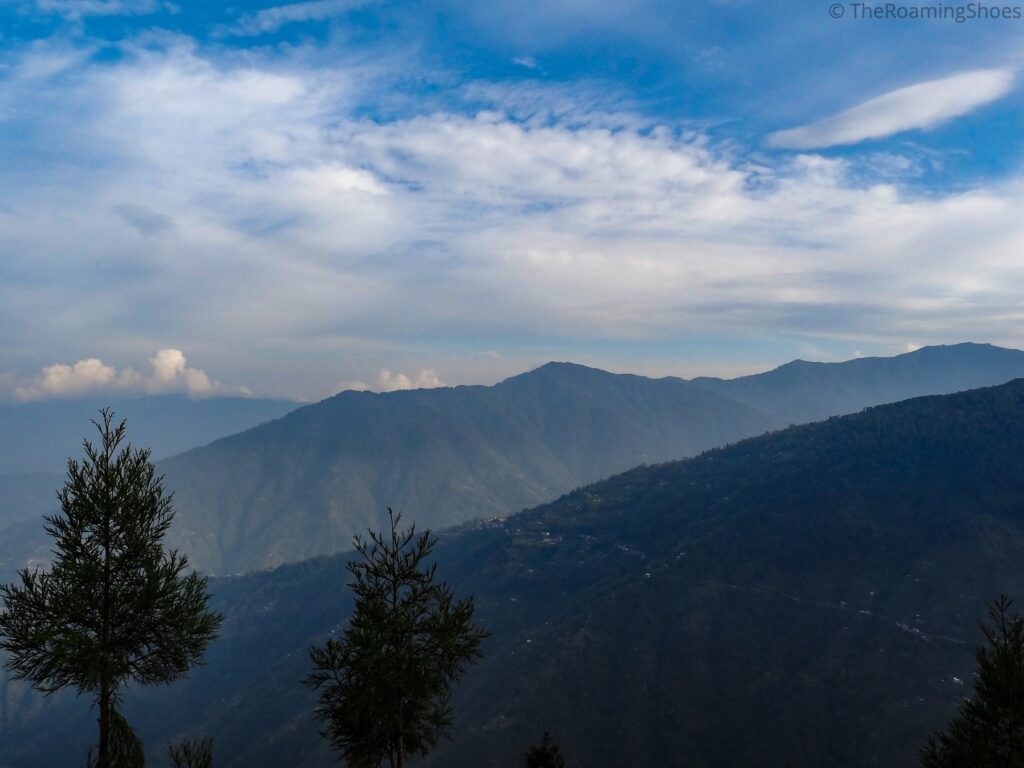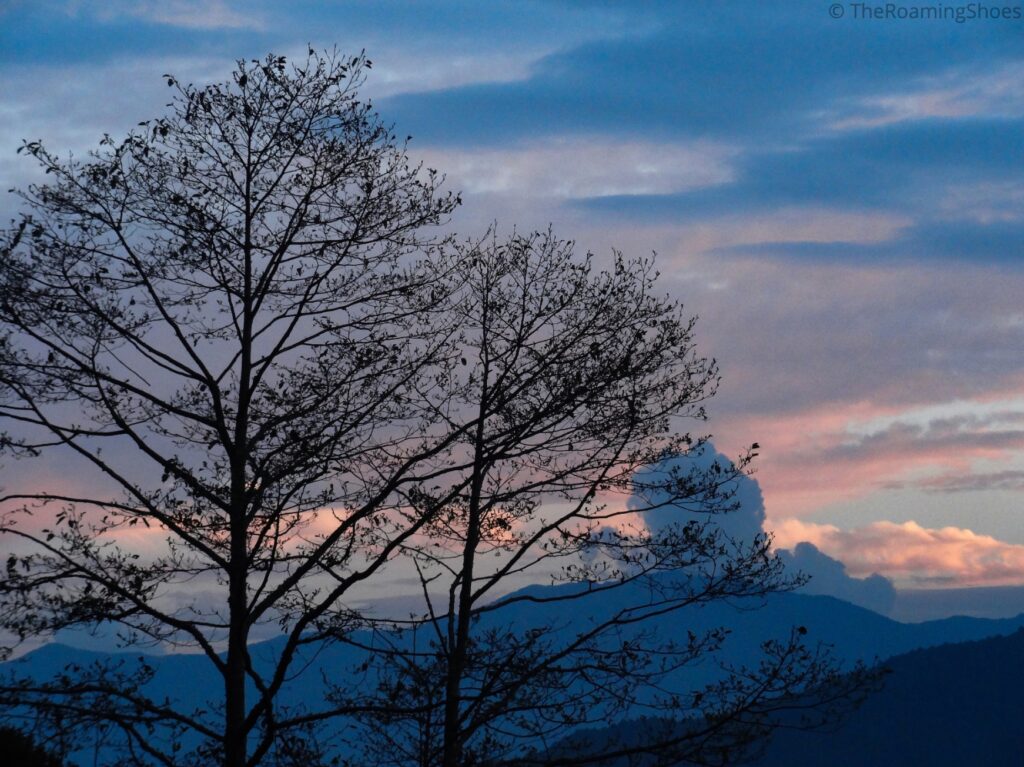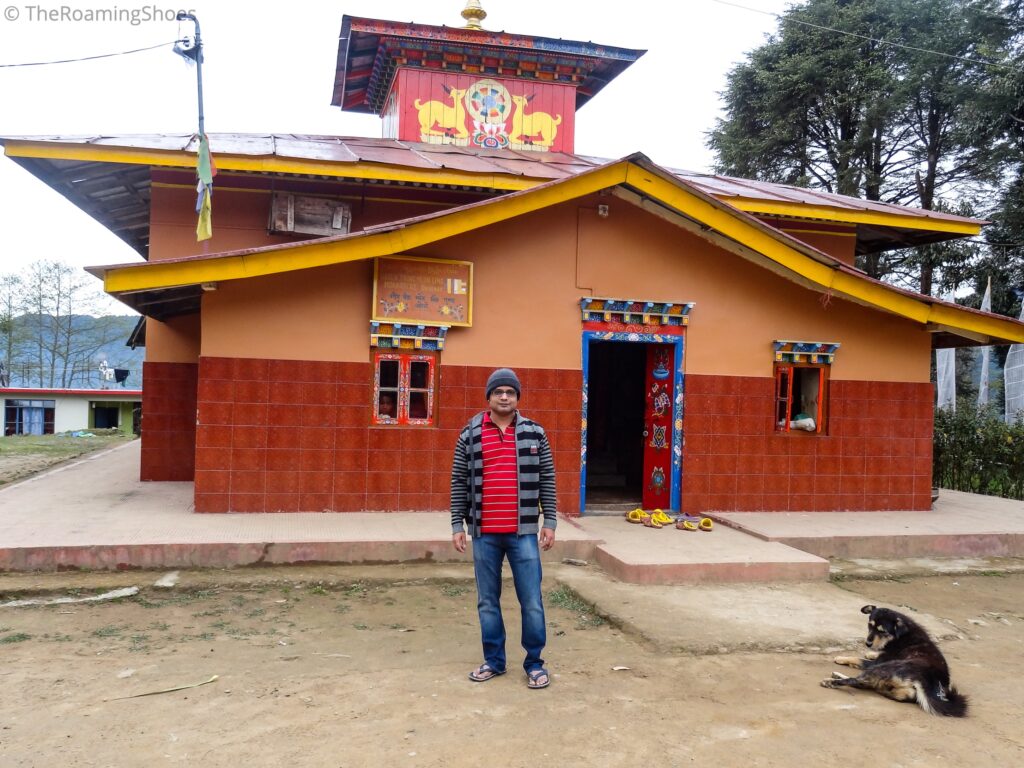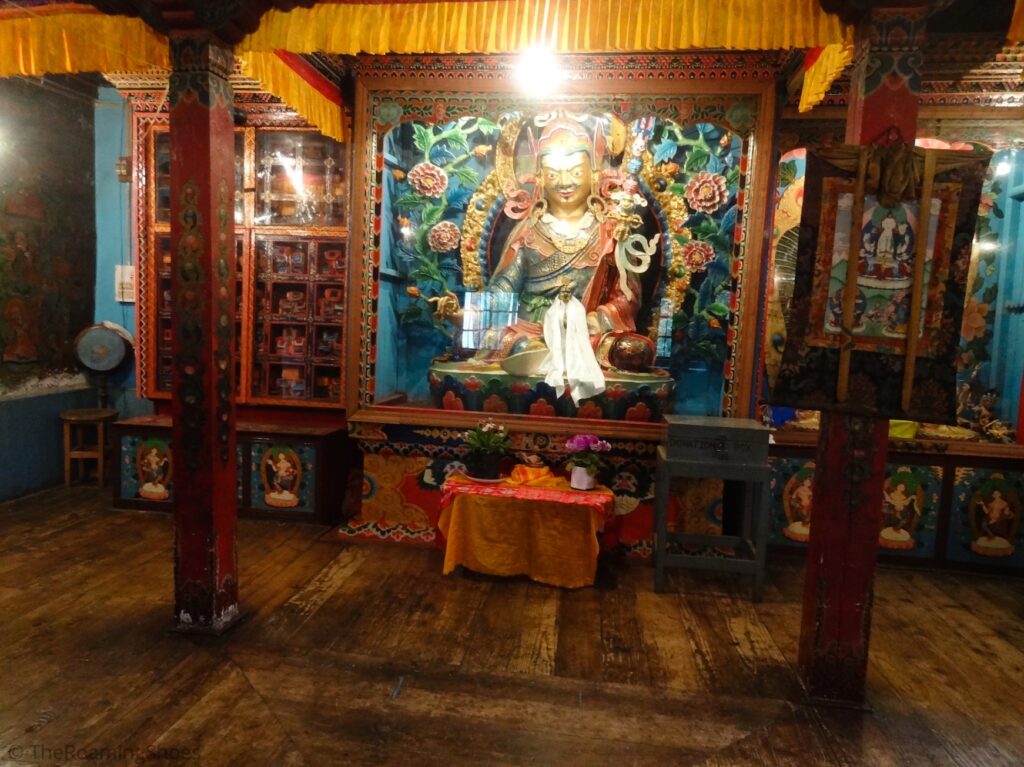 Accommodation at Okhrey
There are some lodges and home stays available in Okhrey at affordable prices. We chose Sherpa lodge and would definitely recommend it.
Sherpa Lodge run by Mr. M.N. Sherpa and family which provides decent accommodation at a good price. It provides panoramic view of the surrounding hills and at night you can see the twinkling lights of Darjeeling. The rooms are spacious, clean and bathroom has 24 hours hot water facility. Mr Sherpa is a very friendly and helpful person. You can contact him for arranging vehicle for Hilley, arranging guide/porter for Varsey trek or booking accommodation at Varsey.
You can read our full review of the accommodation here for more information.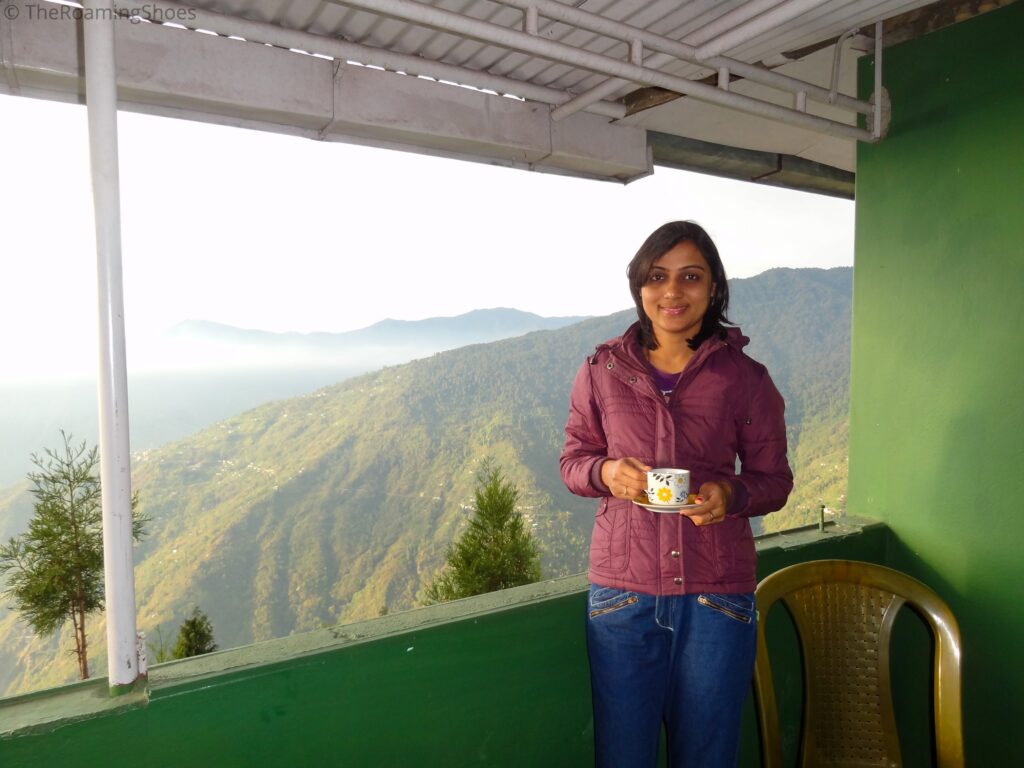 Our Trek Experience
My heart sank as I looked at the board near the entry gate to the sanctuary. It pictorially depicted the forest trail containing a bear along with a red panda and some birds. On top of that it was a weekday and as we started early in the morning there were no other trekkers around. Then we spotted a local guy near by who assured us that it was completely safe for the two of us to trek through the forest.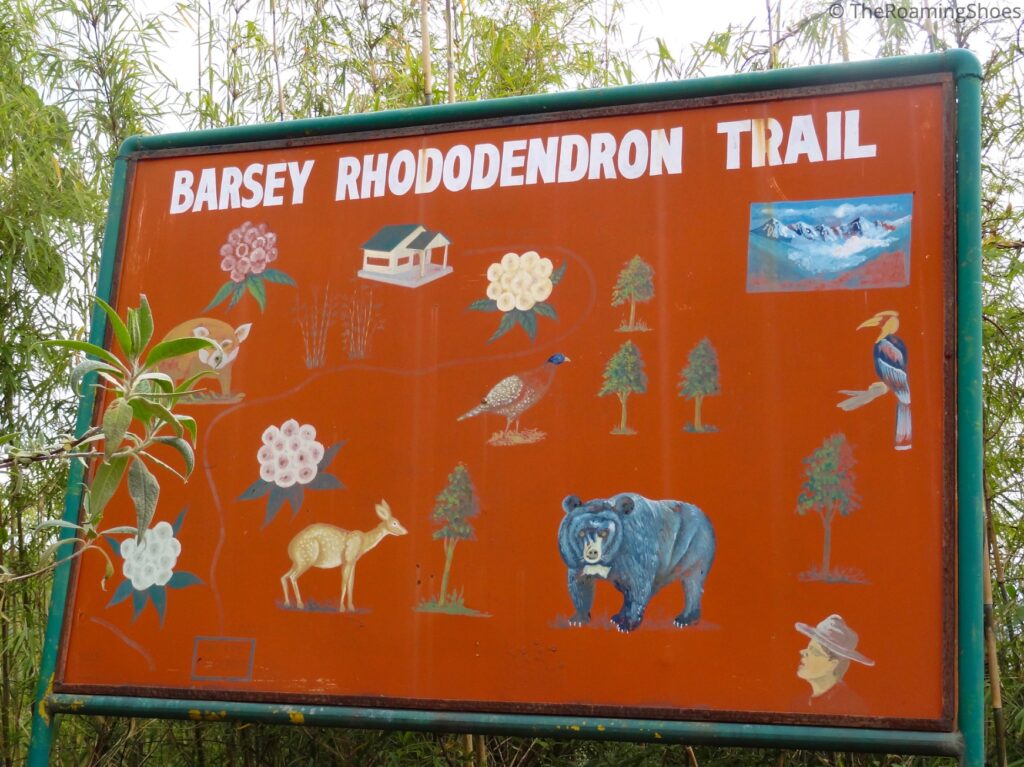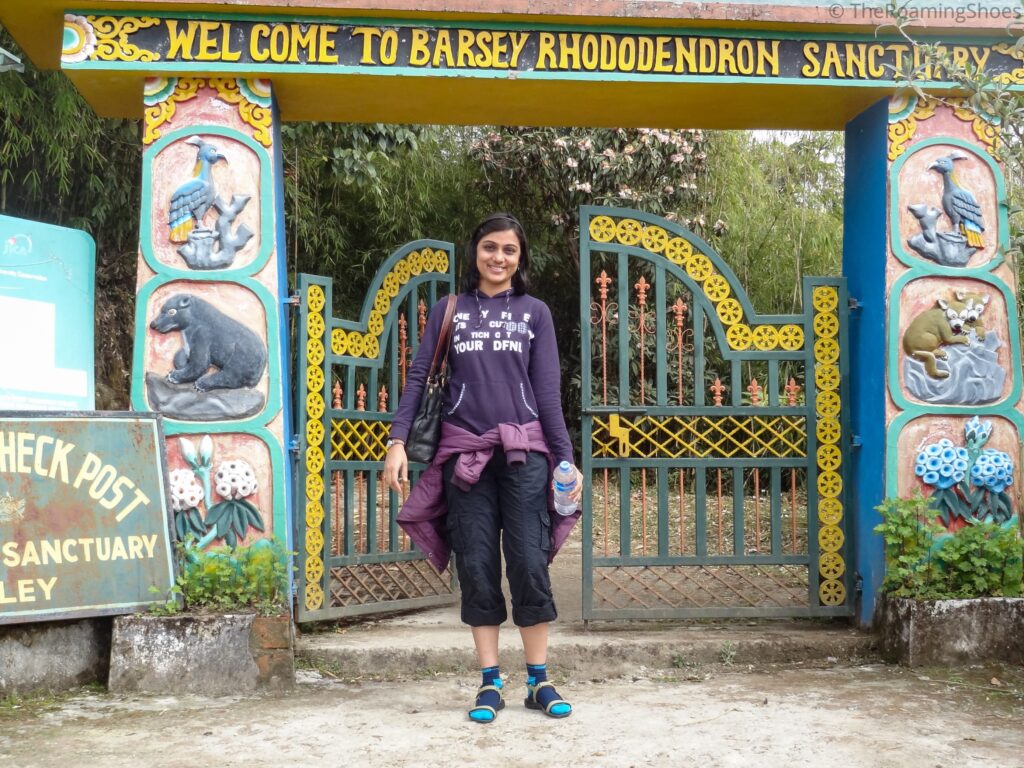 As we passed the sanctuary gate to lay foot in the forest, a strong silence greeted us that was both eerie and soothing. The only noise breaking the silence was the sound of our footsteps and the murmuring sound of the bees. It was so silent all around that even we could hear the sound of a falling leaf. The whole path was edged by dense forest of pine, bamboo and huge Rhododendron trees. At some places the trees created such a thick cover that even sunlight could not penetrate it. While husband was enjoying the solitude, I was often scared by the blackish log that looked like a bear or the moss covered trees that made the forest look like some place from the Bollywood horror movies 😛.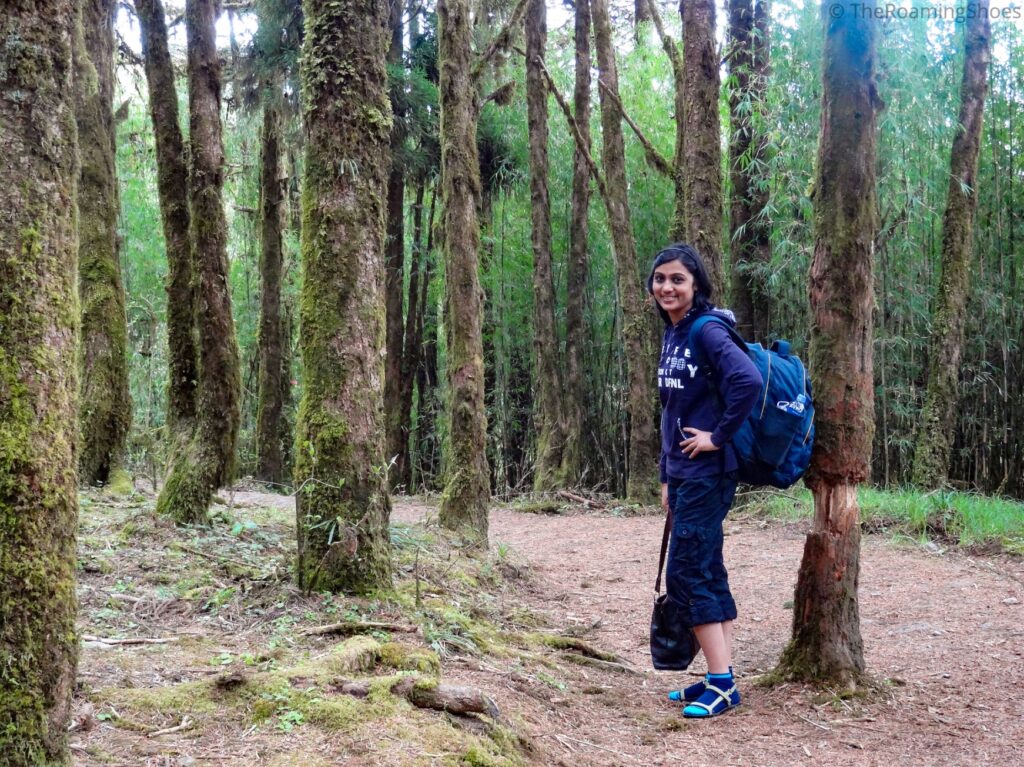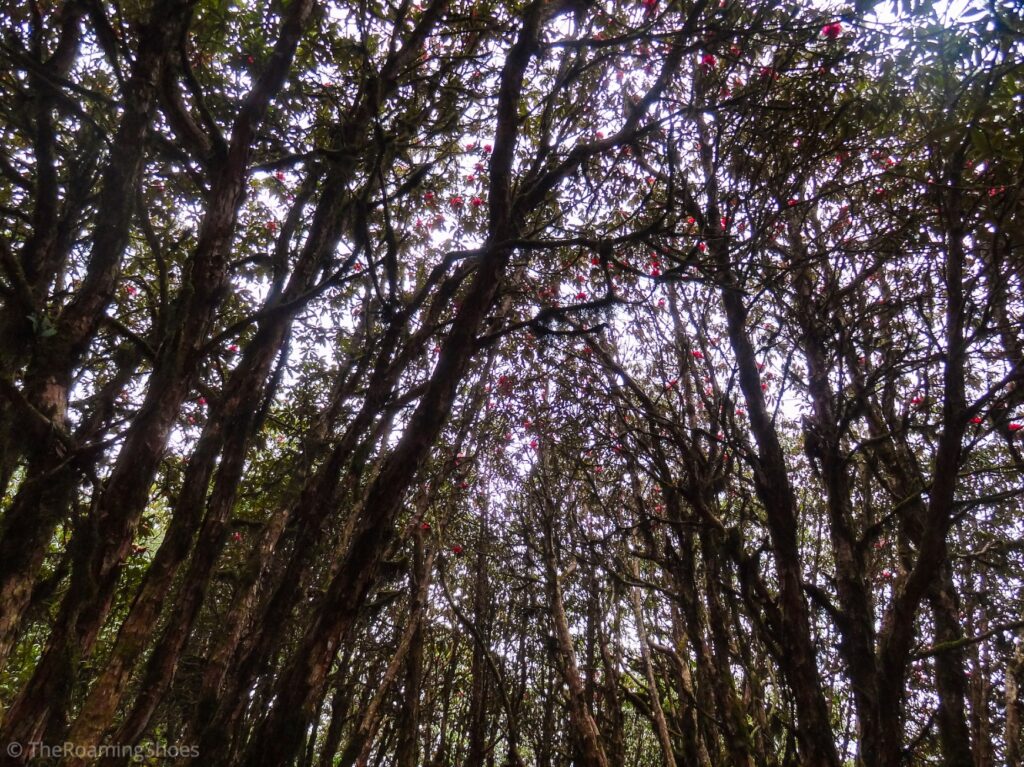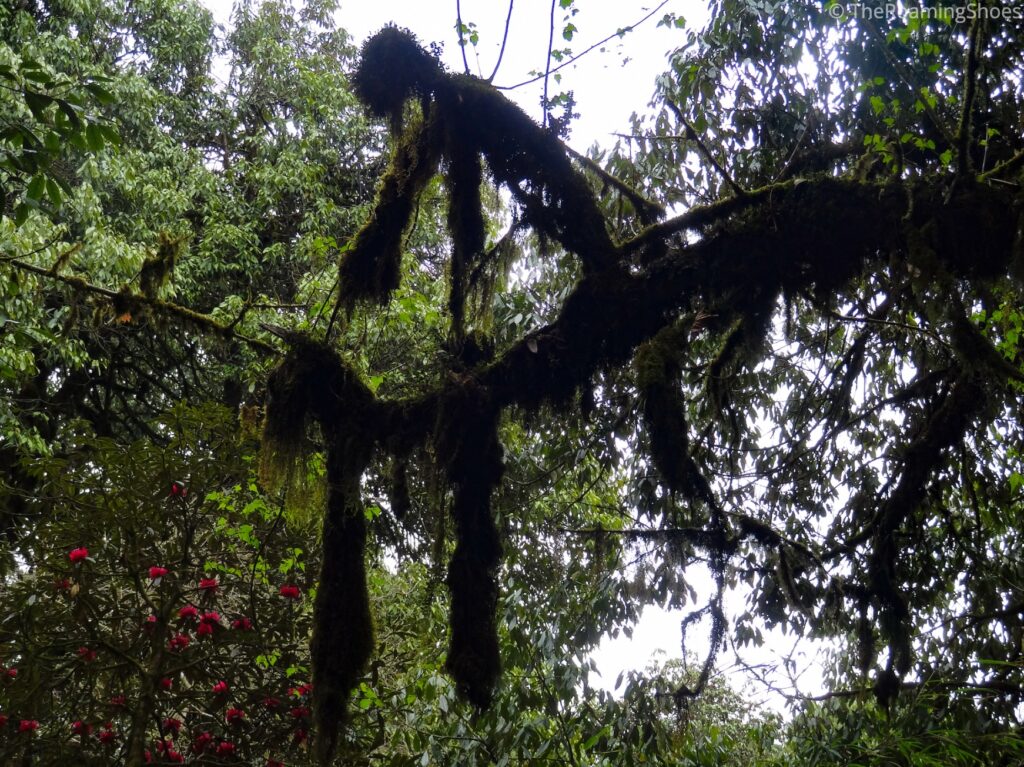 After two and half hours inside the forest, we finally reached our accommodation that looked literally in the middle of nowhere. There was Kanchenjunga standing like a tall white wall at one side and scads of Rhododendrons in shades of Red, Pink and white everywhere eyes could see.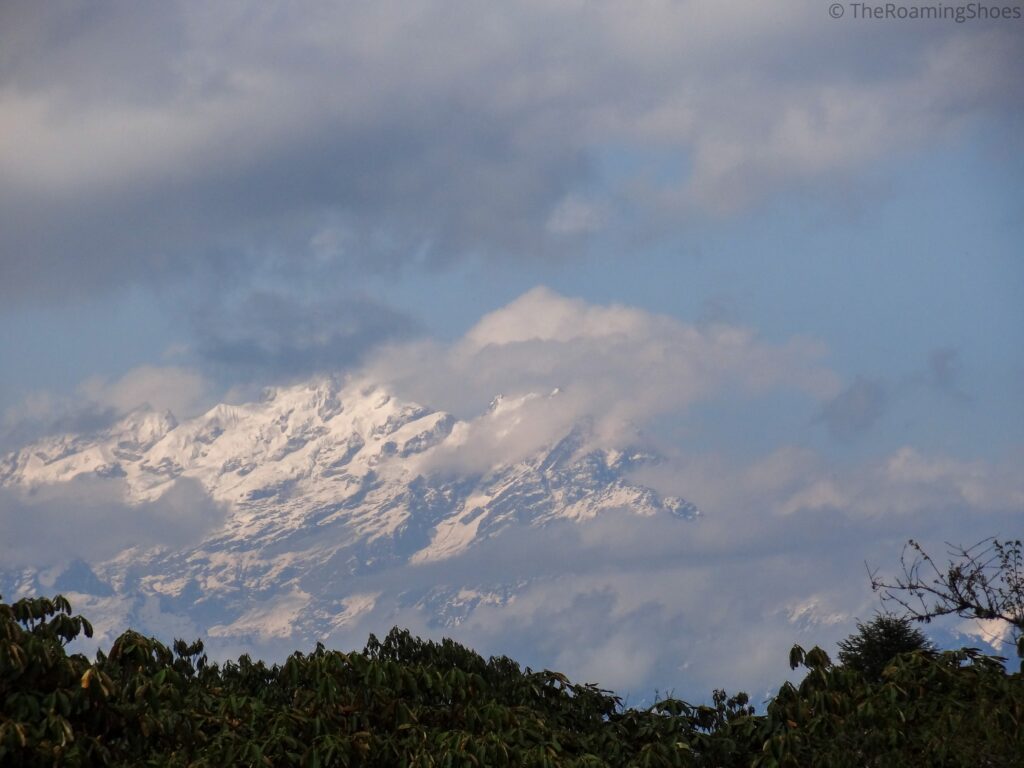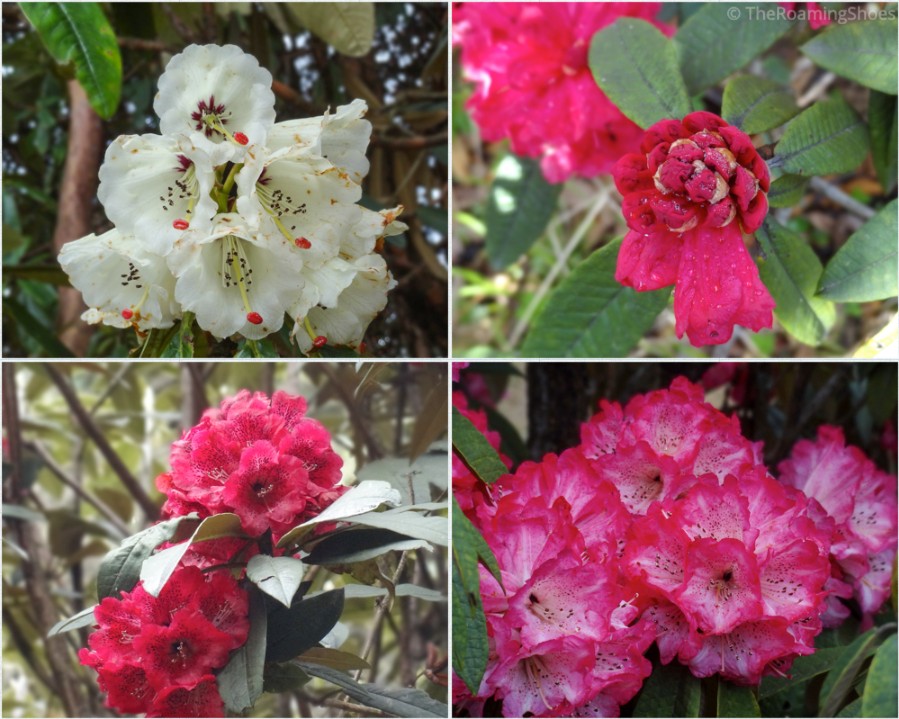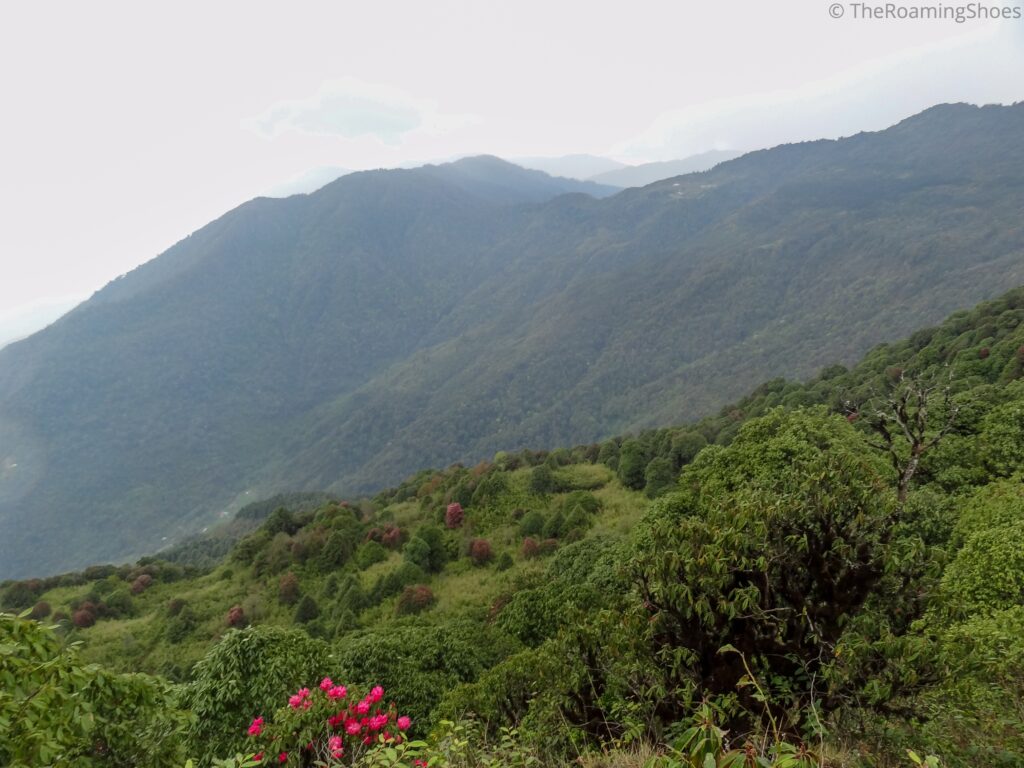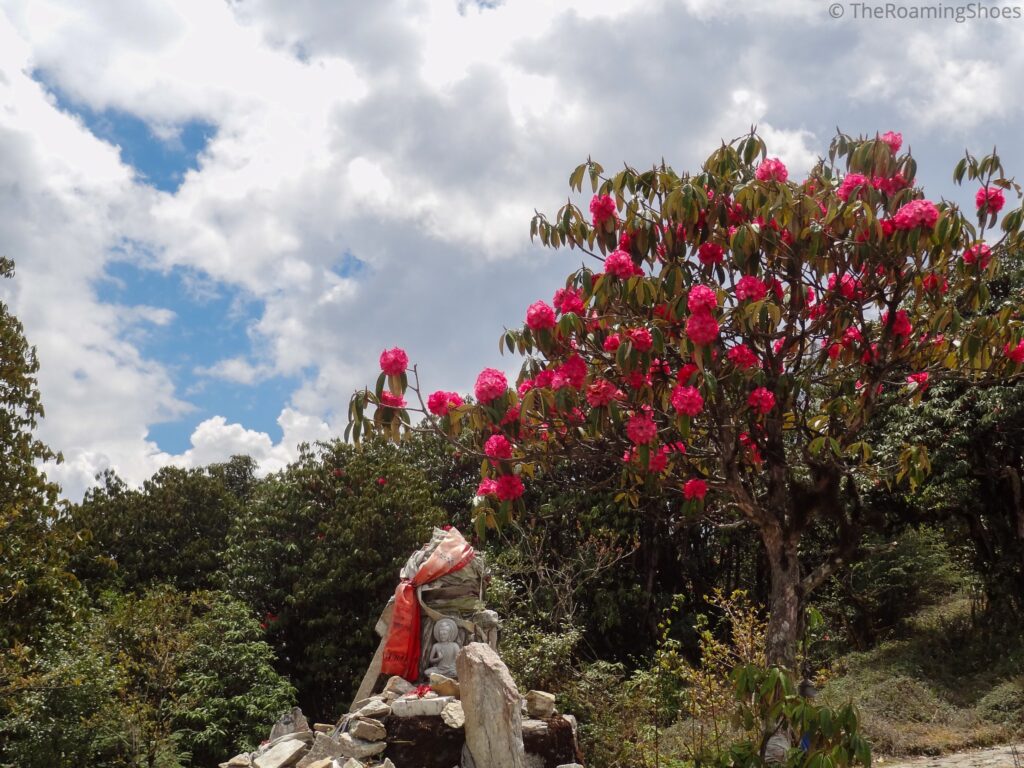 Night too was no less eventful than the trek inside the God forsaken forest. As sun went down, Varsey turned in to a black lady with no power supply in that area. It was a night we had to spend in the light of candles. The silence of the night was pierced by the sound of raindrops and the snoring of a man in the adjacent dormitory. At around 1 am we woke up to the loud sound of someone knocking on the outer door of the barrack. My heart was pounding heavily with fear and all those ghost stories I ever heard came running to my mind. Thanks to God, it stopped after a while, but my scared mind did not let me sleep peacefully that night.
As morning came, we went out to check the weather and found this cute innocent looking dog leaning against the main door. Yes, this was the guy who scared the hell out of me the previous night as his slight shake off would easily make the frail door sound. But I was relieved to find out that it was the dog and not some ghost I imagined who got me sleepless at night 😉.
In the morning as we trekked down to Hilley, the forest looked much familiar than the previous day. It contained some kind of soothing feeling than the fear and anxiety I had felt before. Walking through the forest we realised it is not only the rhododendrons that make this forest a special attraction, but this is the place where lost people like us come to find themselves, this is where a tired soul finds peace and this is where a stressed mind feels relieved.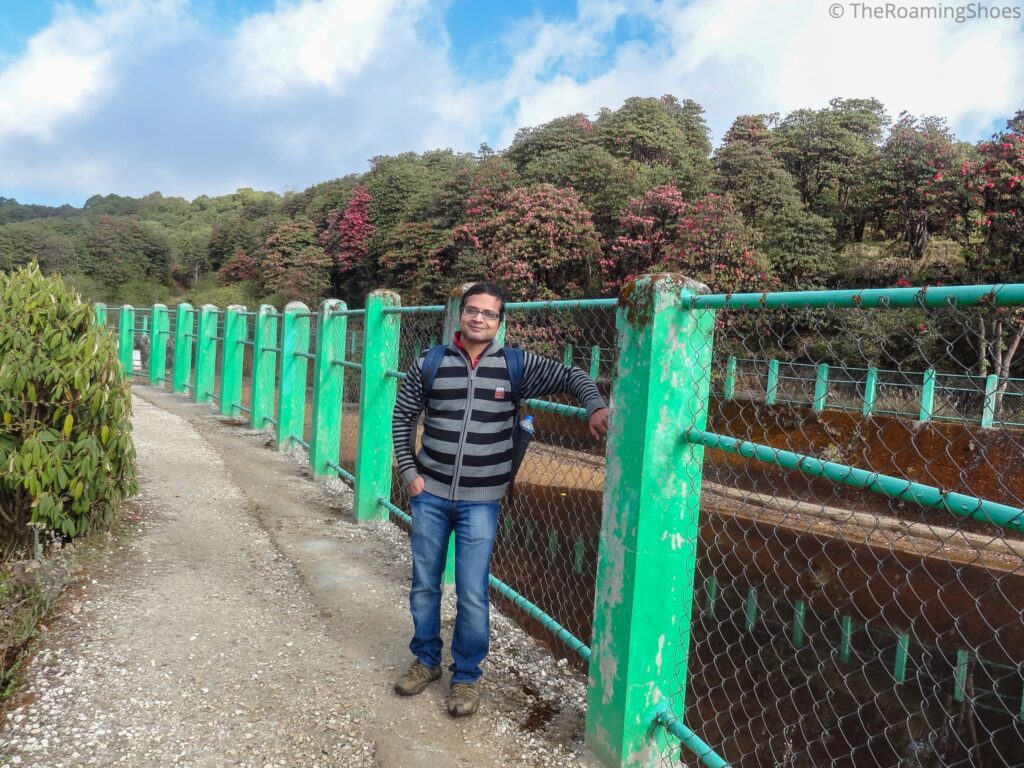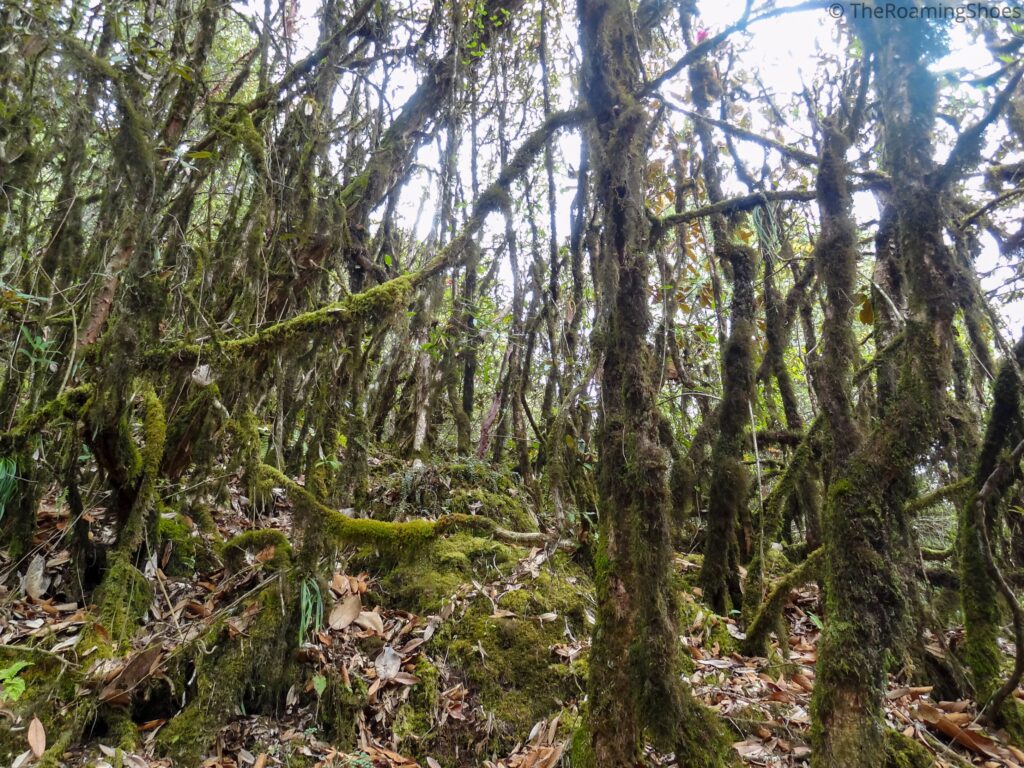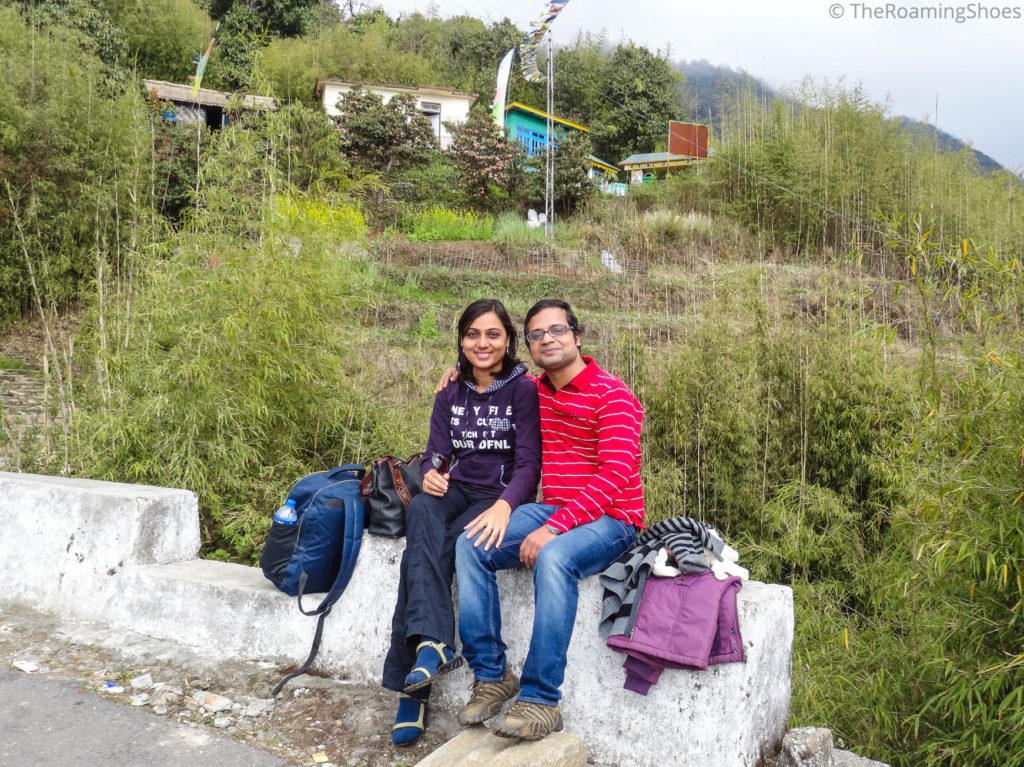 Points to remember
Carry original id proof such as Voter Id/Driving License/Passport that contains your address. This will be required at the check post on the way to Jorethang. Note that PAN Card will not be considered as it does not have your address.
Remember to carry masks or scarves and also covers for your luggage bags as the road is too dusty. Also carry vomiting medicines as the rough ride could give you a bad time.
Carry enough cash as we did not see any ATMs or card transaction facilities in either Okhrey or Varsey.
Varsey has very limited signal strength for mobiles, but there are some points where signal comes to make a call. You can ask the caretaker and he would be able to help you in that.
There is no power supply in Varsey. Guras Kunj has a generator that is used to supply power to both Guras Kunj and Forest Barrack. But when we visited they had stopped using the generator as it was getting difficult for them to carry the fuel every time from Hilley. So you may have to spend the night at Varsey in the light of candles. That is why Torch with extra batteries is something that should be on top of your checklist while visiting Varsey. Also, fully charge your cameras along with extra batteries and portable chargers in case you have one. Because the place is so beautiful that you would never be able to refrain yourself from clicking lots of pictures.
Carry enough winter wears including jackets/sweaters, gloves, scarves, socks and a pair of thermals. The place was quite cold in April and if it rains, the temperature drops even further.
You can also combine this with a trip to Ravangla and Namchi by adding a few more days. Refer our blog post on Ravangla and Namchi for more information.
Do you have any questions on Varsey? Let us know in the comments.
Prices mentioned in this blog are valid as of April 2015.