A post-monsoon trip to Chikkamagaluru
Being in Bangalore for a few years now, we have been yearning to visit Chikkamagaluru for a long time. Finally it happened on my last birthday when we decided to visit this little hill town as a last minute decision. A beautiful hill station in Karnataka, Chikkamagaluru is famous for its finest quality coffee and is home to Karnataka's highest peak. It has something for every traveller – the majestic mountains to conquer for the trekker, the hidden waterfalls for the adventure enthusiast and the lush green surroundings for the nature lover. And the best part is, you can easily visit it as a weekend trip from Bangalore.
We started by car from Bangalore early in the morning and it took us around 6 hours to reach Chikkamagaluru including a few stops in between. As we moved farther from Bangalore, the landscape dotted with mountains, corn fields, green pastures and windmills started accompanying us in our journey.
Itinerary
This is the itinerary we followed for our 3 day trip keeping in mind our interests and available time.
Day 1: Drive from Bangalore to Chikkamagaluru and on the way visit Chennakeshava temple at Belur. In the evening, visit Hirekolale lake.
Day 2: Visit Mullayangiri peak and Jhari Falls
Day 3: Drive back to Bangalore and on the way visit Sri Veeranarayana temple at Belavadi.
If you have more time in hand, you could also cover the following places.
Bhadra Wildlife Sanctuary
Trek to Kudremukh
Places to visit in Chikkamagaluru
Chennakeshava Temple
This temple at Belur is an architectural marvel boasting of amazingly beautiful sculptures and exquisite carvings. This is one of the remarkable monuments built in the early 12th century during the Hoyasala empire and is now a proposed UNESCO World Heritage Site. The main temple is dedicated to Lord Vishnu with a few other temples in the compound. Every nook and corner of this place amazed us with it's intricate artwork and carvings and we wondered how adept the craftsmen must be to do this without the availability of any modern tools and technology. All in all, if you love architecture, art and history, then this is a place not to be missed. We recommend hiring a guide to know more about the story behind the carvings.
The temple stays open from 8am to 7:30 pm.
No entrance fee is levied.
Photography is allowed in the temple compound.
Footwear is not allowed inside the temple premises and can be deposited at the shop near the entrance with a charge of INR 5 per pair.
Paid toilet facility is available outside the temple.
Sri Veeranarayana Temple
Located in Belavadi village of Chikkamagaluru district, Veeranarayana Swamy temple is around 1000 years old. It is now maintained by the Archaeological department of India. This is a place comparatively less popular than the Belur Halebeid temples. And that is what makes it a desirable place to spend time admiring the artwork and serenity.
The temple has 108 pillars some of which are glossy black whereas some have very intricate carvings. It houses idols of Sri Veeranarayana Swamy, Lord Narasimha and Lord Krishna that are carved out of black stones very beautifully. As per the priest, the Krishna idol in this temple has been found to be the most beautiful idols in all of India by a survey conducted by the Archeological department. And do you know an interesting fact? On every summer equinox, the 1st rays of the sun pass through the pillared corridors to brighten the idol of Sri Veeranarayana Swamy.
The temple stays open from 8am to 7pm.
No entrance fee is levied.
There is no guide available at the temple. But the priest at the temple is a very nice person who happily provides information about the temple and it's architecture.
There is no toilet facility near the temple and no shops to buy any food items.
Hirekolale Lake
This is a beautiful man made lake surrounded by lofty mountains and greenery all around. There is ample space along the lake shore to stroll around or just to sit and relish the beauty. We visited this place around 4pm and loved the serene surrounding as there were very few people around. But as the sunset time neared, the place became quite crowded with people and tourist buses coming in. So visit this pretty little lake anytime before sunset and you will surely fall in love with it.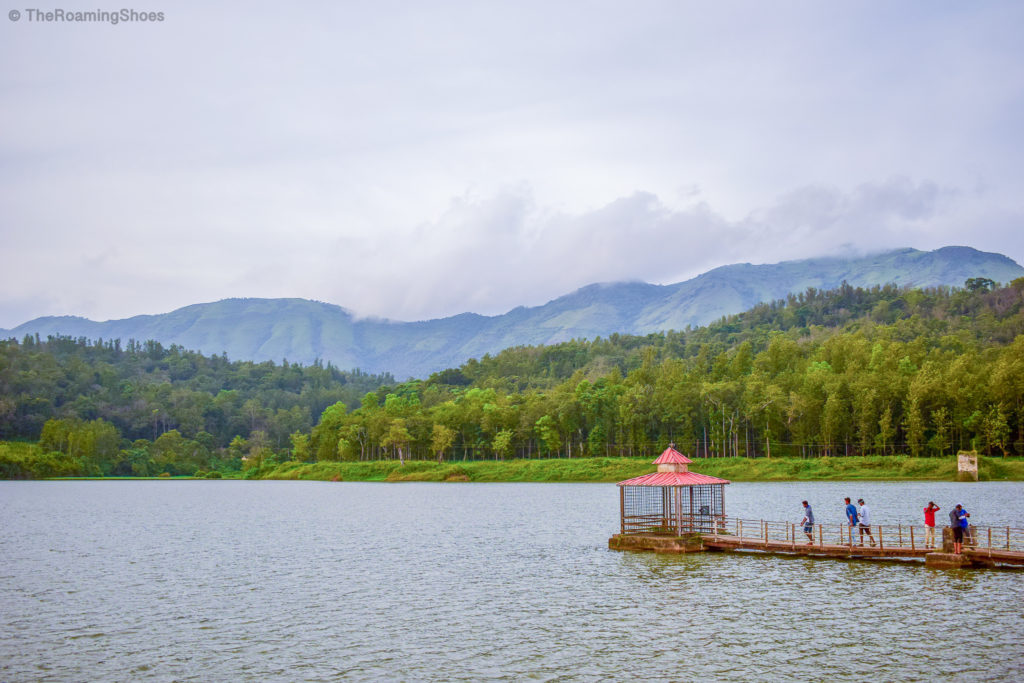 This place is not yet commercialised and so there are no shops in the area for buying food items or water. In case you want to spend more time at the place, carry your own food and water.
Toilet facility is not available in the lake area.
No boating or water sports activities are available.
Mullayangiri Peak
No trip to Chikkamagaluru can be complete without a visit to Mullayangiri Peak, the highest peak of Karnataka. The views from the peak are astounding with deep green valleys and forests all around and even the small lakes and town visible at one side. You can either trek (more like a walk) to the place or go by the Govt approved jeeps to the base of the mountain and then take the stairs to reach the peak. You can take your own vehicle too. But as the road towards the end was not in good condition, we had to leave our vehicle at the designated parking place and walked the rest of the distance.
Jeeps charge INR 400 for two way trip to Mullayangiri base from the vehicle parking area. The charge is per jeep basis and not per head. So you can share with others to have a reduced amount per person.
There are food items such as fried rice, pakoda, sweet corn, roasted corn etc available near the parking area along with tea and coffee. But no proper restaurants are available nearby.
Toilet facilities are available near the parking area.
Try avoiding public holidays and weekends as the place gets quite crowded.
Tip: There is a small hill (named Seethalayanagiri) near the area where vehicles are parked and we would recommend visiting it if you have time in hand. We initially mistook that as Mullayangiri and we are really glad that we did. There were very few people in that area and we could enjoy the views peacefully. You can also have some great photographs here without many people coming in your frame 🙂
Jhari/Dabdabe Falls
Chikkamagaluru is home to many beautiful waterfalls both small and big and they look majestic if you visit during or after the monsoon season. We decided to visit Jhari falls which is one of the prettiest and is present inside a forest amidst lush vegetation.
On the way to Mullayangiri, there comes a crossroad where one route goes towards Mullayangiri and the other towards the fall. The place has a board in place clearly indicating both the routes. You need to park your vehicle on the main road and rent a jeep to reach the waterfall. The 3 kilometre ride in the jeep is no less than a roller coaster as the road is in terrible condition. But at the end of the arduous jeep ride which takes around 15-20 minutes, the sight of the majestic fall takes away all the pain. The water flow in the fall was pretty strong when we visited and the sight of water gushing with full vigour amidst the green surrounding was an amazing sight.
The entry to the waterfall is regulated by the government and you can only reach the place by jeeps. The road is in pathetic condition and the ride is not suitable for old age people, pregnant ladies and people with backbone problems.
Walk or trek in this route is not allowed and that is clearly mentioned on the notice board at the start point for the jeeps.
The charge for each jeep is 600 INR for two way trip and you may share this with other people which brings down the cost per head.
Best Time to Visit
September to March: We recommend visiting in September – October time just after the monsoon fades away bathing the whole landscape green. This even is the best time to see the waterfalls in their full glory. The weather will be pleasant in the day and a bit cold at night.
Our time of visit: September 1st week
How to Reach
By Air:
There is no airport in Chikkamagaluru. Nearest Airports are at Mangalore and Bangalore and from there you can rent a car or even use bus services.
By Train:
Chikkamagaluru does not have a railway station of it's own. The nearest railway stations are at Kadur (40 km) and Hassan (60 km). You can book a taxi from the station to reach Chikkamagaluru.
By Road:
Buses from Bangalore, Mangalore and other nearby towns ply regularly to Chikkamagaluru. Taxis or self driven cars are also good options especially after monsoon when the views on the way are absolutely gorgeous.
You can either opt for a self driven car (from agencies like Zoomcar) or there are many operators providing taxi with Chauffeur services in Bangalore. We have used both Ola Outstation and Zyppys and would recommend Zyppys for its wonderful service every time. The cars have always been in great condition and the drivers very professional and fluent in English and in some cases Hindi too.
Accommodation
There are plenty of hotels, resorts and homestays in Chikkamagaluru that are available for all kinds of travellers. Zostel which is a great option for solo travellers is also present in Chikkamagaluru.
We stayed at Coffee Grove Resort which is a beautiful 3 star property located inside a coffee plantation. It has beautiful cottages, a swimming pool overlooking the plantation and nice food (do not forget to try their pahadi chicken kabab which was super yummy). They also have badminton courts, Kids play areas and even many indoor games to keep you occupied. The best part is the staff who are very humble and go extra ways to keep you happy and comfortable. We totally loved this place and highly recommend it. Do remember that this place is around 20 minutes drive from the main town and so a bit distant from the sight seeing locations.
Budget
Following budget is for a 3 day trip to Chikkamagaluru from Bangalore with hired taxi.
Approx cost for hired taxi (with driver) for 3 days: INR 8500
Toll: Around INR 500
Accommodation: Around INR 6000 per night in a medium range resort
Food: INR 500 per head per day
Not to miss
Staying inside a plantation
Drinking fresh aromatic coffee
If you found this blog useful or have any questions related to planning a trip, do let us know in the comments. Happy traveling 🙂
Facebook Comments