Summer Trip to Switzerland – An Ultimate Guide
Mention Switzerland to us and we will come to that super peppy mode to tell you all about the mighty snow clad mountains, the glimmering emerald lakes, the idyllic little villages and the meadows brimming with colourful wild flowers. Such is the effect of this alluring country that once you visit it, the memories of the picture perfect sights are etched in to the memory forever.
Switzerland looks amazing in all seasons whether it is winter when the little towns and villages blanketed with snow look like white wonderlands or summer when every colour comes alive in the form of wild flowers. Though we feel Switzerland deserves a chance in both summer and winter, we decided to visit in summer for the love of flowers and the scenic hikes.
Itinerary
In case you are planning a trip in summer, this is our itinerary for 6 days starting and ending at Zurich and using the Swiss Railway as mode of transport.
Day 1: Fly to Zurich. Visit Rhine Falls and move to Lucerne
We reached Zurich early morning and had decided to visit Rhine Falls before moving to the beautiful city of Lucerne (also called Luzern). Rhine falls is claimed to be the largest waterfall in Europe and is around 45 minutes train ride from Zurich. The natural beauty of the fall is captivating with it's teal coloured water, a castle by it's side and an Avatar kind of rock in the middle. We strongly recommend taking a boat ride to the middle rock from where you can witness the mighty form of the waterfall from a closer distance and enjoy 360 view of the surrounding. We loved the boat ride as it got us really close to the fall giving everyone on board a bit of thrill and a splash of ice cold water.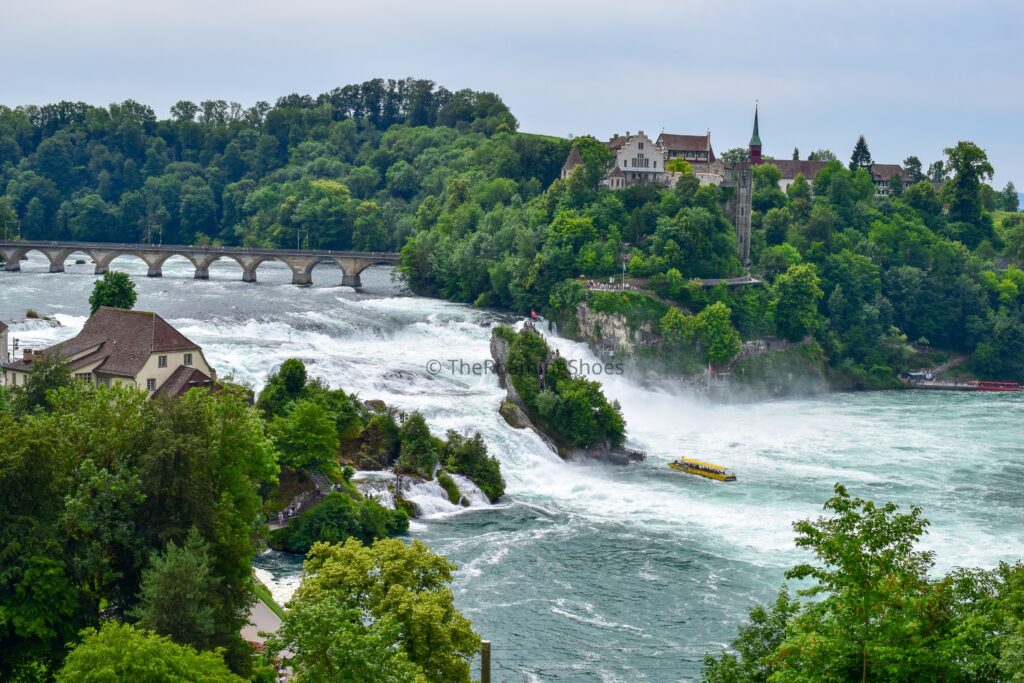 The pretty little town of Lucerne is about an hour train ride from Zurich and is a great place to enjoy both natural beauty and architecture. Sitting by the side of Lake Lucerne and with a beautiful alpine backdrop, this place is pure joy to explore by foot. The major attraction here is the Chapel Bridge which is the oldest covered bridge in Europe and is very popular among tourists. The interior of the bridge is adorned with age old paintings and the outer side with colourful flower pots. Another thing not to miss in Lucerne is the guided cruise on lake Lucerne where you can enjoy panoramic views of the surrounding with an audio guide narrating the history of the town and it's attractions.
We loved every bit of Lucerne in our short stay here, whether it is the walk through the old town or the magical view of the town and Chapel bridge after sunset or a romantic dinner at one of the charming restaurants by the riverside.
Other points of interest in Lucerne
Jesuit Church – A very old church with a beautiful interior
The famous Lion Monument
Swiss Museum of Transport – An interesting place to know the history of the various modes of transport
Use the following link for time table, fare and online booking for Lake Lucerne boat cruise: https://www.lakelucerne.ch/en/
Day 2: Lucerne to Lauterbrunnen and explore Lauterbrunnen
To reach Lauterbrunnen via train from Lucerne, first you need to take a train to Interlaken Ost and from there catch another train to Lauterbrunnen. The whole journey takes around 2.5-3 hours passing through one of the most scenic routes in Switzerland.
Lauterbrunnen is a picturesque village in the Jungfrau region sitting in a valley surrounded by rocky cliffs and boasting of 72 waterfalls. The village looks straight out of a fairytale with the majestic Staubbach fall located right in the middle of it backing the pretty chocolate coloured chalets. You can simply walk around this beautiful village, have a cup of coffee in one of the flower decorated dinky cafes or spend some time sitting in one of the benches near the Staubbach fall. We climbed up a bit to reach under a rock right below the Staubbach fall and loved the feeling of getting sprinkled by the fall water. As part of this climb, you can also get beautiful views of the Lauterbrunnen valley.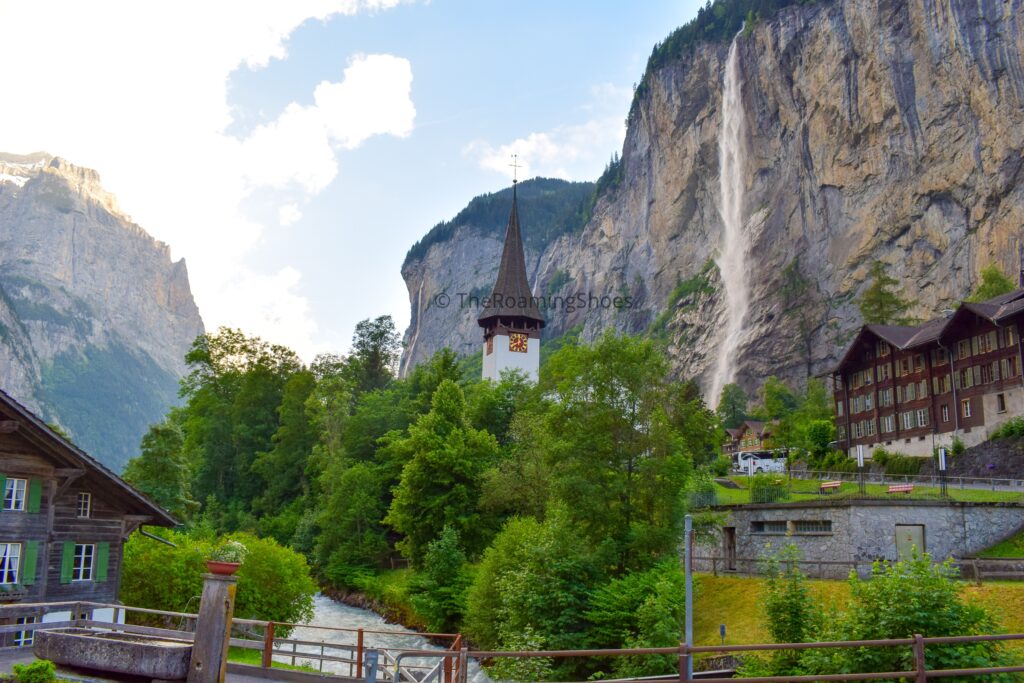 Visit Staubbach Fall after evening when the crowd fades and you would love the serenity. The place is illuminated well and sitting on one of the benches there listening to the sound of falling water is pure bliss.
Other places of interest near Lauterbrunnen
Trummelbach Falls – A series of thundering underground glacier water falls. (Entrance Fee:

11 CHF for adults

and

4 CHF for children

. Children below 4 years are not allowed inside. Entry tickets are cash only, no cards accepted)
Day 3: Visit Murren and hike to Mittelberg
To reach Murren, you need to take the cable car from Lauterbrunnen to Grütschalp which is a wonderful ride itself and from there take the narrow gauge train to Murren. We recommend walking along the trail from Grütschalp to Murren (at least one way) as it is very scenic and full of wild flowers in summer. Since the trail was closed at the time we visited, we decided to take the train from Grütschalp to Winteregg and then walked to Murren from there. The trail is an easy walk and can be covered in 45 minutes including a few stops.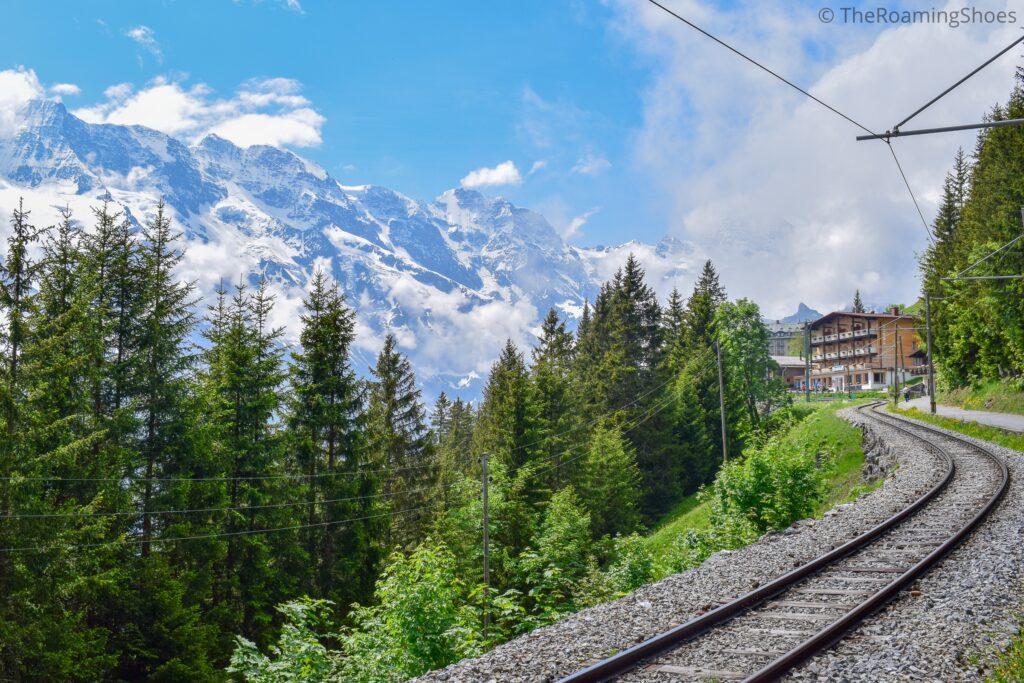 Murren is a beautiful alpine village from where the snow covered peaks seem to come closer. This is one of the car free villages in the Jungfrau region and is a great starting point to many beautiful hiking trails. We had planned to hike the Bluemental Panorama trail which takes around 45 minutes from Murren. But as fate had it, we got lost on the way misinterpreting the trail sign and ended up hiking a steep path through the forest for an hour to reach a different destination altogether. With a paddock full of yellow and white flowers complemented by snow capped mountains as backdrop and two beautiful wooden sheds in the middle, the place looked straight out of a postcard. Later while coming back we got to know that the place we visited was Mittelberg which was just 20 mins easy hike from Murren 🙂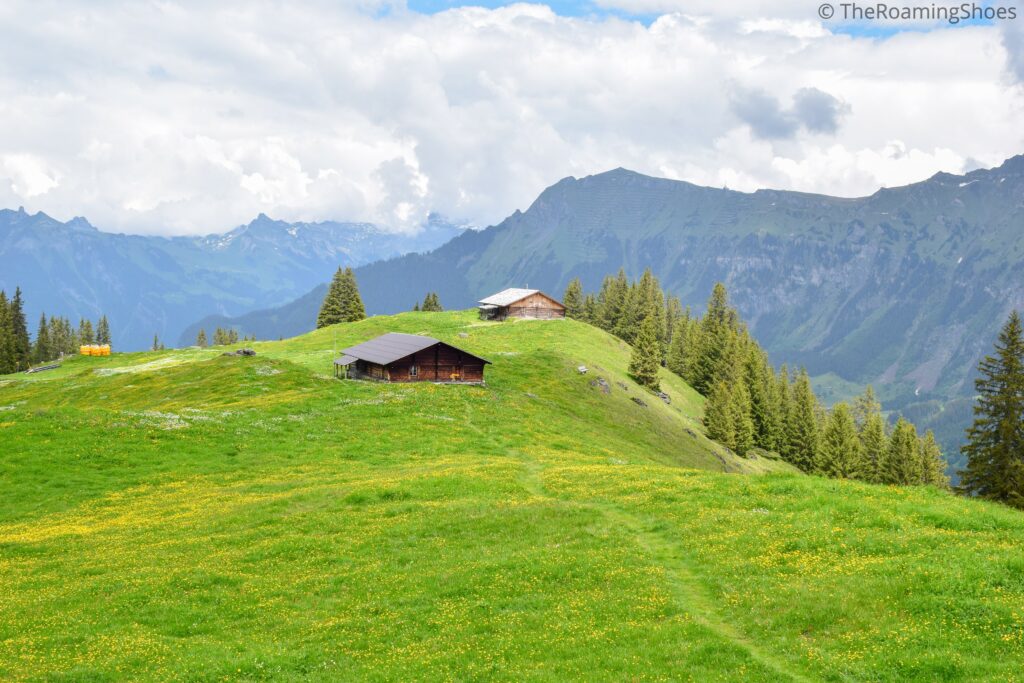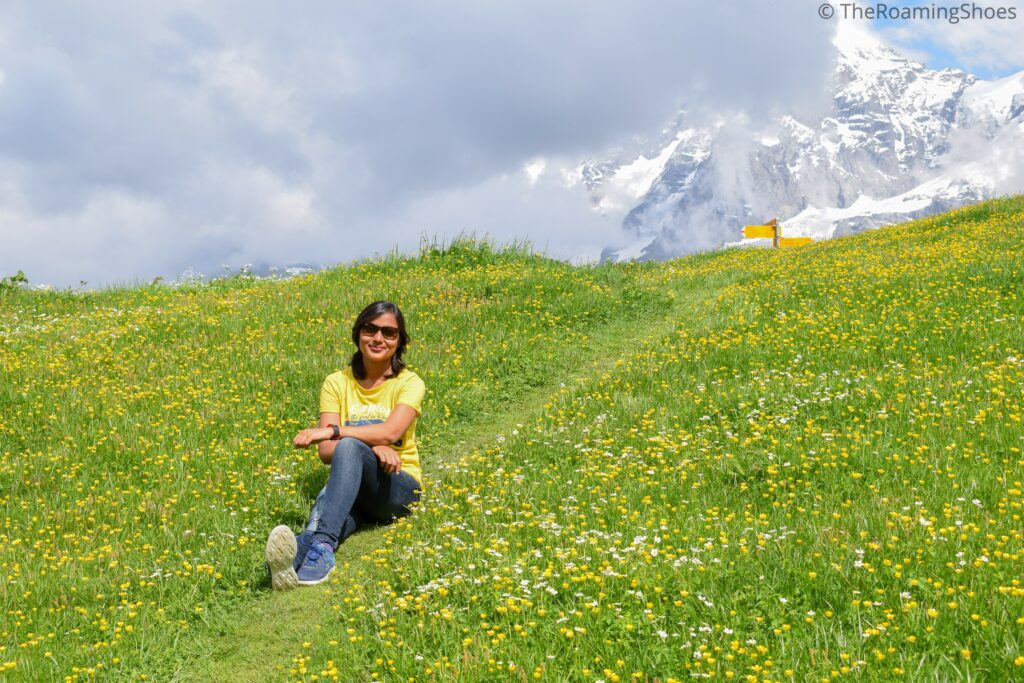 Other places of interest
Mountain excursion to Scilthron by cable car from Murren and enjoy coffee at the revolving restaurant of the Famous James Bond movie.


Fare for adults: 82.60 CHF, Fare for children: 41.30 CHF

(These prices are reduced by half with Swiss Half Fare Card whereas the Swiss Travel Pass covers the entire journey. Also, with Swiss Travel System Family Card, children below 16 years accompanied by a parent travel free)
Nearby village of Gimmelwald which is 30 minutes walk from Murren on an easy downhill path
Take the funicular to Allmendhubel and enjoy the mountain views. Allmendhubel is also the starting point for many beautiful hiking trails.
If your interest lies in hiking, then Murren is a good base to stay for a couple of days. Otherwise, Murren and Schilthorn can easily be covered in a day trip from Lauterbrunnen.
Day 4: Move to Wengen and Visit Jungfraujoch
Wengen is another lovely car free village sitting on a ledge overlooking the Lauterbrunnen valley and is our personal favourite for stay among the other places. This little village is around 15 mins train ride from Lauterbrunnen and serves as a base for visiting Jungfraujoch – Top of Europe.
From Wengen, it takes around 90 minutes to reach Jungfraujoch via Klein Scheidegg by the cogwheel train with splendid views all the way. Apart from the stunning panoramic views of the glaciers and snow coated peaks, there are many other things to experience at Jungfraujoch. There is an ice palace that has many beautiful snow sculptures and a snow plateau where you can have fun playing in snow all round the year.
On the way back, we spent some time at Klein Scheidegg from where views were absolutely breathtaking with snow clad peaks at one side and green mountains and valleys at other with patches of snow in between. In case, you are interested in hiking, there are also a few trails around this area to witness the beauty of the alpine meadows and quintessential Swiss valleys.
Hiking Trails
Klein Scheidegg to Männlichen – You can then take the cable car to Wengen or Grindelwald or come back to catch the train from Klein Scheidegg.
Klein Scheidegg to Wengernalp – Can continue till Wengen or catch the train from here to Wengen
The Eiger Trail – Starting from Eigergletscher to Grindelwald via Klein Scheidegg and Alpiglen (If you wish, you can also take the train from Alpiglen to Grindelwald)
Fares for Wengen <—> Jungfraujoch trip
Adults:
200 CHF (100 CHF with Half fare Card, 150 CHF with Swiss Travel Pass)
Children:
100 CHF (Travel free with Swiss Family Card combined with Swiss Travel Pass or Swiss Half Fare card and accompanied by at least one parent)
Day 5: Visit Lake Brienz
The day started as cloudy and a bit cold and it seemed like a perfect time to explore the area around Wengen. We walked on the Wengen-Wengernalp trail for a while and then diverted to another lane that lead to a beautiful alpine meadow through a small forest like area. We could see marvellous views of Wengen all along the way and came across beautiful streams and valleys.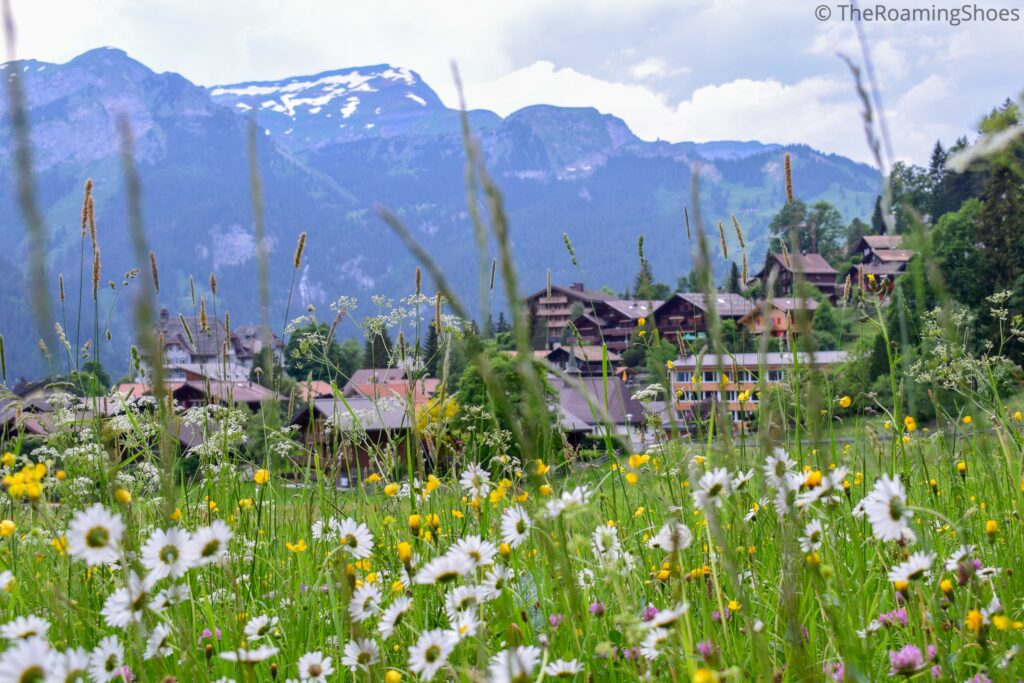 In the afternoon, we visited Lake Brienz after the weather became clear again. Brienz is a breathtakingly beautiful emerald lake cradled by quaint villages and green mountains. The best way to enjoy the beauty of this lake is to take a cruise passing via charming lakeside villages on the way. You can choose to take this cruise either from Brienz town and move towards Interlaken Ost or vice versa depending on your convenience. There is also an option to buy a round trip (Brienz <–> Interlaken) ticket which will allow you to get on and off at any of the passing villages/towns where the boat makes a stop. There is a restaurant on board which serves some nice food and drinks to enjoy with the view. We loved the mint tea and coffee they served.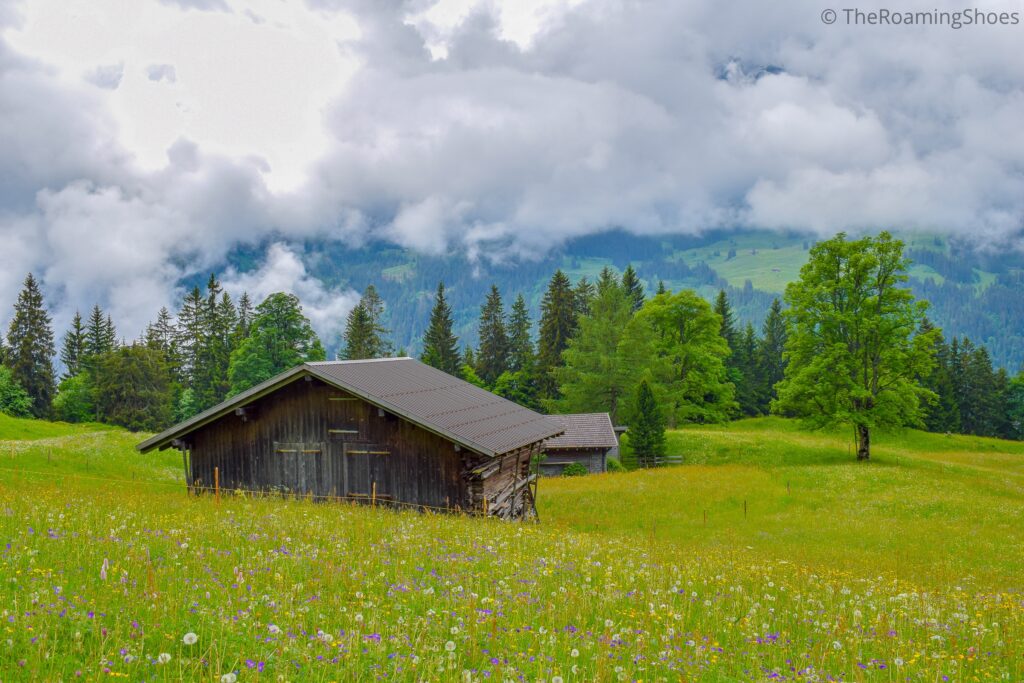 You can also visit Lake Brienz on the way from Lucerne to Interlaken or Vice-versa. This will save you the additional train fare (in case you do not use a Swiss travel pass) and commute time.
Use the following link for time table, fare and online booking for Lake Brienz boat cruise: http://www.interlaken.ch/en/cruises-lake-thun-and-lake-brienz.html
Day 6: Wengen to Zurich and Fly back
We did not plan any activities on this day as we had to catch an early afternoon train from Zurich. So this ends our trip to Switzerland spread over 6 days and now since we have seen the place ourselves, we can confidently say that "Switzerland definitely is one of the most beautiful places on earth".
Itinerary Suggestion
Switzerland is such a marvellous country that we found it really hard to decide the places to visit in our limited 6 day itinerary. How many days you might have spent in this charming country, you would always feel like having few more days to see a little more of it. So if you have additional days in hand, we suggest covering the following places too.
Neighbouring country of Liechtenstein which takes around 1.5 hours by train from Zurich and can be covered in a day trip.
Take one of the mountain excursions from Lucerne to Mt Titlis or Mt Rigi or Mt Pilatus
Visit the picturesque village of Grindelwald from Lauterbrunnen/Wengen (wherever your base is) and take the cable car to First to enjoy the cliff walk and the view of Eiger mountain. You can also hike to the gorgeous mountain lake Bachalpsee which is an hour away from First.
Spend a day in the beautiful town of Montreux and visit the famous Chateau de Chillon castle. The additional bonus here is the scenic train ride from Interlaken to Montreux.
Best time to visit
Switzerland is beautiful in every season and receives tourists all round the year. But the best time to visit completely depends on what you want to experience and see.
If you like sunny days and are interested in outdoor activities like hiking, biking and paragliding, then the best season to visit is Summer.
June to September (Busiest – July and August): This is the time when the days are longer (Sun sets around 9:30pm), the weather is warm and wildflowers are in full bloom. The skies are clear and the views are great.
If you like visiting Spa towns and love Skiing and other snow activities, then the best time to visit is Winter.
December to March: This is the time when Switzerlands turns in to a winter wonderland with almost everything under a blanket of snow. The Ski towns like St. Moritz, Zermatt, Davos, Wengen etc become very crowded and expensive too. The days are shorter (with sunset around 4:30 pm) and its perfect time to enjoy some hot chocolate sitting in the cosy hotel room.
Want to escape the crowd and the high prices? Then you may consider these months.
October: This is Fall in Switzerland and the weather stays pretty mild, but could be chilly in places as the mountains high up there start getting the 1st snow fall. You can hike across few low altitude trails, but some higher trails and cable cars might be closed due to snow.
April and May: These are the low months between winter and summer when the winter crowd is almost gone and the summer crowd has not arrived yet. This is the time when you can see both snow clad towns and green valleys.
How to reach
Zurich and Geneva airports in Switzerland are very well connected to the rest of the world with a substantial number of flights on a daily basis. The rest of Europe is also connected to Switzerland by a number of trains.
Accommodation
There are many options to choose from when it comes to accommodation in Switzerland. You can either choose a hostel, hotel, Airbnb or chalet depending on your budget and convenience. Be sure to read the reviews before going ahead with the booking.
Also, remember to prebook your accommodation especially for the peak season to find a place not far from the centre area.
We chose to stay in decent budget hotels (2 star or 3 star) in every place as part of our trip. The average cost for a budget hotel with dedicated bathroom/toilet facilities and on twin sharing basis comes around 130-150 CHF. But if you are okay to stay in a room with shared bathroom and toilet facilities, then the cost comes down a bit and the number of options are more to choose from.
Food
Both vegetarian and non vegetarian options are available in food though the vegetarian option is quite limited.
Food in restaurants is utterly expensive in Switzerland. Meal for 2 in a decent restaurant costs in the range of

25-40 CHF

. Even a simple Margheritta pizza costs around

15-20 CHF

. A coffee will cost you around

3-5 CFH

whereas a bottle of water ranges from

2-4 CHF

.
Budget Mode
Use the ready-to-eat salads, sandwiches, cakes and fruits available in the supermarkets like Coop and Migros which on an average cost between 4-6 CHF. Vegetarian options are available in the salad and Quinoa items.
Fill your water bottles with tap water from your hotel or hostel which are absolutely drinkable. You can even use the public tap waters available at certain places unless it is written that the water is not for drinking. On hiking trails, use the streams to fill your bottles.
Must Try
The extra creamy ice creams and yummy cheesy pizzas
Transportation and Travel Pass
The best way to see Switzerland is by train as the country has an excellent railway system connecting even many remote places. It is punctual, efficient and provides you with unparalleled views of the countryside. But like all other things in Switzerland transport by rail is also quite expensive for point to point travel. This is where the travel cards or passes provided by the Swiss Railway comes really handy. Out of all the options, the 2 most popular ones are the Swiss Travel Pass and the Swiss Half Fare Card. Which travel card or pass to choose depends upon the duration of the trip as well as the places you want to cover including the mountain excursions. So the travel card or pass applicable for someone may not be right for you. Make a comparison of prices before deciding on the travel card/pass. If you are still not sure, then leave it to the SBB travel agents at Zurich station/airport to help you out. They take your itinerary, make all the necessary calculations and suggest you the best possible option.
We decided on the Half Fare Swiss Travel Card for the whole duration of our trip as it came out to be cheaper than the Swiss Travel Pass.
Swiss Half Fare Card
The price for the train tickets, bus, cable cars and boat cruise are reduced by half (with very few exceptions where the discount may be less than 50%).
50% discount on the most expensive excursion to Jungfraujoch
50% discount on the other mountain excursions such as and Schilthorn, Mt Titlis, Mt Pilatus and Mt Rigi
With Swiss Family Card which can be obtained free of charge with the Swiss Half Fare card, children below 15 years can travel for free with the company of at least 1 parent having the half fare card and the discounted ticket.
15% discount on travel to Germany and Austria if you buy your tickets from Switzerland with the Half Fare Card.
Valid for a month from the day of purchase. So you can always travel with days of gap in between.
With half fare card, you have to buy tickets for every journey and have to carry the card along with you for verification purpose.
Price: 120 CHF
Swiss Travel Pass
Entitles you to unlimited travel by bus, trains and boat for the specified time period without the hassle of buying tickets everywhere.
Covers mountain excursions to Mt Rigi, Schilthorn and Stanserhorn
50% off on other mountain excursions and 25% off on Jungfraujoch trip
With Swiss Family Card that can be obtained free of charge with Swiss Travel Pass enables children under 16 years to travel for free if accompanied by at least one parent
Entitles you access to over 500 museums in Switzerland
Covers train travel to the neighbouring country of Liechtensteintenstein
If you are not travelling on consecutive days, you can opt for the Swiss Travel Flexi Pass.
More information on the Swiss travel pass and prices are available in the following link: https://www.sbb.ch/en/leisure-holidays/travel-in-switzerland/international-guests/swiss-travel-pass.html
What to pack
Some jeans, a light waterproof jacket and a good pair of waterproof shoes. Also a good winter jacket, winter cap, gloves and a pair of good socks that will be needed if you are visiting places like Jungfraujoch which was very cold even in Summer.
In summer the days are sunny and you can flaunt those shorts, skirts and sleeveless tops/dresses too 🙂 Also carry some comfortable clothing if you are planning for a hike.
Carry your swim suits in case you want to jump in to one of those beautiful lakes or rivers for a swim.
Good sunscreen as the sun literally burns the skin there and a good body lotion to keep you moisturised.
Umbrella, hat and sunglasses are must to save yourself from the sun and rain.
A pair of slippers as all the accommodations do not provide room slippers and the floor will be cold even in summer unless carpeted.
Basic medicines such paracetamol, antacids and other specific medicines.
Instant food like cup noodles, oats etc and coffee mix that you can have just by adding hot water. This will save you a lot on the food and drinks side.
Other important things to consider
Visa: You need a valid Schengen Visa to visit Switzerland.
Currency: The currency of Switzerland is Swiss franc (CHF), but Euro is also accepted everywhere. We recommend taking the currency in CHF as the conversion rate is really poor for Euro. You can carry less cash and use card instead as almost all places accept cards.
Travel Light: Even though the trains in Switzerland have enough space available to keep luggages, it is advisable to travel light for convenience. If you have more items, then try to carry two smaller size luggages in place of one big luggage. Also travelling in small trains (like the one from Lauterbrunnen to Wengen) and cable cars becomes easier with smaller size luggages.
Locker Facility: Most of the railway stations in Switzerland have paid locker facility to store luggage. The charges are on 24 hour basis and vary for smaller and bigger size lockers.Use the following link to find out the locker availability at any railway station in Switzerland: https://www.sbb.ch/en/station-services/railway-stations/further-stations.html
Train Schedules: Use the official SBB app to keep track of train schedules, fares and booking information. Download SBB app from the following links:
https://itunes.apple.com/app/sbb-mobile/id294855237 (for iPhone and iPads)
https://play.google.com/store/apps/details?id=ch.sbb.mobile.android.b2c (for Android devices)
Weather check before Mountain Excursions: Check the weather condition at places like Jungfraujoch or Schilthorn before going there. Even though the weather might be sunny in the lower areas it could be a completely different scene at the top. We visited Jungfraujoch on a relatively sunny day to be greeted with snowfall at the top and completely missed the view. You can check the weather condition from the live cameras in the following links:
Jungfrau: https://www.jungfrau.ch/de-ch/live/webcams/
Schilthorn: https://schilthorn.ch/en/Infos/Live#livecam
This is all about our trip to Switzerland which was no less than a dream come true. If you found this blog helpful or have any questions, do let us know in the comments.
All prices mentioned in this blog are valid as of June 2018.