Planning a weekend trip from Bangalore to Jog Falls on budget
"Madam, you have been very lucky. My father was saying there has never been this much of water in the falls in October end in the last 25 years" – Our driver told us. And how true his words were. Though Jog Falls has been on our list for a long time now, we could not make it there due to some or other reason in the limited window of July-September. This is the time when the water in the falls cascades down with immense force creating an incredible sight. Train tickets in waiting and my stomach infection still lingering after 15 days, we were not sure if we would make it this time too. To make it worse, came the cyclone warning that would affect coastal Karnataka including Jog falls area. Then like a sign, the tickets got confirmed with the help of a friend and my stomach started showing positive signs. We were all set to visit Jog Falls.
Now since we have seen it, we can definitely vouch that it looks much more beautiful to the eyes than in any of the pictures we had ever seen. So if you are in Karnataka, we definitely recommend a visit to Jog Falls. We are going to put all the information in this blog to help you plan a weekend trip from Bangalore to Jog Falls on budget.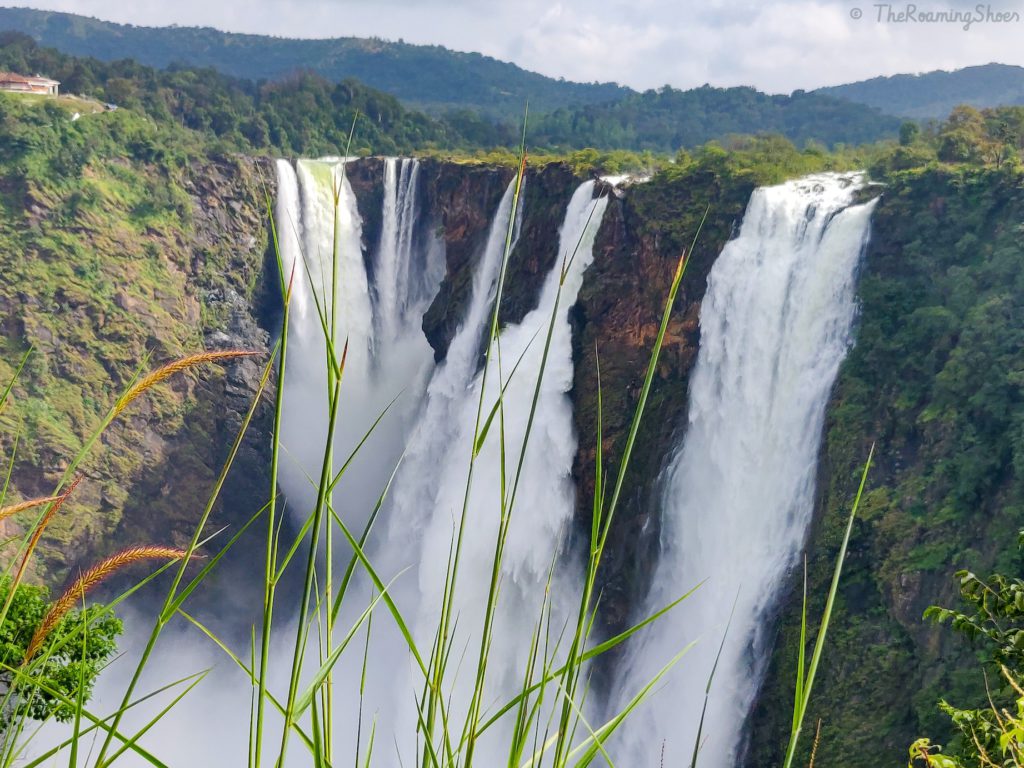 Budget for the trip
| | |
| --- | --- |
| Return train tickets per person in AC 3-tier (from Bangalore to Talguppa) | INR 1250 |
| Bus fare (private bus) per person from Talguppa station to Jog Falls | INR 20 |
| Accommodation at KSTDC Mayura Gerusoppa Resort – AC deluxe room (twin sharing basis) | INR 3400 |
| Approximate food expense per person per day | INR 400 |
| Approximate Total Expenses of the trip for 2 people | INR 8500 |
If you choose sightseeing of places around Jog Falls, then that would cost you extra.
You can still bring down this cost if you choose sleeper class in train and a more budget option for accommodation. You can even skip the stay and come back the same day as the trains reach early in the morning and start around 8pm at night. So you will get full day to see the falls as well as a few other places around it. If you want to freshen up, there are toilets in the falls compound.
About Jog falls
Jog (pronounced as "Joga") falls is situated in Uttar Kannada district of Karnataka and is considered the 2nd highest plunge waterfall in India. This is actually a set of waterfalls instead of being a single one which are created by the mighty Sharavati river. The number of falls you see depends on the season and the amount of water. During July to September, the falls look magnificent with huge volume of water plunging from a height of 253 metres. Not only the waterfalls, but the whole area surrounding the falls is very scenic with verdant hills and refreshing greenery. We could see 4 waterfalls cascading down with huge amount of water as it had recently rained for a few days and the Linganmakki dam gates were opened feeding more water to the falls.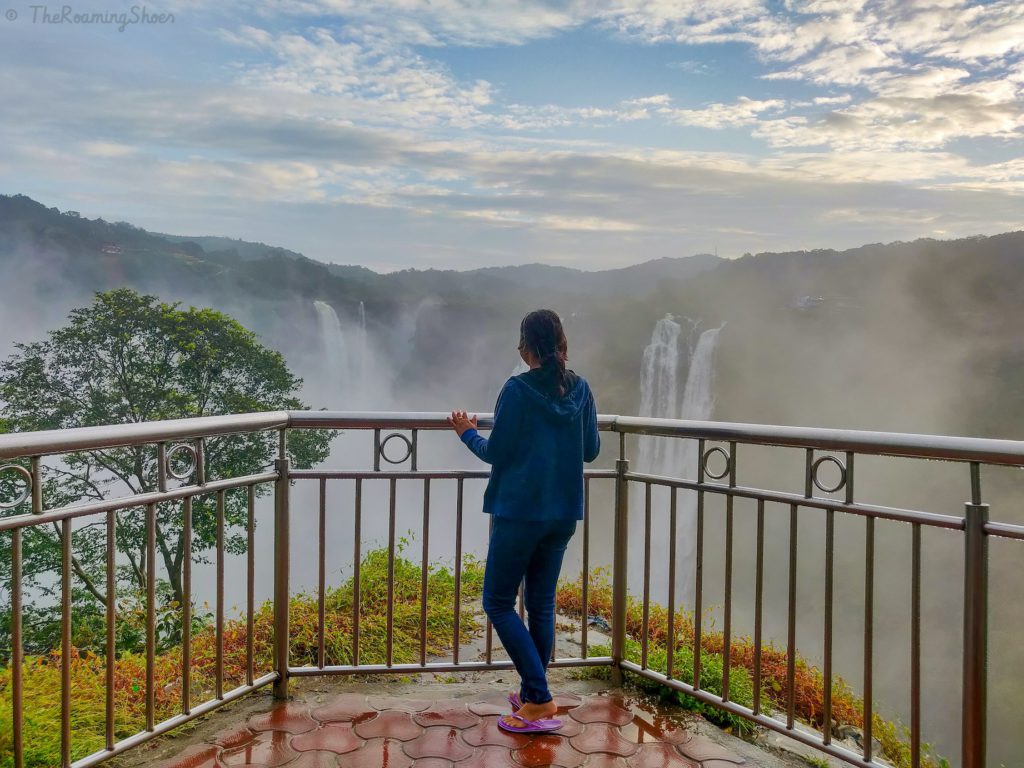 Best time to Visit
July to September – This is the monsoon season when the water in the falls is more and the falls look the mightiest.
Our time of visit – October last week. We have been lucky although it is not the ideal time to visit.
How to reach Jog Falls from Bangalore
Train
The most convenient and budget friendly way to reach Jog falls is via train. The nearest railway station for Jog Falls is Talguppa station which is around 14 kilometres from the falls. There are regular trains plying between Bangalore and Talguppa station. The journey takes around 8-8.5 hours.
Once you come out of the station, you will find taxis, autos and buses (both private and Govt ones) that can take you to the falls. Taxi charges are around INR 300-400. But the budget option is to catch one of the buses to Jog Falls. We took a private bus that. Charged INR 20 per head.
No pantry car in the train. So have your dinner or pack it before boarding the train.

If you can not speak or read Kannada, then take help from local people to find the right bus. The buses do not have their destinations written in any other language than Kannada itself.
Bus
There are a few direct KSRTC buses that run from Bangalore to Jog Falls. The total journey takes 7-8 hours. You can also catch an overnight bus to Shimoga which is around 100 kms from Jog Falls. A lot of KSRTC and private buses ply regularly in this route. Take another bus from Shimoga to Jog falls which takes around 2-2.5 hours.
Accommodation at Jog Falls
When it comes to accommodation the KSTDC Mayura Gerosoppa Resort managed by the Karnataka Govt has the best location and views. It is right in the compound of Jog Falls and the deluxe ac rooms even provide view of the falls from the room itself. If you are on budget or travelling solo, then you can also check out their dormitory which is available at INR 300 per bed. The resort is very very clean and the staff are super nice. So we definitely recommend this place.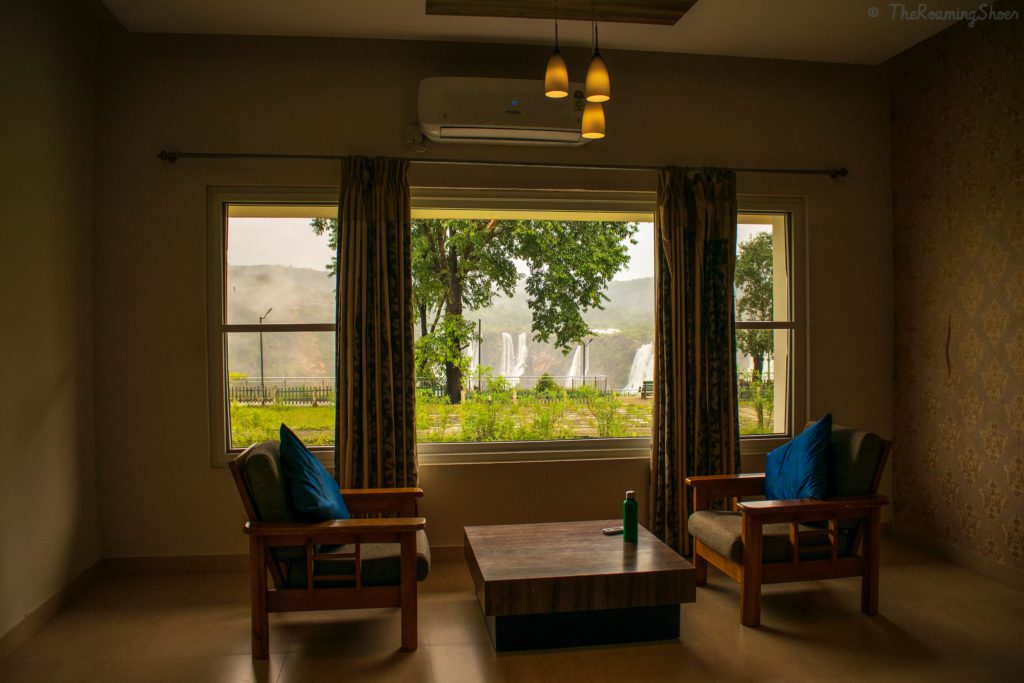 The room rates are around INR 500 higher on weekends than weekdays. So you may plan your trip on weekdays to save money as well as to avoid the crowd.

Check the prices over MakeMyTrip before booking the hotel. You can get the same rooms at much lower prices than the hotel website.
Being the closest to Jog Falls, this hotel gets booked quite fast during weekends and holidays. So make your bookings beforehand if you want to stay here. Otherwise, you can also check out the home stays in the nearby town of Sagara.
Things to do
It is easy to spend a day at Jog Falls, checking out the various view points in and around it. But if you are keen on seeing the other attractions, there are a few more things you can do in 2 days.
Check out Jog Falls from both view points
You can have gorgeous views of Jog Falls from 2 points, one from the compound of Hotel Mayura Gerosoppa Resort (accessible to general public) and the other from Top Point. The area around Mayura resort has many view points/platforms that allow close views of the falls from different angles. Take a walk to the last point in the row to have a lovely view of the dam below flanked by mountains at both sides. There are a few small waterfalls in the area (visible only during monsoons) that adorn the greenery covered surrounding.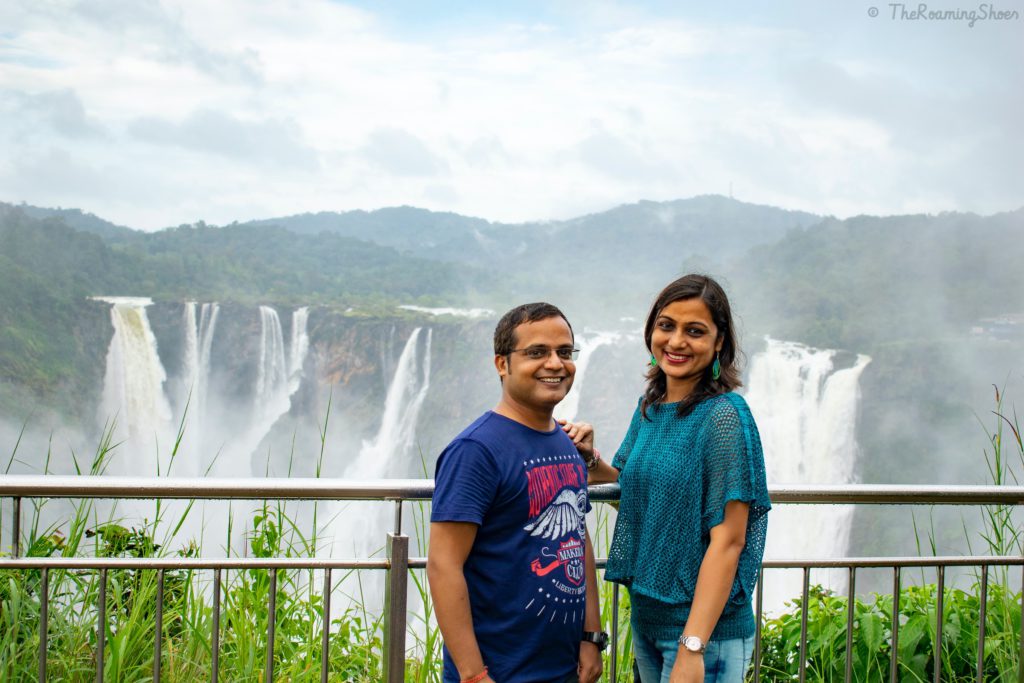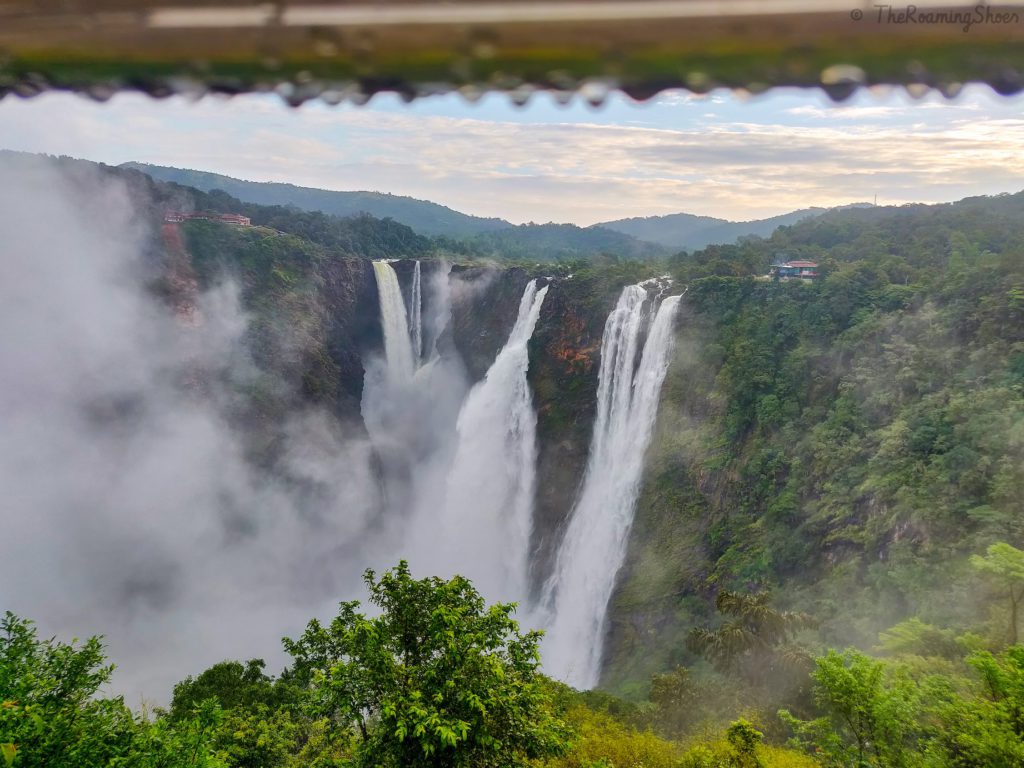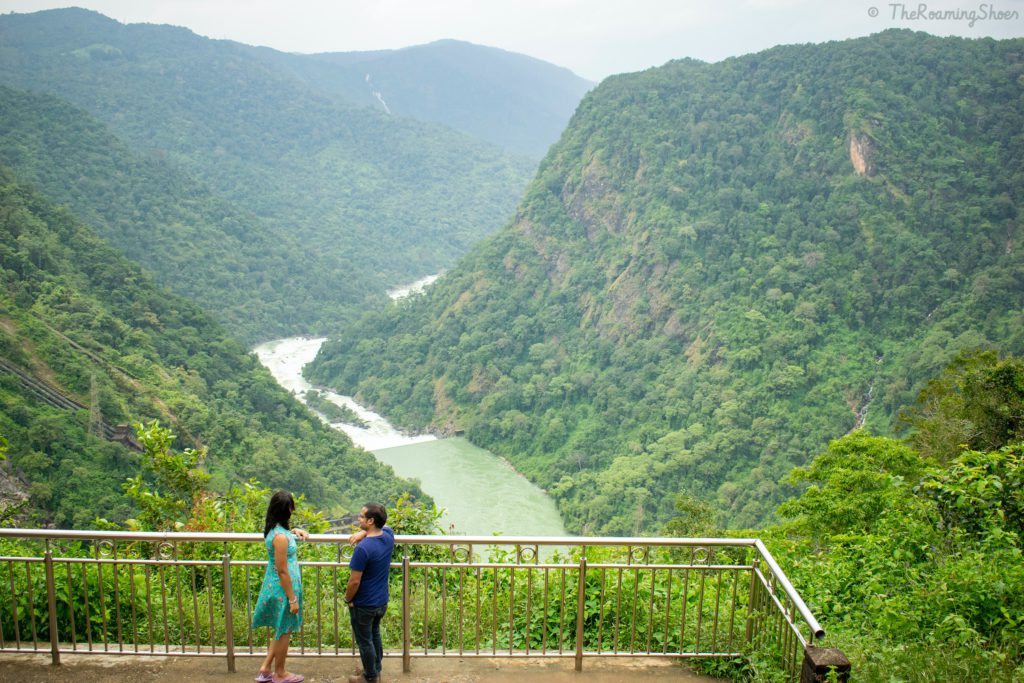 Top point hardly takes 10 minutes by car from Mayura Resort. The view point is in the compound of a former British Bungalow, now used as the PWD guesthouse. This is the point from where the upper part of the falls can be seen and when water is more, the views are truly breathtaking.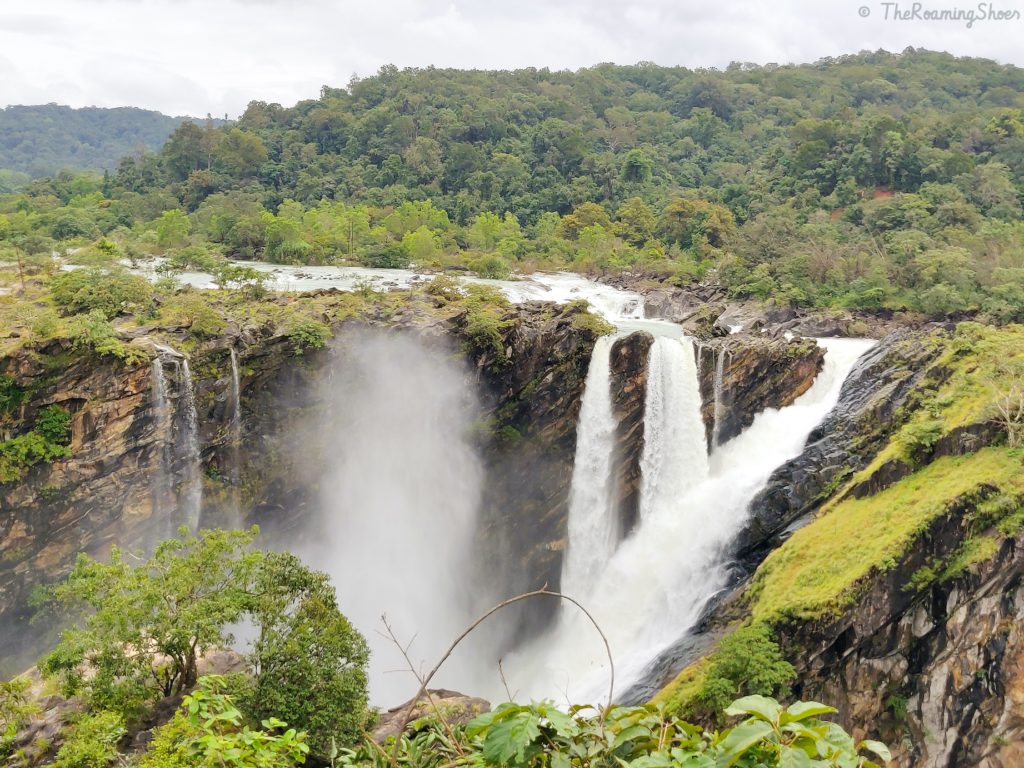 The taxi drivers will try to persuade you for sightseeing of a number of view points around. But most of those points do not offer anything special (even our hotel staff confirmed the same). So you can simply visit the above mentioned view points for Jog Falls and skip the rest.
Climb down to the bottom of Jog Falls
It is possible to reach the bottom of Jog falls through a set of steps made and maintained by Tourism Department. There are more than 1300 steps (starts near a view point inside Mayura Resort compound) which are accessible when the water level in the falls is not too high. Just remember that the climb up is a bit tiresome and may not be suitable for people with arthritis and other physical problems.
Other places of interest nearby
There are some more points that you can cover as part of your trip to Jog Falls.
Ancient temples
There are many ancient temples all at a maximum of 30 minute drive away from Jog Falls and close to the nearby town of Sagara. Check out Ikkeri Aghoreshwara Temple, Keladi Rameshwara Temple and Kedareshvara Temple for ancient architecture and exquisite craftsmanship.
Bheemeshwara Falls and Temple
This is something not many people know about (except some local people) and you will not see it in any of the search results for places to see around Jog Falls. So it is still a very serene place away from the tourist radar. There is a temple and a beautiful falls to see here and this requires a bit of trekking. If you are interested to visit this place, talk to any local driver or your hotel staff and they will guide you. For more details, check out the FB page here.
Dabbe Falls
A stunning waterfall well hidden inside a lush forest and not explored by many. It is located in Hosagadde village around 25 kilometres away from Jog Falls. The waterfall needs a bit of trek to reach and the length of the trek varies depending on the season. In summer, vehicles can go inside and you have to trek just a kilometre or two to reach the falls. But during the rains, the trek is longer (7-9 kms) as vehicles can not go inside. The trek is of moderate nature and requires some level of fitness.
Add one or two days more to your trip and you can cover a few places not very far from Jog Falls. Following are the available options.
For one day
Kodachadri Hill – A great place for trekkers, Kodachadri peak offers stunning views of surrounding hills and lush forests. There are also jeeps that take people to the peak if you do not want to trek.
Honnavar – Around 70 kilometres away from Jog Falls, Honnavar is the perfect getaway featuring beaches, backwaters, temples and a waterfall. Check out Gerosoppa bridge on the way to Honnavar.
Yana Caves – A very unique attraction with two gigantic black rocks rising above the blanket of a green forest.
Murudeshwar – With a massive statue of Lord Shiva against the backdrop of Arabian Sea, this place is a famous tourist destination in Karnataka and is one of its kind.
Mirjan Fort – A very beautiful fort on the way to Gokarna that looks like a castle from outside. Still not known to many, this place is a green paradise during or just after the monsoons. We are so glad we decided to visit this place on our trip to Jog falls. A detailed blog post on this is coming soon.
For 2-3 days
If you are looking for relaxation and some vitamin sea, then choose any of the following.
Karwar
Gokarna
Mangalore and Udupi – Check out our Udupi blog for more details
We decided to visit Mirjan Fort and totally loved the place. Read our Mirjan Fort Article to know more.
Additional things to know
On weekends and holidays, visit the falls as early as 7am to avoid the crowd. After 9 am, all tourist buses and cars flock in to the place making it more crowded.
Drinking water refill is available in the Jog Falls compound. They charge Rs 2 per litre for normal water and Rs 5 per litre for cold water.
Pay and use toilets are available in the falls compound.
For food, Mayura restaurant available in the falls compound serves breakfast, lunch and dinner.
Mobile Network connectivity is really poor in and around Jog Falls area. Both Airtel and Jio did not work most of the time.
If you are planning to travel by bus from the railway station, then carry a small strolley bag or backpack that can be accommodated in the luggage compartment overhead. Otherwise, it gets really difficult to put the luggage on the bus floor that almost blocks the way.
The station at Talguppa is a very small one and no food is available inside or outside the station. So pack your meals before boarding the train.
Always talk to the locals when you are in doubt. We found them very friendly and helpful. It's a local guy who stopped the right bus for us to get to Jog Falls from the train station.