Trek to Ghandruk – Things you need to know
Ghandruk is a remote mountain village in Nepal that comes in the Annapurna Circuit range and is mostly inhabited by Gurung people. Most of the trekkers who go for the Annapurna Circuit Trek spend a night here before moving further. But if you are not a typical trekker and yet do not want to miss a tryst with the majestic snow capped mountains, then you can always plan a short trek to Ghandruk. The village is insanely beautiful and you can enjoy close views of Annapurna, Himchuli and Machhapuchhre (Fishtail) mountains from here.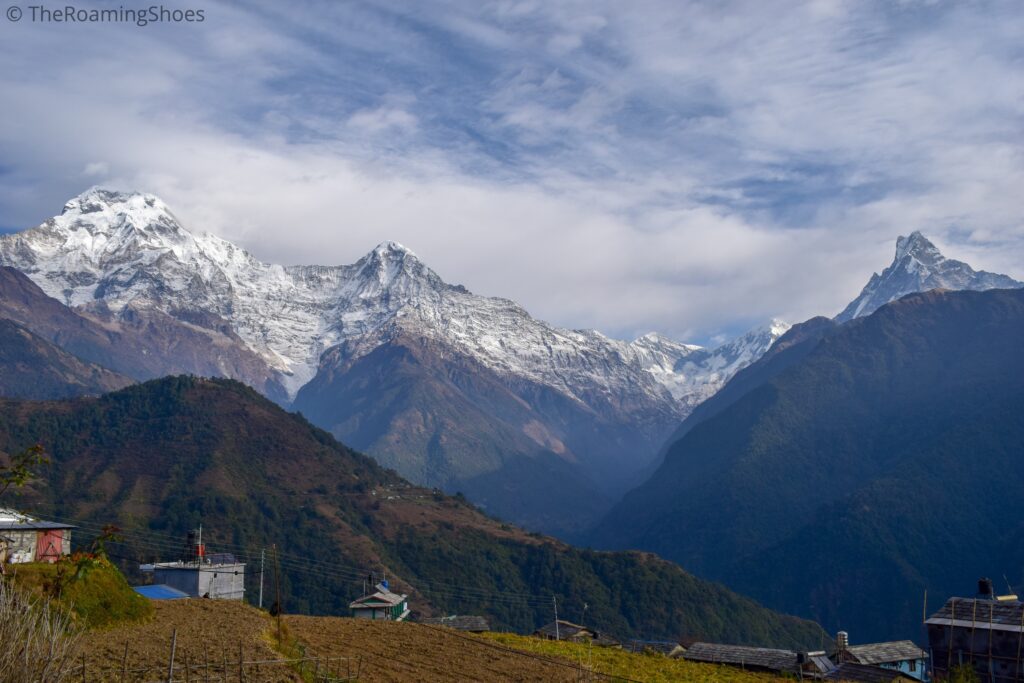 Permit
The most important part of Ghandruk trek is obtaining the required permits. As Ghandruk lies in the Annapurna Conservation area, you need an ACAP (Annapurna Conservation Area Project) entry permit in order to be able to enter the region. Apart from the entry permit, you also need a TIMS (Trekkers Information management System) card which is used to keep track of all the trekkers entering the area. A part of this fee is also maintained to help and rescue trekkers in any adverse situation. Both the permit and TIMS card can be obtained from Nepal Tourism Office in either Kathmandu or Pokhara.
Fees

Entry Permit: International – NPR 3000, SAARC – NPR 1000, Nepali – NPR 100
TIMS Card: For each individual trekker: International – NPR 2000, SAARC – NPR 600
Note
Your passport and 4 passport size photographs are needed for procuring the permit and TIMS card. In case, you do not have your photographs handy, you can get your picture taken for free in the office itself. Not only this, but the whole process of permit issue is very smooth and takes hardly half an hour (may take more time in peak season when there are many people around).
Keep the fees in Nepal Currency handy as there is no provision of paying by card. You can also pay by US dollars.
The TIMS card and entry permit can be used only once per trekking route per entry.
Checking for TIMS card happens at the Checkpost in Birethanti and is usually taken care by the bus conductor.
Where to start
Depending on available time and fitness level, you can decide from which point you want to start the trek to Ghandruk.
Starting from Ghnadruk Bus/Jeep stop:

This is the last point till which bus, jeeps or any vehicles can go and from here you have to trek for around 30 minutes to reach Ghandruk village. The trekking path is a set of uneven steps in stone and is steep. If you decide to stay in any of the lodges high up in the village, then your trek time may vary from 30 minutes to 1 hour.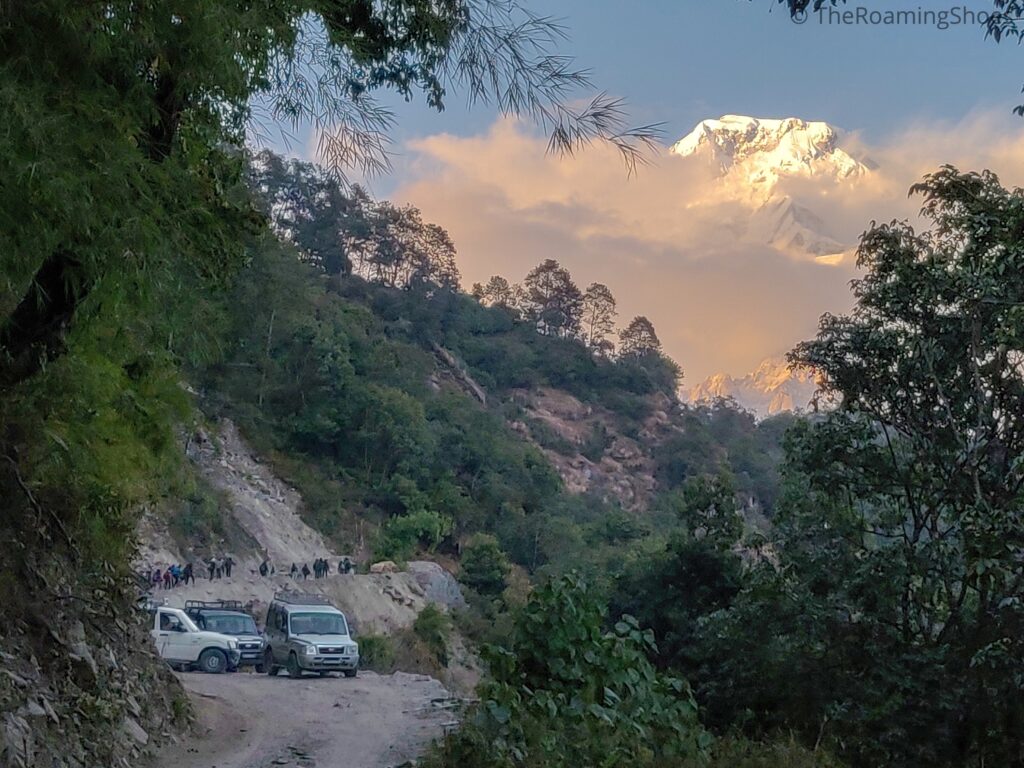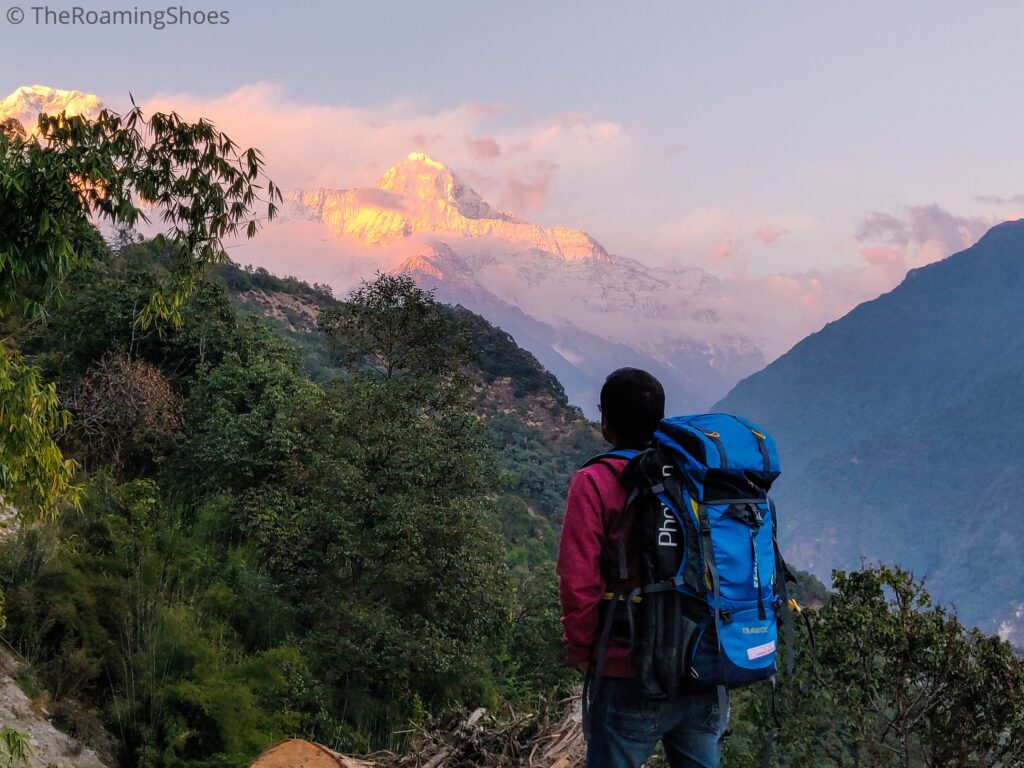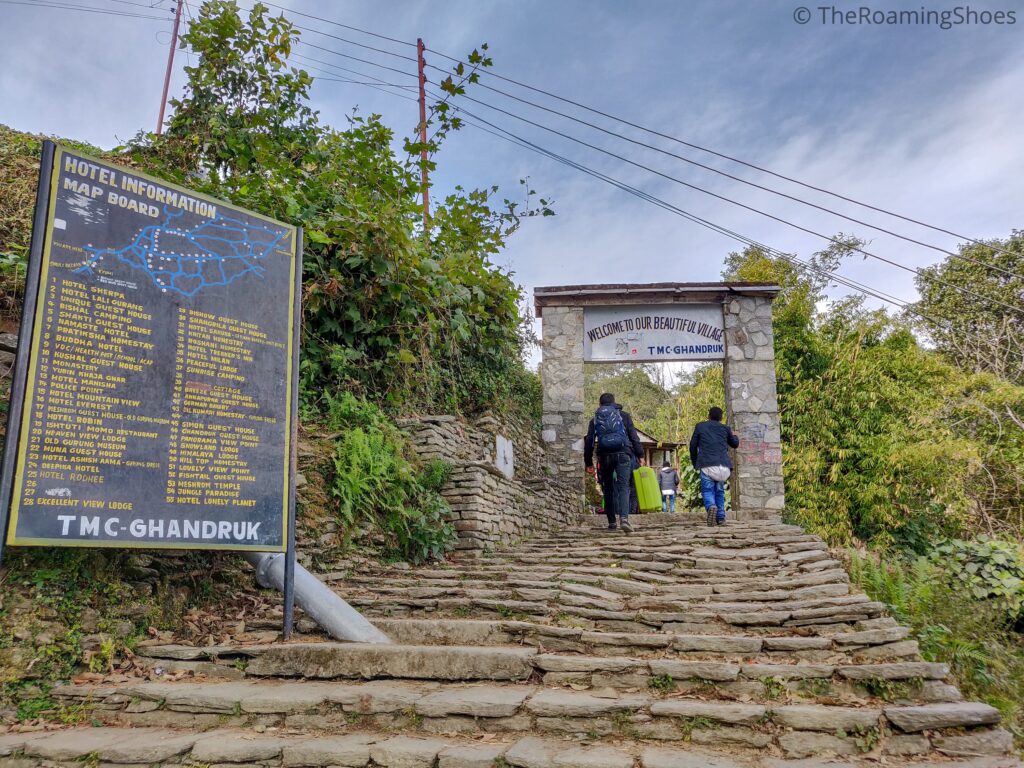 Starting from Kimche:
If you want to enjoy the trek a little longer, then we recommend starting from Kimche village. We did our trek from here and it took us around one and half hours to reach the entrance of Ghandruk village. From Kimche, you can keep walking on the main road or be a little adventurous and take down the road just below the dusty main road. You will come across herds of sheep, beautiful uninterrupted views of villages and mountains and a beautiful hanging bridge on this route.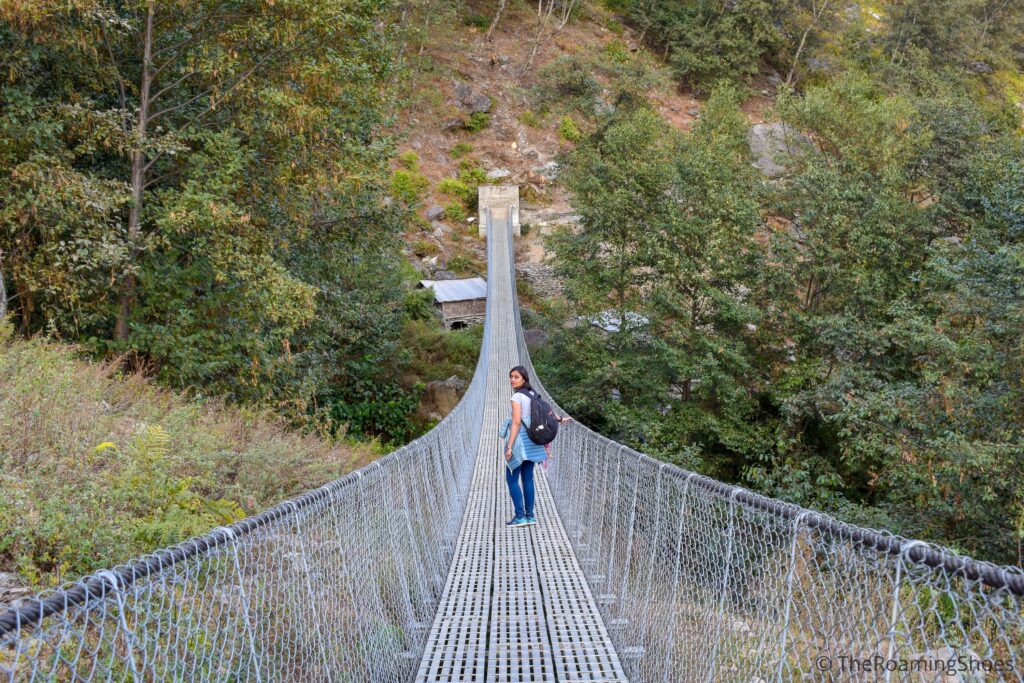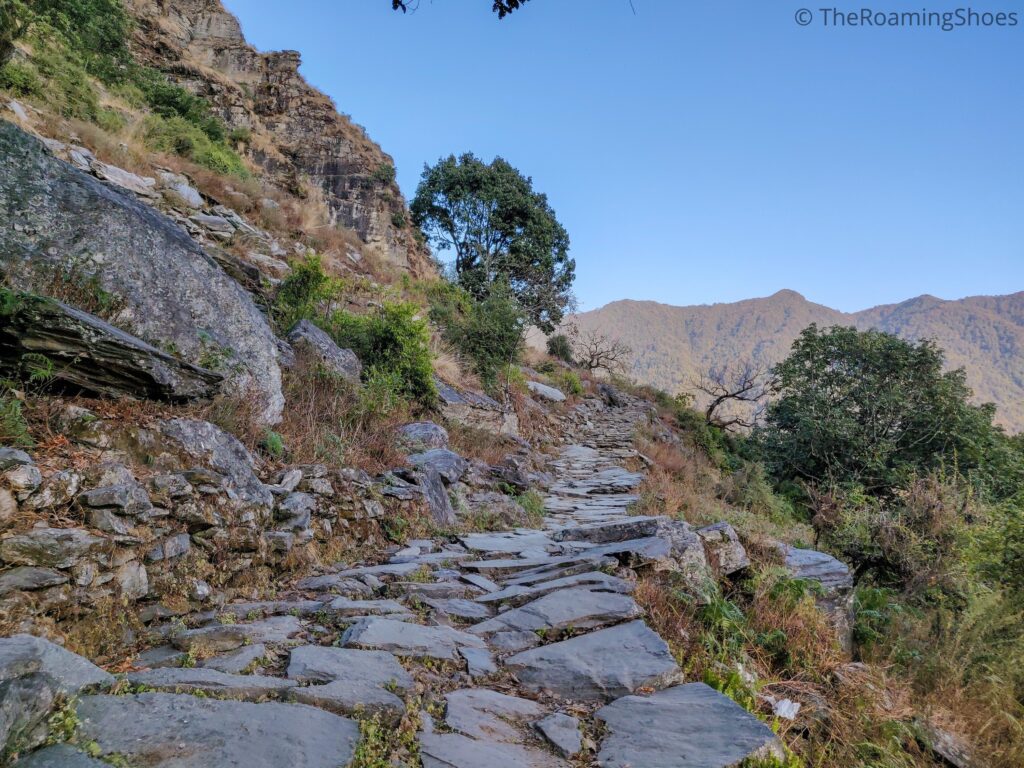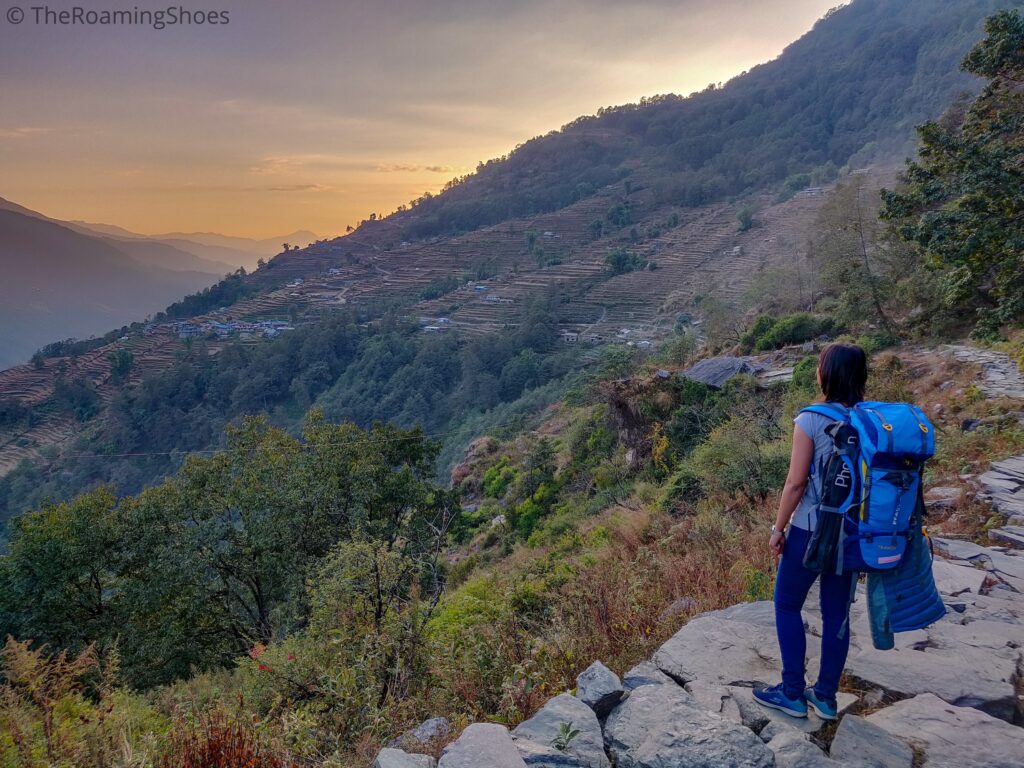 Starting from Nayapul:
If you are a regular trekker, then you may start from Nayapul and make your way to Ghandruk in a 5-6 hours trek.
How to Reach
Bus
There are regular buses leaving from Baglung bus park in Pokhara every hour. The ride takes around 4-5 hours till Ghandruk due to bad road conditions even though the distance is not much. Since there is no fare chart available anywhere, they usually charge a bit higher to foreigners. But you can always bargain with the conductor and agree for an amount before the bus starts. We paid 300 NPR per person for Pokhara to Kimche trip and 400 NPR per person from Ghandruk bus stop to Pokhara and that too with our poor bargaining skills 😄.
The bus also makes two stops, one in someplace 1 hour before Nayapul (for around 15 mins) and then another 20-30 minutes at Nayapul. You can avail toilet facilities in those places and stock up any food items. Be ready to pay much more than the MRP. The bus also takes supplies and that is why the floor is usually full of supplies of various shapes and sizes. You may even find goats and chickens accompanying you in the bus. See it for yourself.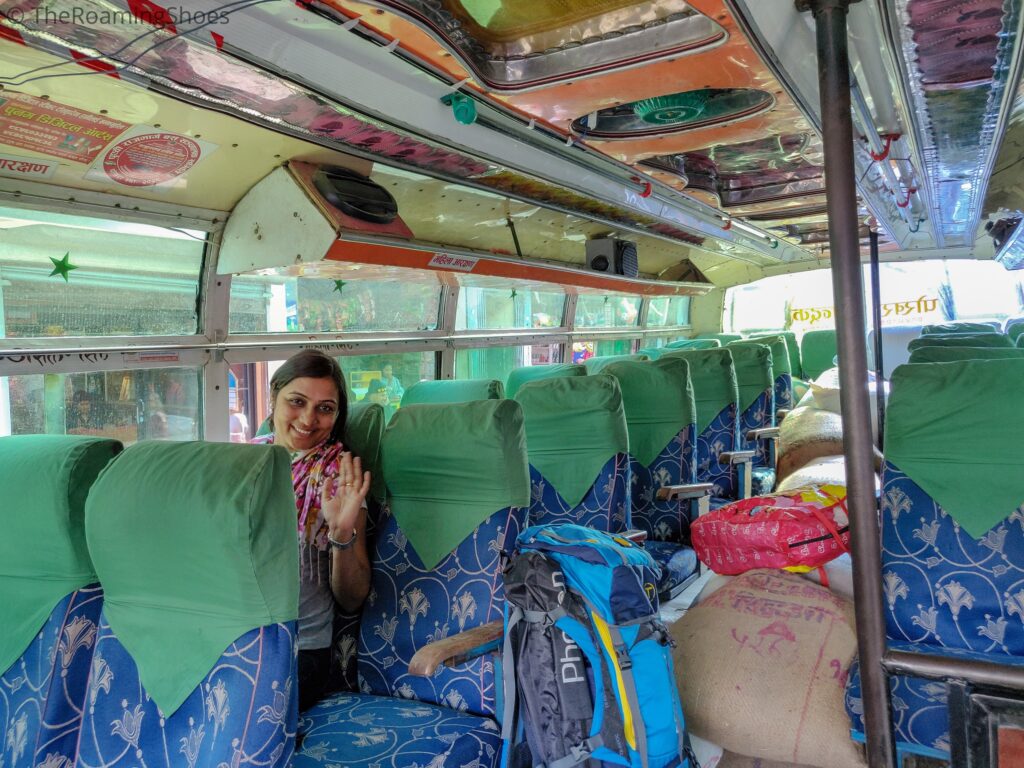 Shared/Reserved Jeep
There are shared jeeps available from Pokhara to Ghandruk. Total charge for the jeep comes to 6000 NPR and depending on the number of people, the per head cost is decided. For example if there are 10 people sharing the jeep, per head cost would come to 600 NPR. If you are a bigger group or can accommodate the cost in your budget, then you can also reserve a jeep for your trip which is a faster option.
Car Hire
Car is also available for hire, but it will take you only till Nayapul. They charge around 2500 NPR from Pokhara to Nayapul by car and from there you have to go by shared/reserved jeep as the roads are in very bad condition and not suitable for cars.

The whole ride from Pokhara to Ghandruk is rough and dusty, the patch from Nayapul to Ghandruk being the worst. If you have motion sickness, it is better to keep the medicines handy. Also, take a scarf to cover your head and face if you have dust allergy or you love your hair like me🙂
Accommodation
Ghandruk being quite popular among trekkers has many lodge and hotels set up for accommodation. If you look at the board listing all the accommodations at the entrance of the village, there are around 50 of them. So even if you do not book and reach there directly, you can easily get some place to stay in.
We stayed in Gurung Cottage and definitely recommend it. The best part of the stay is the gorgeous views all around and the delicious food prepared from organic home grown vegetables. You can contact them on the following numbers for a booking.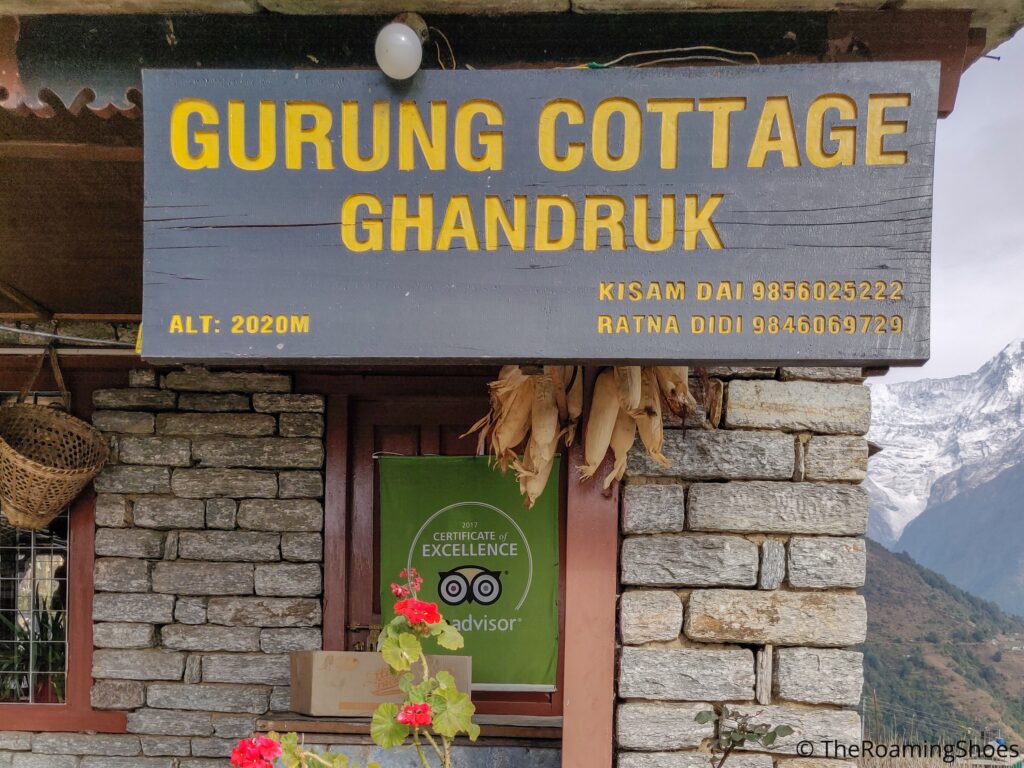 What to do
Nothing! Yes, you read it right. Do nothing. Just sit back, relax, soak in the views, enjoy authentic Nepali food, have lots of coffee and may be read a book in the warmth of the sun. In case you get bored from all this, you can also visit a small museum in the area called Gurung Museum to know about the history of Gurung people and their practices.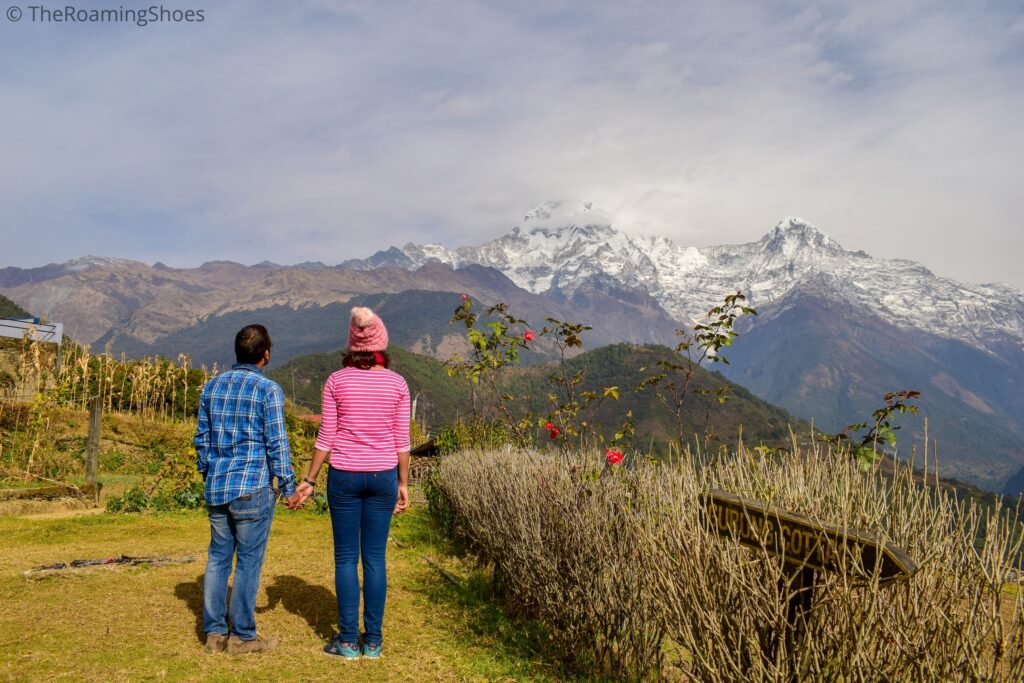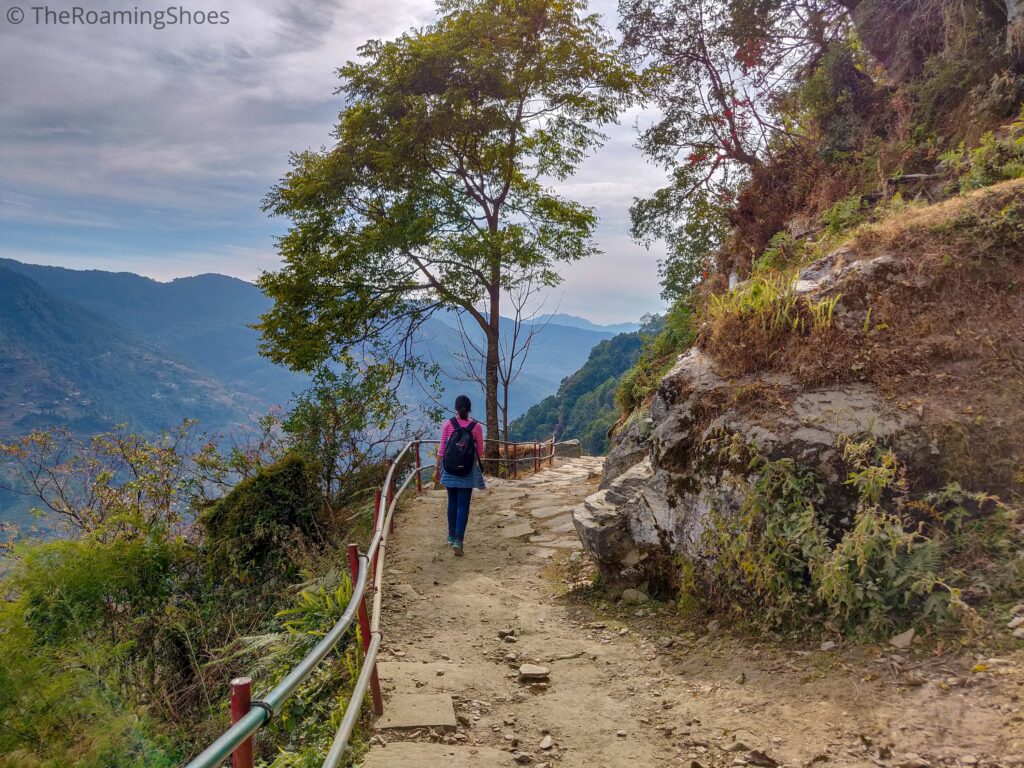 Other travel tips
Take care of permits and other things the day before so that you can start from Pokhara early in the morning (Try to start by 8 or 9am). It is better to reach Ghandruk when the daylight is still there as the path is quite steep and steps are uneven. Also the sunset over the snow capped mountain range looks amazing from Ghandruk and is surely not to be missed.
Carry a proper backpack and try to keep it light. It makes your trek smoother and less tiresome.
Stock up your water supply from Pokhara itself as bottled water is very expensive in the area. We paid 100 NPR for a 1 litre packaged water on the way of our trek.
As Ghandruk is at a higher altitude, it becomes quite cold in the evening and early morning. The temperature was around 3 degree Celsius in December 2nd week when we visited. So carry warm clothes accordingly.
Wifi is available at Ghandruk and can be availed at your accomodation.
If you liked this blog or need any other information, do let us know in the comments below. Happy traveling 🙂
All fares/fees mentioned in this blog are valid as of December 2018.