Kathmandu – Following the indigenous heritage and food trail
When we started planning for Nepal, I was quite skeptical about spending 2-3 days in Kathmandu. Being mountain lovers, we wanted to spend more and more time somewhere close to the mountains than being in a city. But the time at Kathmandu turned out to be phenomenal roaming around its world heritage sites, uniquely designed stupas and trying out some yummy food. Now as we have seen it ourselves, we would definitely recommend spending 3 to 4 days in this beautiful city, the food and heritage centre of Nepal.
If you are wondering what you can do here in the duration of your stay, then not to worry. You will have a plethora of things to see and do here. Here is a list of must visit places and food items to savour on while being in Kathmandu.
Places of Interest
The Durbar Squares
There are 3 durbar squares in Nepal, one at Kathmandu, one at Patan and another at Bhaktapur. All the three durbar squares are UNESCO World Heritage Sites and are living monuments of Nepal's ancient heritage and rich craftsmanship. These durbar squares mainly contain beautiful temples, statues, open courts etc as part of the various structures. Some reconstruction work was still going on at all the squares as they were affected partially by the earthquake and also since some new structures were being added. Nevertheless, these durbar squares will take you back in time and provide you a glimpse of the royal lifestyle of the ancient kingdoms.
Patan Durbar Square
This durbar square is located in Lalitpur around 20 minutes drive from Kathmandu. Apart from some beautiful temples with exquisite carvings, it also has a museum housing many religious artefacts. You will find Impressive wooden and metal idols and detailed information about various Hindu and Buddhist sites and gods in this museum.
Time required to visit: Approx. 2 hours

Entry Fee: 250 NPR per person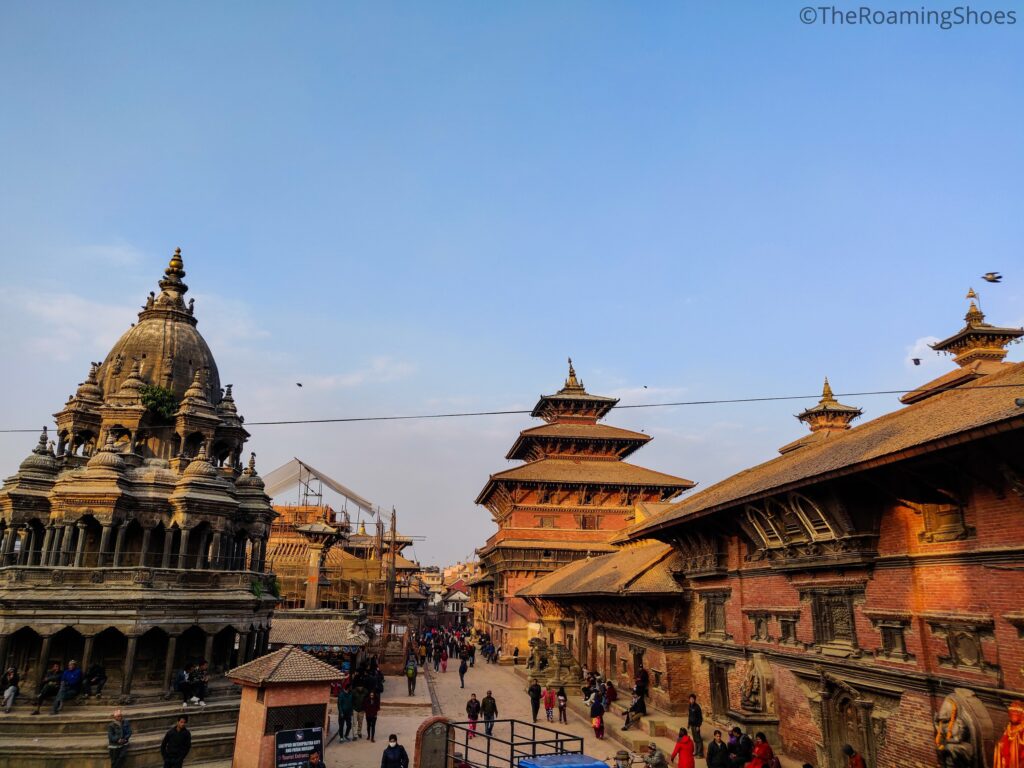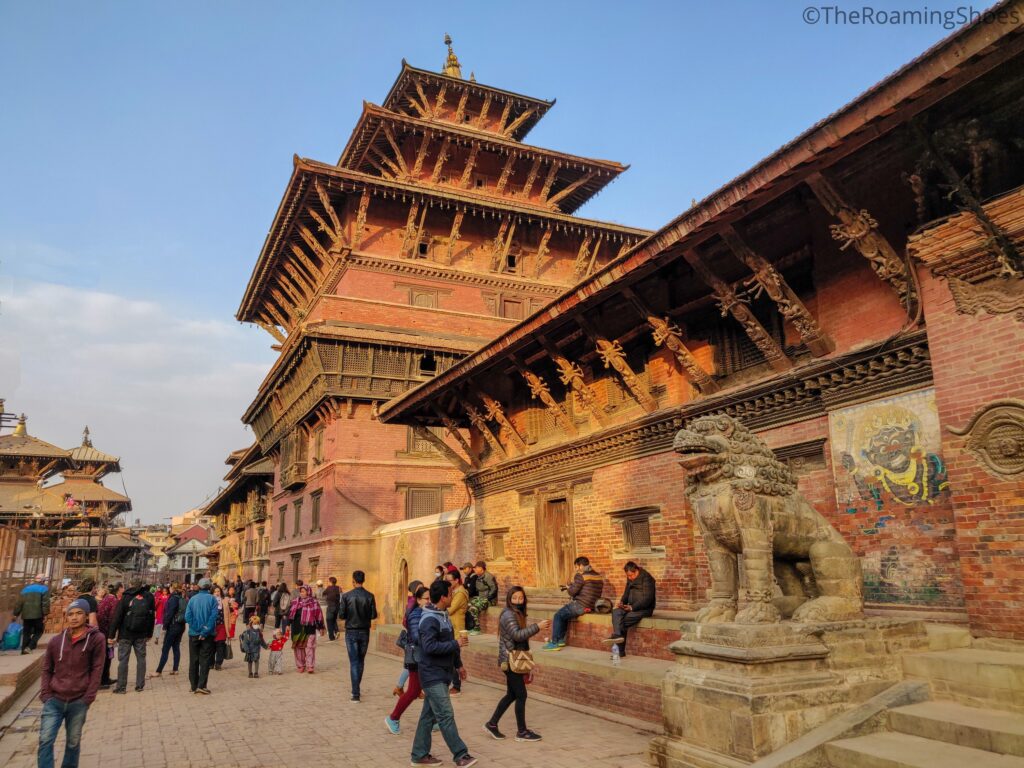 Bhaktapur Durbar Square
If you ask us, we would say this is the most beautiful durbar square of all. With impressive stone and wooden artwork, a five storey temple, a fifty five window palace, this place is pure delight for architecture lovers. We recommend taking a guide to know the history of the place better which is actually quite interesting.
Start early in the morning (7:30am-8am) for Bhaktapur to avoid traffic on the way as well as at the place. Otherwise, it may take you more than an hour to reach the place from Kathmandu instead of 30 odd minutes.

Time required to visit: Approx. 2-3 hours

Entry Fee: 500 NPR per person

Guide charges: 500 NPR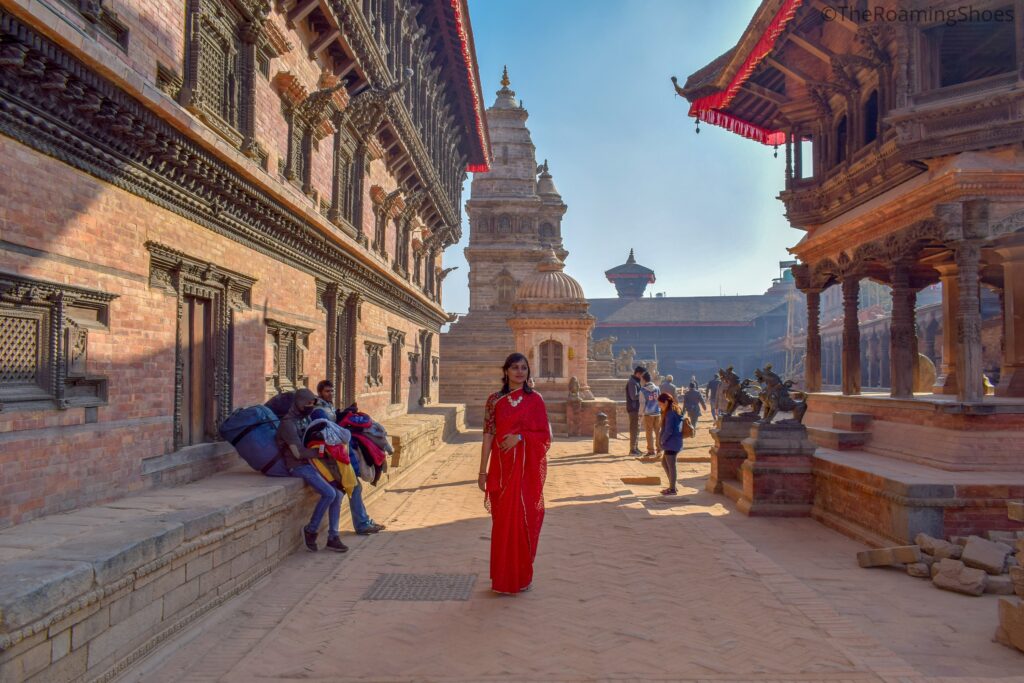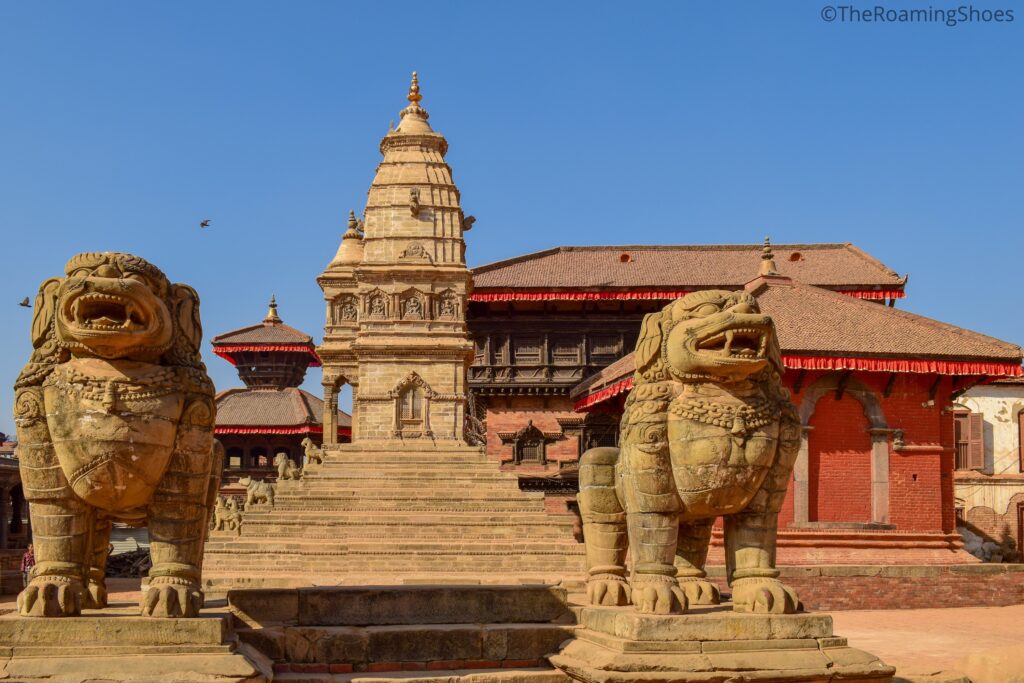 Kathmandu Durbar Square
In the heart of Kathmandu city lies the Kathmandu Durbar Square, also called as Basantpur Durbar Square. Apart from many beautiful temples in the complex, this durbar square also houses the Kumari Bahal which is the abode of the living Goddess of Nepal.

No pictures for this durbar square as we had to skip it due to lack of time.
The Stupas

Since Buddhists are the 2nd majority after Hindus in Nepal, it is no wonder that Nepal has many big and small Stupas and monasteries. Where Lumbini stands as the major Buddhist piligrimage site in Nepal, there are also two major Stupas in Kathmandu valley named Boudhanath and Swayambhunath that are famous among both locals and tourists as iconic buddhist sites. Both the stupas are UNESCO World Heritage sites and must not be missed. One interesting thing that you will find in the stupas here is their architecture. Each stupa is a dome like structure with a golden square kind of head on the top and a crown on the head. The head will have a pair of eyes in all 4 directions. The stupas are decorated with innumerable colourful prayer flags that add a different charm to the otherwise white Stupas.
Boudhanath Stupa
This is the largest stupa in Nepal and even one of the largest in the world. This is one of the holiest sites for Tibetan Buddhists and many flock here during the festivities. This stupa has a monastery in front of it and the whole area is swarmed with pigeons. There are many bright coloured souvenir shops and restaurants in the area and it can easily take an hour to cover the stupa and the surrounding area.
Entry Fee: 100 NPR per person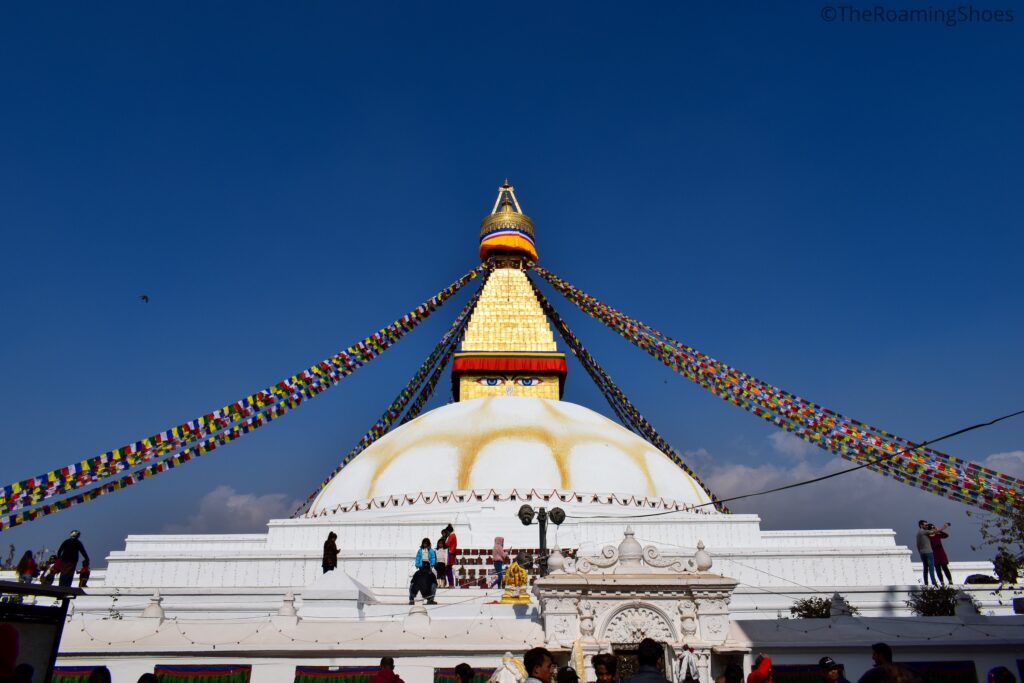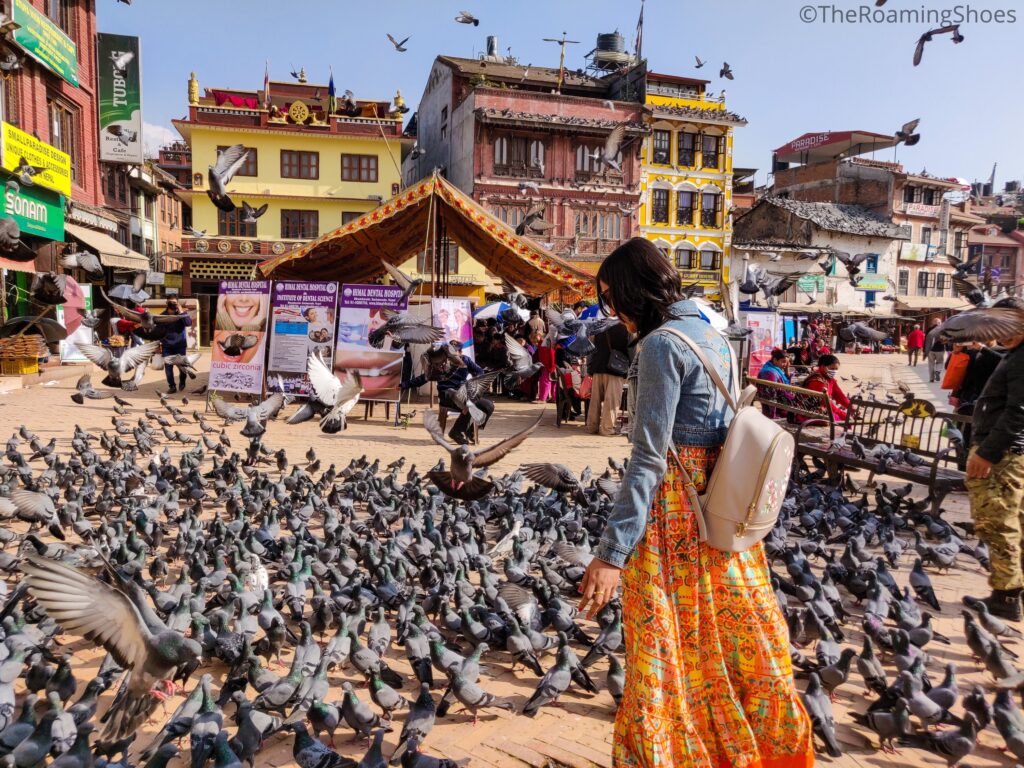 Swayambhunath Stupa
This is our favourite stupa among all as it is perched on a hill top and provides amazing views of the Kathmandu valley. This is alternatively known as Monkey Temple due to the abundance of monkeys in the place. The stupa has many beautiful statues all around and prayer bells surrounding it. There are also a few beautiful temples in the compound and a golden statue of Buddha. We recommend going here in the evening as the sunset views are great from the place and there is also a mystical vibe to the place in twilight.
Entry Fee: 50 NPR per person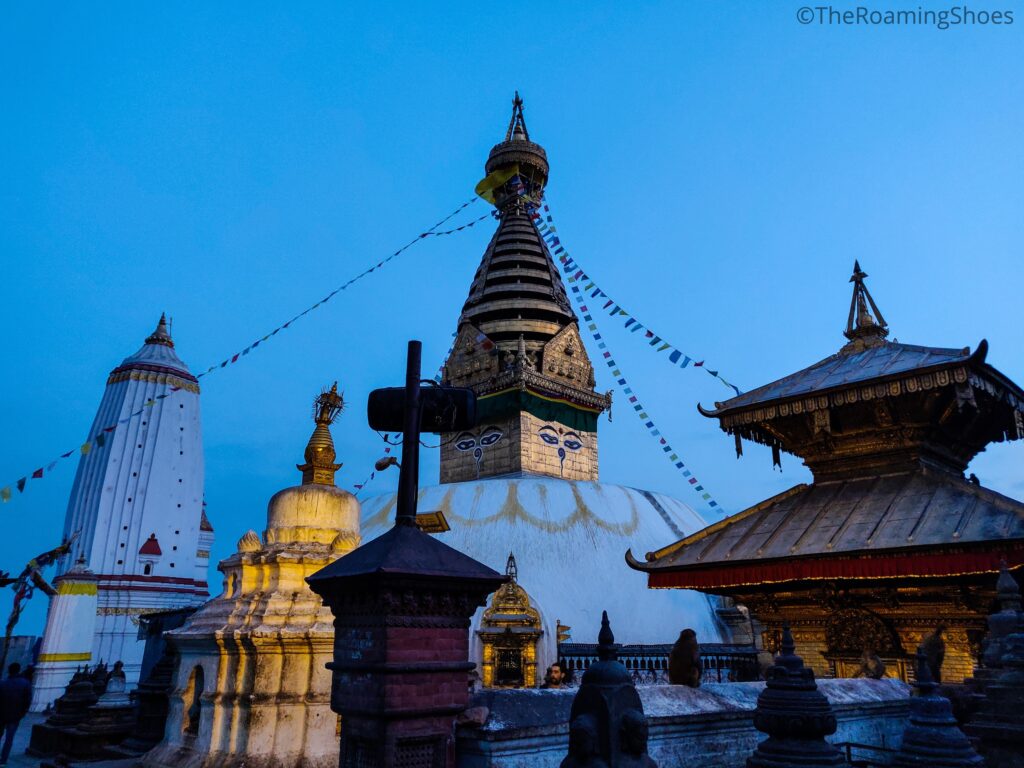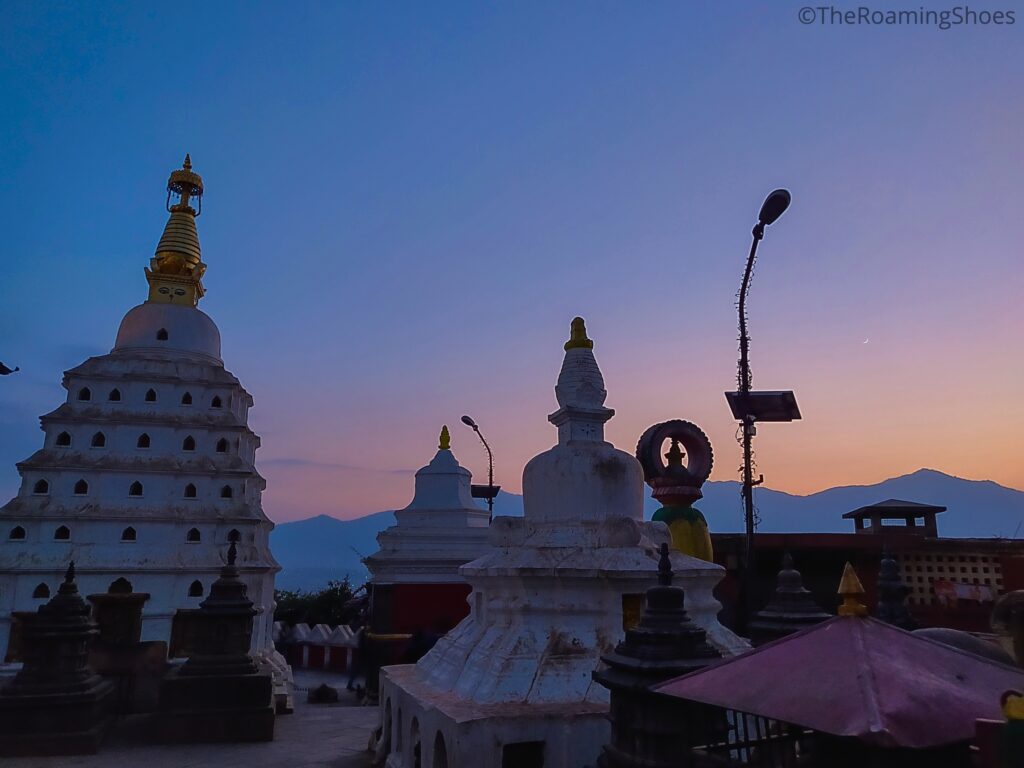 Pashupatinath Temple
Pashupatinath temple is a major religious site for Hindus in Nepal and is listed as a UNESCO World Heritage site. The temple is on the banks of Bagmati river which is considered very sacred similar to River Ganga in India. The temple houses Shri Pashupatinath or Lord Shiva and is unique as the Shiva linga worshipped here is Saa-kar (translates to: having a form) and has faces in 4 directions unlike at other Shiva temples. The temple has exquisite carvings and has a pagoda like structure. There are various other small temples in the temple compound and a cremation area beside the river. Unlike other Hindu temples, the priesthood for this temple is not hereditary and the priest is instead selected through a specific selection process. That is why it is not necessary that the priest is Nepalese. The current priest of the temple is from Udupi, India.
This is one place where we recommend taking a guide to know the background and the various features of the temple. Guides roughly charge 500 NPR for taking you for a tour of the temple and they can also help in getting darshan quickly skipping long queues.


The temple gets very crowded on Mondays and Saturdays and you may have to stand in long queues for hours. So better to avoid these days for your visits. Also, visit early in the morning when the temple is less crowded.

Other places of interest
If you have additional days in hand, then you can also cover the following from Kathmandu:
Nagarkot – Famous for its beautiful sunrise views over the snow capped mountains, this is approximately 1-1.5 hours ride from Kathmandu. You can travel to Nagarkot the previous evening and stay there overnight to enjoy the sunrise next day.
Namo Buddha – Takes around 1.5 hours by car from Kathmandu and can be done in a day trip. There is a beautiful monastery with an interesting background story about how a young prince (believed to be Budhha himself) offered himself to a starving tigress at this very place.
Chandragiri Hills – A view point where you can enjoy cable car ride and have great views of mountains and valleys.
Kopan Monastery – A small yet beautiful monastery in Kathmandu
Shopping at Kathmandu
The main shopping area in Kathmandu is the market at Thamel where most of the hotels and restaurants are present too. This is a large area with shops selling from Cashmere items to clothes, souvenirs, woollen items and trekking gears. Not only for shopping, this area is also ideal for taking evening strolls in the narrow little lanes flanked by shops selling colourful items. You can also sit in the various cute cafes available in the lanes and enjoy some hot coffee and local food.
Must Buys
Dream catchers (These are available in every colour and are reasonably priced)
Woollen Caps (Available in many colours and designs. There are indeed dedicated shops full of such caps)
Cashmere scarves (Available in wide varieties)
Pretty ear rings and neck pieces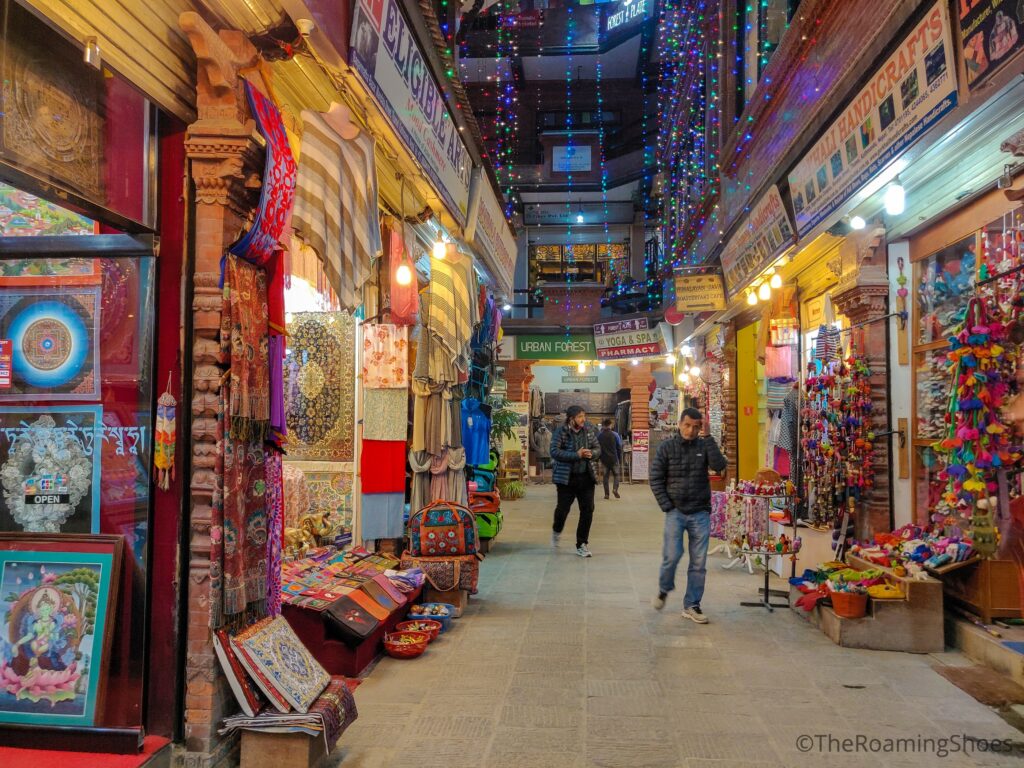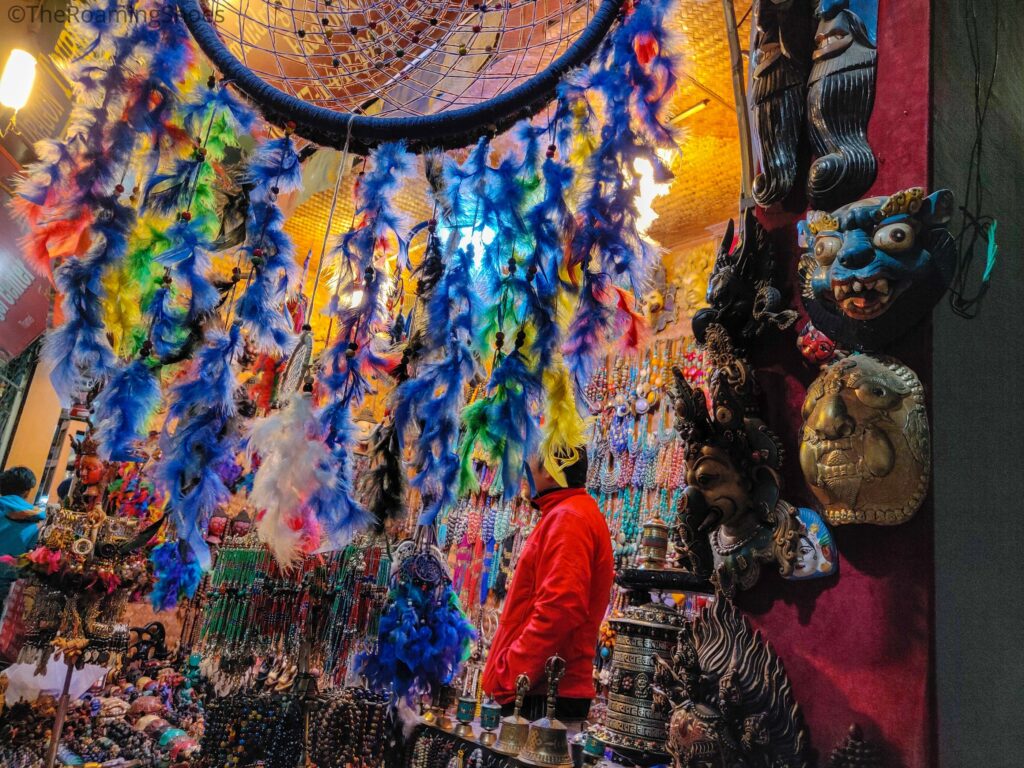 Food – What and Where
Now let's come to the most important thing that we all are curious about when we visit a new place. Yes, it is the different kinds of food you can enjoy especially the local cuisine. But we will not only discuss the local speciality, but also the other items that we found to be extremely delicious as part of our visit. So here is a list of items you can try in Kathmandu and where you can try them.
Nepali Thali
Also called as Dal Bhat, this is the traditional meal eaten by Nepali people throughout the country. The meal is usually served in a brass plate and includes rice as the primary item. Other items include lentils, chutney, vegetable/non veg curry, leafy vegetable, papad and curd depending on where you eat. The thali is available in both vegetarian and non vegetarian options. Nevertheless this is something not to be missed while being in Kathmandu. You can try it anywhere in Kathmandu as all the restaurants have Nepali Thali in their menu.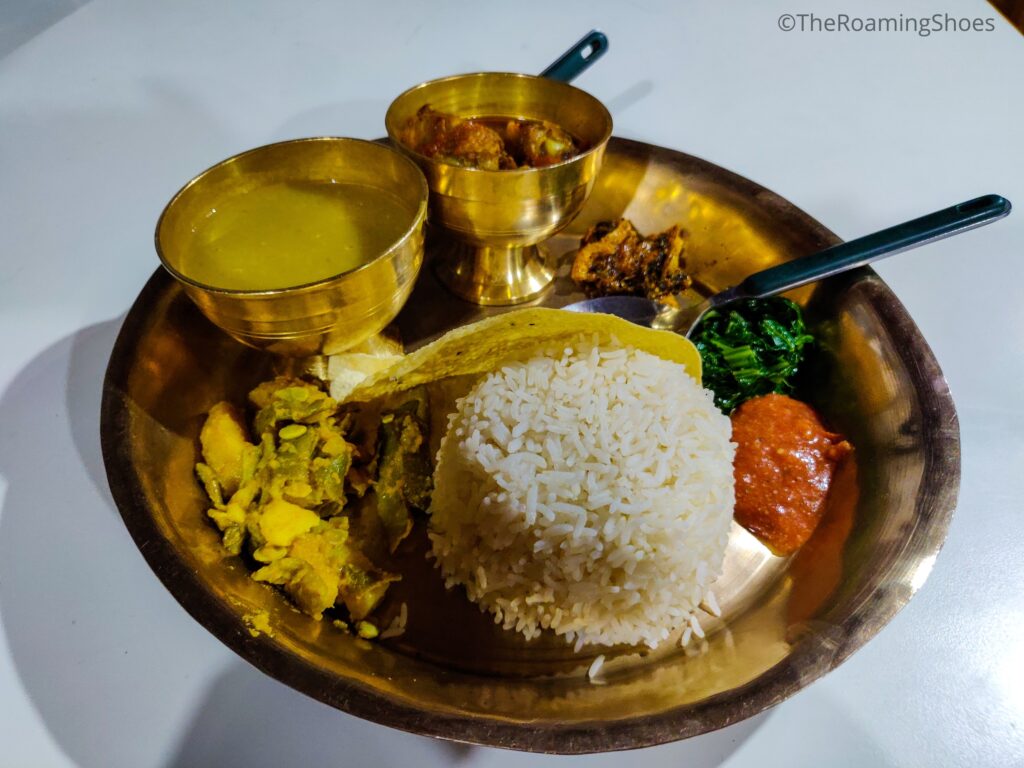 Momos
Momos are the Nepal's version of dumplings and are quite famous across the country. They are available in both vegetarian and non vegetarian options and are usually served with a tomato based chutney.
Try at: Newa Momo Restaurant in Thamel.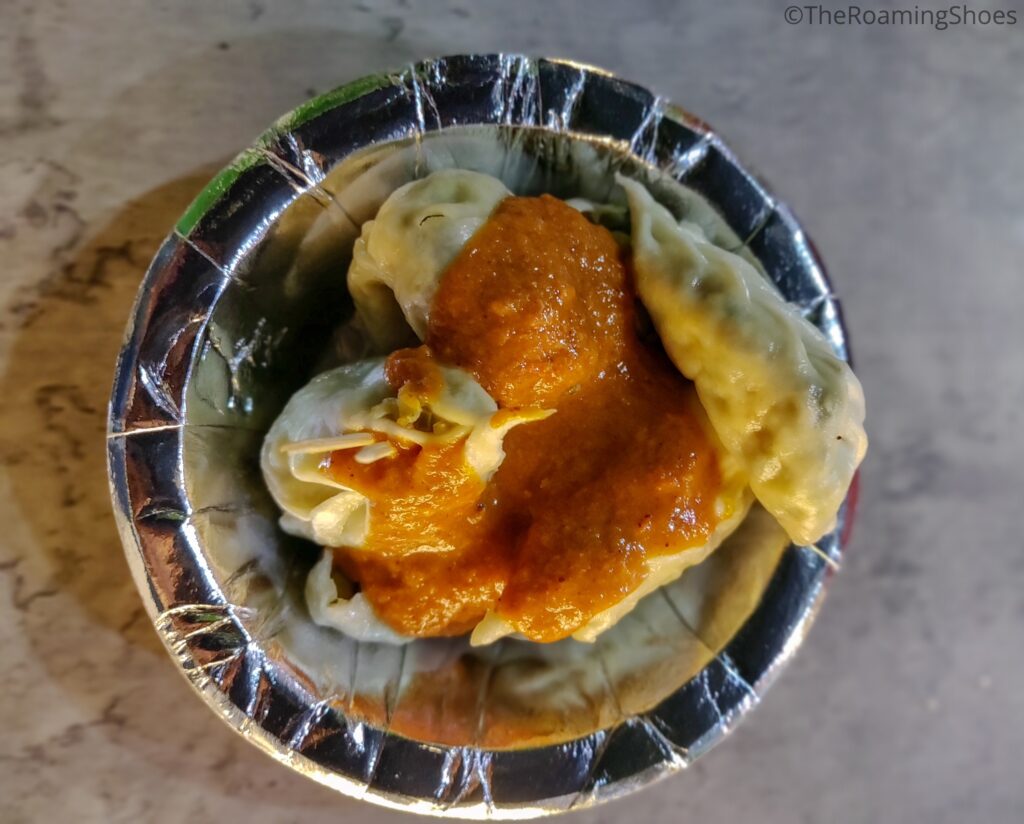 Bhatmas Sadeko (Soyabean Salsa)
Now this is my favourite one from Nepal and I can always go back just to have this :). This is not a typical dish though, instead a popular Newari snack people enjoy with a drink. But we had it with coffee and totally loved munching the luscious snack. This dish is prepared by mixing fried soybean with onion, tomato, chillies and coriander leaves etc and can be availed in mild, medium or spicy levels.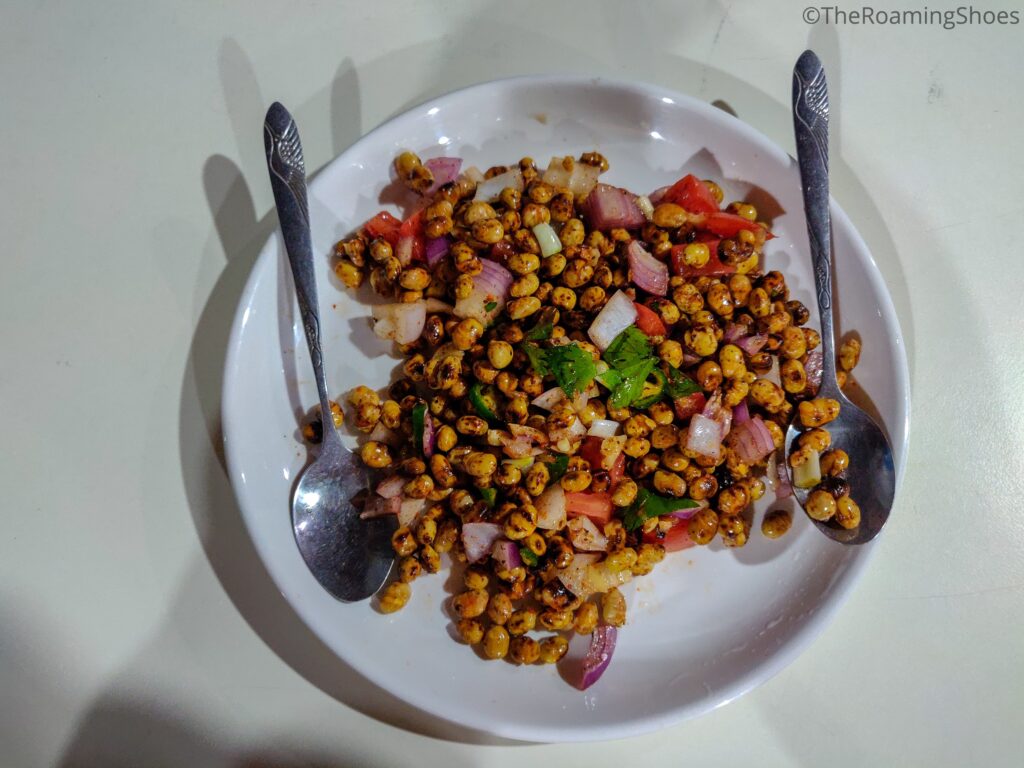 Juju Dhau
Juju Dhau or the King Curd is a famous desert widely prepared by the Newari community of Nepal. The yoghurt is thick, creamy and melts in the mouth instantly. Even though Juju Dhau is available in some other parts of Kathmandu, you can find the best in Bhaktapur region where it was originated. Prepared from buffalo milk using clay pots, this is one of the yummiest yoghurts we have tried till date.
Try at: The shops outside Bhaktapur Durbar Square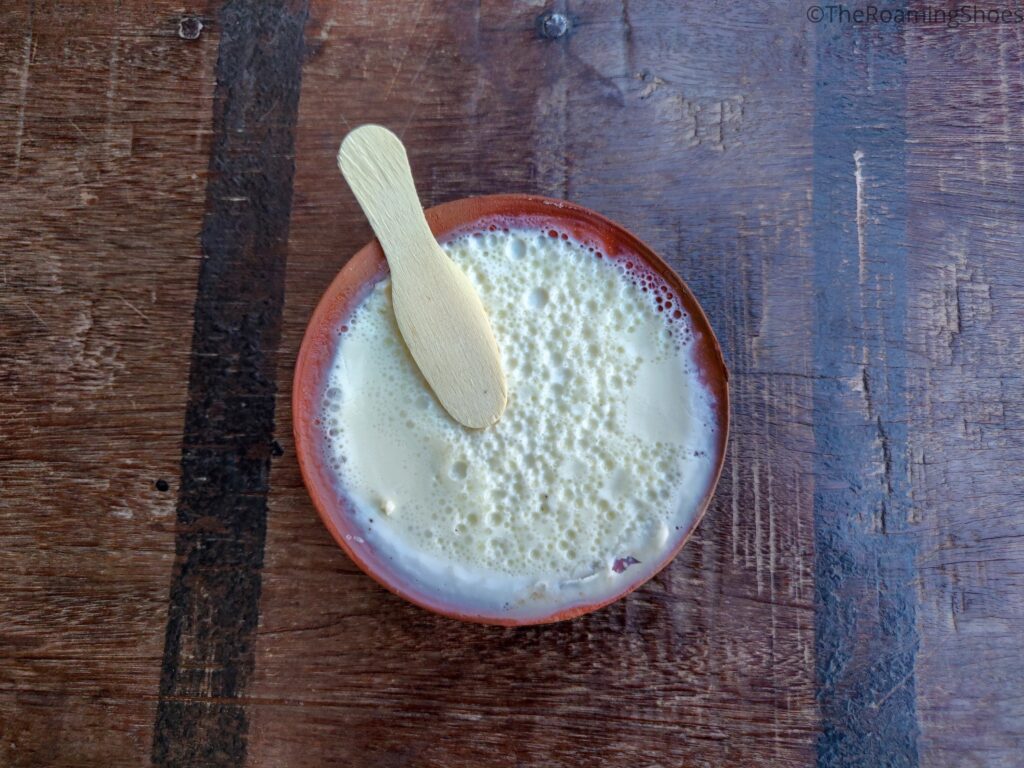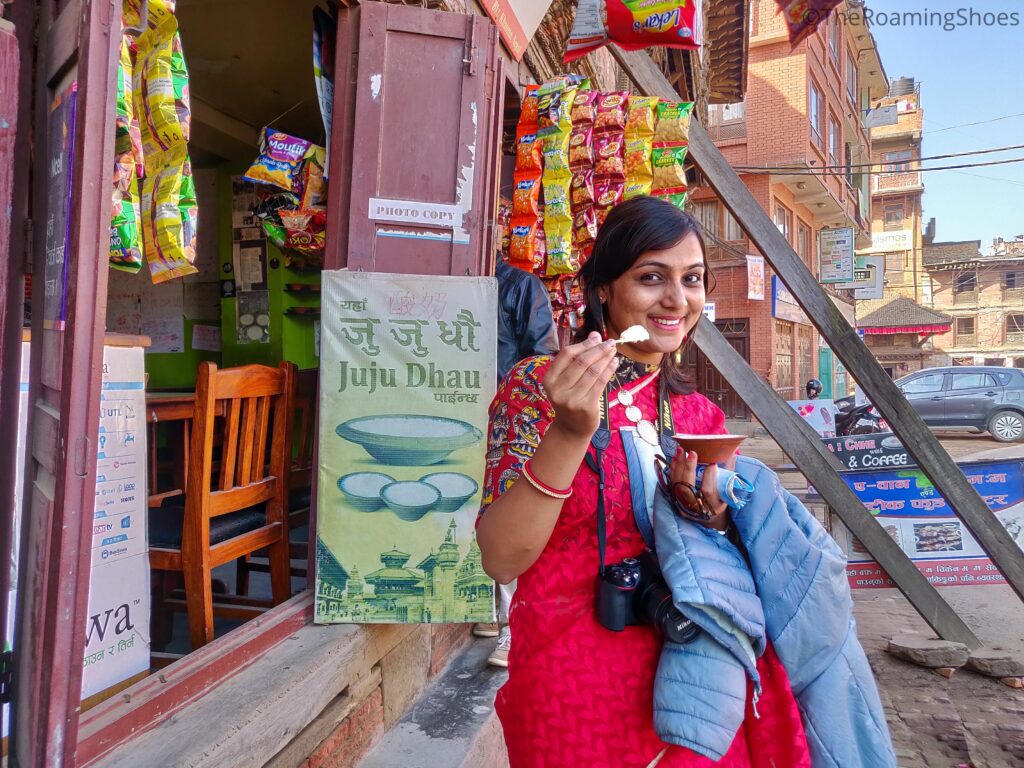 Coffee
Traditionally, Nepalese people are more tea people than coffee in a way very similar to India. But did you know Nepal also grows a certain variety of coffee suitable to its climate and exports mostly to Europe and Japan. If you go to any cafe or coffee shop in Nepal, you will find organically grown coffee being advertised everywhere. So we tried coffee at different places and really loved it. But the one available in Himalayan Java Cafe was best of all and should not be missed. The cafe has a nice interior and a collection of books and magazines to kill time. Not only coffee, they serve some nice French fries and other bakery items too.
Must Try: Cafe Mocha at Himalayan Java Cafe in Thamel market area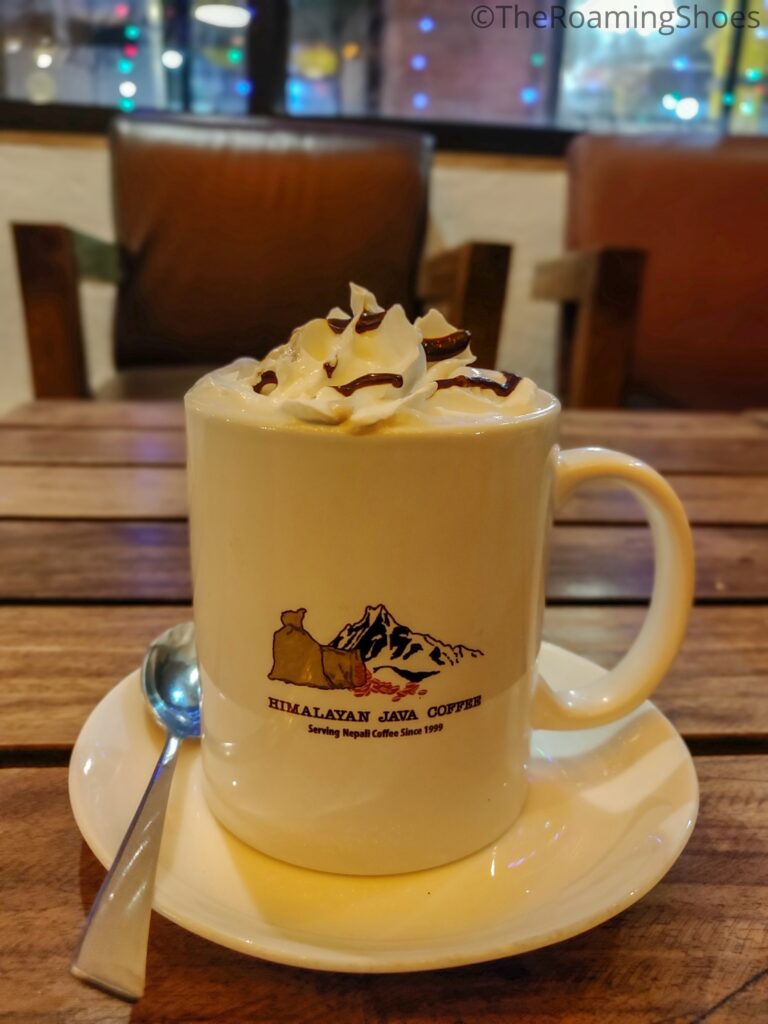 Apart from the above, there are few other things that we liked in Kathmandu and would definitely recommend even though they are not specifically local cuisines.
Wood fired Pizza
If you are a pizza lover like me, then do give the wood fired pizza a try. This will definitely make a great dinner paired with local beer.
Try at: Roadhouse Cafe, Thamel market area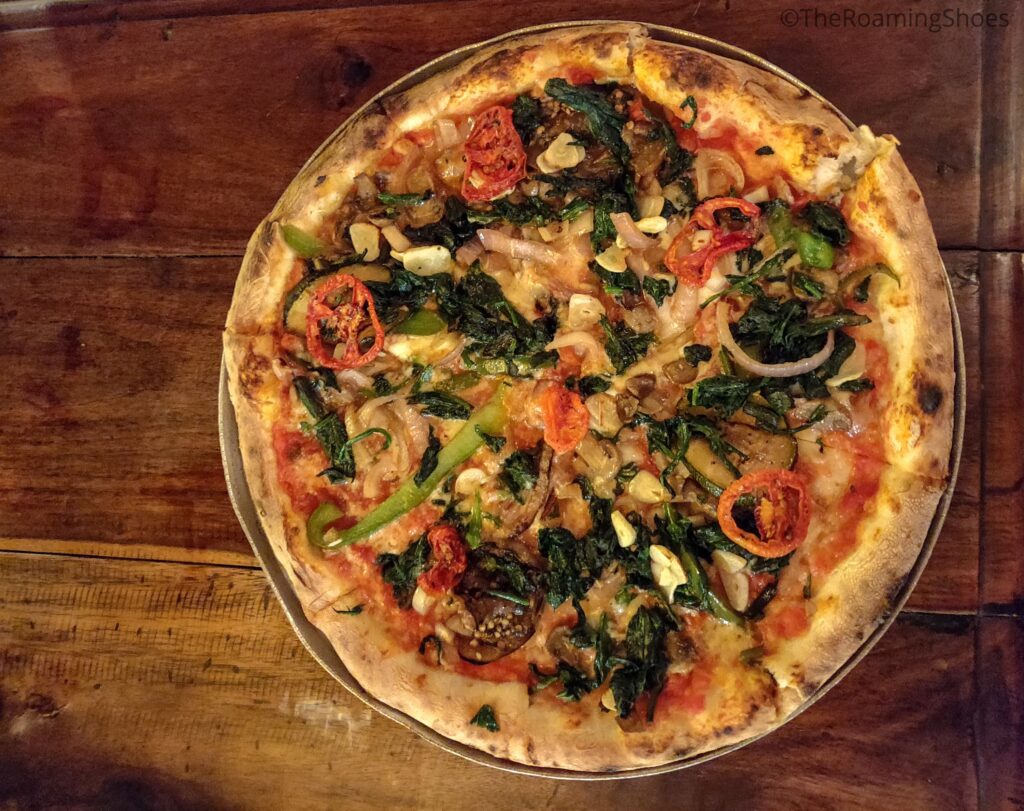 Grilled Chicken/Fish
This is an item we liked consistently at most of the restaurants in Kathmandu. This is usually served with mashed potato/potato fries and some stir fried vegetables. The best has been at the Nobrulinka Boutique Hotel's in-house restaurant where the grilled lemon chicken just stole my heart and Sush loved his grilled fish🙂.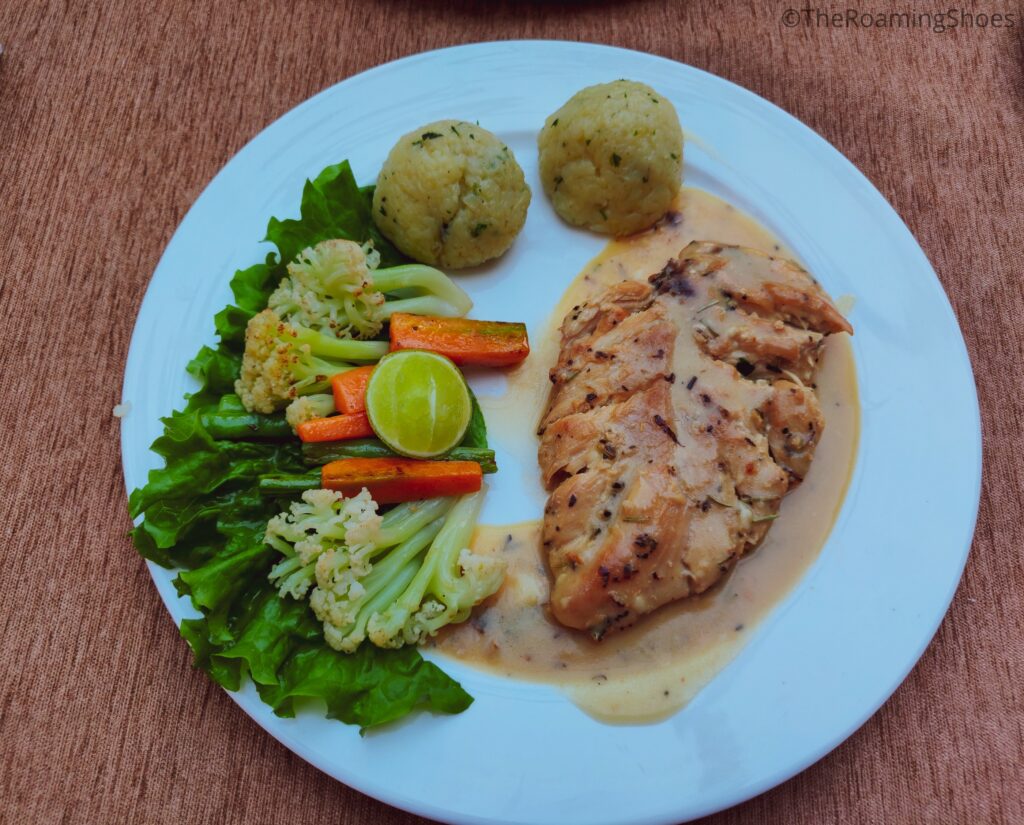 That is all about Kathmandu guys. If you like this blog or have any questions on Kathmandu, do let us know in the comments section.