Exploring Wayanad differently staying at the Banasura Hill Resort
If there is one place we could go back in a heartbeat, it will always be Wayanad. With long stretches of luxuriant plantations, verdant hills, magnificent waterfalls hidden inside lush forests and pristine lakes – Wayanad serves as a perfect escape from the humdrum of city life. Whether you are a couple looking for a romantic getaway, a family wanting to spend time amidst nature or a group looking for some adventure, Wayanad has something for everyone. This was our 3rd visit to Wayanad and we decided to explore it a bit differently this time by staying at the Banasura Hill Resort. Our intention was to check out the more offbeat places rather than the famous tourist attractions.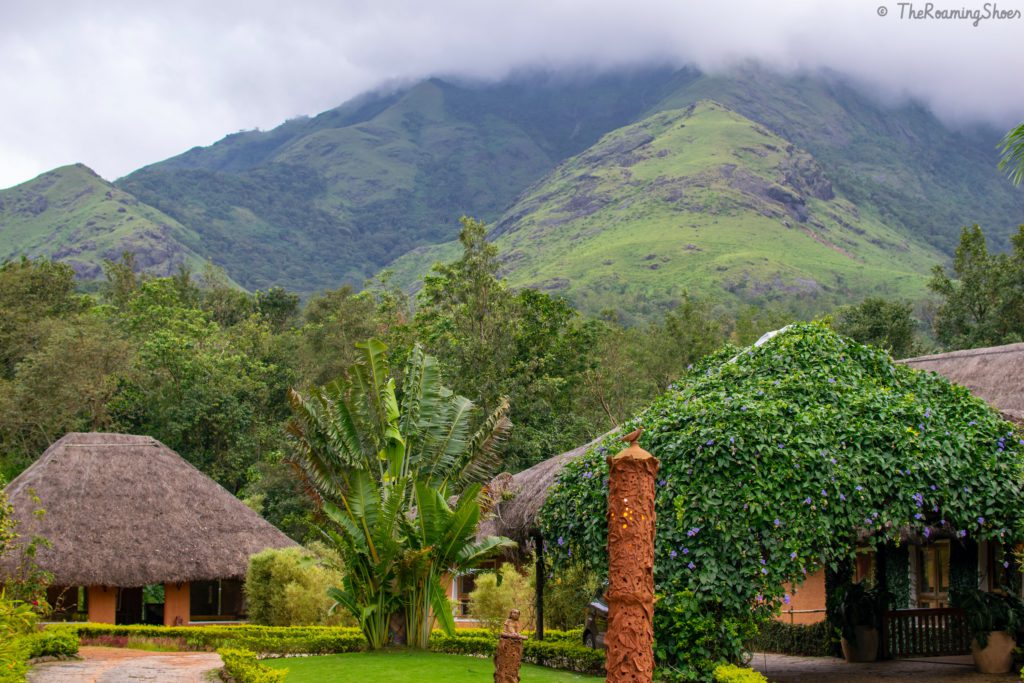 Set against the backdrop of mist-clad Banasura hill amidst the lush green surroundings, Banasura Hill Resort caught our attention instantly when I was browsing for resorts in Wayanad. And now since we have stayed here, I can surely say this place is much more than what catches the eye. With all its rooms made of mud, bamboo and coconut palm leaf roofs, this eco-resort is one of it's kind in India. Apart from its scenic location, the resort offers unrivalled privacy, great dining experience overlooking the plantations, guided nature trails and much more. Our three days at the resort were absolute fun visiting plantations, view points and hidden streams and waterfalls. Read our full review of the resort here.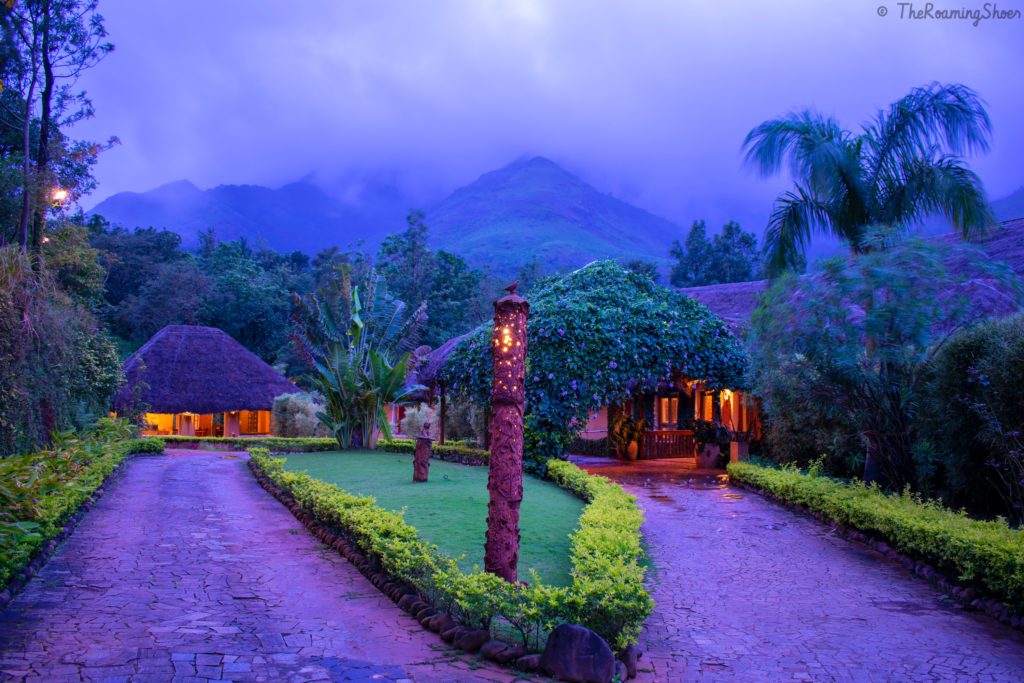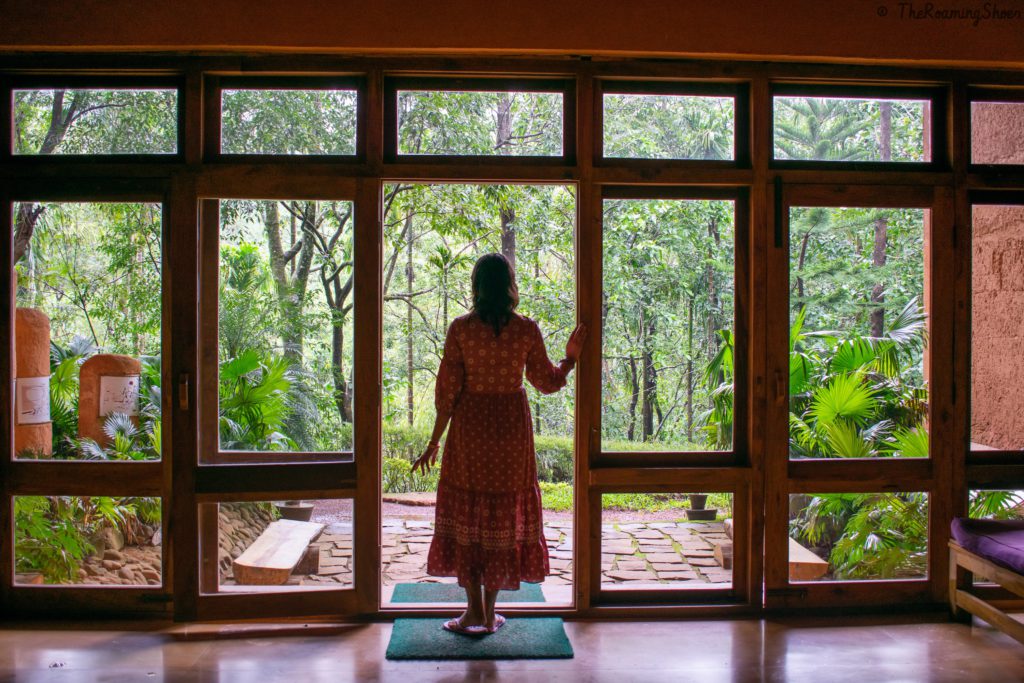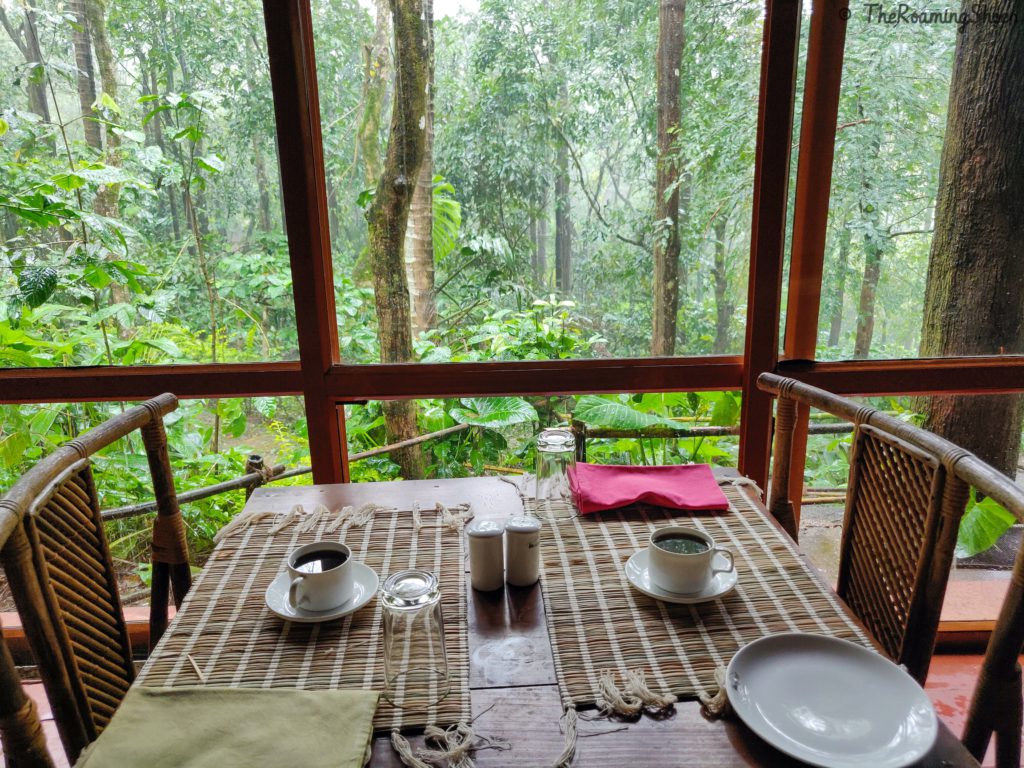 There are plenty of other options to stay at Wayanad for various budget ranges. We have stayed at different properties in each of our visits. If you are looking for budget options, then you can check the properties by Oyo Rooms. We also stayed at Mount Xanadu once which is an amazing property with good views all around. But is a little expensive. You can always check Booking and MakeMyTrip for more options. Also, do not forget to check the reviews on Tripadvisor before going ahead with the booking.
Best time to Visit Wayanad
https://www.a-crear.com/p51zwpx2r73 October – Feb: Weather is pleasant and is perfect for outings and treks. A good time to indulge in wildlife safaris and other adventure activities.
July – September: Typical monsoon season and not appropriate for sightseeing. But if you like a relaxing getaway and love spending time amidst nature, then this is the perfect time to visit Wayanad. This is indeed our favourite time. Watching rain sitting in a cosy room and drinking authentic Kerala coffee is something we always love in monsoons. To top it all, the views are incredible with clouds hanging over mountain peaks and everything bathed in fresh greenery.
https://elartedemedir.com/blog/qlty0qy8olr Our time of Visit: September 1st week
Nearest Airport: Calicut Airport.
https://dopsiurana.com/e6hi76jl Nearest Railway Station: Kozhikode Railway Station.
You can take a cab to Wayanad from the railway station or airport which is around 100 kilometres away.
https://acatfcl.cat/ww9xzvalm60 By Road: If you stay in Bangalore, then the best way to reach Wayanad is by car. The distance is about 260-285 kilometres depending on which area (Kalpetta/Vythiri/Vellamunda etc) you want to visit. The journey takes about 6-7 hours (including breaks) passing through a series of scenic views. You may even spot some wildlife while driving through the lush forests of Bandipur. And if you are visiting during July-September time, you can see long stretches of sunflower and marigold fields on the way (especially at Gundulpet).
Direct buses are also available from Bangalore to Wayanad.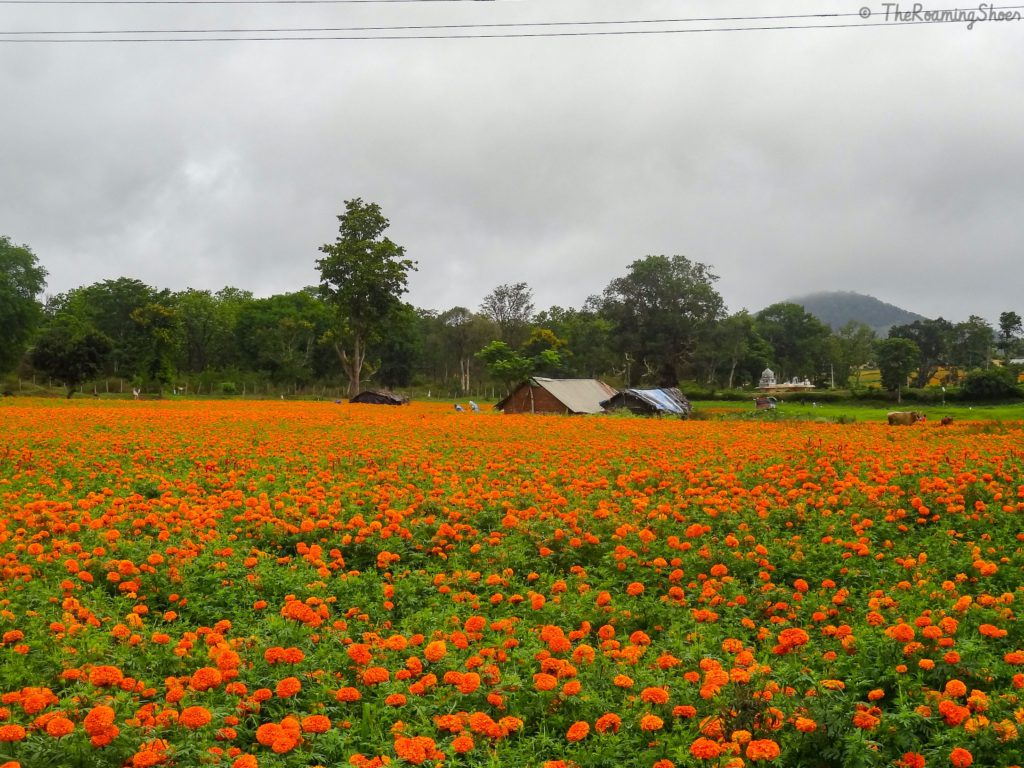 There are tons of things to keep you occupied at the resort. You can explore the huge resort premises, have fun in the swimming pool, checkout the art gallery or go for the walking tours. The walking tours are organised by the resort to the nearby points of interest most of which are the property of the resort itself. If you like certain places, you can always revisit them later at your own time.
Get Zolpidem Online Visit the little stream inside the forest
This one is our favourite among all the places we visited. It took us around 15 minutes to reach the stream from the resort as the path was a bit slippery due to rain. Walking by tea plantations and then a narrow road through the forest we finally reached the stream. The gurgling stream briskly flowing past the rocks and boulders and surrounded by lush greenery was such a lovely sight. The best part was we were the only people there along with another family and our guide from the hotel. Sitting on a boulder with our feet dipped in the cold stream water, we could not realise when time floated away.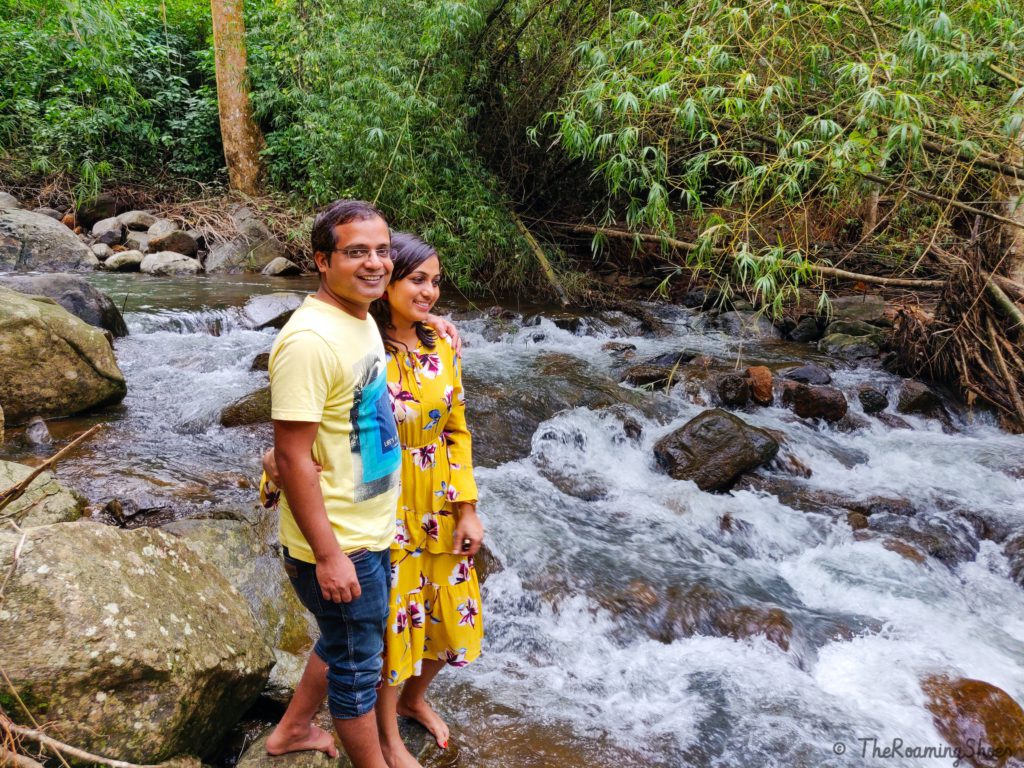 Check out the view points
There are a few view points in and around the resort area. One point is inside the resort compound where you need to climb a long set of steps. But the whole path is very scenic passing through plantations and shade of trees. The view point is surrounded by lush greenery and verdant mountains and is ideal for a small picnic or spending some time in total serenity. Another such view point is just beside the resort and provides lovely views of the Banasura hill as well as the valley.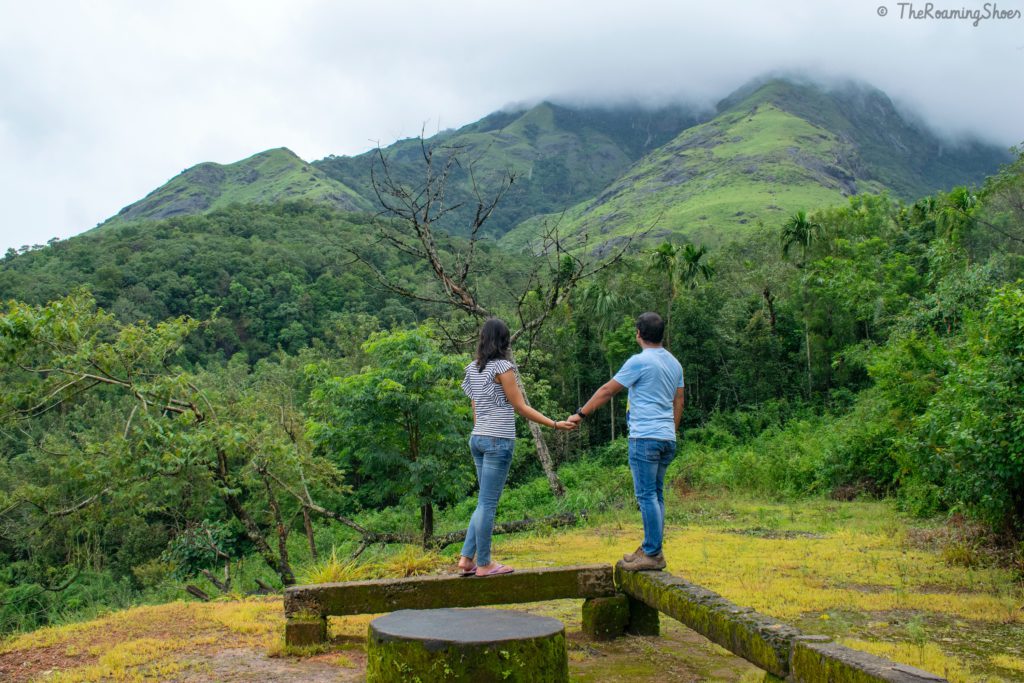 Wayanad has a vast expanse of tea, coffee and spice plantations and almost all resort or home stays have their own properties. Banasura hill resort also has a tea garden just steps away from the resort and its a perfect place for a stroll or some beautiful pictures.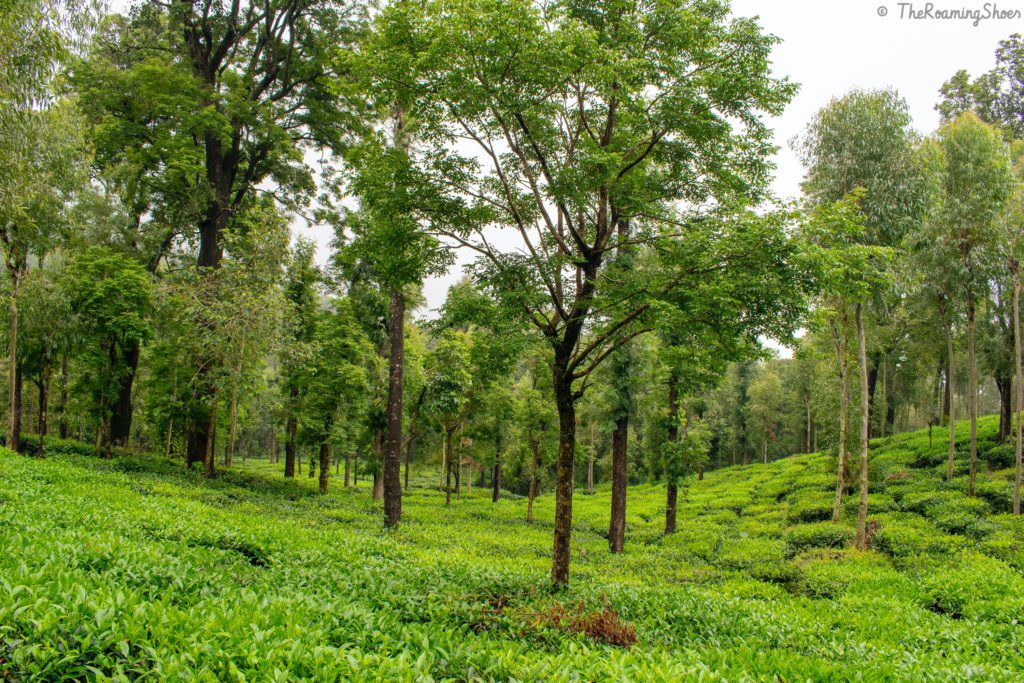 Hike to the secret waterfall
Whenever we came out of our room to the outer area of the resort we heard the roaring sound of a waterfall. It felt close, yet was nowhere in the view. So we decided to take help from the resort staff and visit this secret waterfall on a rainy day. Walking on a narrow path edged by towering trees, we finally stepped in to a plantation area where the path ceased to exist. It was muddy and slippery and every step had to be carefully taken. On top of that, there were leeches everywhere. After around 20-25 minutes, When I was on the verge of giving up, the waterfall finally came in to view. The sight of a huge waterfall camouflaged with thick cover of trees and plummeting down from a great height was simply breathtaking. Since it was raining and there were a lot of leeches in the area, we could not stay there very long. But we will always be glad that we finally made it to the waterfall irrespective of all the obstacles. What an adventure it was!
If you plan to visit this falls, then take help from resort staff as the path is not marked and passes through a private property. Also, wear comfortable shoes and carry salt (to get rid of leeches) if you are travelling in rainy season.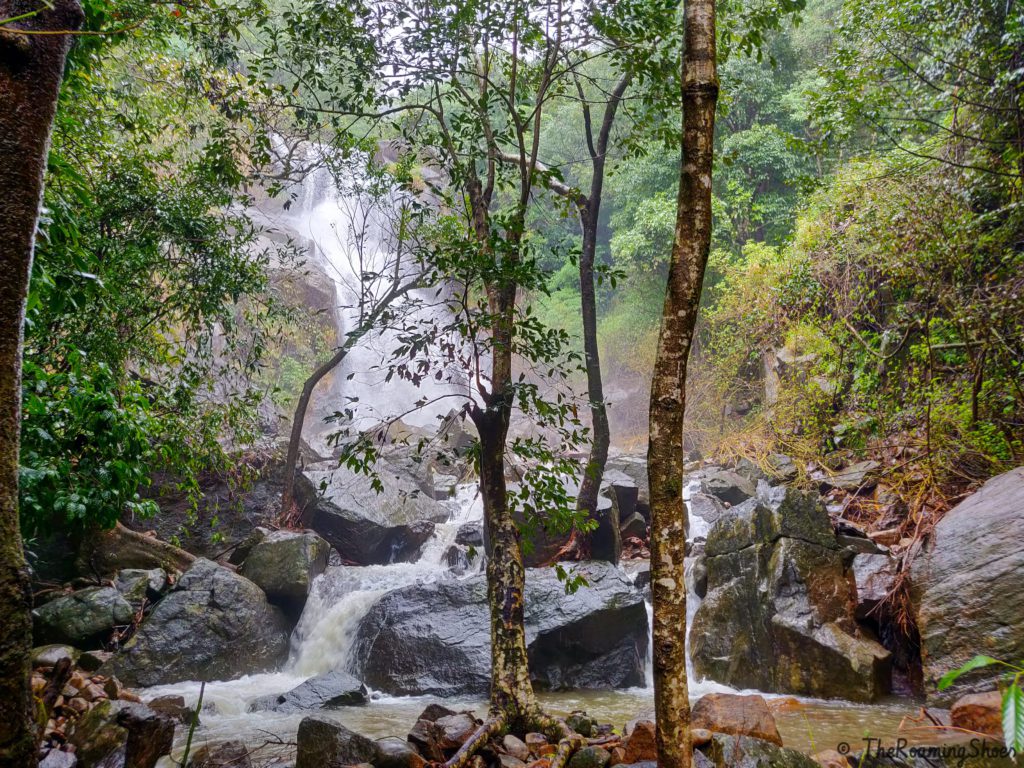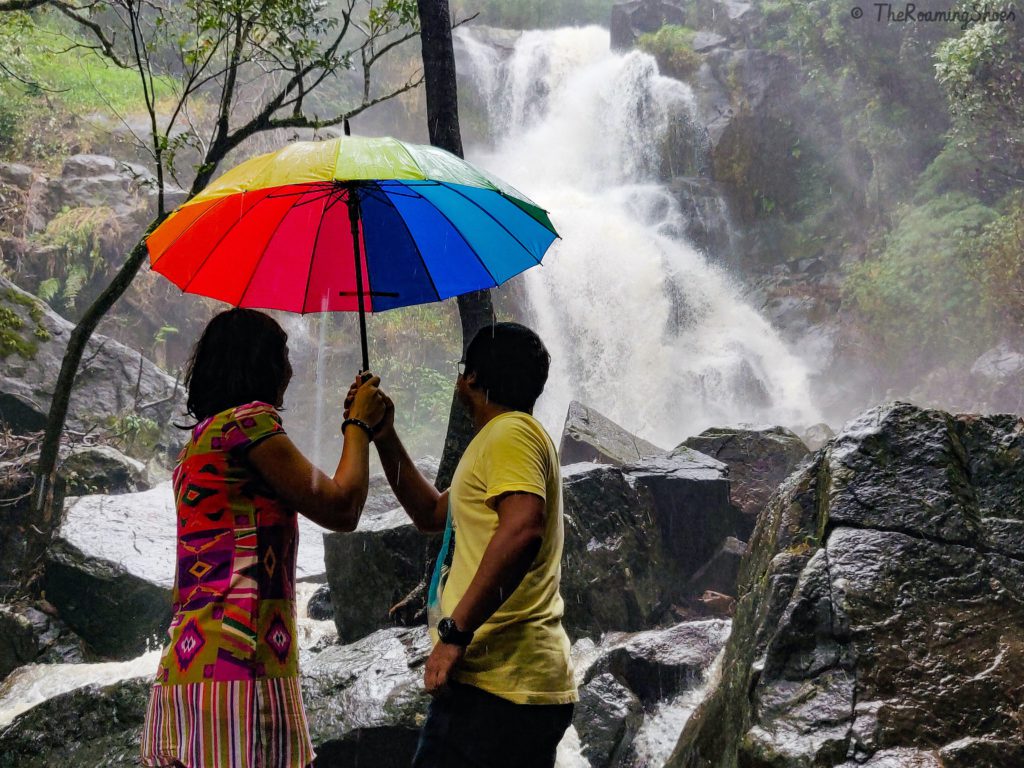 Mornings and evenings in Wayand are never complete without a little stroll along its greenery flanked roads. Take a walk along these roads and who knows what surprise might be waiting for you at some corner. We came across a pretty little stream not too far from our resort on one of our evening strolls. It was just beside the road and was really peaceful with no one else around.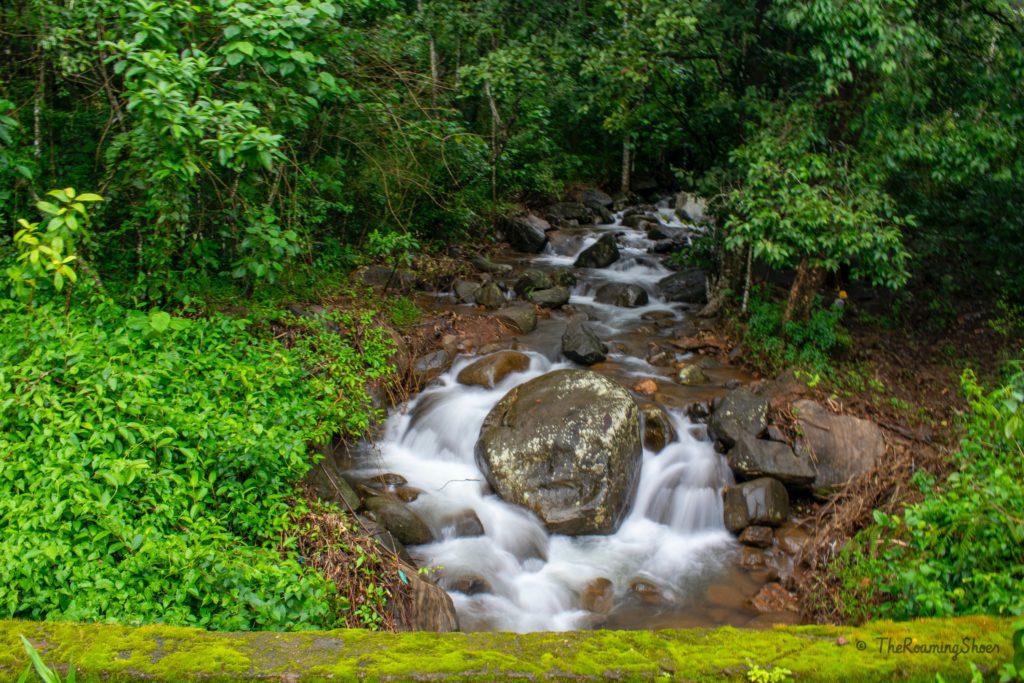 The largest earth dam in India, Banasura Sagar Dam is a place not to be missed in Wayanad. The location of the dam is very picturesque surrounded by grassy hills and verdure. And the best part is it is just 20 minutes drive from the Banasura Hill Resort with great views all through. During the summer months when the water level is low in the reservoir, small patches of land pop out from the bluish water making it look even more beautiful. There are quite a few steps to reach the top of the dam, but the views totally make up for the effort. You can simply take a stroll in the scenic setting or indulge in the various adventure activities like speed boating and zip lining. There is also a park with swings and a children's play area to keep the kids busy 🙂.
It takes around 15-20 minutes to reach the top of the dam from the parking area by walk. But if you are not up for the walk and the steps at the end, then opt for shuttles (available near the entrance) that charge Rs 10 per head.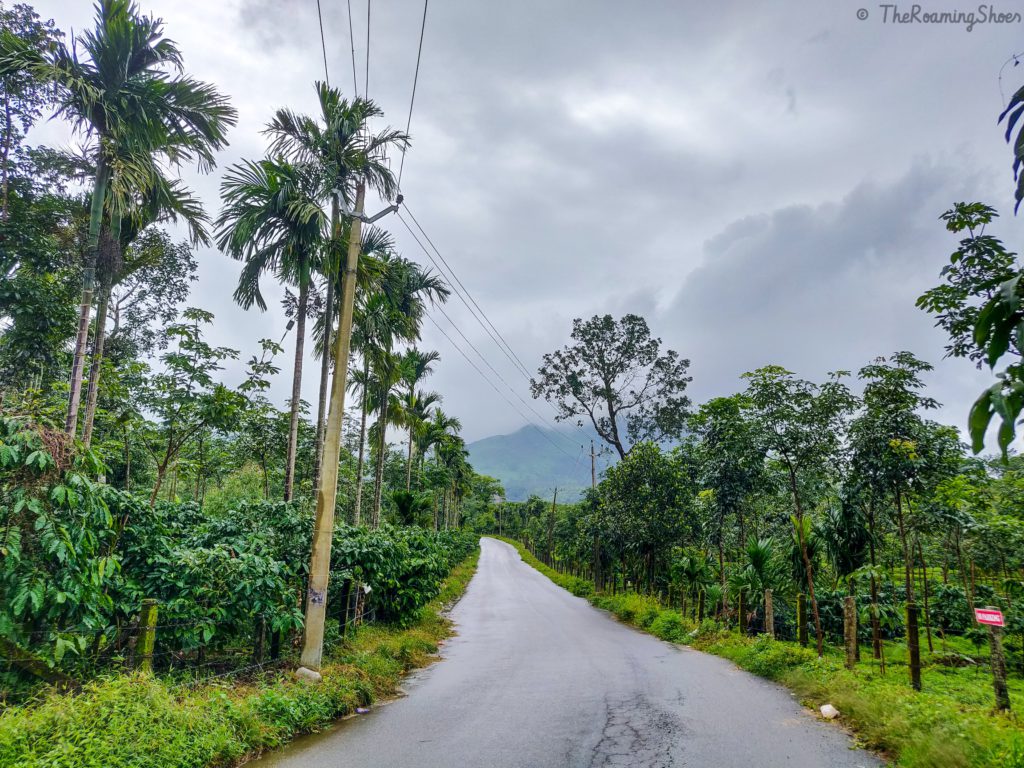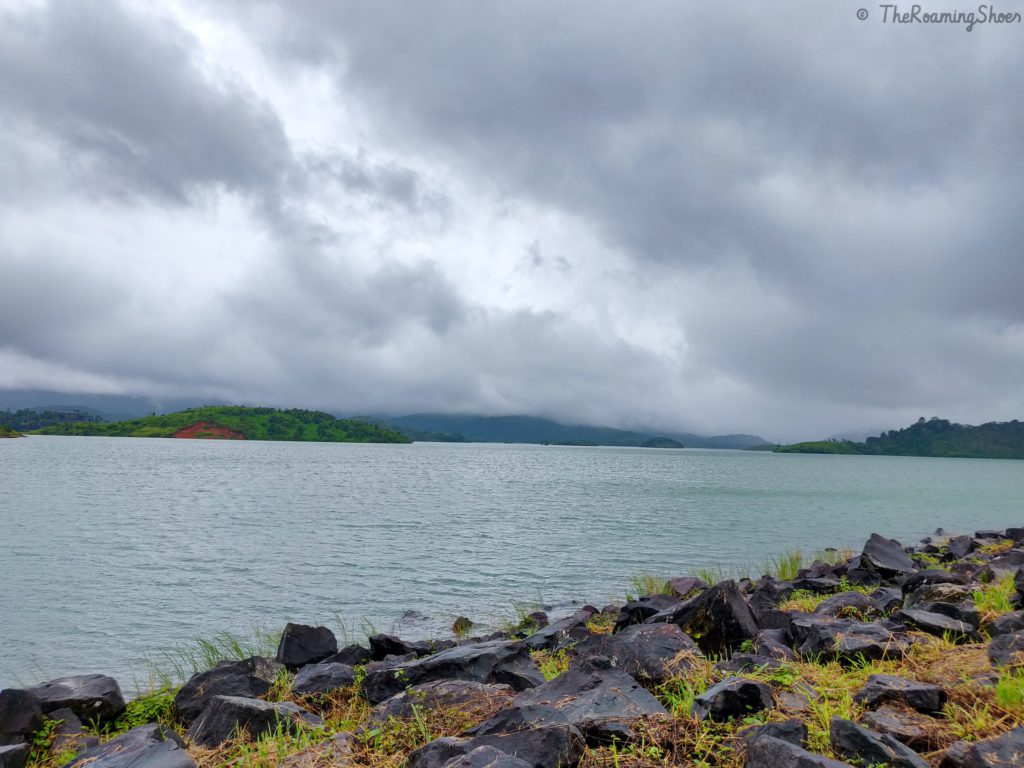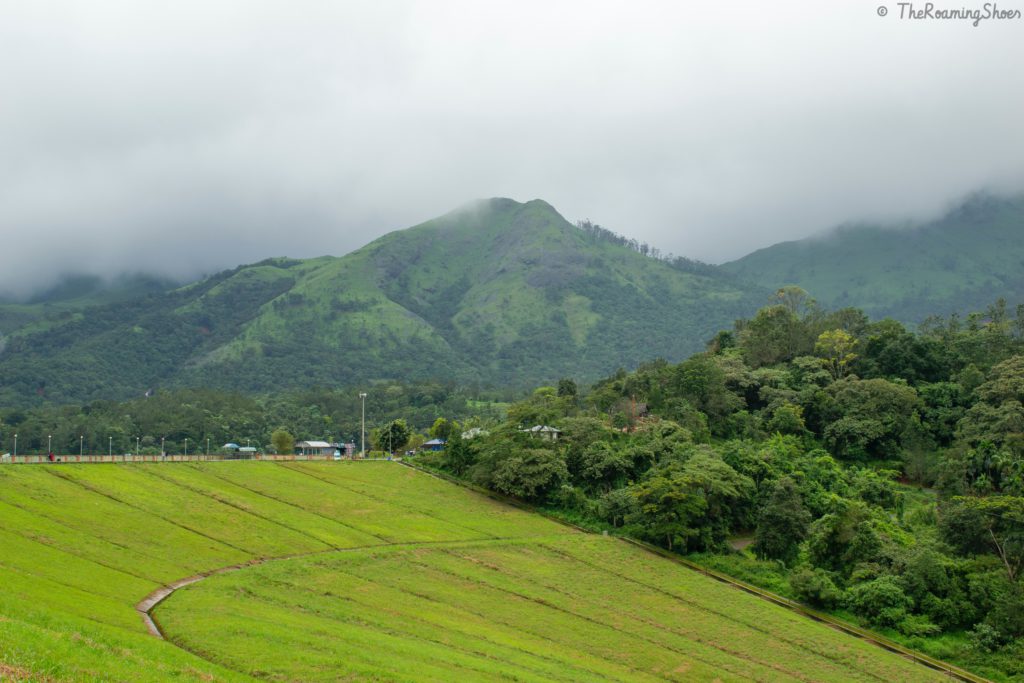 Additionally you can also check out the following places:
Edakkal Caves
Pookode Lake
Soochipara Falls
Meenmutty Falls
Tholpetty or Muthanga Wildlife Sanctuary
Trek to Banasura Hill or Chembra peak
This is all from our side. Visit Wayanad sometime and we bet you would love the experience. If you have any questions or need help planning your trip, do let us know in the comments.
Here is a video guide on Wayanad from our YouTube channel. Hope you like it.
For more destinations around Bangalore, check out our other posts here.
Facebook Comments