Experiencing Pahalgam – An Unconventional Guide
by Ava and Sush ·
Pahalgam was probably the only place we were sceptical about on our Kashmir trip. Last minute AirBnb cancellation, incessant rains and hearing a lot that it is touristy and crowded – Pahalgam did not exactly feel like the ideal place to visit. But as if it was meant to happen, we finally ended up there and experienced it in the most eccentric way. Random conversations, scenic saunters, relishing street food and a peek into the local way of life were chosen over mini Switzerland and other tempting places. In the end, we fell in love with the forest, the wild flowers, the birds and the gushing river and Pahalgam got etched in our hearts forever. 
So, this blog will not be about the conventional topics of what to see in Pahalgam or things to do on a short visit, but more like a memoir of the things we did or experienced. And also about how sometimes letting go of FOMO (Fear of Missing Out) and slowing down could help create memories of a lifetime. If that is how you look at things, then this blog is for you.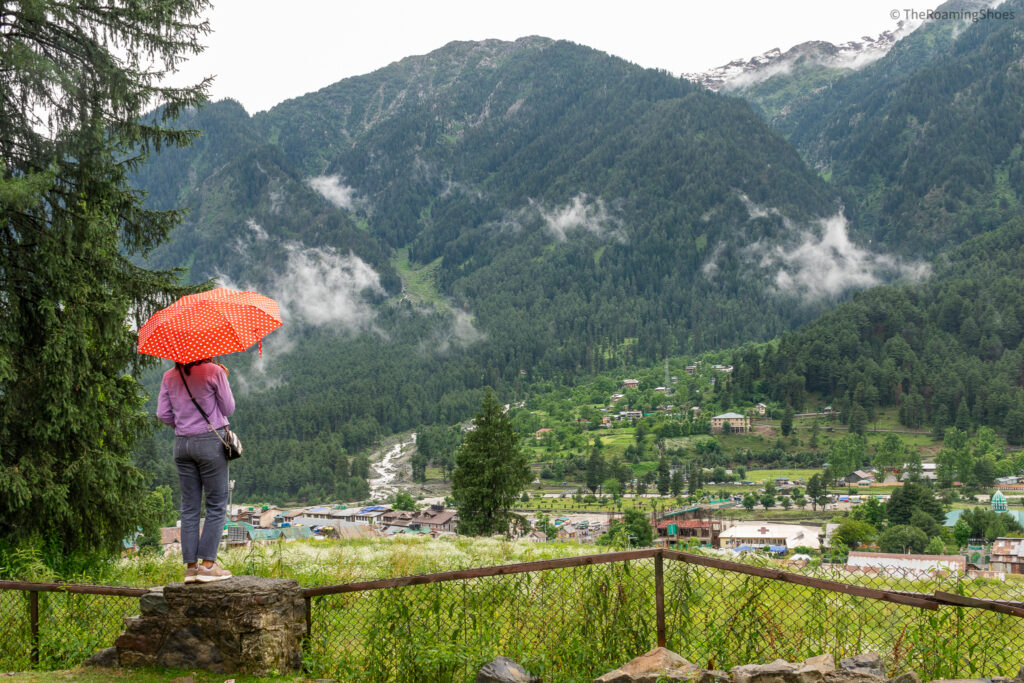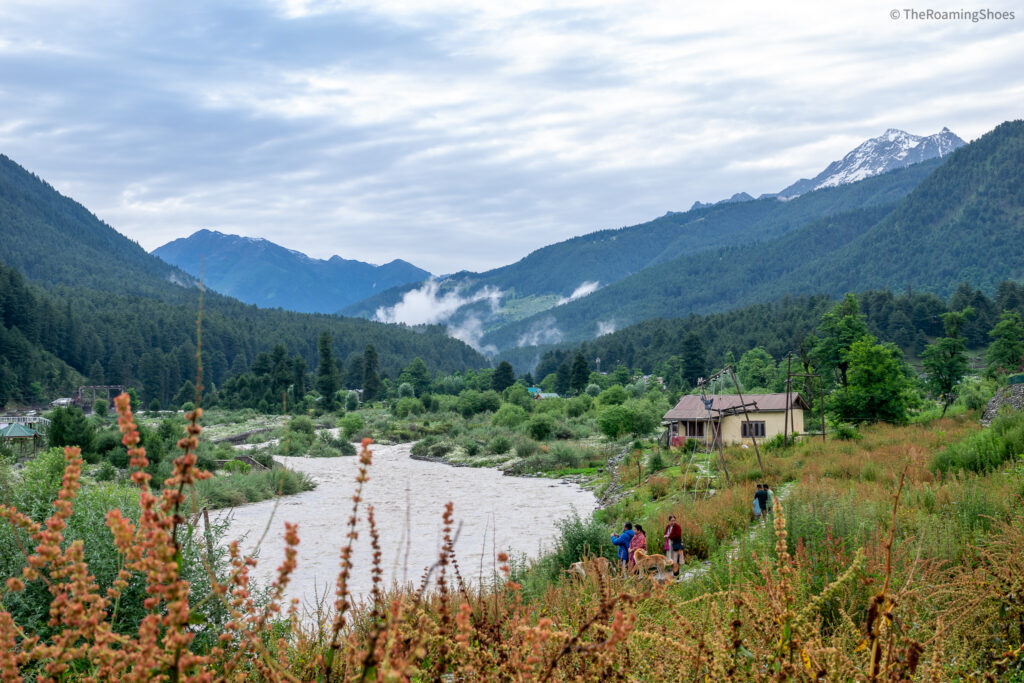 Experiences we will never forget
The Drive from Srinagar to Pahalgam
https://www.aytolardero.org/2023/09/14/ws50us3r5hs I feel the best part of visiting Pahalgam is the drive itself. It was indeed the most picturesque road trip we took from Srinagar. As we started moving farther from the town, lush paddy fields complemented by tall mountains started accompanying us at both sides. We passed many interesting towns on the way,  each having their own speciality – Pampore for Saffron, Sangam for cricket bat making and Apple Valley for its numerous apple orchards. Gradually, row of Poplar trees started giving way to Walnut laden trees and Lidder river flowing fiercely became a constant company. It was difficult not to drift into a reverie every now and then. The journey had given us a fair idea of what to expect from our destination.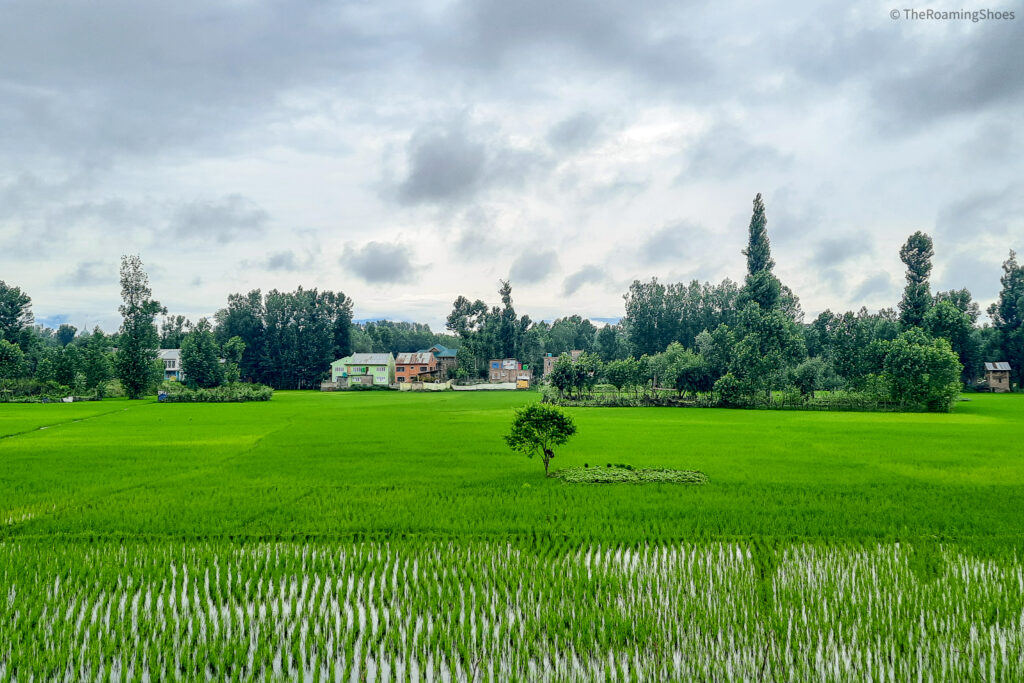 Ambling along the scenic paths
https://elmilanoreal.com/sxjgaj1ob7 It was a rainy day in Pahalgam. The clouds had descended halfway across the lush mountains and the pitter patter of the rain filled the atmosphere. Our taxi driver said, if it was our 1st time in Pahalgam, then we should go and check out Baisaran Valley (aka Mini Switzerland) and a few other places by Pony. Anyway, Aru Valley and Betaab Valley were closed owing to rain and possible landslides. His suggestion was honest, but we both knew that's not what our hearts wanted. So after much deliberation, we set out to explore Pahalgam by foot.
https://acatfcl.cat/778t7aq0p5 Every few steps, we would stop and take a moment to appreciate the vista in front of us. The whole landscape was bathed in a fresh layer of green, peppered with Daisies and other flowers. Little streams passing through at places and horses grazing in the green pastures accentuated the beauty of the place tenfold. Then there were greetings and little chats with the army personnel that were deployed every few metres due to the Amarnath Yatra. Their heartwarming stories were enough to make us feel warm inside in that cold weather.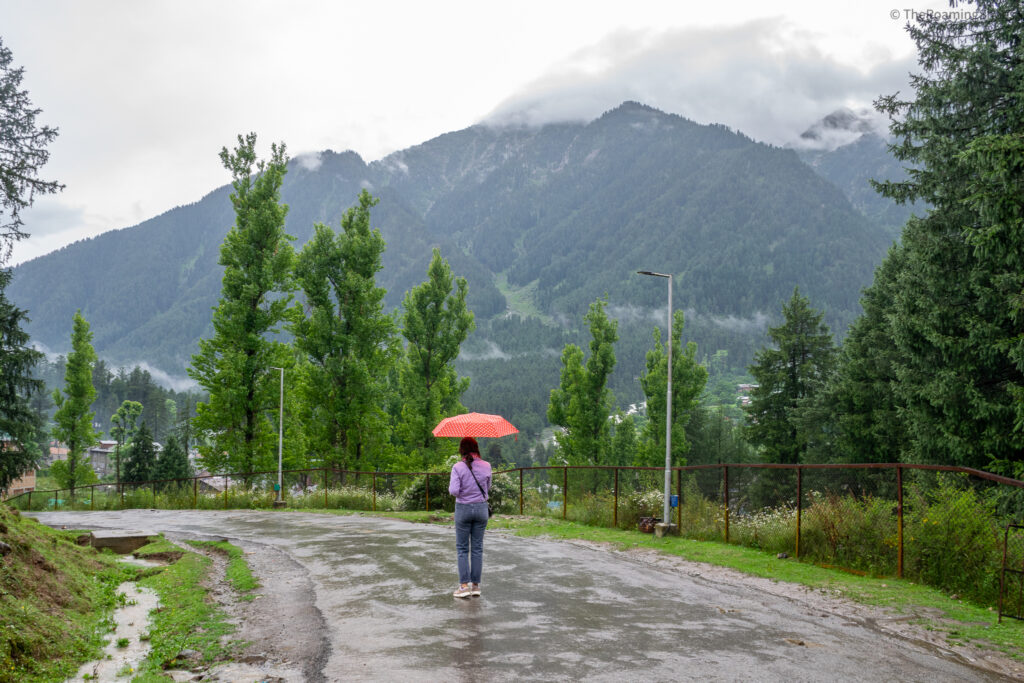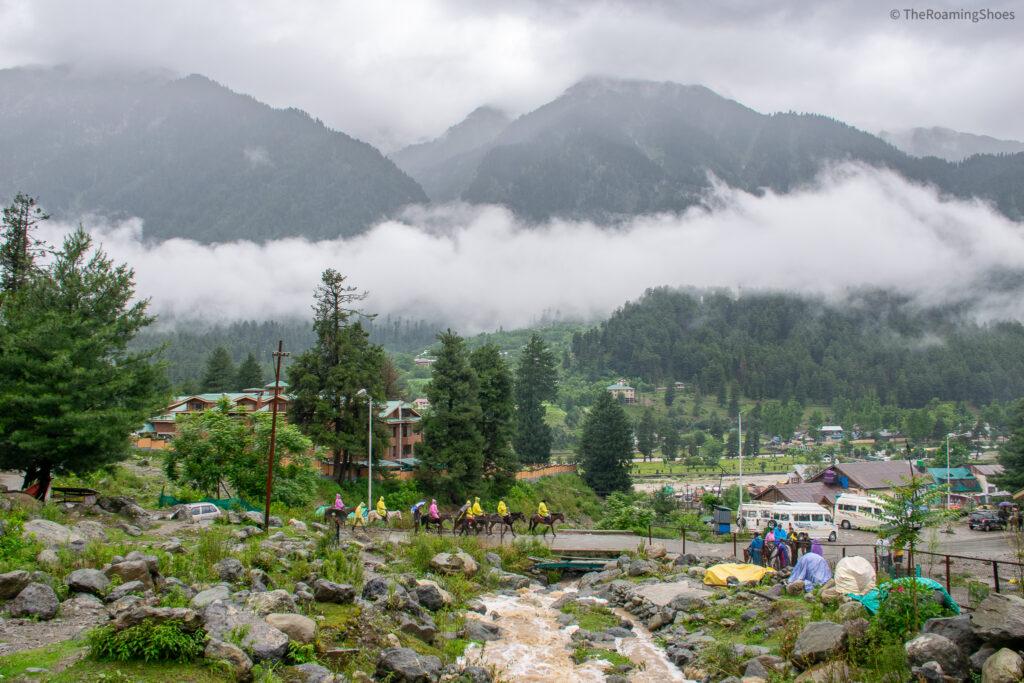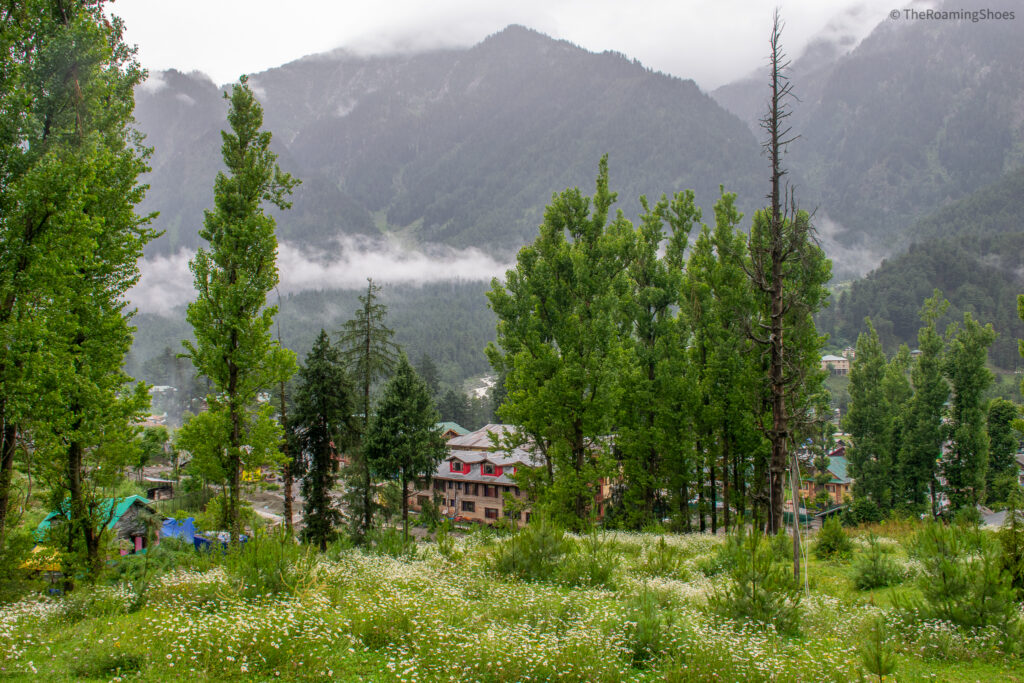 Pahalgam Market –  Delectable street food and intriguing conversations
All the saunter in the rain had left us tired and hungry. So we decided to head to the market and find something to eat. But what first caught our attention was its picturesque locale. Rimmed by snow clad peaks, shops both small and big lined both sides of the road and retro-style lamps adorned the footpath, exuding old world charm. Apart from the scenic beauty, the market is also a perfect place for some shopping and street food. We bought some Shawls for family and treated ourselves to some scrummy street food. Whether the pakoda at the pure veg restaurant or roadside Maggi, the moreish ripe mango chat or the freshly made Chicken kababs by street vendors – everything tasted so satisfying.
As we were walking back to the hotel, a pretty tea stall by the road caught my attention. The search for good tea ended in interesting conversation with the stall owner, an amiable and very well informed uncle in his 70s now. Many stories were shared over tea and biscuits. He surprised us with his knowledge of our hometown explaining to another customer what Rath Yatra is all about. It was so refreshing to see someone as far as in Kashmir talking about a small town in Odisha that most people seem unaware of.  Answering our curiosity, he revealed how he had traveled all across India in the 80/90s before settling down with the tea stall in the grounds of his own property.  I could not help but wonder how much travel teaches us, about places, about people and about ourselves.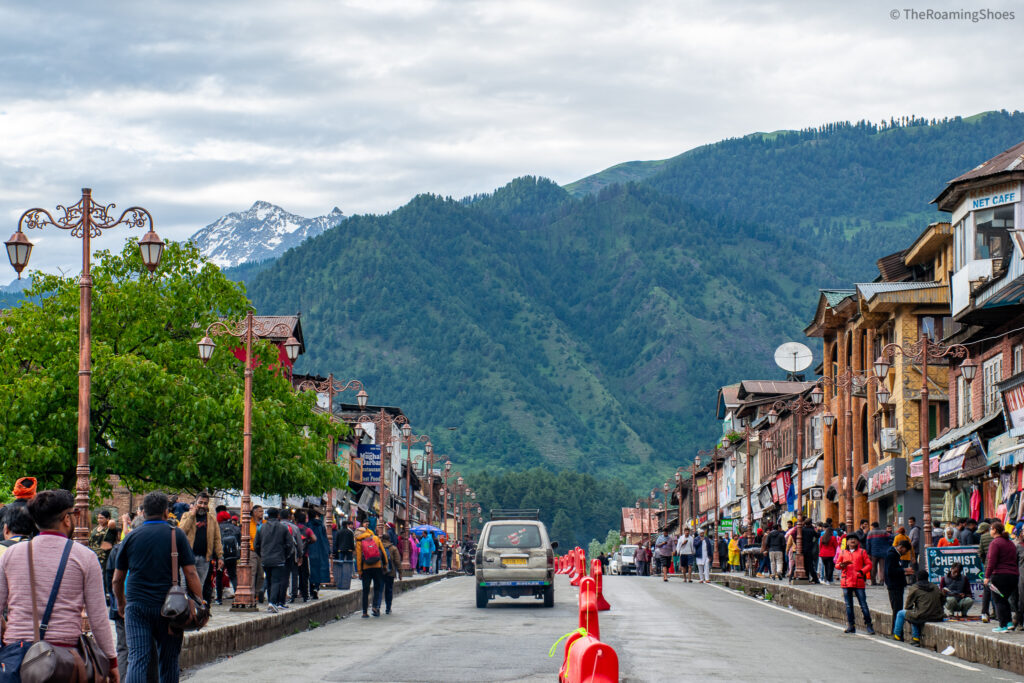 A peaceful evening at the riverside park
This is one gem of a place that we found while strolling around the market area. It is called Island park and is maintained by the Department of Floriculture. You may think what is so special about a park. But this park located in the river island and encircled by mountains is a lovely place to spend the evening. There are benches set thoughtfully along the riverside under the canopy of trees. Roses and many other flowers adorn the area and a cutesy bridge set over the river offers perfect views of the town and surroundings.  How I wished to sit on one those benches with a book in hand and listen to the music of the gushing river all day!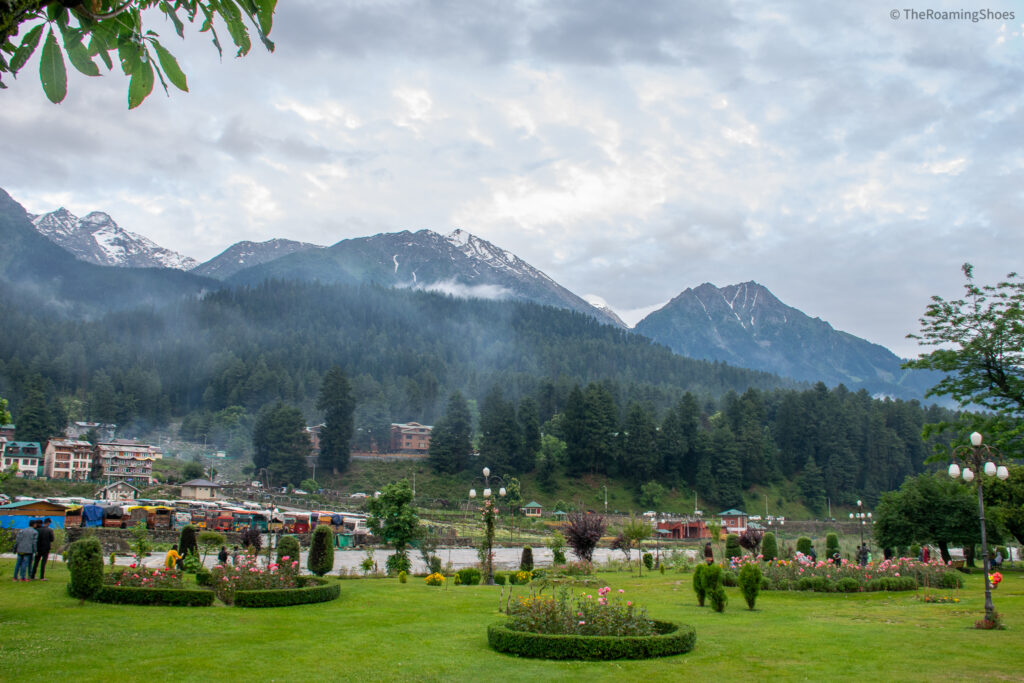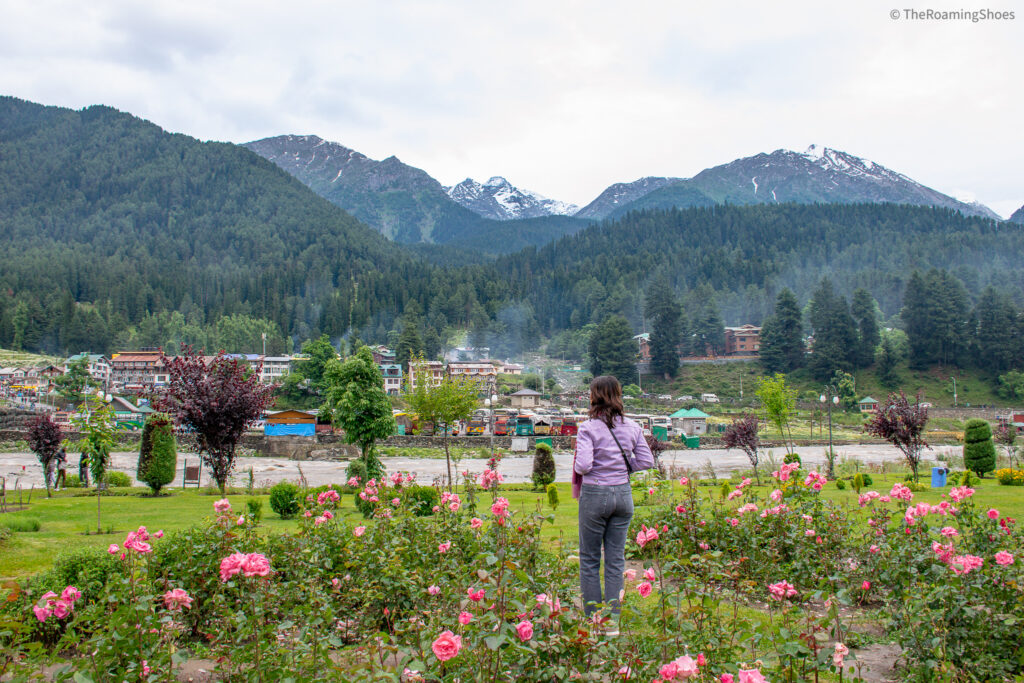 Ganeshbal Village and it's traditional bakery
Next morning, before leaving, we decided to take a walk in the direction from where we had come to Pahalgam. I was hung up on the view of the river we had seen on the way. So taking out the umbrellas, we set out for Ganeshbal. The sky was still grey with drizzles continuing through the morning, and that made the walk through the misty Pine forest even more enchanting. After about 10-15 mins, we reached the village. Apart from the views, the 1st thing I noticed was the locals gathered near a small shop and buying breads. It was a small traditional local bakery where they rolled the bread with hand and baked it in an earthen tandoor.
The smell of freshly baked bread was too tempting to resist, so I decided to buy one and try it. The bread was hot and super soft literally melting in the mouth. And they only charge Rs 10 for the bread. Given a chance, I would have bought enough of these back home to have for a month a daily. The buying led to casual conversations with the guys making the bread and they even invited us to have som tea inside. This is something we truly loved in Kashmiris, the hospitality and kindness they show to the visitors. We had to decline the request due to time constraint, and bid our goodbyes after taking a few pictures.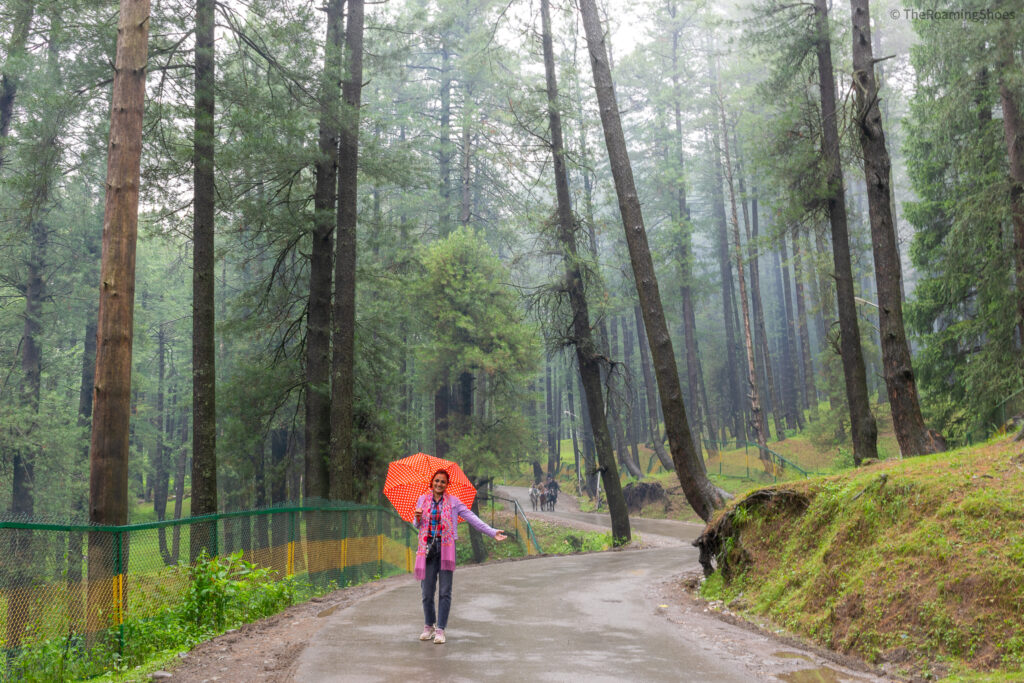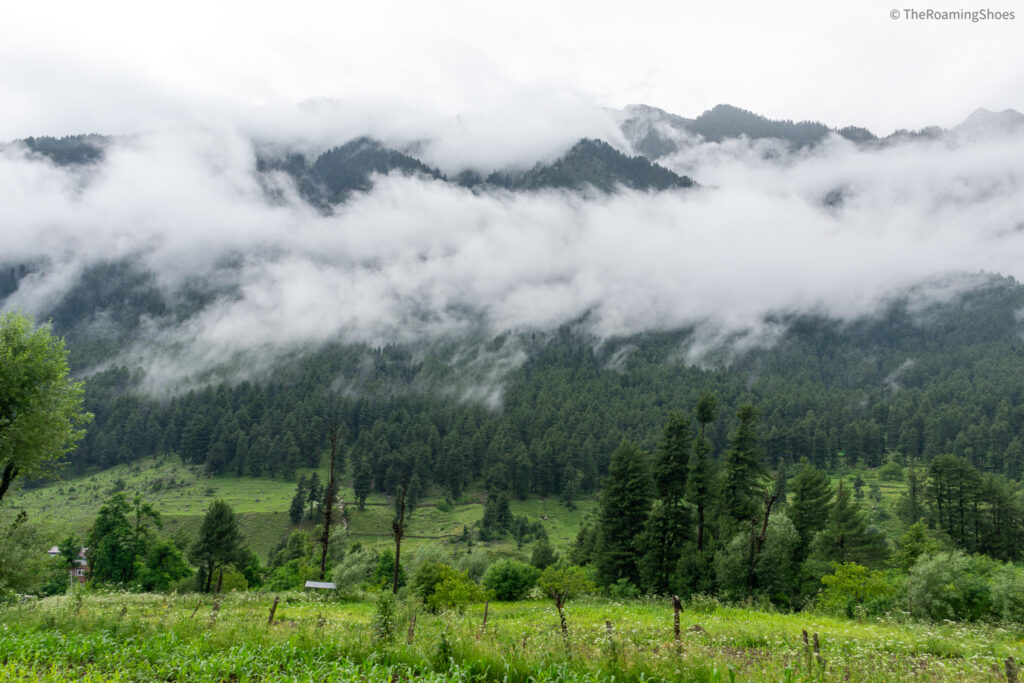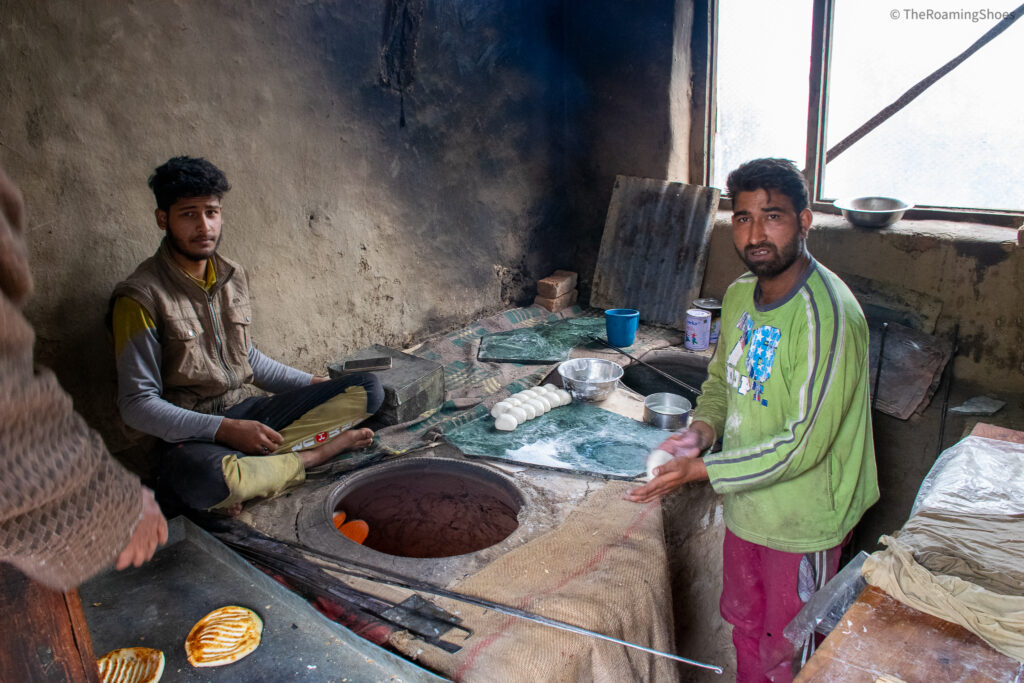 Just 5 mins walking distance from the bakery, comes a stunning view of the river where it looks more like a waterfall.  There is also a small tea shop beside it where you can enjoy some tea with the perfect view.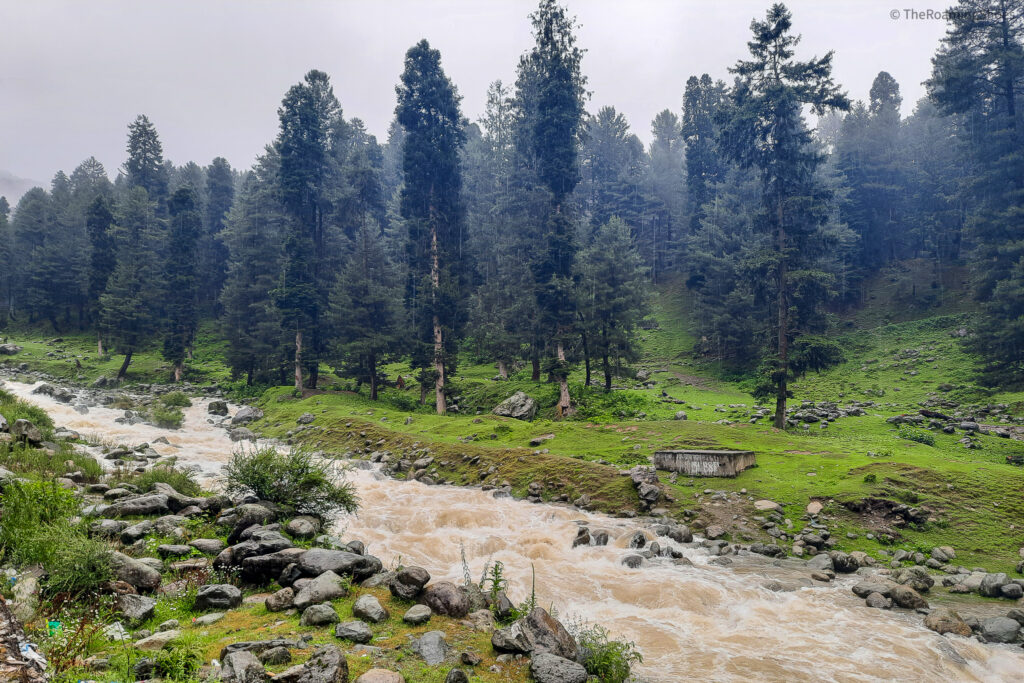 Apple laden trees and Fresh Juices at Apple Valley
While driving back to Srinagar, we decided to make a stop at Apple Valley. The whole stretch has number of apple gardens by the road side. Since it was July, the apples were still raw and green. But if you go during September-October time, you will see the red juicy apples dangling from the trees. Since it will be the harvesting season,  you can even buy farm fresh apples at a very reasonable price. Not only apples, the orchard owners also sell Apple jams, Apple pickles and other fruit products in their shops. Do buy their products as directly buying from them helps boost the local economy. What I loved the most was the freshly squeezed apple juice that was truly the best I had till date.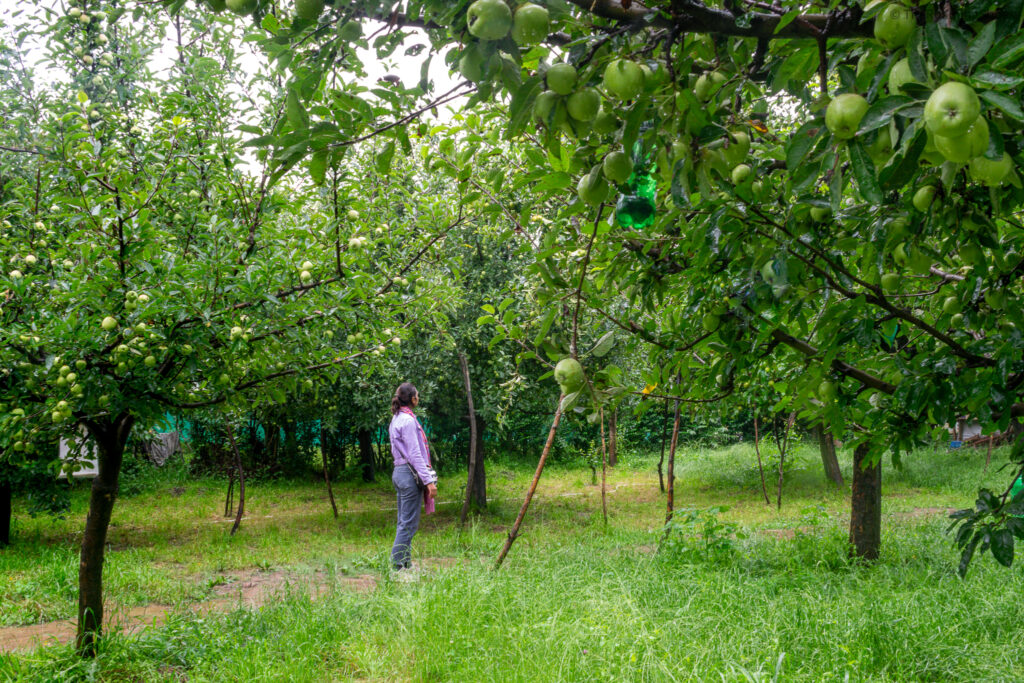 Cricket Bat Making Factories at Sangam
On the way to Pahalgam, comes a village named Sangam that is very hard to miss. As we approached the village, grids of wood stacked along the roadside and on top of the buildings came into view. There were also rows of cricket bat selling shops at both sides of the road. When I was wondering what this place could be, our driver Bilal Bhai told us how this region of Kashmir had rose to fame for cricket bat making. The bats are made from the wood of Kashmiri Willow tree that used to grow abundantly in this region. But with increasing number of bat making factories over the years, and not much done in terms of planting new trees, the Willow trees are gradually diminishing.
Sangam's cricket bats are not only used in India, but are also exported to several other countries. So we decided to make a stop on our way back to have a peek into the bat making process. The interesting fact is all the bats are handmade and different sets of people take care of various steps involved in the process. Starting from shaping the bat to handle fitting, polishing and adding stickers, everything is done by people very precisely. Each of these factories also have a shop where you can purchase the bats. They even customise it as per people's needs.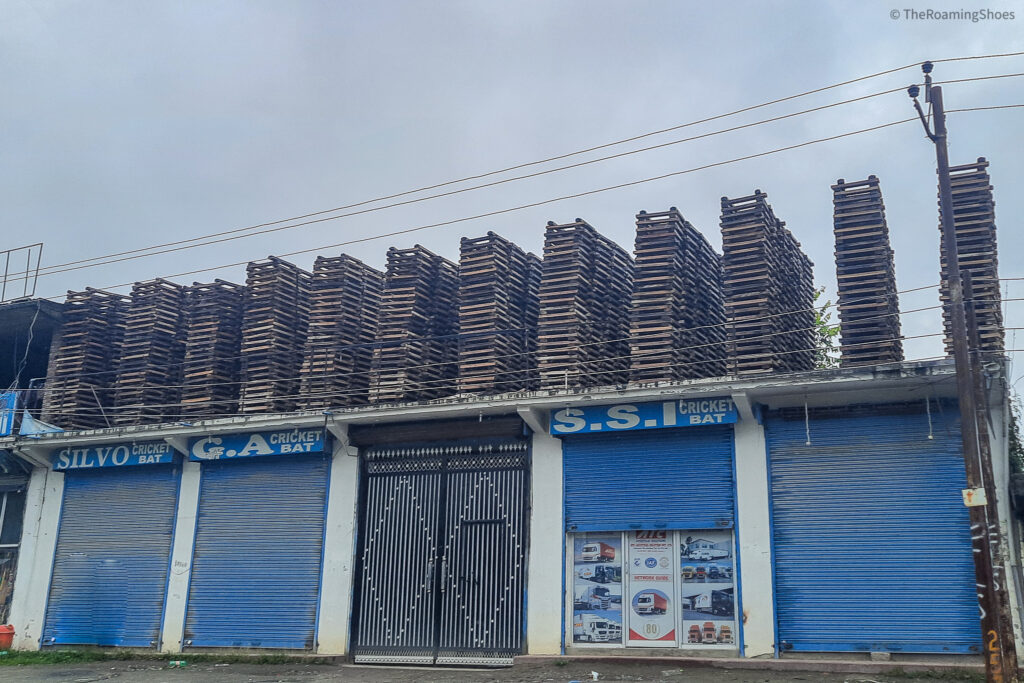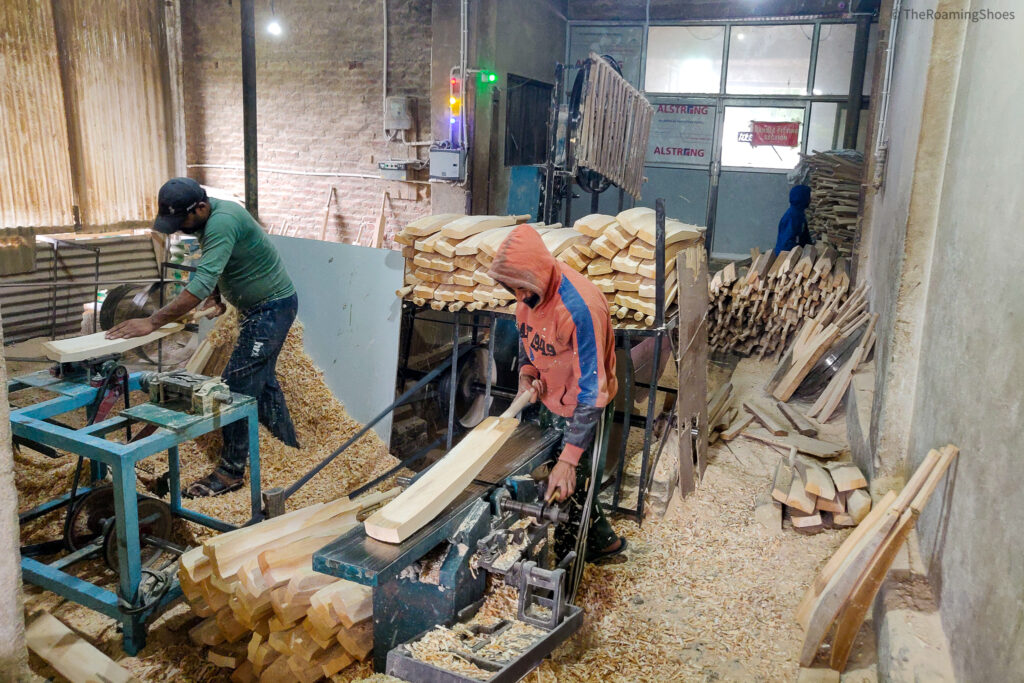 Things to know before visiting Pahalgam
En route from Srinagar to Pahalgam (or vice versa), take a little detour to visit the age old Martand Sun Temple and the ruins.
It is possible to do the Srinagar-Pahalgam trip in a day and a lot of people do it too. But that will be very tiring and the day will be gone sitting in the car or on pony back covering the famous points. You will be left with no time to experience the true spirit of Pahalgam. Therefore I recommend staying at least for a night so as to cover the famous valleys as well as taking some time to explore on your own.
If you are staying only for a night, then I suggest staying at walkable distance from the main market area to have easy access to everything. The market is chaotic, but there are some hotels just a little away with peaceful surroundings. We stayed in Hotel Hilltop and found it pretty good. For a more budget friendly option, you can consider Pahalgam JKTDC Huts which has a good location too.
If you are visiting during July-August, there is chance of rain and that results in temperature drop. So carry lightweight jacket/shawl and an umbrella.
Pahalgam may be touristy, but it also offers you the opportunity to go off the beaten path and experience things your own way. Go ahead and see it's famous valleys, but also take a walk along its forests, river and scenic lanes. That is where the charm of this beautiful hill town lies. Hope this blog gives an insight to the other side of Pahalgam and inspires you to plan your trip.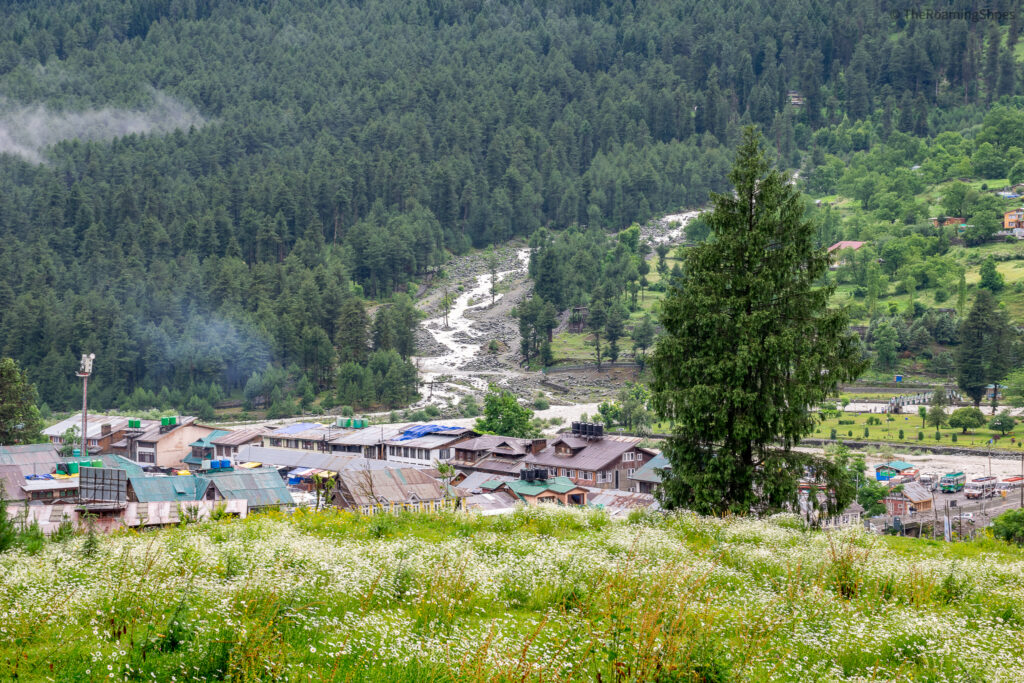 Tempted to visit Kashmir yet? Check our other blogs on Kashmir.
Facebook Comments