Yusmarg – A guide to Kashmir's lesser known gem
Yusmarg (or Yousmarg) – A name I had come across sporadically when it came to Kashmir. While Gulmarg, Sonmarg and Pahalgam are included in almost everyone's Kashmir itinerary, Yusmarg is considered relatively offbeat. This little gem of Kashmir is bestowed with unparalleled natural beauty and is ideal for people seeking solitude in nature.
So let me tell you, Yusmarg is not your regular tourist destination to tick off points of interest. But the kind of place to slow down and soak in the beauty of nature – to take walks in the unsullied forests, to talk to the welcoming and cheerful locals, to lie down in the meadows and have little picnics surrounded by wild flowers. If these are the things your heart is set on, then Yusmarg is for you.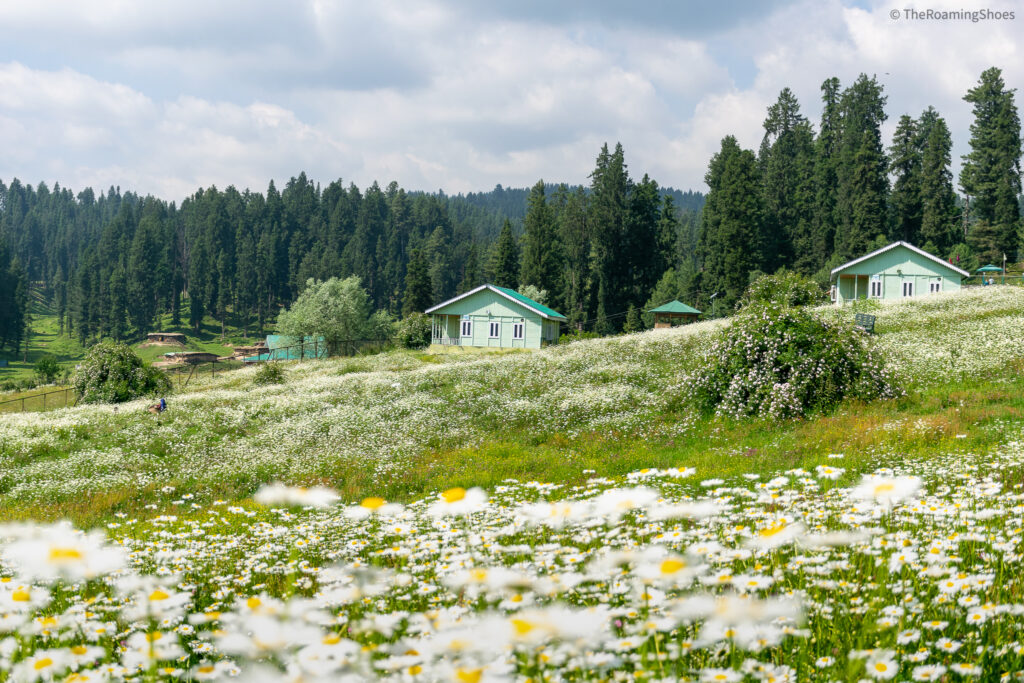 Reaching Yusmarg
Yusmarg lies at a distance of approx. 55 Kms from Srinagar and taxi is the most convenient way to reach there. The road is in pretty good condition and the travel time is around 2 hours.
Fare for Srinagar to Yusmarg Drop (Sedan): https://www.a-crear.com/4l7gfmeuunb INR 2500
They charge extra if you ask for AC (INR 300). So make sure to confirm this before finalising the taxi. While booking, also ask them to make a stop at Char-e-Shariff on the way to Yusmarg. No extra charges apply for that.

You can also reach Yusmarg from Gulmarg and Pahalgam. Gulmarg is approx. 100 kms from Yusmarg and the journey time by taxi is around 4 hours. Pahalgam also lies at a similar distance (as Gulmarg) from Yusmarg and can be reached by taxi in 3-4 hours.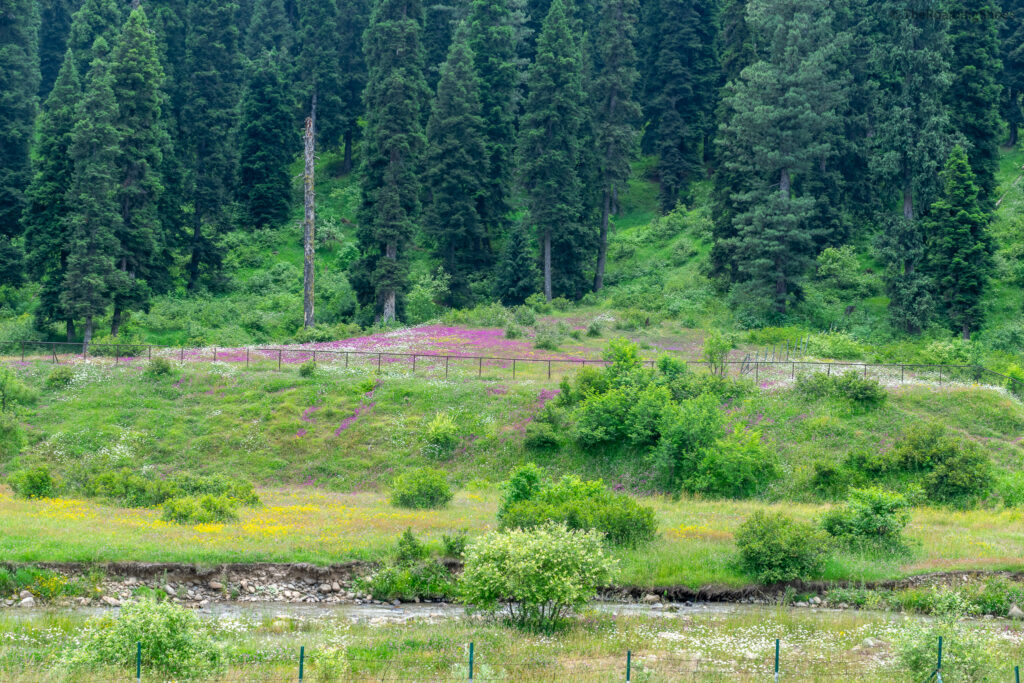 Best Time to visit Yusmarg
I would say https://dopsiurana.com/mltcsvf Summer, when the flowers bloom in abundance, Daisies that turn parts of the valley white or the little Yellow ones everywhere eyes could see. The weather is also cool during this time and day light remains till 7:30-8 pm. So plan your trip between https://elartedemedir.com/blog/otz20fk May – Early July. We visited in the https://www.jaumebalmes.com/dagmg3tq4x9 1st week of July and the weather was just perfect.
Late Sep – Oct is also considered a good time for Yusmarg (no flowers during this time though). During October, the leaves start turning orange announcing the arrival of Autumn. The valley also starts growing colder and warm clothes are a must.
July onwards brings some rainy days too. So go prepared. Also, STRICTLY AVOID EID HOLIDAYS (including the consecutive week) as it gets too crowded.
Yusmarg stays cut off from the mainland during peak Winter (Late December to Feb). Even during March when the snow starts to melt, Enquire about the road conditions before visiting.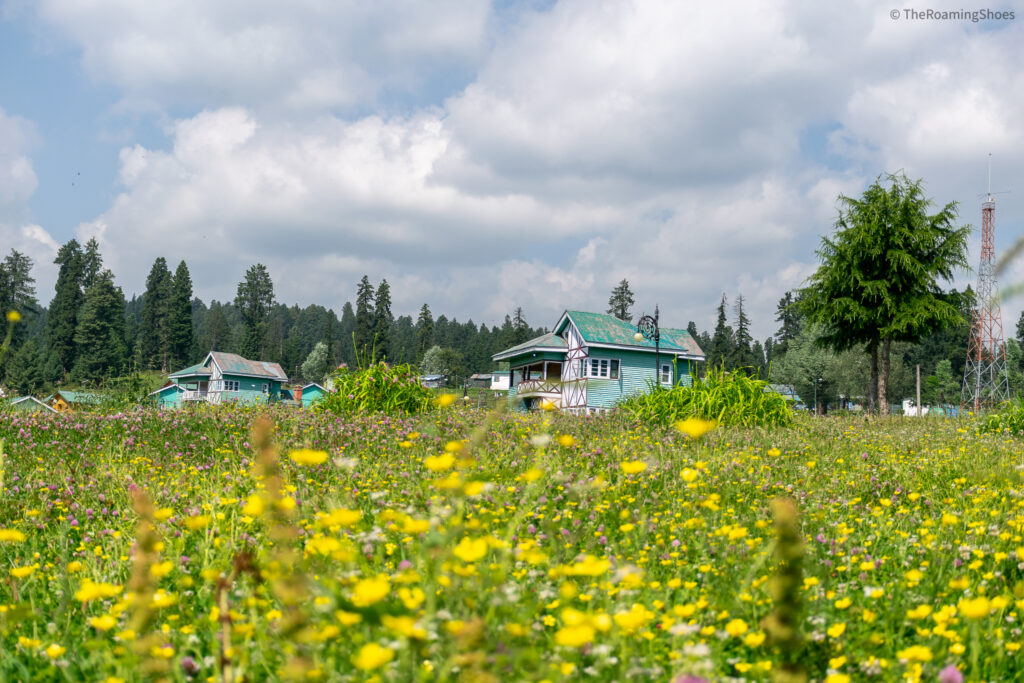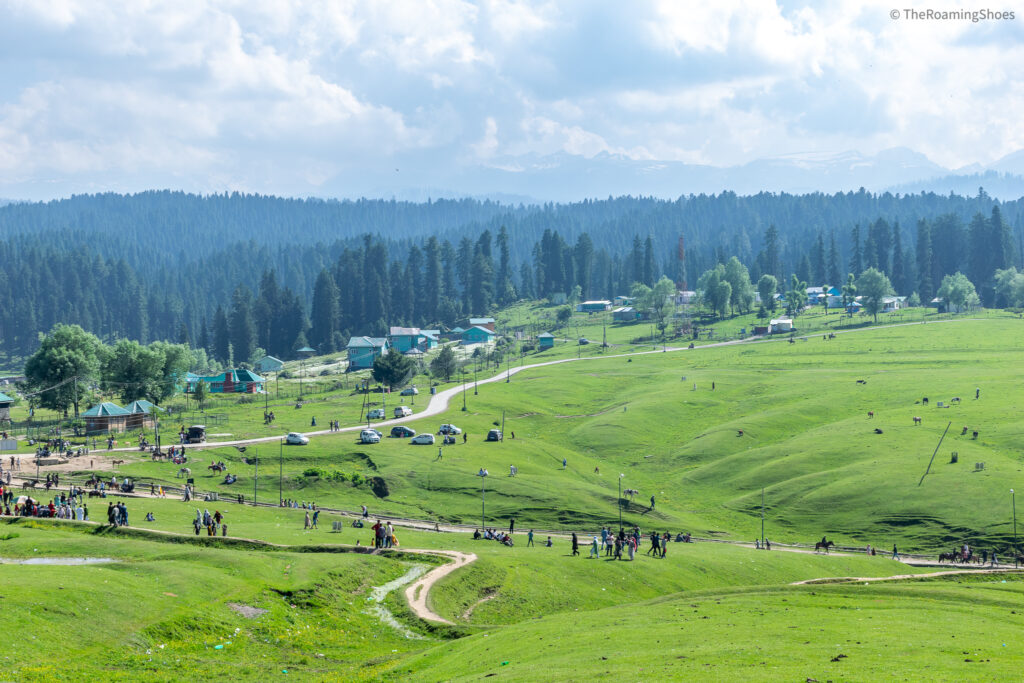 How many days are required for Yusmarg?
Yusmarg can very well be covered as a day trip from Srinagar. You can start early and spend the day in Yusmarg covering a few spots and then come back. But this way, you will not have the time to feel the true essence of this beautiful place. Because a lot of your time will go on walking or sitting on horseback and in the car journey.
In order to explore Yusmarg properly, I recommend staying https://www.aytoyuncler.com/2023/09/14/ajrk3o0d35 at least for a night. That is what we did and the 2nd day I truly wished to stay for another night which our schedule did not allow. 2 Nights are ideal in order to explore the nearby points as well as to take some time to bathe in the beauty of the place.
If you plan for the longer treks around Yusmarg, then 3-4 nights may be required.
Accommodation in Yusmarg
Yusmarg has very limited options for accommodation. The primary accommodations are run by JKTDC  that include a Hotel and a handful of cottages. 
JKTDC Cottages and Hotel
They have dormitories too. I am guessing those will be inside Kongposh.
You can book both from their official site https://www.jktdc.co.in/
Zeezayn Huts and Resorts
Another option is  Zeezayn Huts and Resorts. It controls and manages a couple of tourist bungalows that JKTDC has now outsourced. The location of those bungalows are perfect as they are located on top of the meadows and offer clear view of the mountains. But I am not sure about the conditions of the rooms. You may check reviews and book if it suits you. The prices are similar to JKTDC accommodation.  You can book Zeezayn Huts and Resorts via Make My Trip.
Our Review of the stay
We stayed in one of the JKTDC cottages and it's location was absolutely gorgeous, overlooking the lake and right in the meadows. Having said that, rest everything was a sad affair. The place heavily lacked both in terms of cleanliness and upkeep. The fittings and furnitures were broken in most of the rooms we had a look at. Even the toilet flush did not work in our bathroom. The towels and linens have certainly seen better days and it did not look like the bathrooms and rooms were cleaned regularly. But thankfully the bed was comfortable to sleep and the geyser provided hot water anytime we needed. So, as long as you keep your expectations low, this place is okay just to sleep for a night or two.
Now coming to the other aspects like food and service. It's a Govt. managed property. So no room service. Food options are very very limited and the taste is manageable. The only good thing I liked there is the Kahwa which was amazing.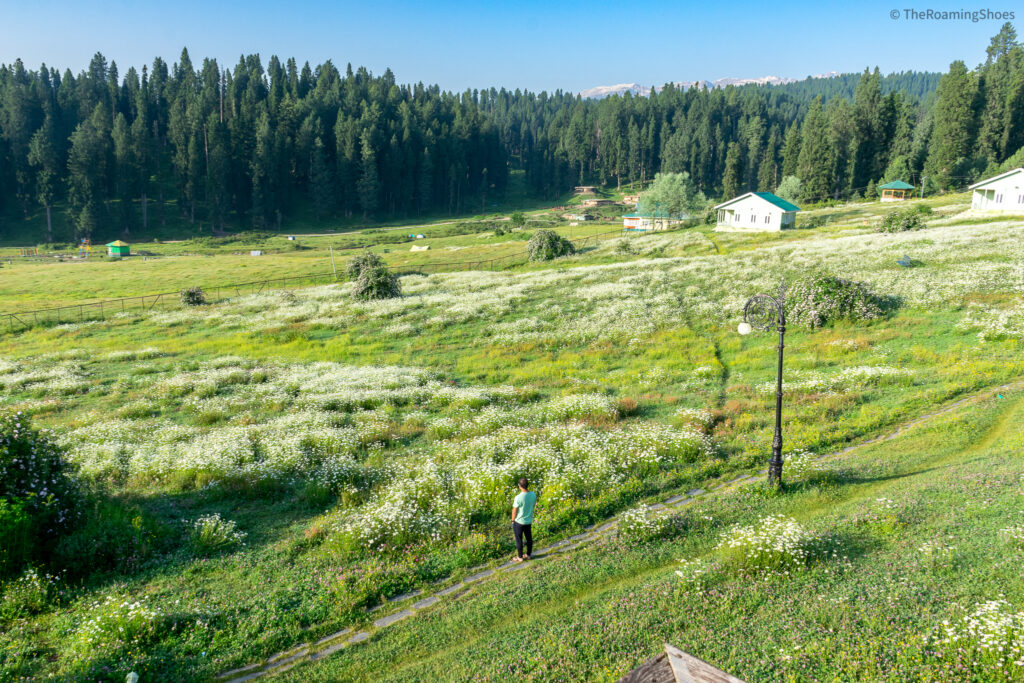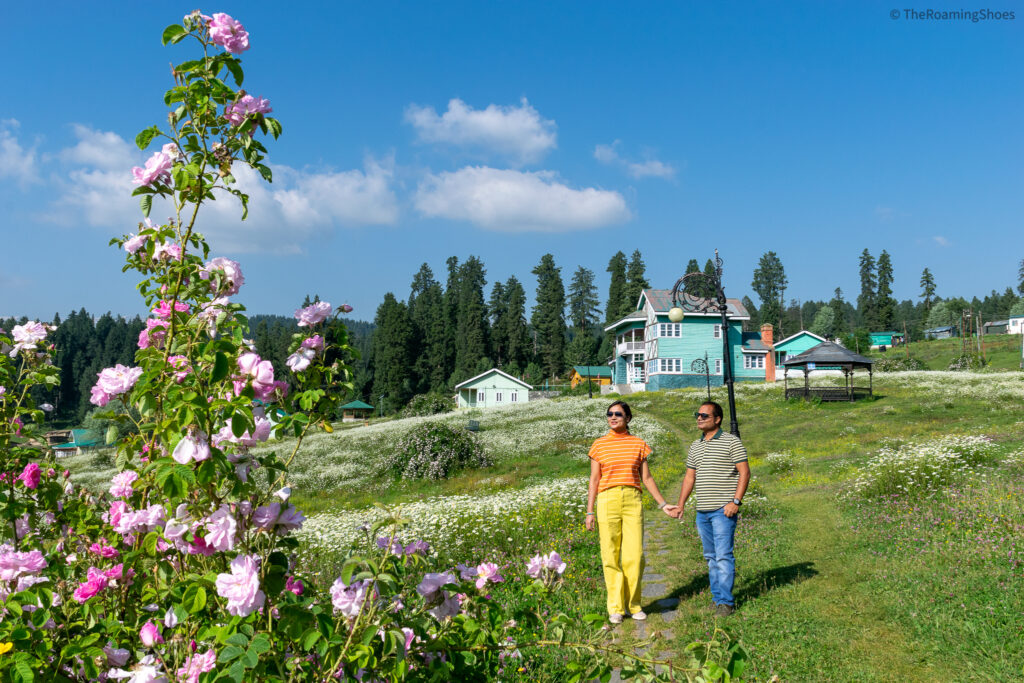 Know before you book JKTDC Accommodation
Hotel Kongposh (along with 2 cottages) and JKTDC Cottages are located on the opposite sides of the road, that too a bit away from each other. Reception and restaurant are on the same side as of the cottages. So if you stay in Kongposh, and do not have a vehicle at disposal, then it would be a bit of walk to the restaurant for food, tea/coffee or even for water.
Kongposh is in the "No Network" area. But mobile networks like Airtel/BSNL work at specific points near the cottages. So if you need to make calls, again you have to come near the cottages.
For online booking, it shows both Kongposh and the JKTDC Resort to choose from. We chose JKTDC Resort specifically and booked a deluxe room. But when we arrived, they told that the Deluxe rooms are only part of Kongposh and not the cottages irrespective of what we chose online. As we showed our displeasure, they finally agreed to show us another two rooms close to the reception which are also rented out as Deluxe rooms. But there were a lot of people due to Eid Holidays having their food in the veranda of these rooms. So they finally accommodated us in the top floor of a 3 bedroom cottage. So be aware that online booking may land you in a different room than you actually intended to book. And as the phone does not work in reception and there is no way to connect with them, you get to know about it only after you reach. This is specifically a problem when you are a small family or a couple looking for a single room. For 2 and 3 bedroom cottages, booking online should be fine. 
In order to avoid this, I would recommend trying to call them multiple times and if you are lucky to get through, check with them if the deluxe rooms are available at the cottages side. Or best go there without a booking and book on the spot after checking the availabilty. Yusmarg is still not as touristy as Gulmarg/Pahalgam and so they never run with full capacity. This way you can choose what you want and pay accordingly.
Things to do and experience in Yusmarg
As I said in the beginning, Yusmarg is not like the other tourist places of Kashmir. So there is not much for sight seeing. But it offers ample hiking opportunities depending on available time. Even the Valley itself is scenic enough to explore by foot.
When you are in Yusmarg for a day or two, here are a few things you can do to make the best of your time.
None of the points in Yusmarg can be visited by car. So you need to leave your car at the parking lot and then take a pony ride or walk (or hike) to whichever spots you want to visit.
Visit Charar-e-Shariff
It's one of the oldest Sufi shrines of Kashmir and holds high religious importance. The original wooden shrine that was built approximately 600 years ago was burnt down in a fire in 1995. So the the one standing in its place is actually the rebuilt structure. The shrine looks beautiful from outside and the numerous pigeons living on it keep flying around at intervals creating a spectacular sight. But it is the peaceful and emotion evoking interior of the Shrine that I loved specifically.
Charar-e-Shariff comes on the Srinagar-Yusmarg route, approx. 15 kilometers before reaching Yusmarg. So you can visit this either on your way to Yusmarg or on the way back.
Dress conservatively and keep a scarf handy to cover your head if you are interested to enter inside the Shrine.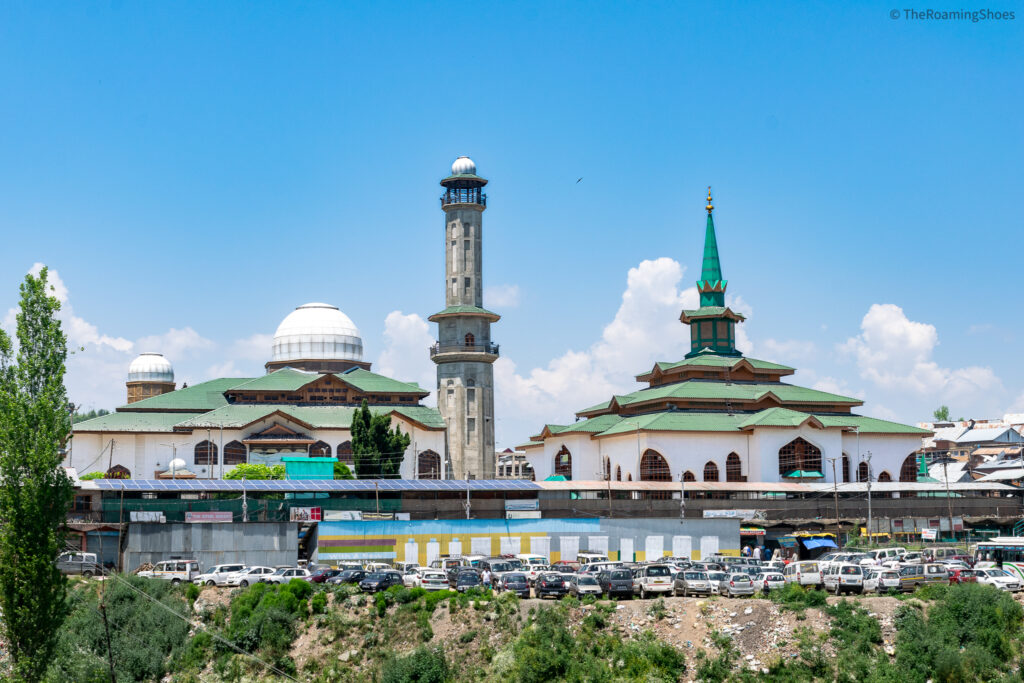 Rejuvenate by Doodh Ganga River
This beautiful river gurgling through the pebble strewn bed gets its name from the milky white colour of its water. Rimmed by tall Pine and Cedar trees, the river valley is immensely scenic. Its the kind of place where you sit down, dip your feet in the ice cold water and forget all worries. There are a few shops by the riverside that provide Maggi and Chai (tea) to enhance the whole experience.
To reach Doodh Ganga, you can either hire a pony or hike through the forest for half an hour. Since we do not like pony rides, we decided to take a ponywala as our guide instead. He took us to a wild cherry garden inside the forest before visiting the river. The pony owners, being locals in the area can also help you see a few other interesting sights when you have limited time.
Do keep in mind that the last stretch to the river is through a steep slope and gets especially difficult while coming back up. So may not be suitable for older people and people with arthritis or other physical issues.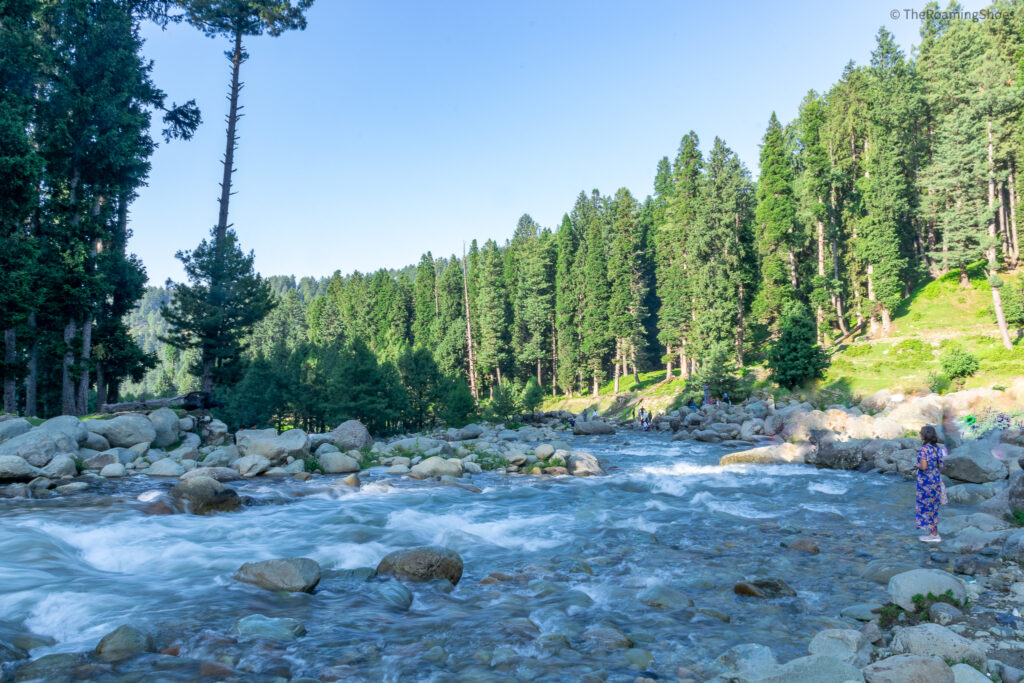 Take a trip to Nilnag Lake
Nilnag is a beautiful lake nestled amidst the lush forests of Yusmarg. Like any other place in Yusmarg, this Lake can also be reached by hiking or by Pony. If you plan to hike, keep at least 3 hours in hand. And if you take a pony, then confirm with the pony owner that he would be taking you near the lake and not to the vantage point from where they show the lake to most people.
This is one place we could not visit due to lack of time, but truly wanted to. Especially after our guide showed us the videos of the previous day at the lake, for a moment I considered staying another day in Yusmarg to visit this lake. So keep this lake on top of your Yusmarg itinerary, particularly in Summer.
Enjoy a picnic in the meadows
The green pastures of Yusmarg dotted with Summer flowers are idyllic for enjoying a picnic. And thats what a lot of locals do when they visit Yusmarg. While majority choose the JKTDC Cottages compound and nearby areas, we decided to go beyond the Gujjar Huts to an area shaded by the towering trees. Indeed that's the place that had caught our attention the previous day due to the abundance of Yellow flowers and a tranquil surrounding. Sitting there listening to the chirping of birds and sipping on Kahwa languorously while the passer-by flashed a smile every now and then – life felt perfect in those moments.
Please do not leave any garbage and make sure to pick every wrapper or used plates/cups after your picnic.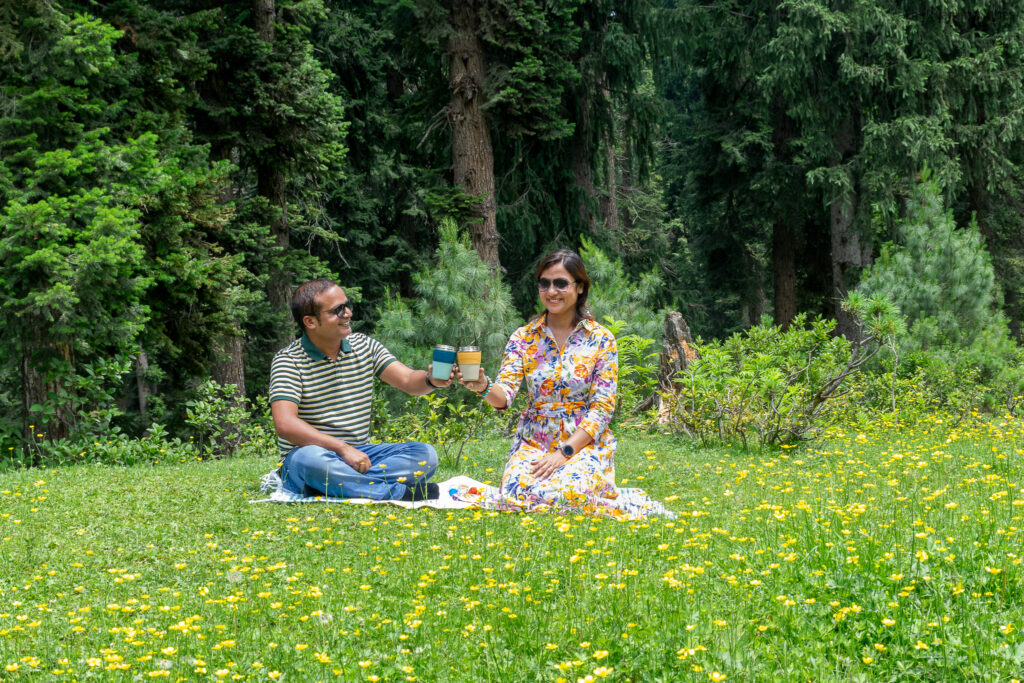 Explore the area by foot
Yusmarg is a charming little hamlet to explore by foot and that is one factor we absolutely loved about it. So even if you do not want to take a pony ride, you would still not miss out on a lot of things. Just walk around the area and you will come across so many charming sights. To one side of the JKTDC Huts, there is a man made Lake (not sure what is its name though) with a lovely setting. Then the other side has a path cutting through sprawling meadows that lead into the surrounding forests. Just walk a little beyond the Gujjar Huts inside the forest and you will come across places that look straight out of a fairytale.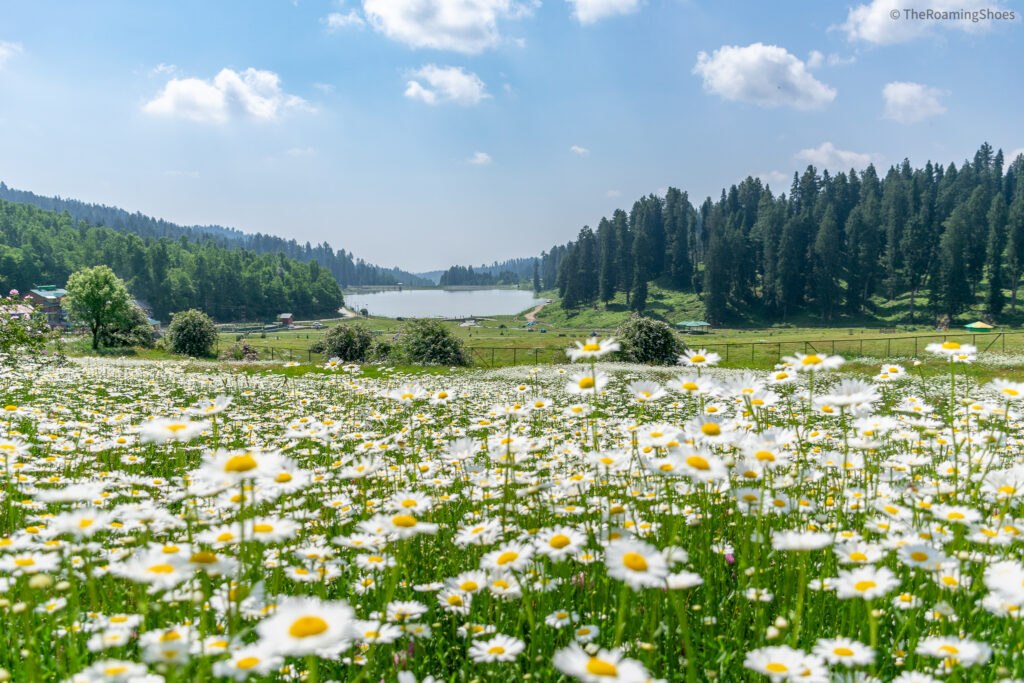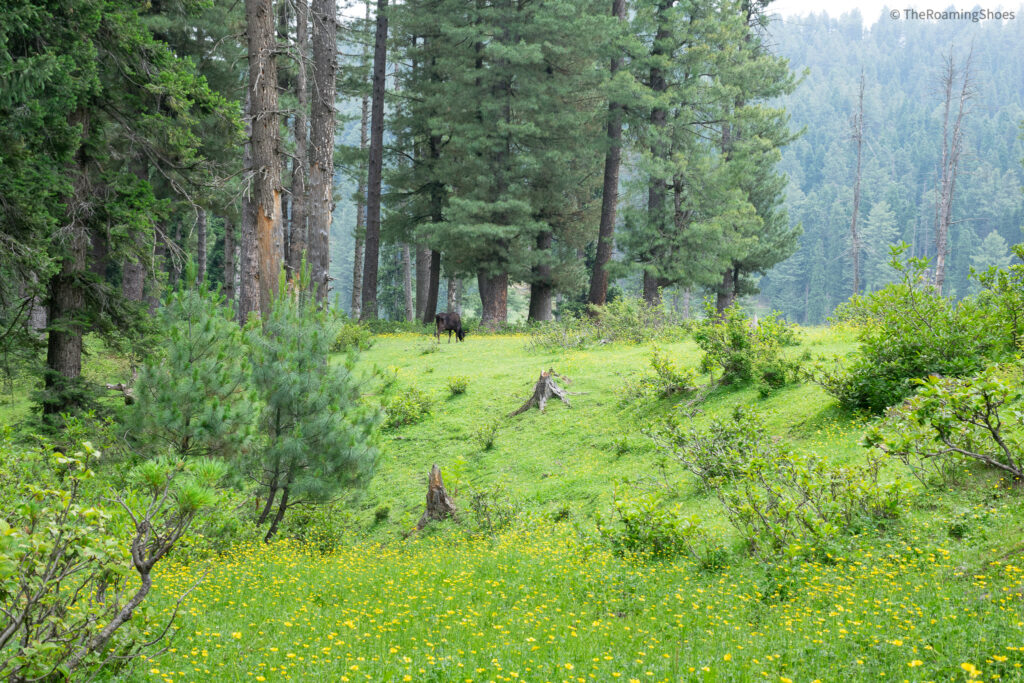 Interact with the locals
We found the locals of Yusmarg really warm and welcoming. Little children flash innocent smiles while being curious and ask for photographs when they notice the camera. The Gujjar people staying in the mud huts are some of the warmest, inviting strangers in to their little homes for tea. We had to politely decline though due to shortage of time and bid goodbye after making little conversations. Their huts reminded me so much of my maternal Grandparents home from childhood.
Even the pony owners of Yusmarg are polite and were never too overbearing. The one we took as a guide was a very nice and genuine fellow who told us so much about the life of Gujjars and the flora and fauna of the region.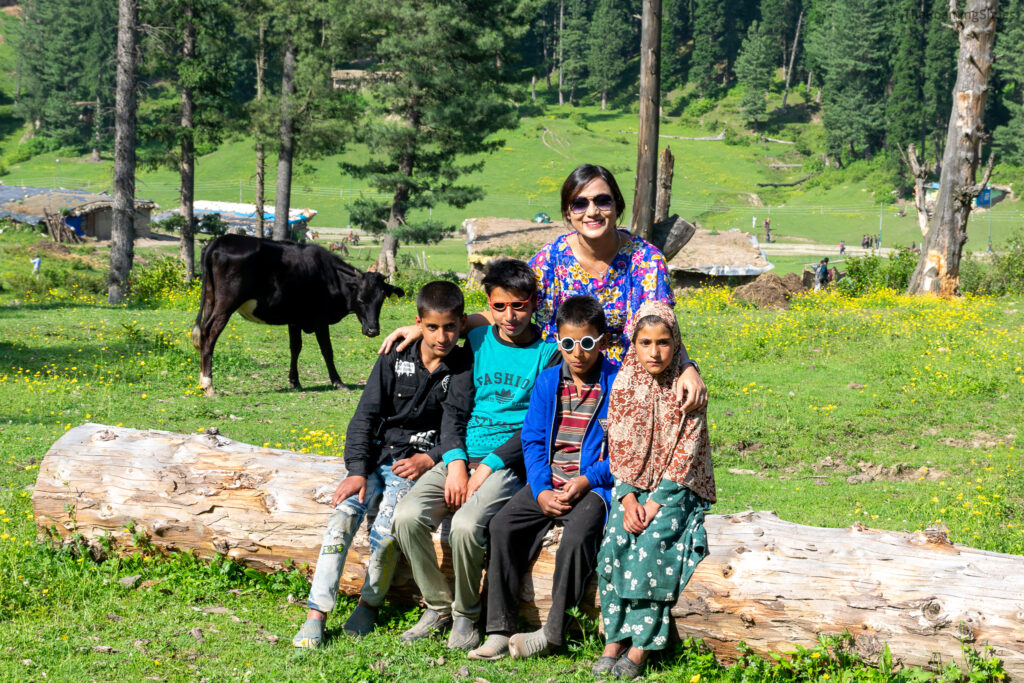 Indulge in Photography
Every inch of Yusmag looks picture perfect in Summer and presents amazing photography opportunities. Little bridges aesthetically placed amidst lush expanses, horses grazing in meadows carpeted with wild flowers and distant snow capped mountains peeking above the lush alpine forests – every scene in Yusmarg looks straight out of a postcard. So do not forget your camera gears.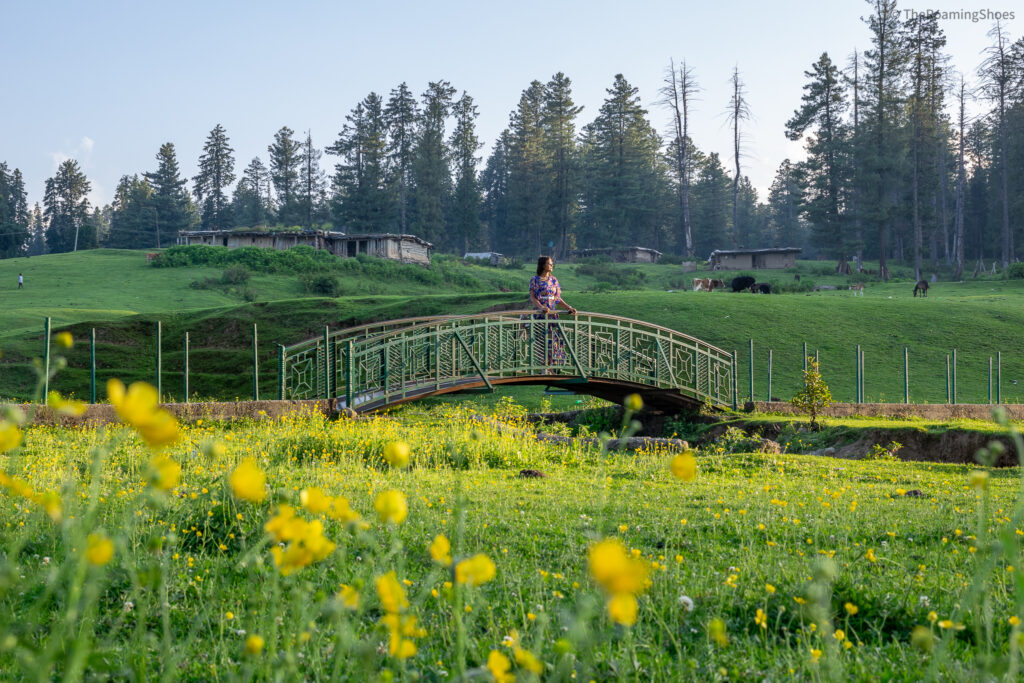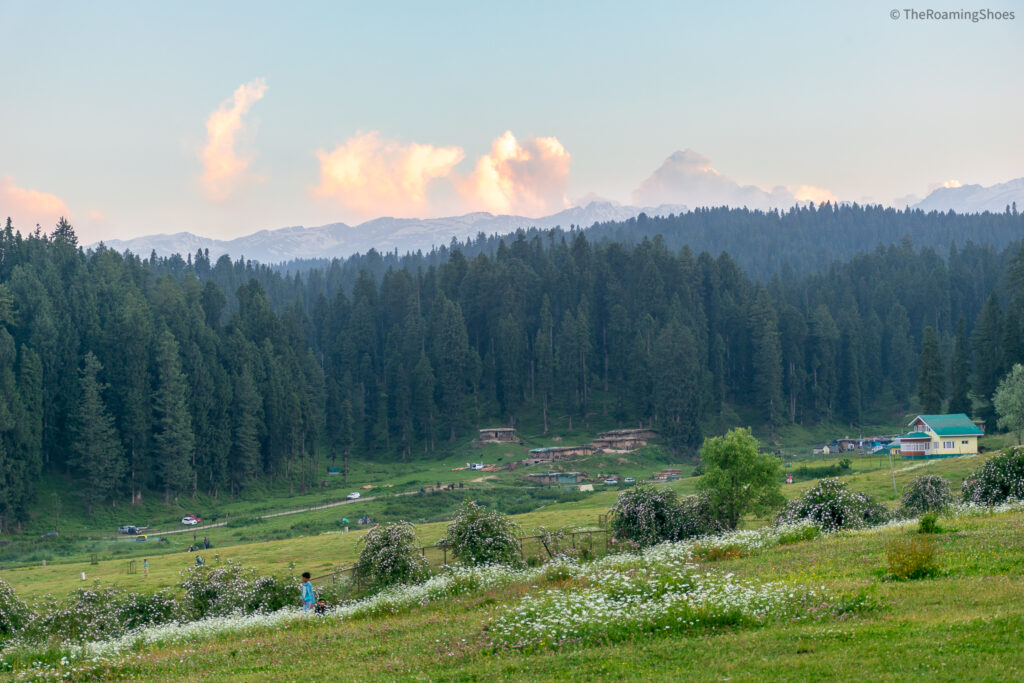 Other things to do in Yusmarg
If you have an additional day, consider taking a day trip to Doodhpathri which is another scenic hill station approx. 65 kms from Yusmarg. Doothpathri can be reached by car from Yusmarg.
For trekking enthusiasts, there are many trails to cover by making Yusmarg your base destination. The meadows of Dragdolan can be done in a day. Just make sure that the guide takes you to the meadows and not to the vantage point to show it from afar.
Doodhpathri, Sang-e-safed valley and Tosa Maidan are longer treks ideal for regular trekkers and campers. You can use ponies to cover some of the distance.
All the treks mentioned above are recommended with a guide as the trail runs through the forest.
Things to know before you go to Yusmarg
Yusmarg has very limited (or you can say poor) Buy Zolpidem Europe mobile network connectivity. Airtel worked (JIO had no coverage), but only at specific points inside the JKTDC Huts compound. We even saw others coming there to make calls. Airtel data worked in those places too and the speed was ok. This is Purchasing Ambien Online applicable only for postpaid SIMs as pre-paid does not work in Kashmir.
No bank or ATM in Yusmarg. Also, mobile data network is non-existent in most places making it impossible for UPI payments. So carry enough cash.
We noticed a couple of shops in the day selling snacks, water etc. One served meal too. But come evening and the only option remains is the restaurant at the accommodation.
The pony owners quote quite high for taking to some spots. You will have to haggle a bit to get a fair price. Have a look at the board near the tourist centre to have an idea of the prices for ponies.
Yusmarg too has many ponies like Gulmarg or Pahalgam. So be prepared to see some pony dung scattered across the paths and meadows. Those are animals and can not help the call of nature. Also, the dung will be absorbed by the soil gradually. But what shocked me the most is the sheer recklessness of people visiting the place, throwing plastic bottles and wrappers in the valley even though there were enough dustbins. So be mindful of what you leave behind.
Must Pack
Even in July 1st week, the evening was cool and required a lightweight shawl or jacket. So pack accordingly. If you are visiting with kids, then carry warm clothes and a beanie.
If you are staying in the JKTDC Huts, take https://www.aytolardero.org/2023/09/14/o7tanorq basic toiletries and towels. The towels provided by the accommodation did not look very clean.
The power cuts are quite common in the area. Carry a power bank for the charging needs. Also, a torch will come handy at night for the walk till the restaurant or in case of power failure at night.
Pack a pair of good shoes for all the walk/hikes.
Yusmarg may lack in terms of amenities, but it compensates with scenic beauty. Sush and I found Yusmarg particularly romantic. Little strolls holding hands, watching the moon rise over the lake while the setting colours of the sun painted the other end of the sky or sitting amidst the wild flowers enjoying silence – these are things we city souls rarely get to experience. And that's exactly why Yusmarg made a very special place in our hearts.
We sincerely hope that you get to see and experience Yusmarg the way we did and create memories that make your heart smile. For any queries on Yusmarg, leave us a comment below.
Looking for other beautiful destinations in India? Check our other blogs here.
Facebook Comments