Best of Terengganu in 5 days
Terengganu may not ring a bell for many outside of Malaysia. But this state of Malaysia overlooking the South China sea is bestowed with some of the finest island getaways that have grown popular among tourists in the recent years. The islands have the softest white sand beaches, azure blue water and breathtaking underwater coral gardens that help create an indelible holiday experience. Whether you are a person looking for a laid back beach vacation or an adventure seeker, the islands of Terengganu have something for all.
It is not only the islands that make Terengganu a sought after destination. It also has some beautiful mosques, colourful little towns and the nicest of locals that altogther make the whole experience memorable.
Itinerary
This is our itinerary to explore the best of Terengganu in 5 days including Pulau Redang and Pulau Perhentian islands. We decided to spend 2 nights at Pulau Redang and 1 night at Pulau Perhentian. But you could do the opposite or even add 1 more night to make it 2 nights at each of the islands. They are totally worth.
https://www.balantia.com/es/te9qph4 Day 1: Fly from Kuala Lumpur to Sultan Mahmud airport in Kuala Terengganu. Take a cab to the Shahbandar Jetty and catch the ferry to Pulau Redang island. Join a snorkelling trip and rest of the day relax at the beach. Overnight at hotel.
https://artesaniadelapalma.com/p0crqoo Day 2: Visit two snorkelling spots around Pulau Redang and rest of the day relax at the beach. Overnight at hotel.
Day 3: Return back to Kuala Terengganu. Check out the local attractions and overnight at hotel.
Day 4: Drive to Kuala Besut and take the speedboat to Pulau Perhentian. Short hike to windmills and rest of the day at beach. Overnight at resort.
Cheap Zolpidem Uk Day 5: Return back to Kuala Besut jetty. Drive to Kota Bahru airport and fly back to Kuala Lumpur.
How to reach
You can fly either to Sultan Mahmud Airport or Kota Bahru airport of Terengganu from Kuala Lumpur. Sultan Mahmud airport is closest to Kuala Terengganu and Pulau Redang whereas Kota Bahru airport is nearest for visiting Perhentian Islands. There are regular flights from Air Asia and Malaysian Airlines that ply between Kuala Lumpur and these two airports. Flying time is around one hour.
There are also buses that run between Kuala Lumpur and different parts of Terengganu.
Reaching Pulau Redang
Shahbandar jetty is the place from where ferries ply to Redang at scheduled timings. The jetty is half an hour by car from Sultan Mahmud Airport. It takes one and half hour to reach Redang Island by ferry.
Reaching Pulau Perhentian
Speed boats for Perhentian islands start from Kuala Besut jetty at scheduled times and take around half an hour. The jetty is 1.5-2 hours away by car from Kota Bahru airport.
Best time to Visit Terengganu
https://www.aytolardero.org/2023/09/14/kfu7qtgxpt April to September [June-August being peak season] – Sky remains clear and sea stays calm for various water activities like Snorkelling and Scuba diving.
The islands get really crowded during peak season, holidays and weekends. So there will be many people on the beach and snorkelling points if you visit during these times. Better visit in off peak time and on weekdays to have a better experience.
November to March is the monsoon season and is to be avoided.
Buy Zolpidem Paypal Our time of visit: June 2nd week
Places of Interest in Terengganu
Kuala Terengganu
Kuala Terengganu is the state capital of Terengganu and is a fairly small city. It is not a typical tourist destination and is mostly used as transit to get in to the islands. But as we explored this little town adorned with colourful buildings, beautiful mosques and slender lanes full of artwork, we realised it is much more than just a transit point. Here are a few things you can do in Kuala Terengganu.
https://acuasec.com/omx6b4ecsc Explore China Town: China Town in Kuala Terengganu is located along the river and has a beautiful old world charm. You can spot heritage buildings, narrow lantern covered streets and Chinese food stalls everywhere. This area also has many small yet beautifully painted lanes to walk through.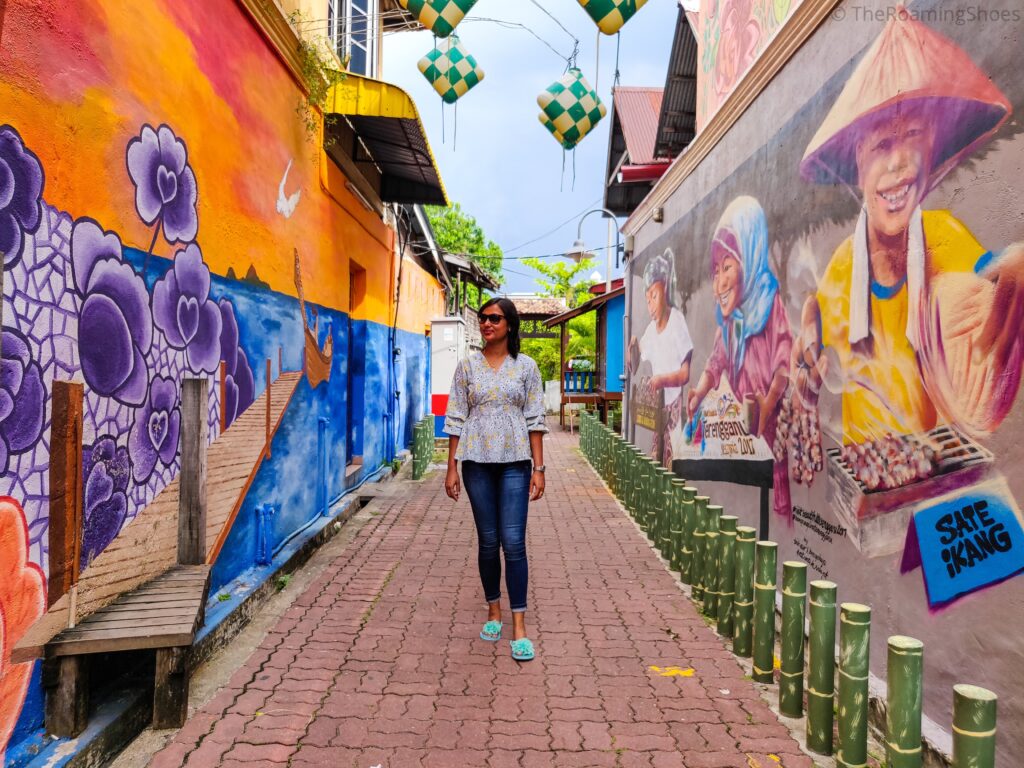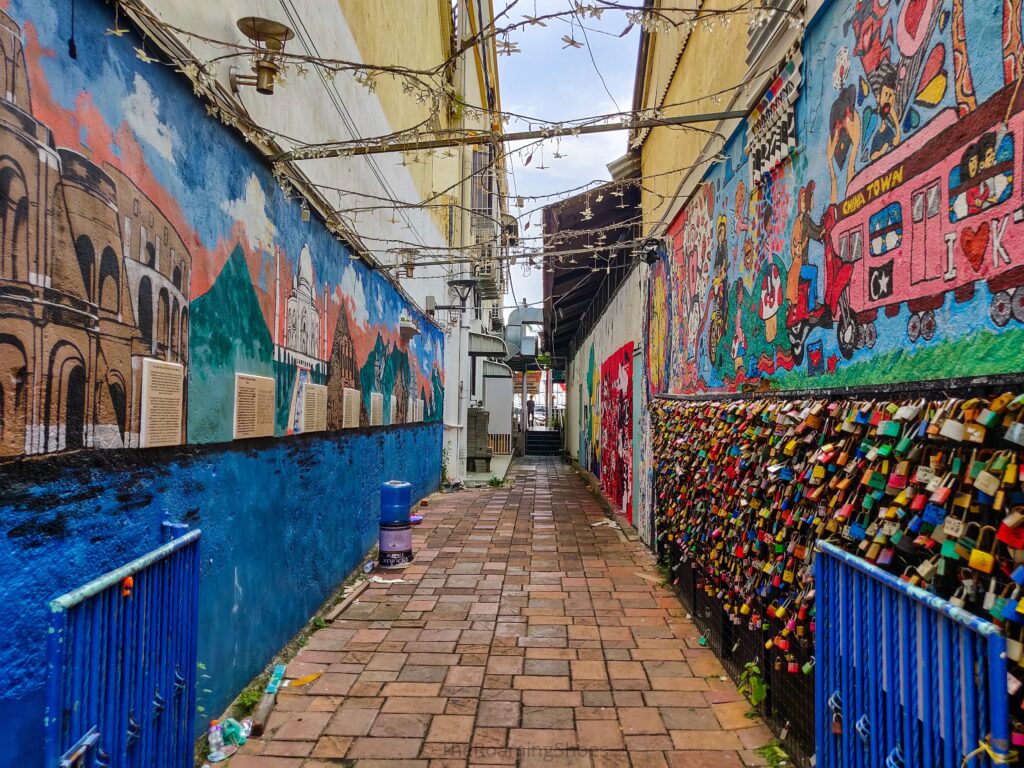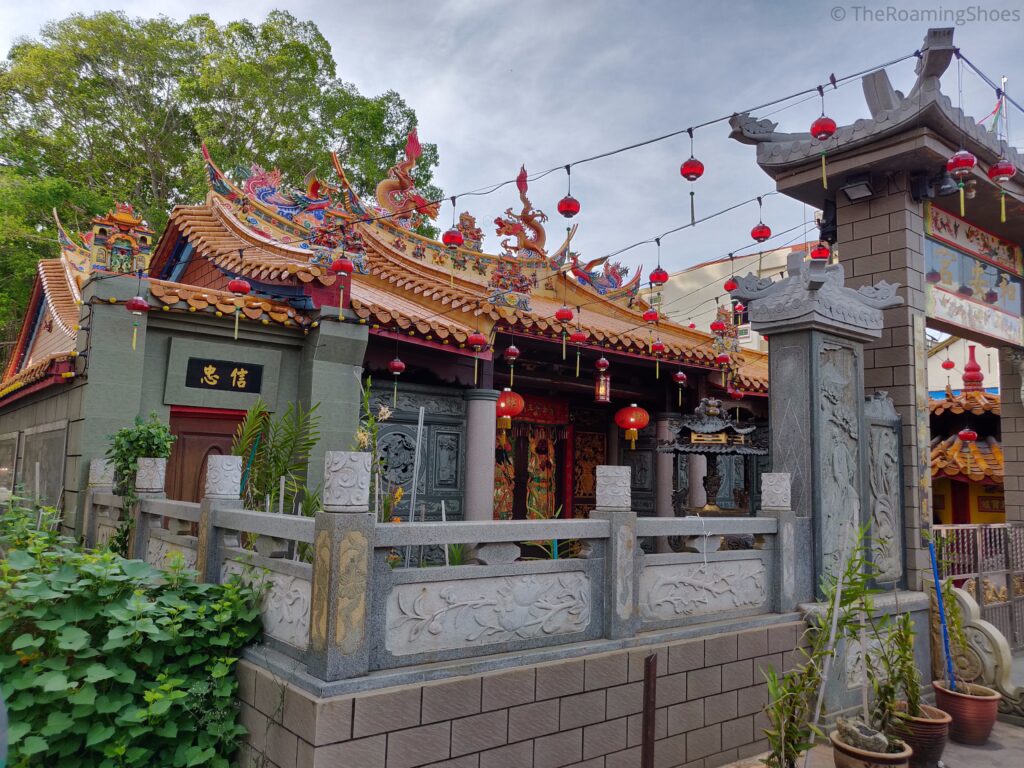 https://dopsiurana.com/pcfsa80x0k Visit Crystal Mosque : This Mosque comes in the top places to see in Kuala Terengganu with its grand architecture and crystal like exterior. The mosque is built on water and has a beautiful park around it. Go here just before the sunset and you can see the domes of the mosque glittering with the last rays of the sun. The mosque stays open till 6pm in the evening. Remember to dress conservatively for your visit.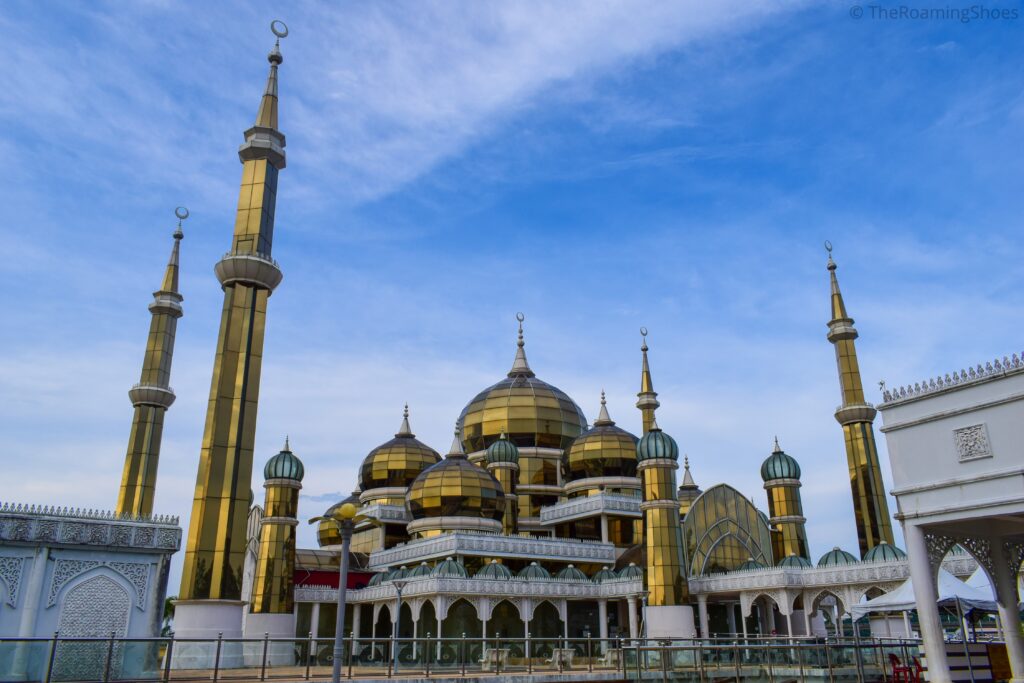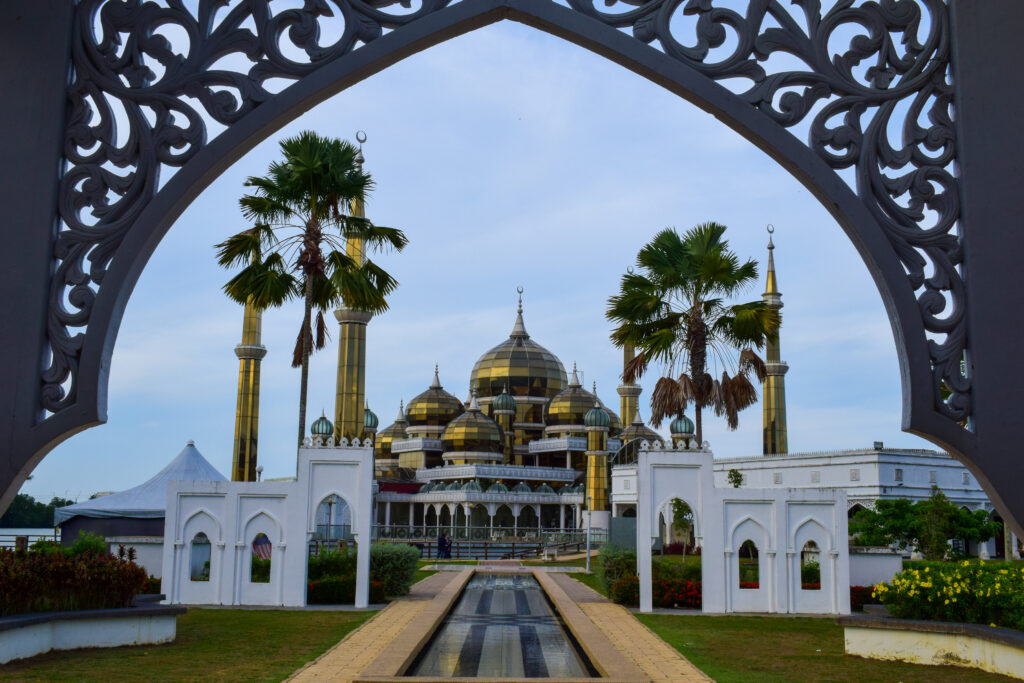 If time permits, you can also visit the following places.
Floating Mosque (Masjid Terapung)
Terengganu state museum
Islamic Civilisation Park (Taman Tamadun Islam)
Transport
Grab is the most convenient mode of transport and is easily available. You can also avail the tour bus service called https://elmilanoreal.com/aikpvjxqt Bas Kite (colourful buses with traditional Malay house facade) that start at regular intervals from the Kuala Terengganu bus terminal. You can alight at any attraction on the way and then take the next bus later.
Most parts of the town become dead quite early in the evening. So plan your activities accordingly.
Pulau Redang
Redang is one of the 9 islands that form the marine park and is very rich in marine life. No wonder it is one of the favoured destinations among snorkelling and dive enthusiasts. The island consists of long stretch of white sand beaches bordering the dazzling blue water and backed by verdant jungle covered hills.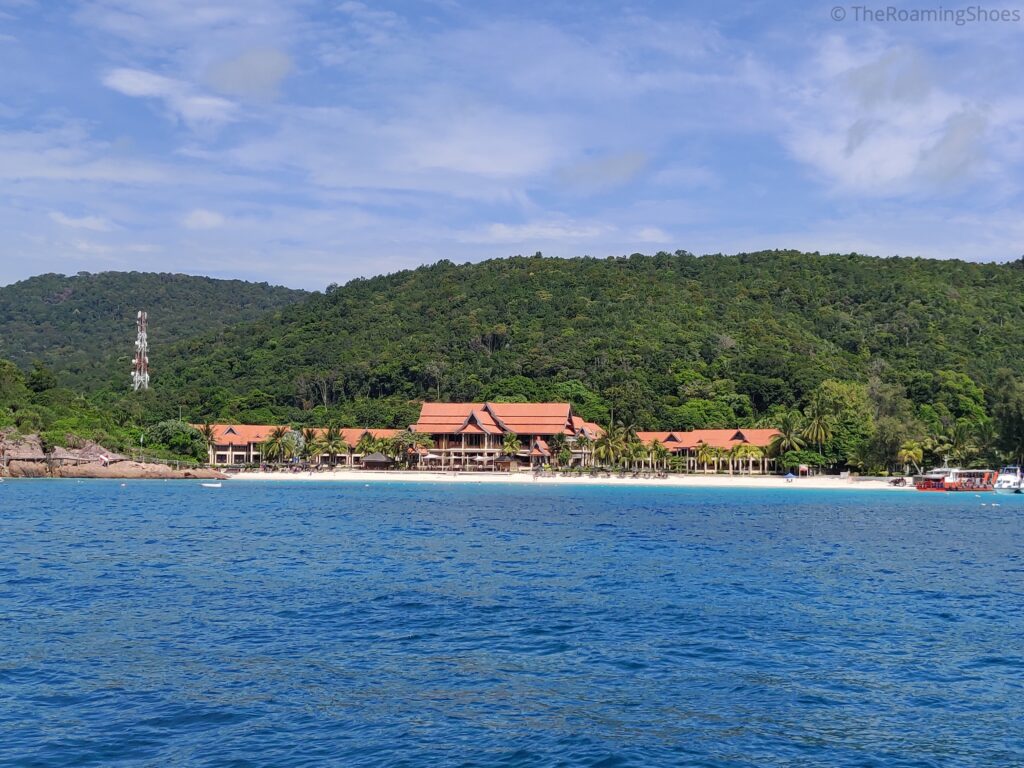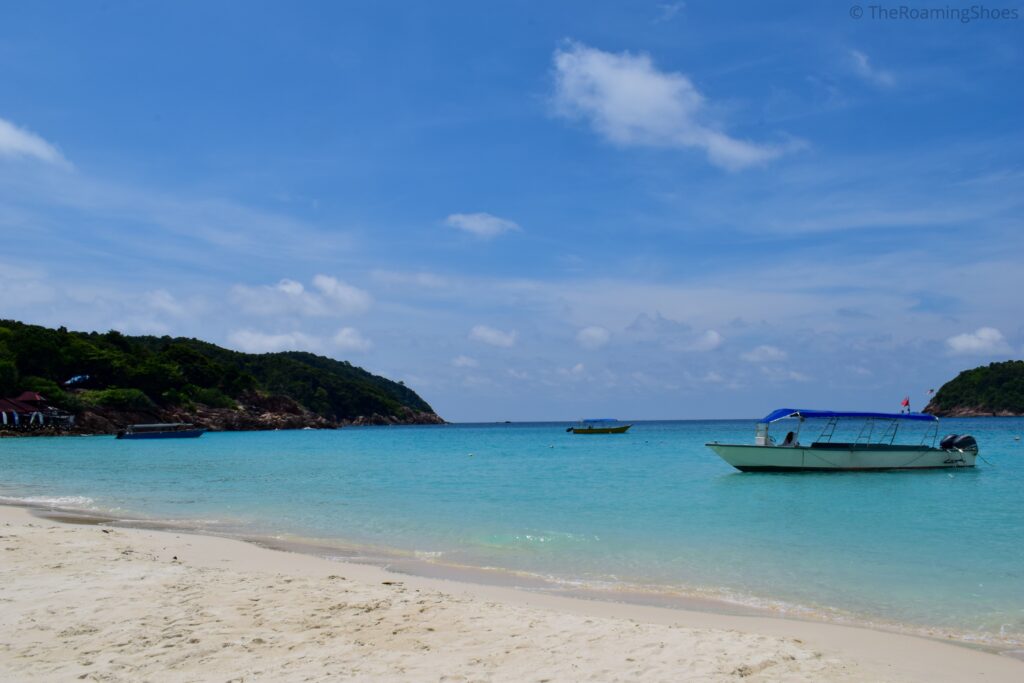 There are 2 main beaches in Redang, namely Teluk Dalam Kecil and Pasir Panjang beach (aka Long Beach). Teluk Dalam Kecil is treated as a private beach with only one accommodation option, the Taaras Beach Resort and Spa. You can always hire a boat to visit that beach. Pasir Panjang or the Long Beach is the one where most of the hotels/resorts are present and it is a very lively place.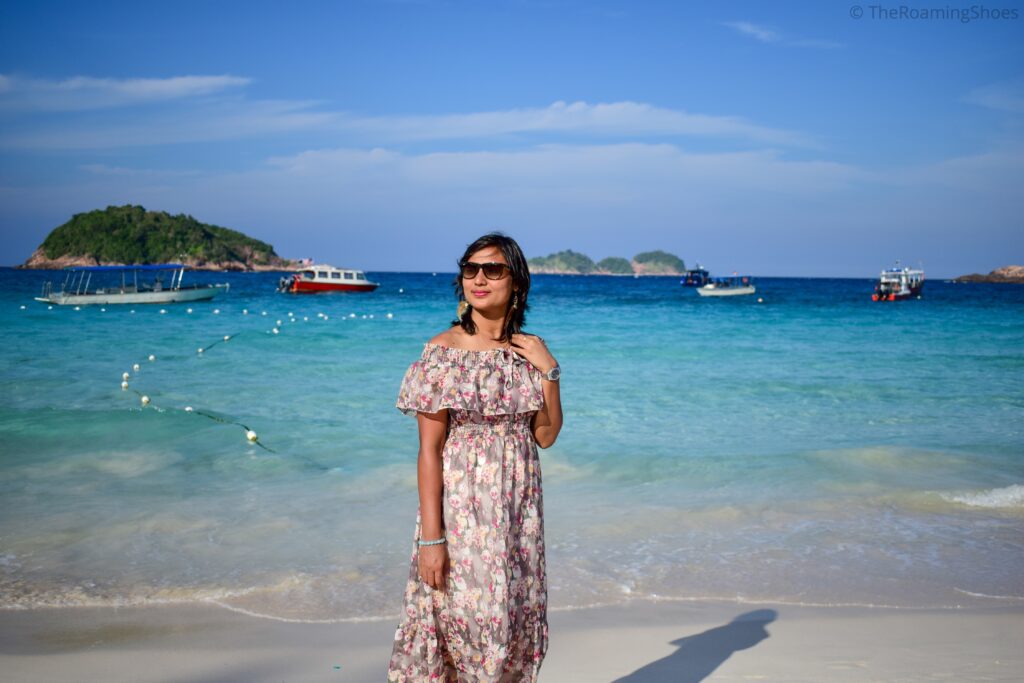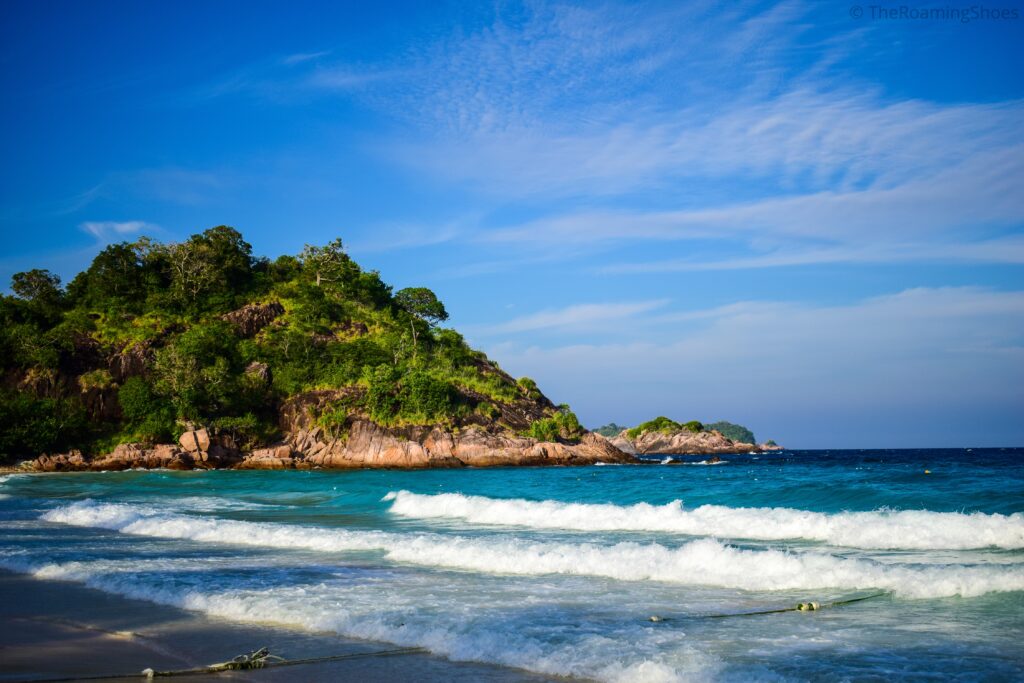 Redang is beautiful and one can simply spend days here just relaxing by the sea and doing nothing. But we would definitely recommend taking a few snorkelling trips as part of your visit. The world underwater teeming with colourful corals and various marine creatures is totally amusing.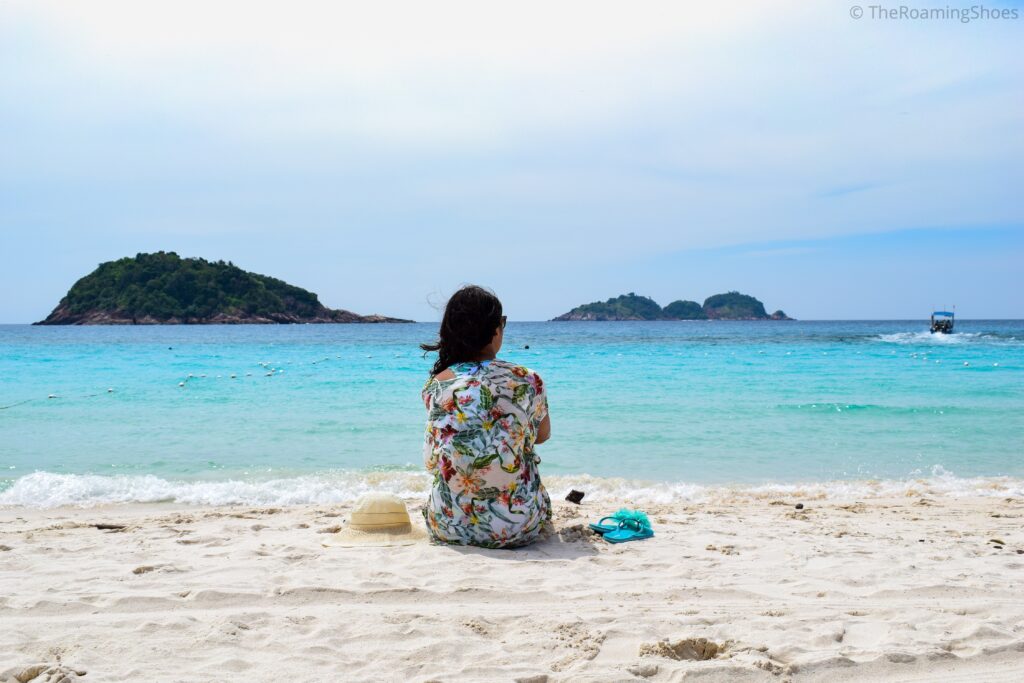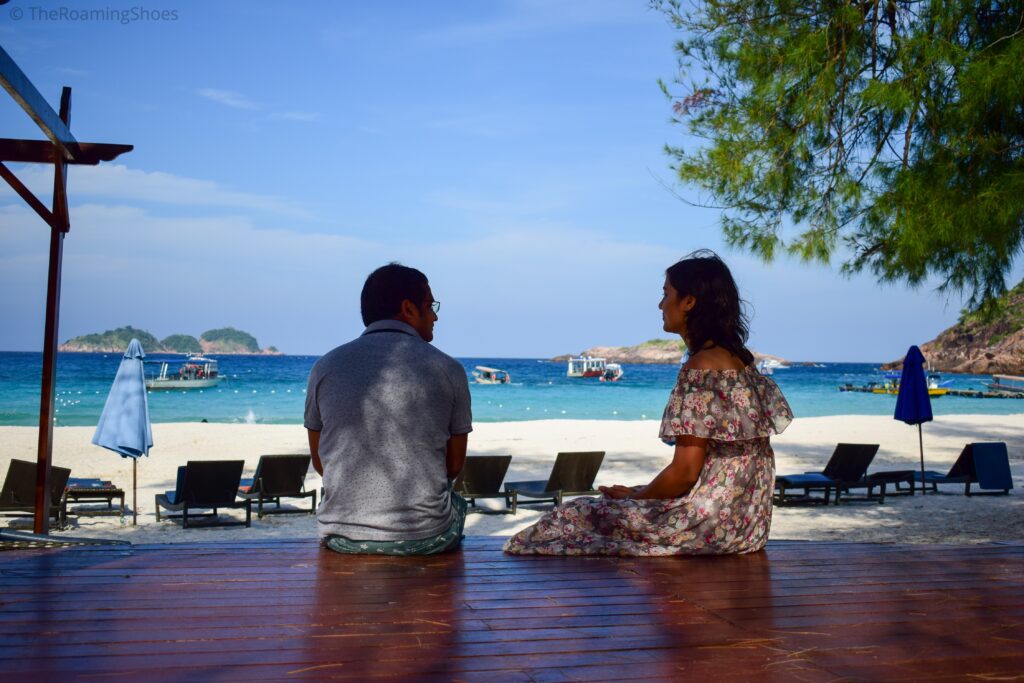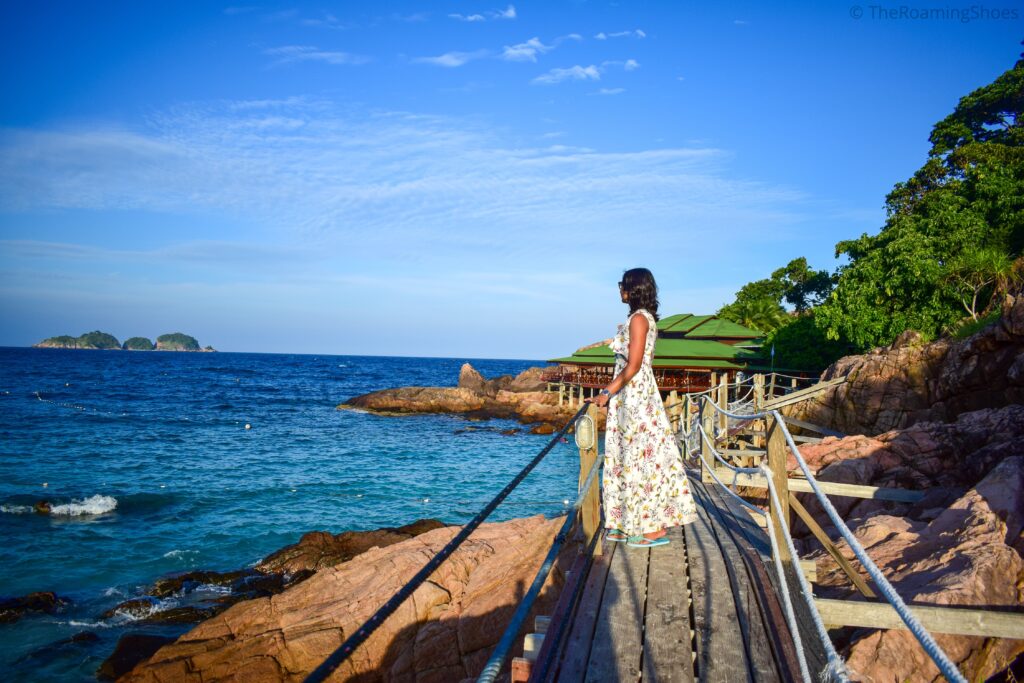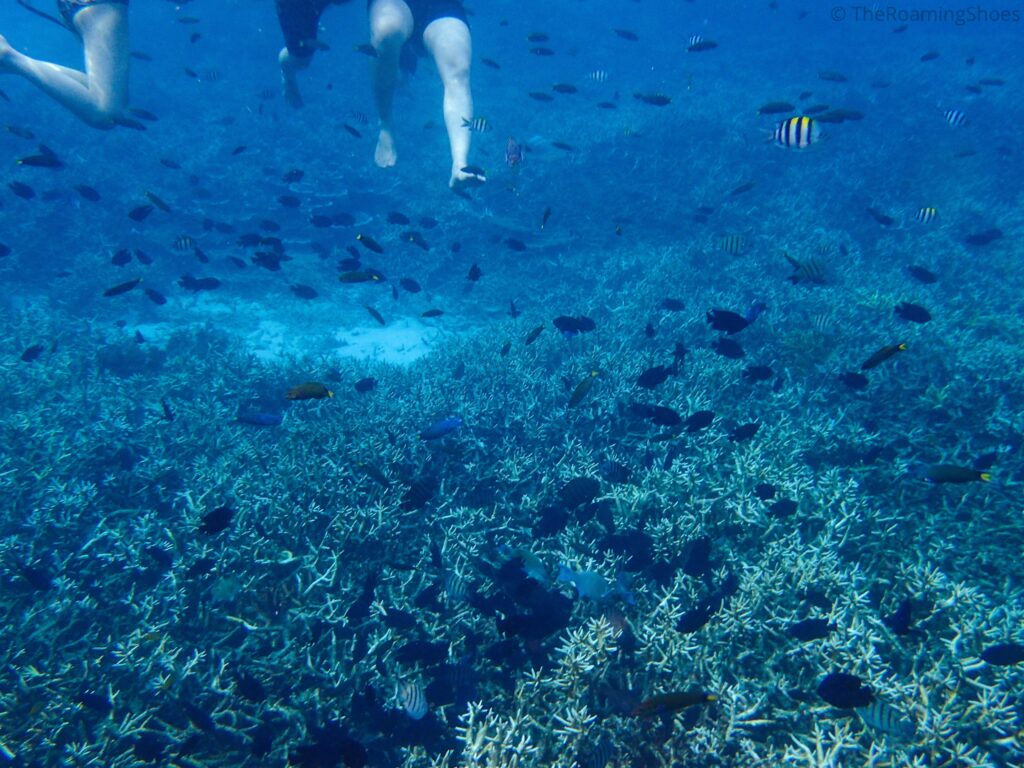 Many resorts provide a full board package including 2/3 snorkelling trips. You just need to pay the rent for the life jacket and snorkelling equipment separately. Otherwise, you can always rent an individual boat from any of the providers on the beach and go to your favoured area for snorkelling.
Pulau Perhentian
No doubt Redang is exceptionally charming, but if you ask me I will say Perhentian is my favourite 🙂. The water just looks extra blue here, the sunset paints the sky a little more orange and the evening by the sea feels absolutely surreal. Simply put, it has everything to have a perfectly romantic holiday.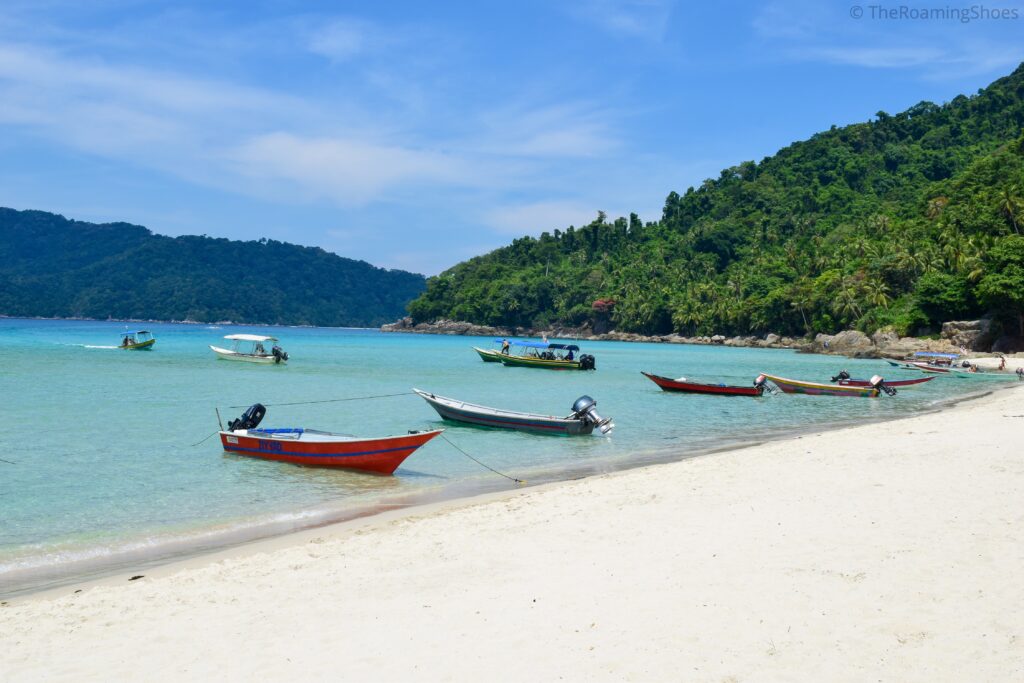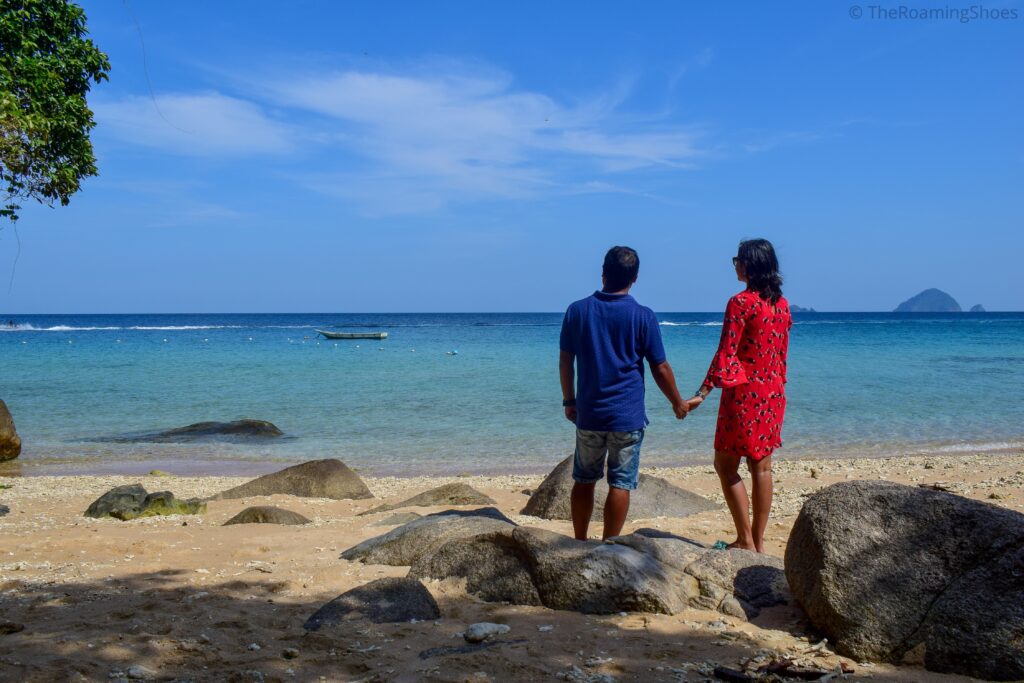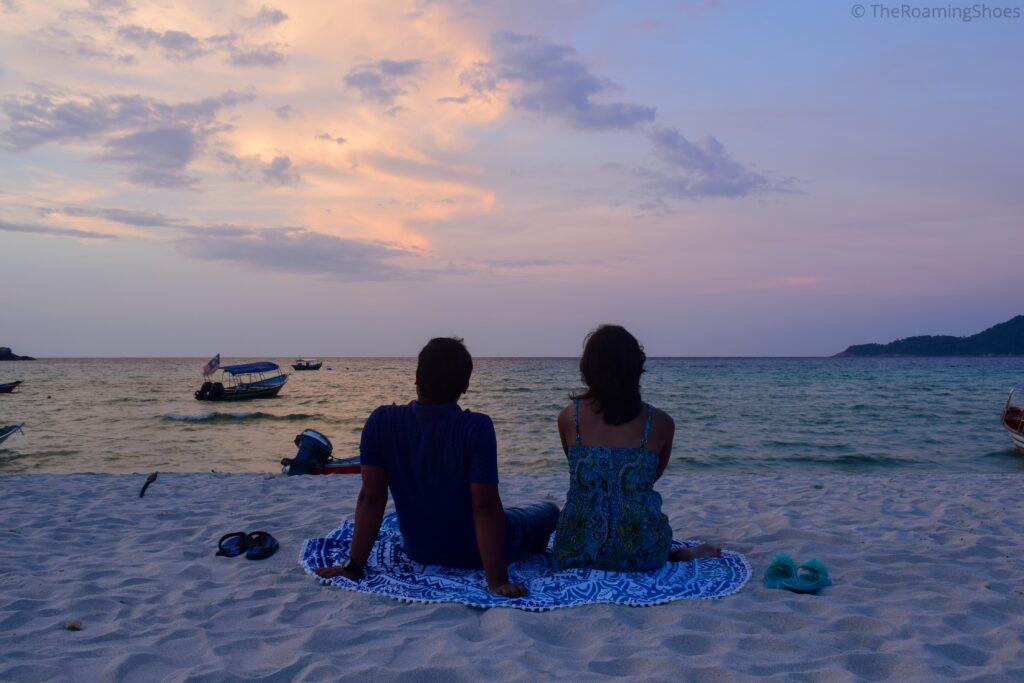 There are 2 Perhentian islands namely Perhentian Besar (Big island) and Perhentian Kecil (Small island) and you could choose any one of them as per your preference. We chose Perhentian Kecil for our visit. There is so much you can do on this island starting from beach hopping to snorkelling and even some hiking. Snorkelling is something not to be missed as you can see a large variety of marine life and can even swim with turtles and sharks.
We hiked to the old windmill point which takes around 20-30 minutes through the forest and the view was astounding.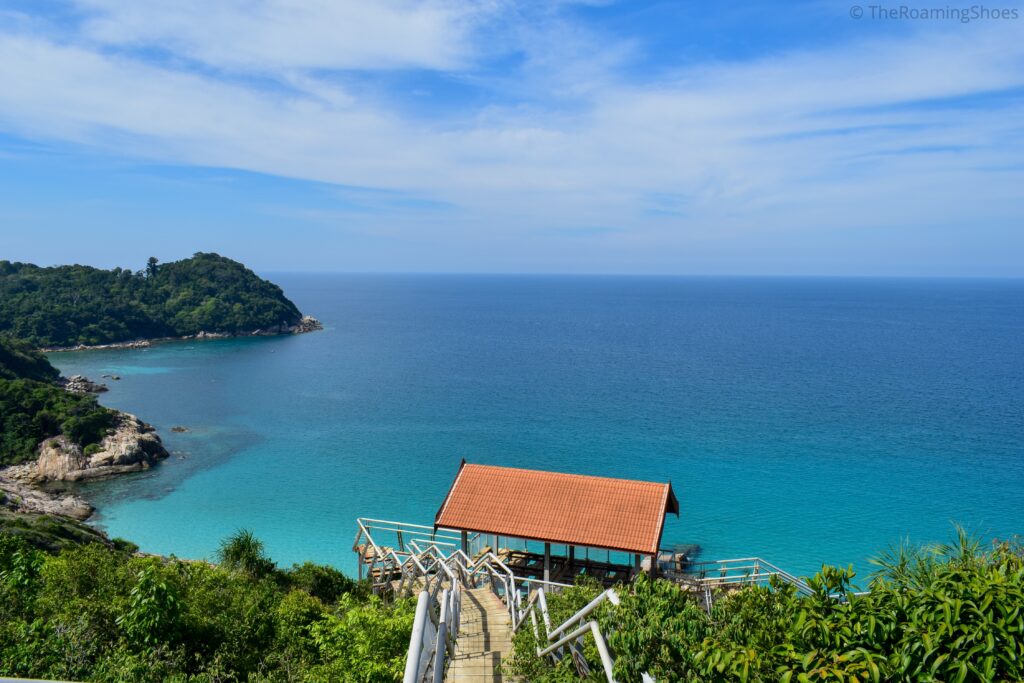 Tip: If you lack time for a snorkelling trip, just take your swimming glasses and head out to the jetty area. Swim below the jetty and you can see a lot of different fishes there.
Accommodation in Terengganu
Kuala Terengganu
https://aguasdeburgos.com/frjahiywsxe KT China Town Lodge – A nice budget accommodation in the heart of China Town. Read our complete review of the property here.
Pulau Redang
Most of the accommodations on Redang Island are on the Pasir Panjang or the Long Beach. The stay here is a bit expensive and not a lot of options are available with good reviews. Check out reviews on Tripadvisor before going ahead with the booking.
https://www.jaumebalmes.com/o87ngstp Laguna Redang Island Resort: A 4-star category resort with good reviews. A little pricey, but considered to be the best option on Long Beach.
Coral Redang Island Resort– We stayed here. It is midrange property with good facilities. Read our full review of the property here.
Pulau Perhentian
We stayed on Long beach (Yes there is a Long Beach here too 🙂) which has many good accommodation options. There are diving centres that provide budget stay options and then there are camping sites as well as luxury stays. We recommend the following.
https://elartedemedir.com/blog/4bryt6a Bubu Resort: A nice mid range resort near to the jetty.
Bubu Villa: This is a set of luxury villas on the quieter side of the beach. We chose this one for our stay and really loved everything about this place. Read our full review here.
If you want more seclusion, you may also try Keranji Beach Resort which is the only stay option on Mira Beach. The resort is affordable and has good reviews. But remember that the beach is very small and there is no other restaurant nearby.
Food in Terengganu
Food in Terengganu is not something I will rave about. It is majorly meat and sea food with rice as the primary item in all meals. Vegetarian and vegan food are kind of non existent. Even though we both eat chicken and some fish, we had a real hard time when it came to food. The local dishes prepared with meat or seafood did not suit our taste buds. So we survived on pizza, pasta and salads the whole time 🙂
In Kuala Terengganu, there is Pizza Hut, KFC and Subway in case you want some vegetarian food or well cooked chicken items. In the islands, you can find a few vegetarian options for pasta, pizza and salads. Do carry some ready to eat items in case you get bored from this kind of food.
Other important pointers
There are no ATMs in Redang or Perhentian Islands. So carry enough cash to pay for snorkelling trips, boat transfers etc. Hotels and many restaurants accept card payment.
Marina park fee of (30 RM per adult – foreigner) needs to be paid separately for both Redang and Perhentian Islands. Can be paid by cash at the respective jetties.
Carry waterproof casings for mobile and camera if you want to take pictures during snorkelling. Otherwise underwater cameras are available for rent at the diving centres on the island.
Even though no one strictly checks for use of fins during snorkelling, please refrain from using them. It is in the written guideline to not use fins as it may hurt the corals.
The hotels or resorts at both Redang and Perhentian islands provide all inclusive packages that include food and snorkelling trips. Do not go for these packages if you are a vegetarian. The buffet spread rarely has vegetarian options.
Kota Bahru airport has many food options including some vegetarian ones. But Sultan Mahmud airport is very small and did not have much options.
To know more about Terengganu, visit their tourism site
Thats all from our side on Terengganu. If you have been there, do share your experience with us. If you liked this blog or have some queries, let us know in the comments.
Facebook Comments