Badami, Aihole and Pattadakal – A glimpse of Karnataka's rich heritage
North Karnataka is a treasure trove when it comes to historical sites and monuments. When Hampi is it's most popular child, the smaller town of Badami is still unknown to many. Cave temples, ancient ruins and a beautiful lake sandwiched between sandstone cliffs – Badami is a place that will easily steal your heart with its rustic beauty. Not only this, Badami also serves as a gateway to the nearby towns of Aihole and Pattadakal which are famous for their stunning temples from the Chalukya era. Since Badami is just a night's train journey away from Bangalore, you can easily cover it in a weekend trip combined with Aihole and Pattadakal.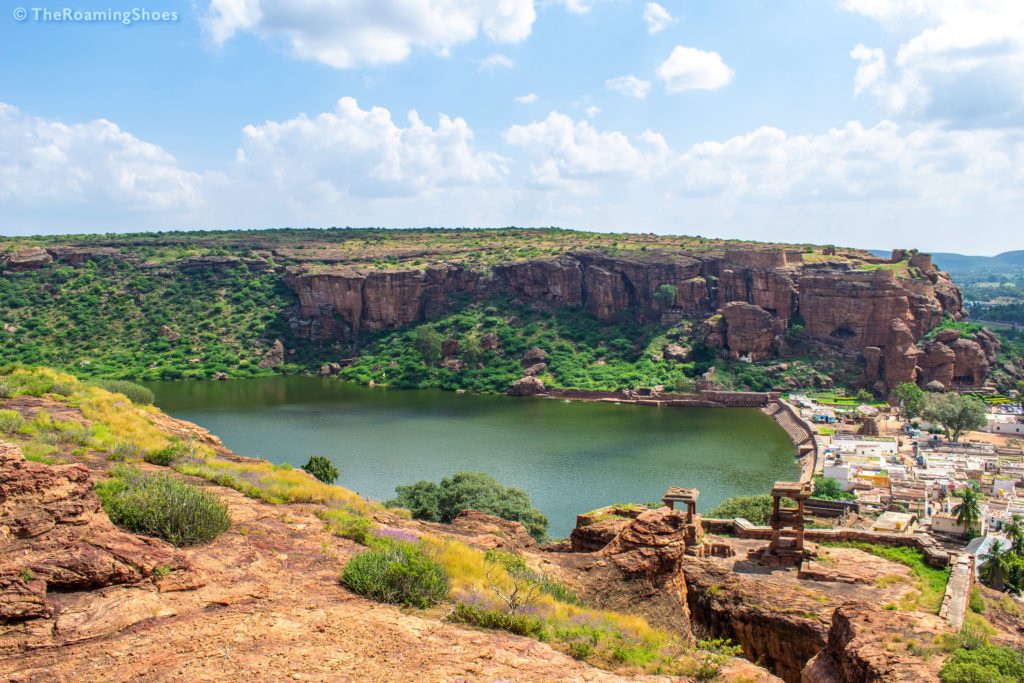 How to Reach Badami
Train: The best way to reach Badami is by train. The trains plying between Bangalore and Bijapura/Vijayapura make a quick stop at Badami. The time taken by train is approximately 11.5 hours.
Autos will be readily available outside the railway station, but they start with very high price for dropping at the hotel. Do not forget to bargain for a fair price.
Bus: There are also AC Sleeper buses plying from Bangalore to Badami which take around 9-10 hours to reach. The bus stand at Badami is in the centre of the town.
Car: You can also visit Badami by car from Bangalore. The distance is approximately 500 kilometres.
Getting around in Badami
Badami is a small town and the attractions are located at a closer distance to the main town area. So the best way to explore the town or the attractions is by foot. But if you want otherwise, then there are auto-rickshaws available easily with affordable prices. We found the auto drivers to be very kind and helpful. For visiting nearby villages of Pattadakal and Aihole, auto-rickshaws as well as taxis can be availed.
Best time to Visit Badami
July – October: During or just after the monsoons when cloudy days offer good opportunity to go out and explore. Badami is bathed in fresh greenery during this time and is a treat to the eyes.
November – January: Winter time in Badami when days are pleasant for sightseeing.
Our time of visit: November 2019
Avoid summer as it gets too hot in the daytime.
Where to stay in Badami
The accommodation options in Badami are quite limited with most being budget or mid-range options. The hotels and guest houses are mostly located in close proximity to the bus stand and the attractions. So check the prices and choose the one that suits your need.
We stayed at Krishna Villa Homestay which is a budget property in the heart of Badami and we highly recommend it. It is a small property, but totally stood out with its hospitable hosts, delicious homely food and remarkable cleanliness.
Budget for the trip
| Purpose | Expense |
| --- | --- |
| AC 3 tier train ticket x 2 persons | ₹ 4800 |
| Accommodation with twin sharing x 1 night | ₹ 2000 |
| Food per day x 2 persons | ₹ 1000 |
| Entry Fees x 2 persons | ₹ 150 |
| Auto for local commute | ₹ 350 |
| Taxi (w/ AC) for sight seeing | ₹ 2000 |
| Total cost for 2 persons | ₹ 10300 |
Places to see in and around Badami
There are mainly 5 attractions to see in Badami – Cave Temples, Agastya Lake, Bhutanatha temple, Northern Hill and Archeological Museum. All these attractions are closely located and can be covered by foot.
Cave Temples
Carved out of the sandstone cliffs and overlooking the beautiful Agastya lake, the cave temples of Badami are the most famous among tourists. There are total 4 cave temples out of which 3 are dedicated to Hinduism and one to Jainism. Every cave has exquisite carvings, pillars with beautiful motifs and incredible lifelike statues. The caves also provide amazing views of the surrounding sandstone cliffs, Agastya lake and the town of Badami. During sunset, the caves and the surrounding look incredible with the golden rays of the sun scattered all over them. And while you enjoy the beauty of the caves, be mindful about your bags or food items as the monkeys in the area are experts in snatching 🙂
Time Required to visit: ~1 – 1.5 hours
Entry Fee
₹25 for Indian Nationals
₹300 for Foreign Nationals
₹25 for Video Camera (No charges for still camera)
The caves get really crowded starting from 8-8:30 in the morning. So if you want to take your time and visit the caves peacefully, we recommend going early in the morning between 6-7 am (It opens at 6am).

All the caves are well connected by steps. But the steps are a bit steep and it may get difficult for older people or people with orthopaedic ailments to climb the steps.

The caves are very well maintained and enough information is displayed about them in the boards in front of each cave. Still if you need a guide, you will find them at the footsteps of the cave temples.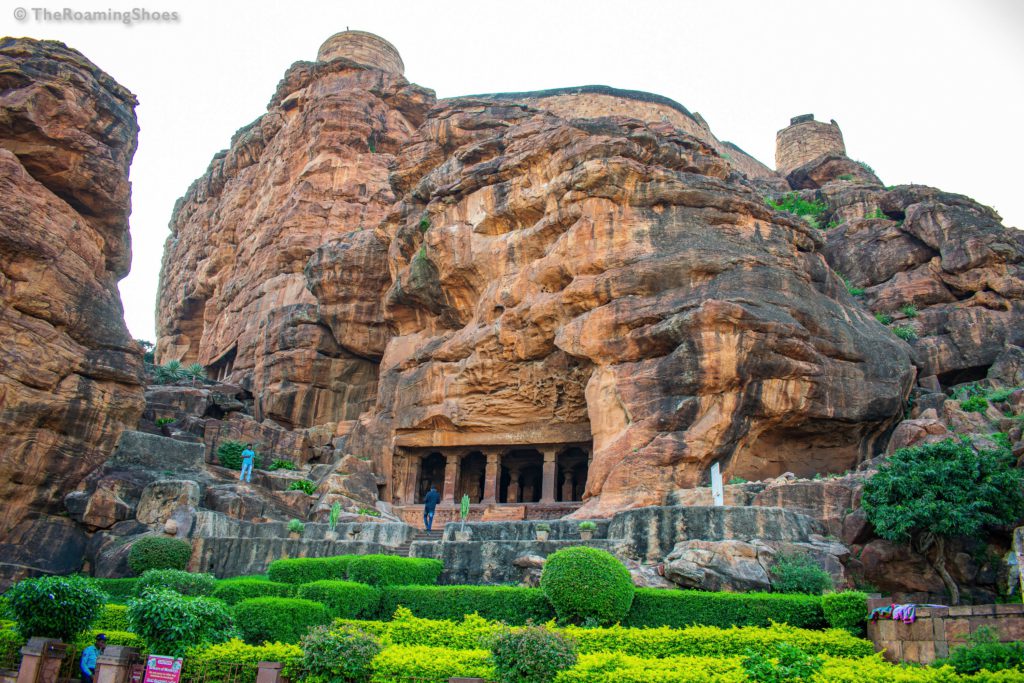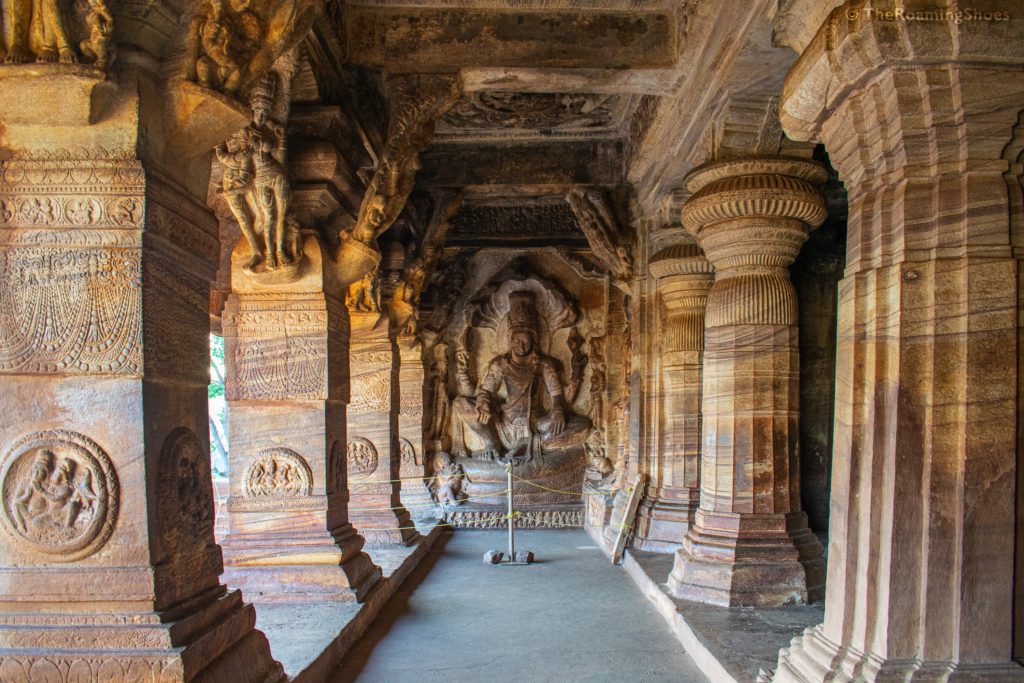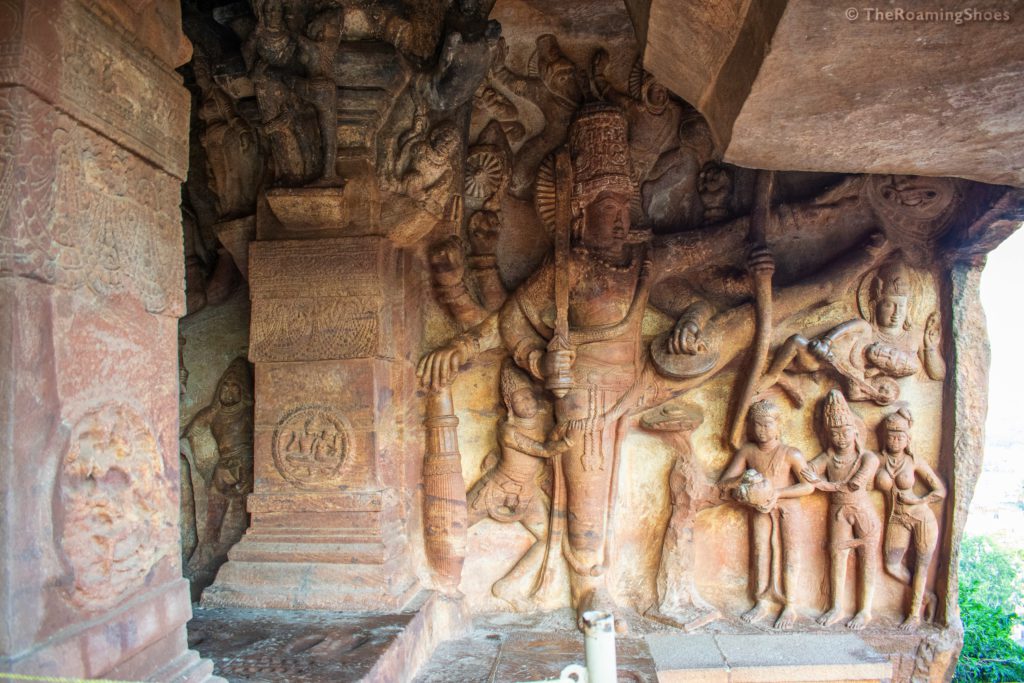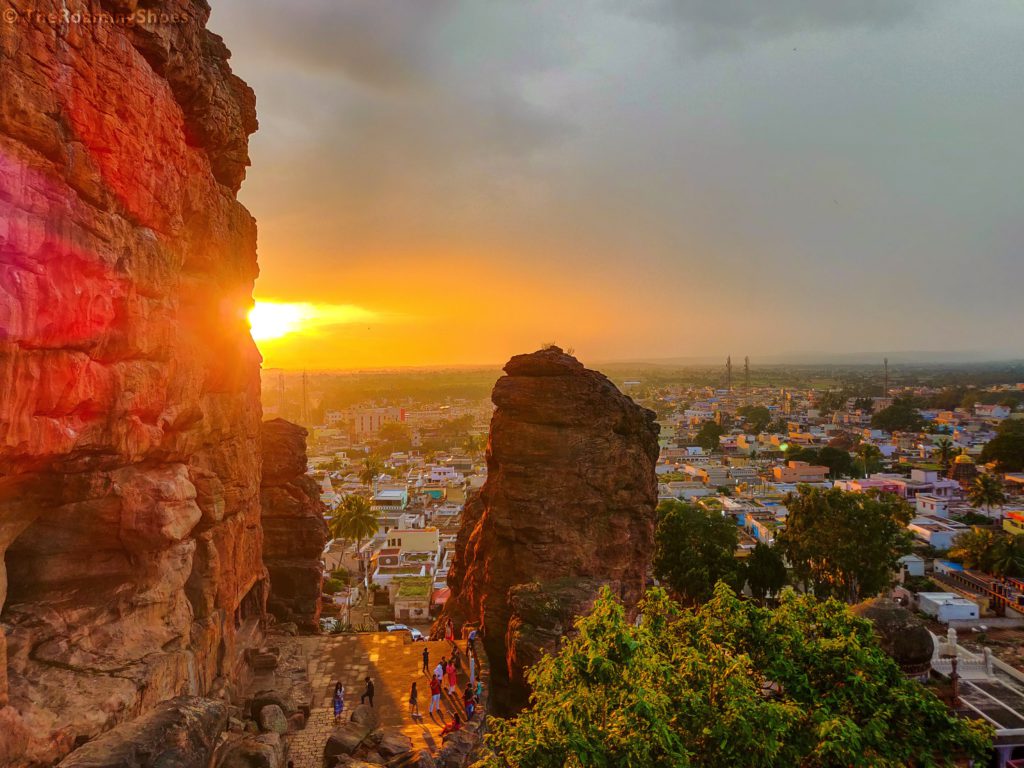 Agastya Lake and Bhutanatha Temple
A large green coloured lake sandwiched between the cave temples and the Northern Hill, Agastya Lake truly enhances the beauty of Badami. The best views of the lake can be enjoyed from the cave temples. But up close, you will find locals taking bath and washing clothes in the lake. Irrespective of this, the whole area of the lake is very picturesque and definitely worth a visit. We loved strolling around the lake and sitting on its shore for a while enjoying the gentle breeze.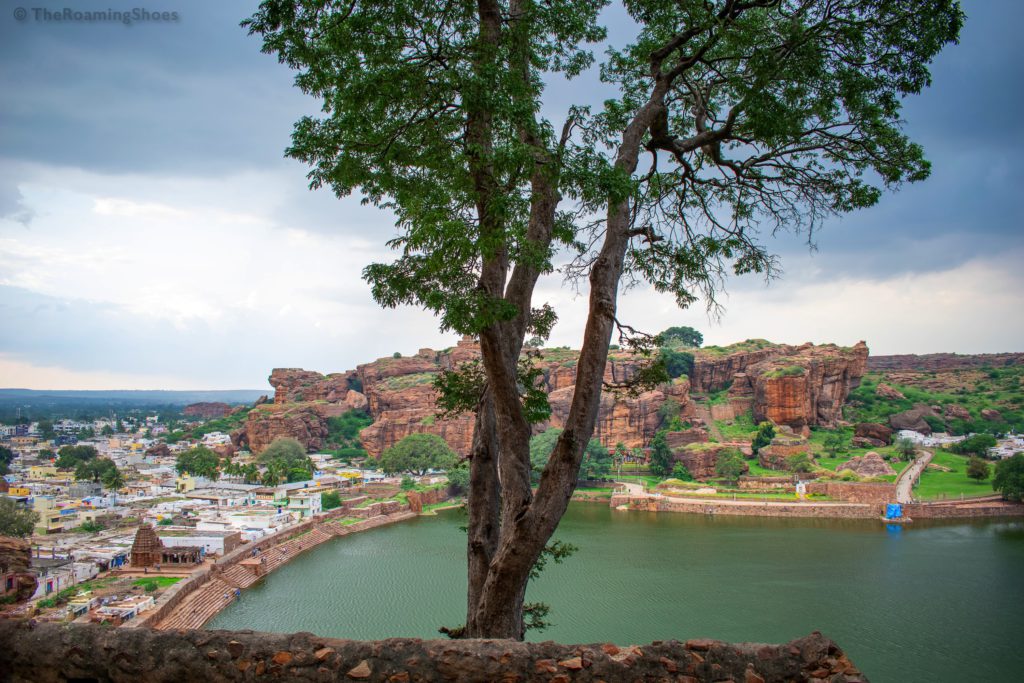 At the far end of Agastya Lake, lies the famous Bhutanatha Temple. It takes around 15-20 minutes to reach the temple by walk from the Southern Caves. The location of the temple is very scenic with the large sandstone cliffs forming a stunning backdrop. In monsoon, two waterfalls come alive in those cliffs feeding water to the lake and creating an enchanting scenery. If you have time, we recommend visiting the place during sunrise when it looks the most beautiful.
You can also visit two other temples on the shores of Agastya Lake, one is the Mallikarjuna Temple not very far from the Bhutanatha Temple. There is also another one (not sure about its name) which is closer to the cave temples and comes on the way to Northern Hill.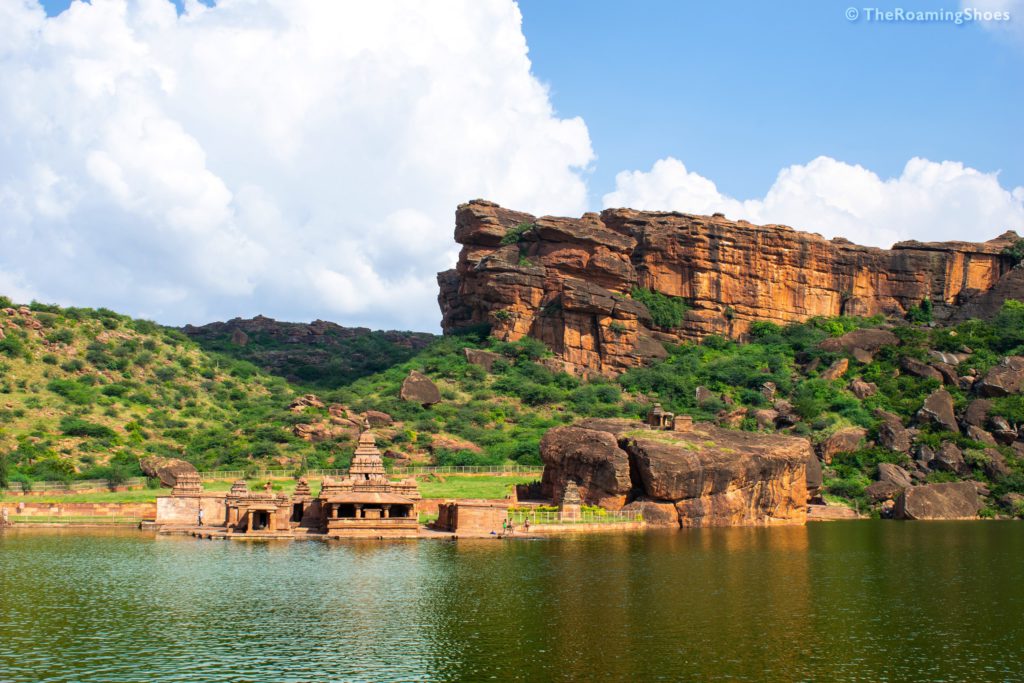 Northern Hill
Housing the Badami fort and two ancient temples, Northern Hill is the attraction we liked the most in Badami. When most of the people prefer spending time at the cave temples, this place is visited by very few and that is why the whole area is absolutely peaceful. Except for the artists who were engrossed in painting the beautiful surrounding on their canvas, we hardly saw other people on our way to the Northern hill top. One of the reasons why Northern Hill is not visited by many is the short trek required to reach the top. The trek takes around 30-45 minutes depending on your speed and number of stops made on the way. It's a fairly easy trek with well laid steps covering most part of the route.
Climbing the long set of steps to the top of Northern Hill was definitely tiring on a sunny afternoon. But walking through the narrow pathway between towering sandstone cliffs was an unique experience. The naturally formed sandstone structures of different shapes looked almost outwardly. It took us around 15 minutes to reach the 1st temple on the hill called the Lower Shivalaya and then another 15 minutes to reach the temple at the top called the Upper Shivalaya. On the way, you can witness the ruins of Badami Fort too. Though both temples provide good views of the town, Agastya Lake and the surrounding rocky landscape, we personally liked Upper Shivalaya more. Being at a higher point, Upper Shivalaya provides uninterrupted views of the surrounding and it was absolutely tranquil with no other soul around.
Time required to visit: ~1.5 – 2 Hours
Entry Fee: None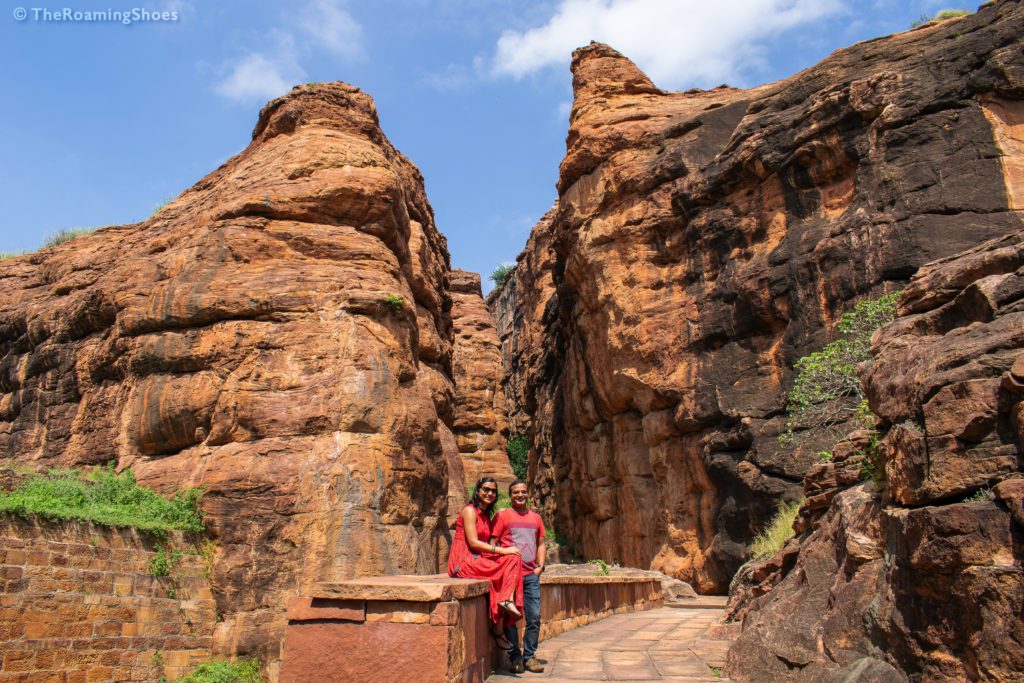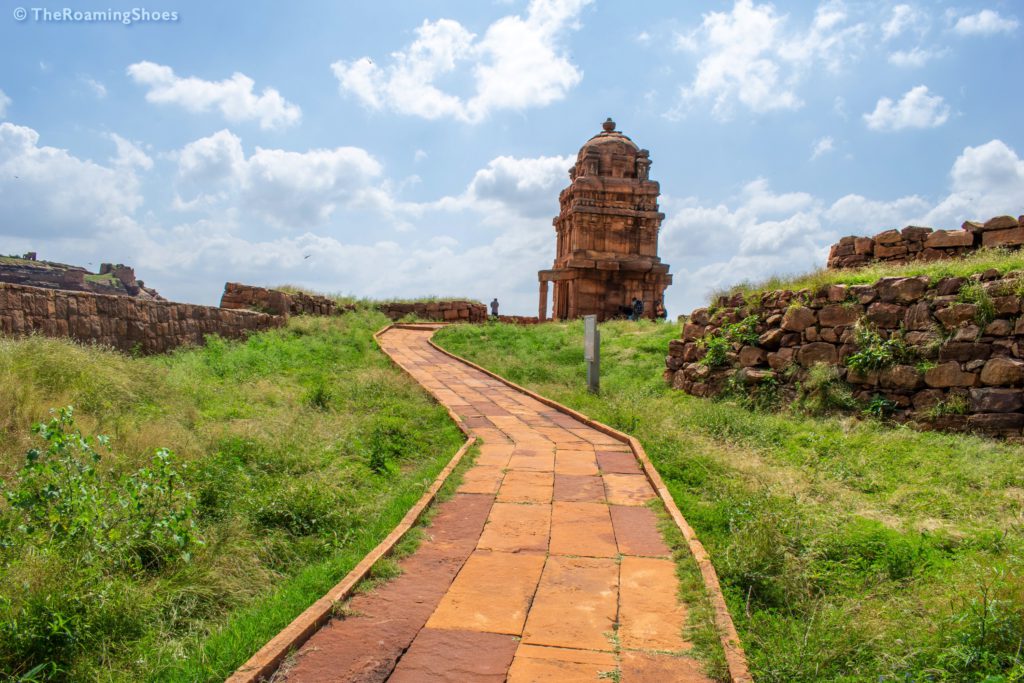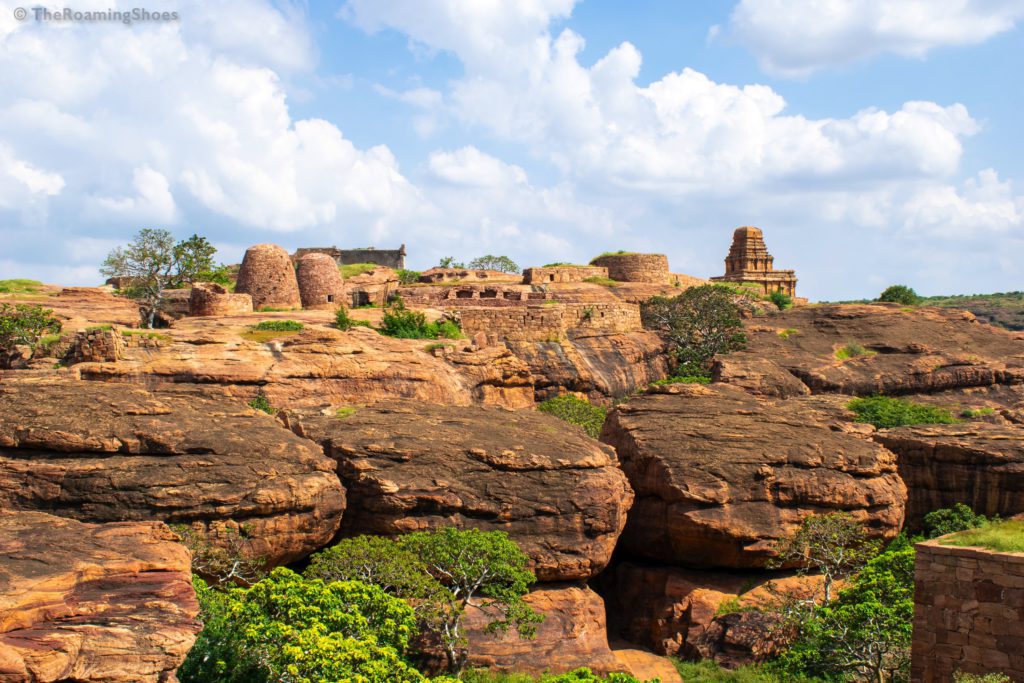 Archeological Museum
Located at the base of Northern Hill, Archeological Museum is not to be missed if you are interested in the culture and history of Badami. Though small in size, the museum houses many pre-historic artefacts, stone sculptures, art and inscriptions. It also provides information about the various attractions in and around Badami.
Time required to visit: ~20-30 mins
Timings: 9am – 5pm
Entry Fee: ₹5 per person
Photography is prohibited inside the museum
Pattadakal
Pattadakal or Pattadakallu is a village located around 22 kilometres from Badami. The main attraction at Pattadakal is its Group Of Monuments which is also a World Heritage Site. This group of monuments is actually a cluster of Hindu and Jain temples arranged beautifully inside a large compound by the banks of river Malaprabha. Now these temples are unique as they are built using two different architectural styles – the Dravidian Style which is followed in South India and the Nagara Style followed in the North. Along with architectural grandeur, the temples of Pattadakal also exhibit profusion of sculptural work and finest carvings. We recommend taking a guide if you want to understand more about the architecture and the history behind.
Time required to Visit: ~2 Hours
Entry Fee
₹40 for Indian Nationals
₹600 for Foreign Nationals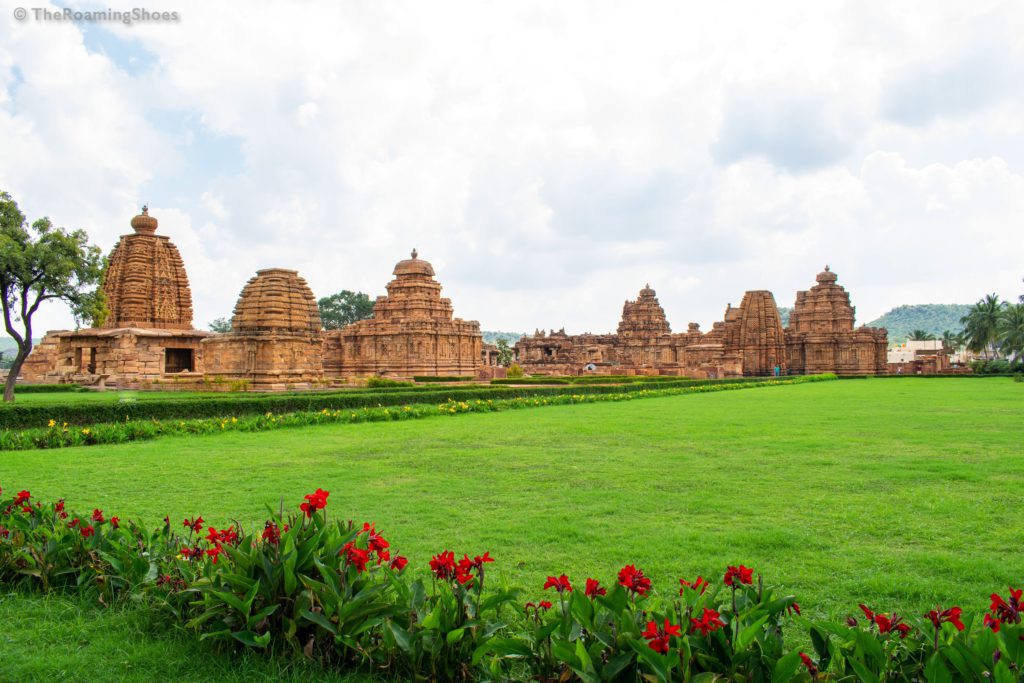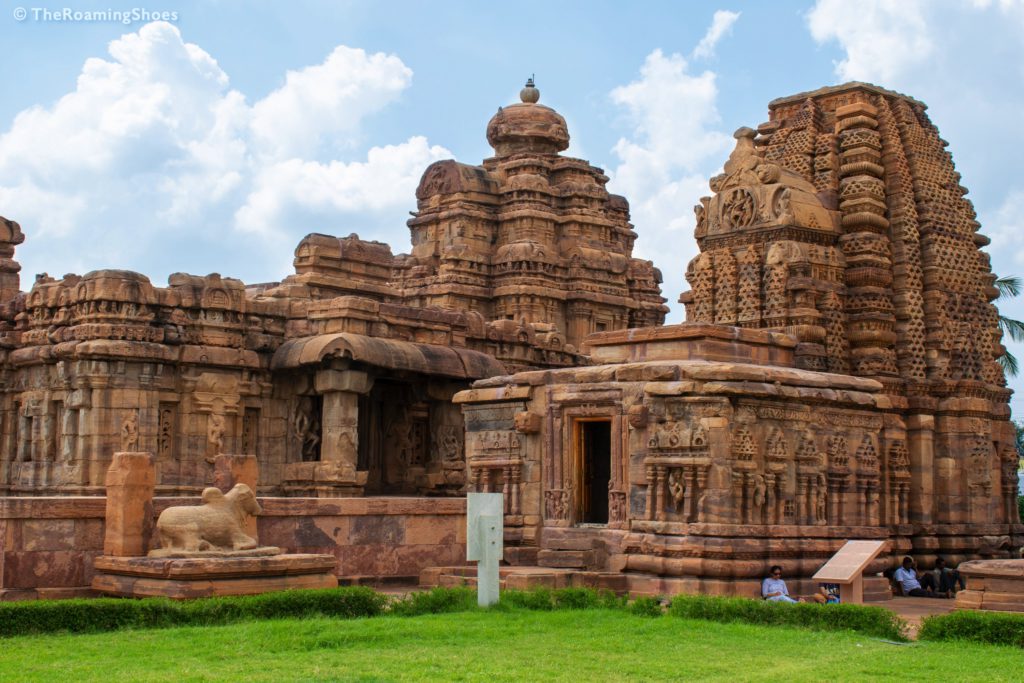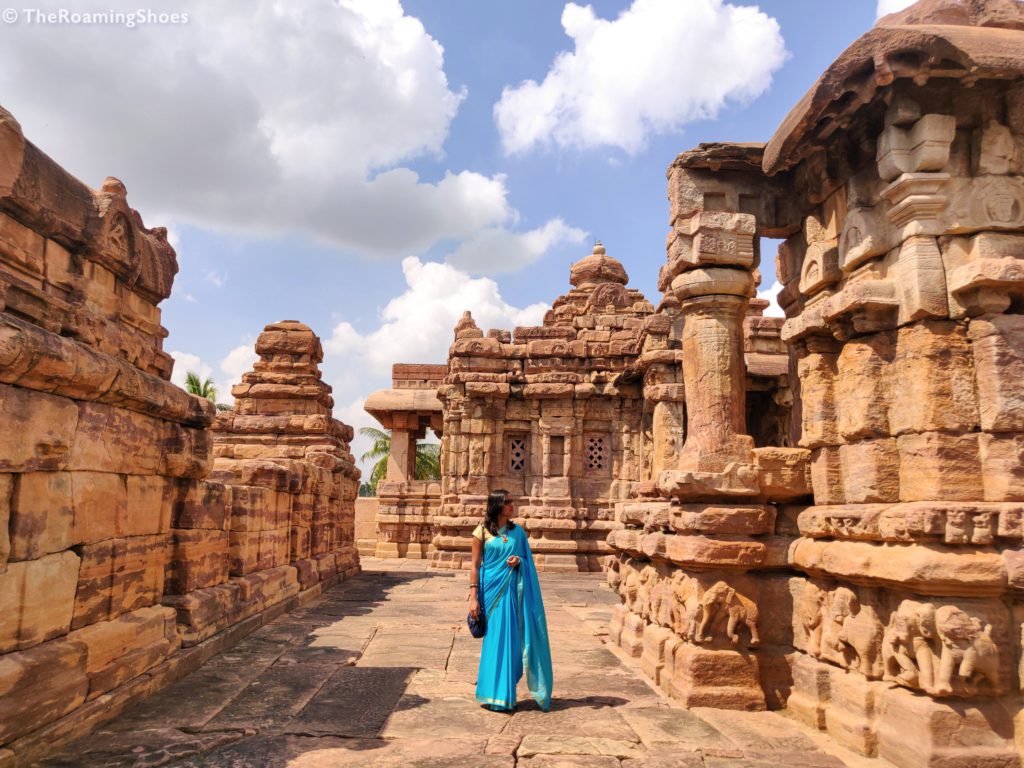 Aihole
Aihole takes another 15 minutes by car from Pattadakal. Unlike Pattadakal the monuments in Aihole are scattered through the village. The sites here are again a mix of Hindu, Buddhist and Jain origins and their different designs indicate the experimentation in architectural styles. Sadly some of the lesser known temples in the village lack maintenance and we could see locals using them for drying clothes while passing through.
Since there are several sites of interest in Aihole (approx. 120), it is totally up to you what you want to see depending on your preference and available time. We had limited time and decided to just visit the Durga Temple as we were always fascinated by its architecture. The temple looks very unique with its oval shaped base through which runs a pillared corridor. The inside of the temple is even more beautiful with its walls, pillars and roof of the porch having elegant carvings all over. No wonder this temple is the most photographed in Aihole.
Entry Fee
₹25 for Indian Nationals
₹300 for Foreign Nationals
Some other places of interest in Aihole
Ravana Phadi Cave Temples
Lad Khan Temple
Meguti Jain Temple
Surya Narayana Temple
Time Required to visit: ~1 – 1.5 hours if you visit only Durga Temple Complex, ~3 – 4 hours to cover a few well known sites of Aihole.
If you are visiting Pattadakal and Aihole, then the one decent place to have food is KSTDC Mayura Yatri Niwas in Aihole. The place is clean and food is good. But the services are too slow. So keep enough time in hand.
Other Pointers
Badami is hot and humid in the day. So carrying sunscreen, hat and sun glasses is a must. Also, take clothes which are loose and comfortable.
Carry a pair of comfortable shoes when you visit the attractions in Badami. It requires a lot of walking.
Carry a bottle of water everywhere you go. You will need it.
The attractions in Badami, Aihole and Pattadakal are protected monuments. So photography or videography using drones or tripods is strictly prohibited
We found the restaurants in Badami of average quality. The food tasted okay and some of these restaurants even do not maintain proper hygiene. So we ended up eating in our homestay most of the time. If you want to eat outside, then choose restaurants that have good reviews from a larger audience.
The railway station in Badami is a very small one and does not have any food outlets available inside or outside. There is a small shop inside the station to buy biscuits, water and other small items.
For paying entrance fees at attractions, use debit or credit cards. All the attractions in Badami, Aihole and Pattadakal charge a little less for entrance fee when paid in cashless mode.
That's all from our end. We hope you enjoyed reading this blog. If you have any other questions regarding these places or need help planning your trip, let us know in the comments. We will get back to you as soon as we can.
All prices mentioned in this blog are applicable as of November 2019
For more such interesting weekend getaways from Bangalore, check out our other posts here.