Lamahatta – The little romantic hamlet in North Bengal
Lush pine forests, vast stretches of tea plantations and the delightful fragrance of plum blossoms – this is what I can think of when I remember our trip to Lamahatta. A quaint village in North Bengal, Lamahatta serves as a perfect romantic getaway surrounded by mountains, farmlands and forests.  Though very close to the tourist famous Darjeeling town, Lamhatta is still fairly offbeat and holds a charm that is hard to resist. Many people visiting Darjeeling usually visit Lamahatta on a day trip. But the real charm is in spending a night in this village and exploring it leisurely.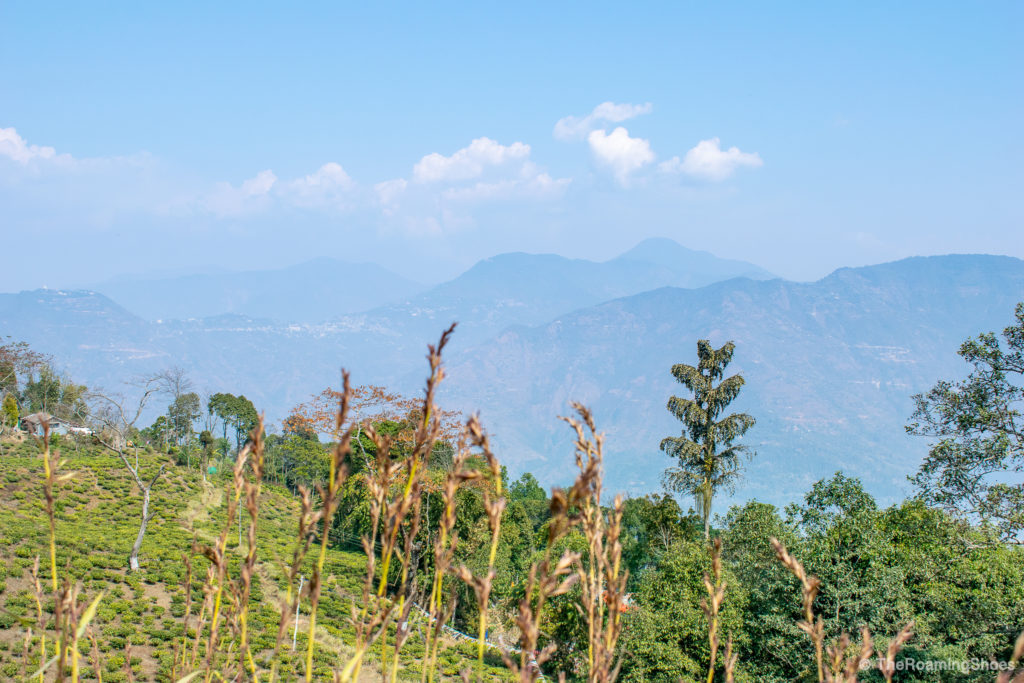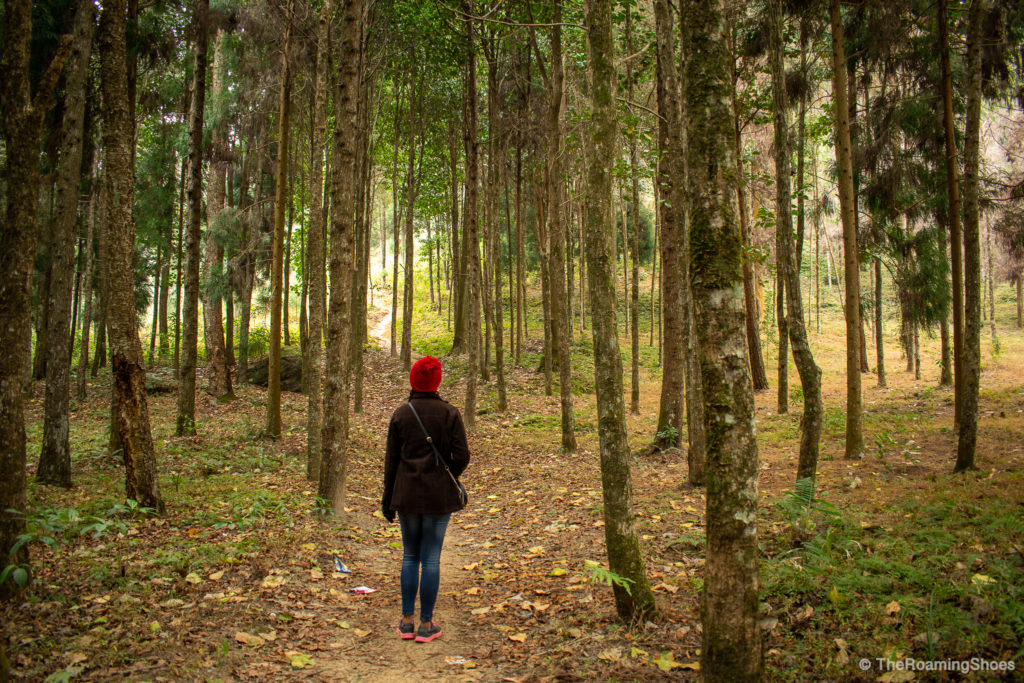 Fact Check
Lamahatta has been developed as an eco tourism destination by the Govt of West Bengal. The Govt has worked closely with the residents to set up tourism in a way where the ecological balance is maintained and the villagers can also benefit from it. So there are no luxury stays or fancy restaurants in the village. Instead the only accommodation options here are the home stays run by the residents. A stay in this village is all about spending time amidst nature, breathing fresh air and appreciating the beauty all around. If you are a person looking for comfort and luxury, then Lamahatta may not be the place for you.
Best Time to Visit Lamahatta
November-March: Winter is considered the best time to visit Lamahatta as the flowers bloom during this time. But keep in mind that the place gets quite cold in winter.
April-June: Summer time when the weather is pleasant and the sunny days provide perfect opportunity to go out and explore.
Our time of visit: Third week of February.
Choose Feb-March time if you want to see the Plum blossom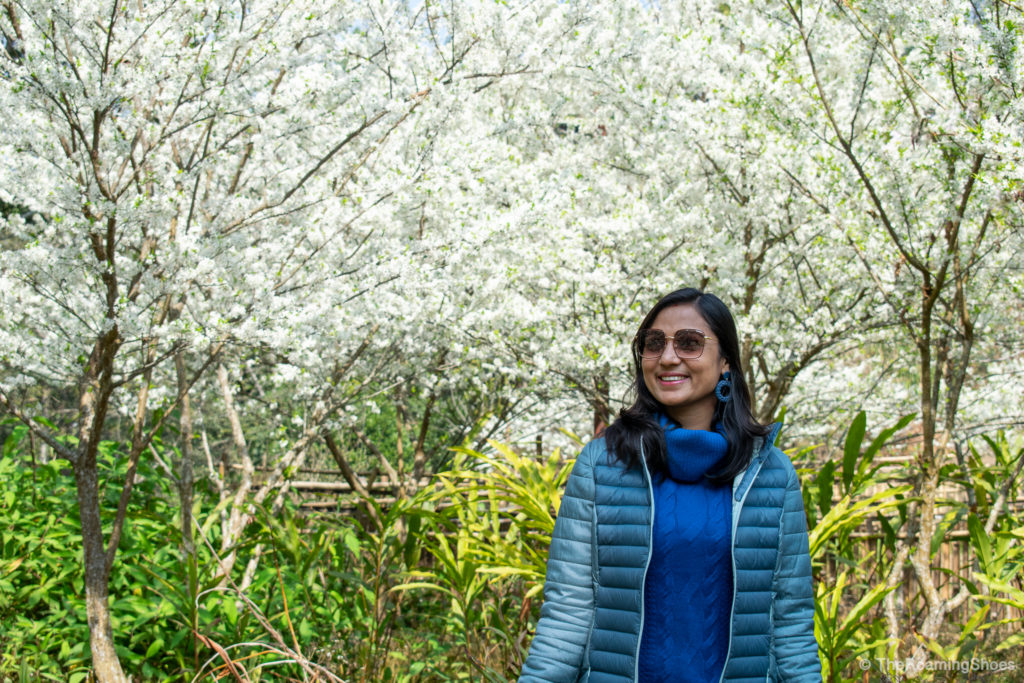 How to Reach Lamahatta
By Air
Nearest Airport is Bagdogra Airport which is around 75 kilometres away from Lamahatta. From the airport, reserve a taxi to reach Lamahatta which takes approx. 3 hours.
A small car (Alto, WagonR etc) costs about INR 2000-2500 depending on the season
By Train
The nearest railway station is NJP which is around 70 kilometres away from Lamahatta. You can reserve a vehicle for Lamahatta which will take approx. 3-3.5 hours. May cost INR 2500-3000 depending on the season.
If you are on a backpacking/budget trip or are a solo traveler, then you can reduce the commute cost by taking shared vehicles. From NJP, take a shared jeep to Jorebungalow and from there take another shared taxi to Lamahatta. Keep in mind that the availability of shared vehicles may depend on the season.
Do not forget to bargain for the price while reserving a vehicle. The taxi drivers normally quote the price a little high
From Darjeeling
Lamahatta is about 25 kilometres from Darjeeling and takes a little more than an hour due to the road conditions. Taxi fare is INR 1500.
Where to Stay in Lamahatta
Lamahatta has a number home stays owned and operated by the locals. Many of them are located near the Eco park. These home stays are pretty basic in terms of facilities. But you can enjoy the warmth of local people and home cooked food during your stay. If you are visiting during winter months, then make sure your home stay provides room heaters as it gets quite cold.
We recommend Pine Haven Resorts where we stayed and absolutely loved it. This is a mid range property situated near the Tea Garden and provides lovely views of the mountain range. As the place is a bit away from the main road, it has a very peaceful surrounding. This is the kind of place where you can simply spend days just exploring the nearby area and enjoying some delicious food.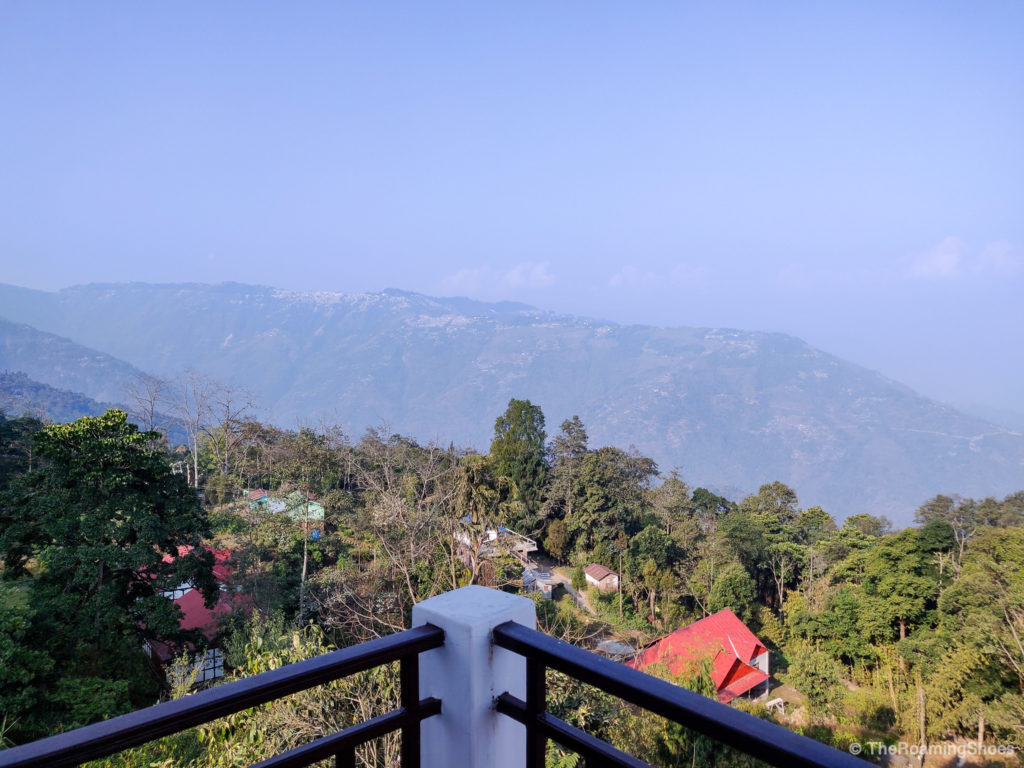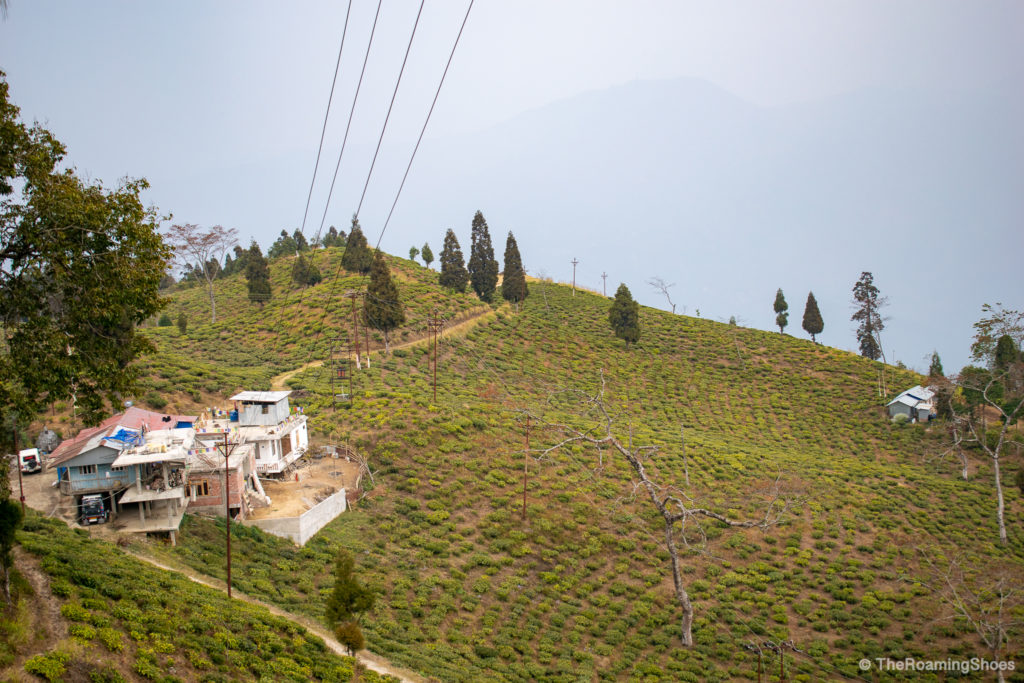 Things to do
Truly speaking, Lamahatta does not offer much in terms of sight seeing. It is all about nature and tranquility that attracts people to this little village. Here are a few things that you can do at Lamahatta.
Spend some time at the Lamhatta Eco Park
Eco Park has somewhat become an iconic attraction in Lamahatta. Indeed this is the first thing that pops up in the search results when you search for Lamahatta. This man made park sits on a hill slope with a backdrop of towering Pine and Dhupi trees. The colourful prayer flags and seasonal flowers add the perfect dash of colour to the otherwise green surrounding. The park has a watch tower that provides great views of the area. On a clear day, you can even enjoy beautiful views of the snow capped mountains. Actually there is not much to see in the park. But you can spend an hour here just strolling along the narrow pathway or sitting in one of the bamboo made gazebos and soak in the beauty of the place.
Entry Fee: INR 10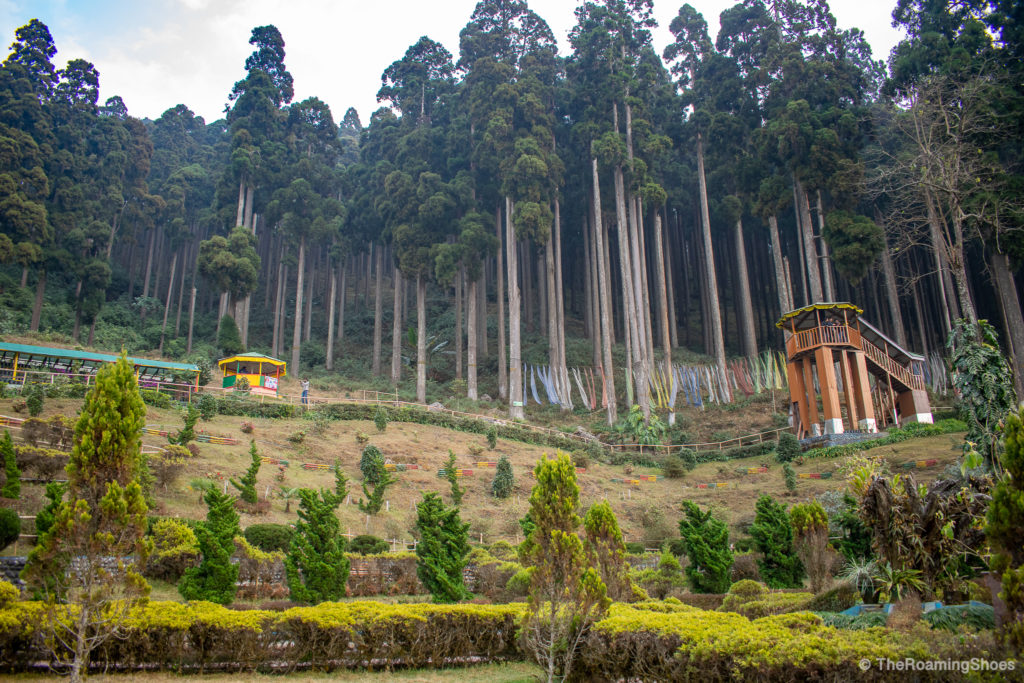 Trek to the Sacred pond
There is a waterbody on top of the hill where the Eco Park is located. This pond has a very scenic location and is considered sacred by the locals. It requires a small trek through a well defined forest trail to reach the sacred pond. The trail starts from inside the Eco Park and takes around half an hour to cover the 1 kilometre distance through a narrow winding path flanked by age old pine trees. The path is a bit steep and the trek though short could be tiring. We could not visit the pond as it was a rainy day and it was getting slightly dark at 4 pm. The locals suggested not to continue the trek as it is not safe in the evening. So if you want to visit the pond, plan your visit during the morning or afternoon time.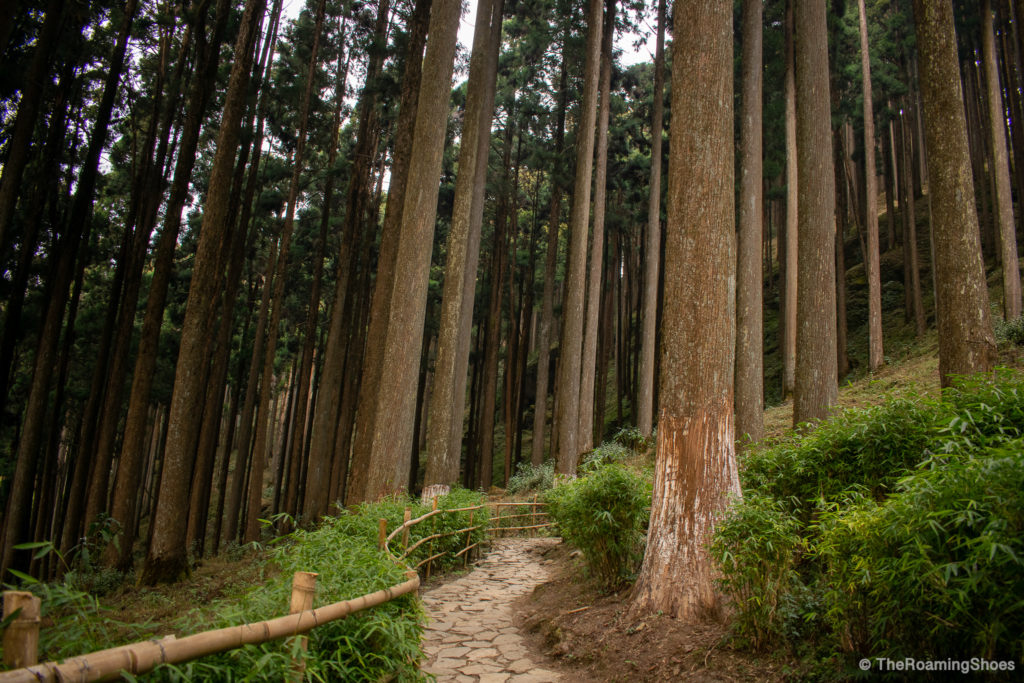 Visit the monastery inside the forest
This is the best experience we had at Lamahatta. It came as a surprise as we did not come across this place in any of the blogs/websites before. Our guest house owner had recommended it to us and we are so glad we got to visit this hidden gem. The monastery is located inside the forest and the only way to reach it is to walk through the forest trail for about 15-20 minutes. The walk through the forest was absolutely enchanting with the earthy aroma of moss and fallen leaves and the soothing sound of the swaying trees. Just when we were immersed in the beauty of the forest, a set of steps came in to view leading to the monastery.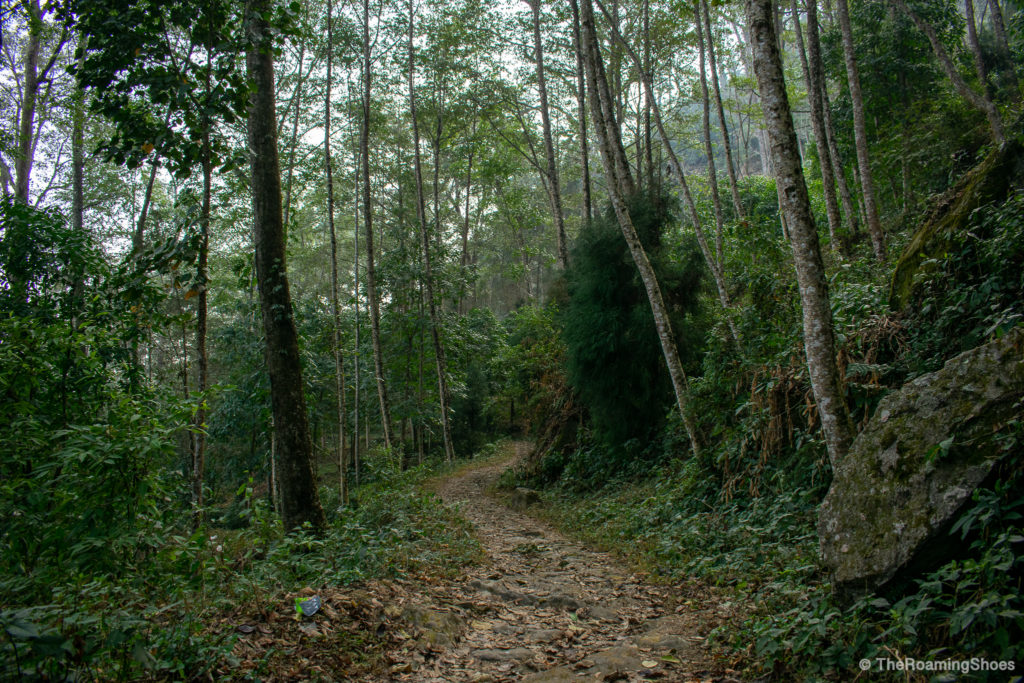 The monastery is set beautifully amidst the trees with prayers flags adding so much colour to its surrounding. Our guide told us that the place is considered very holy by the locals. Because a Buddhist monk stayed and meditated there for a long time. There was a beautiful white stupa outside with a crown head and eyes in all four directions. It looked like a smaller version of the stupas we had seen in Nepal. The inside of the monastery was exceptionally calm and contemplative with the golden statue of Buddha looking very much alive in the faint light. We have seen many monasteries on our travels to different parts of India. But this one even though very small had a vibe that we never felt anywhere else. It truly felt like a piece of heaven and sitting there we totally lost track of time. 
Name of the monastery: Phunchok Rabten Gayphelling Monastery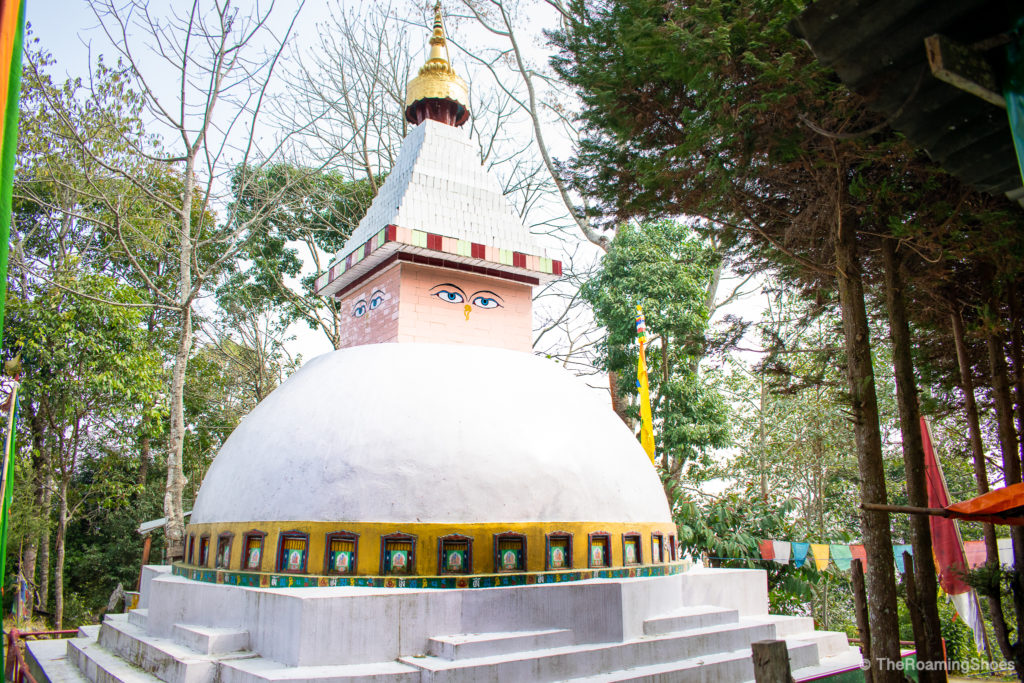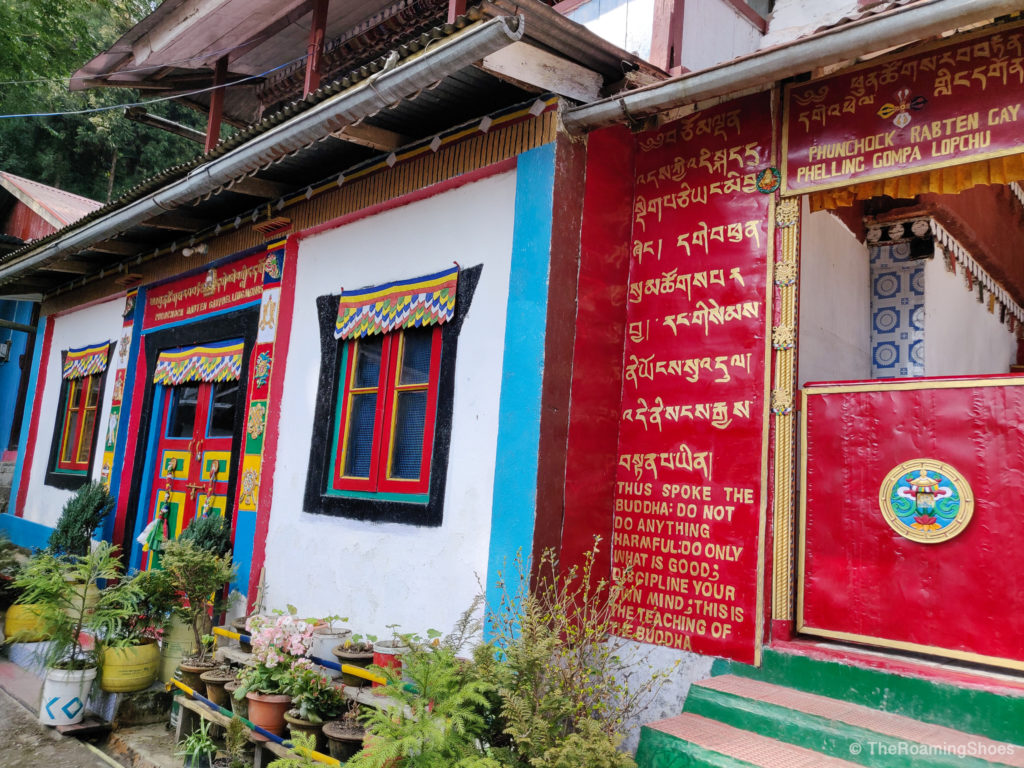 Visit the tea plantations
There are a lot of tea estates close to Lamahatta including the Glenburm tea estate, tea estate at Takdah, Peshok Tea Estate or the Rongli Rangliot Tea Estate. All these tea estates are a few kilometres away from Lamahatta and require a vehicle to visit. We visited the tea estate near to our guest house which is around 1 kilometre from the Eco Park. There is also a view point across this tea estate where you can enjoy nice views of the mountains and the valley.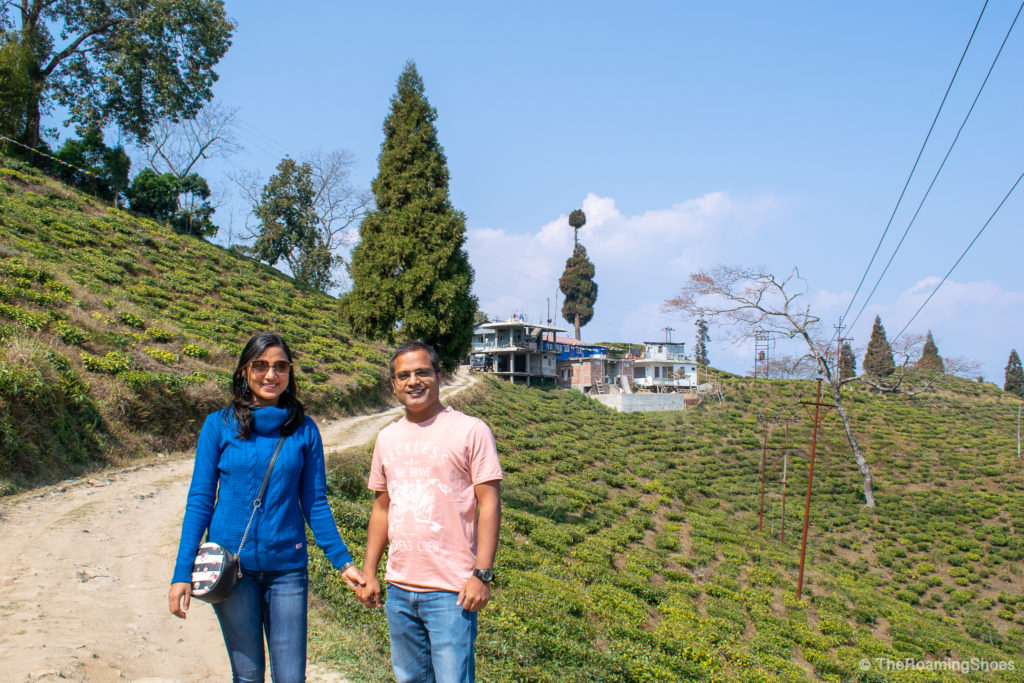 Other places of interest around Lamahatta
If you have a few additional days, then you can check out the following places close to Lamahatta.
Takdah – Famous for its Orchid Centre that boasts of a wide range of Orchids, this quaint village is just 10 kilometres away from Lamahatta. If you are the adventurous soul, then there is also a trekking trail from Takdah to Lamahatta. The trail passes through the forest and requires a guide.
Tinchuley – A village tucked away amidst the pine scented forests just 6 kilometres away from Lamahatta. 
Bara Mangwa and Chhota Mangwa – These two villages are approximately 20 kilometres away from Lamahatta. They are offbeat and are famous for their juicy oranges and ethereal views. Check our Chhota Mangwa Blog to know more.
Kalimpong: A sleepy hill town perfect for relaxation and some adventure activities. It is located 30 kilometres away from Lamahatta.
Darjeeling: Prefer a mix of offbeat and the the city? Then head to Darjeeling, 20 kilometres away from Lamahatta.
We loved every bit of our time at Lamahatta and would love to go back again sometime to soak in its natural beauty and peaceful surrounding. We definitely recommend this place if you like spending quiet time with nature away from all the noise and worries. Do share your experience or queries on Lamhatta in the comments section.
All costs mentioned in this blog are valid as of Feb 2020