Offbeat Ooty – For a peaceful and leisurely getaway
Ooty is more of a nostalgia to us than a holiday destination. Growing up in lower middle class families, vacations or trips were always a luxury. So Ooty holds a very special place in our hearts as this is the first ever hill station we visited after joining our jobs in Bangalore. This is even the first place we took our families for a trip. So whenever we think of Ooty, all those beautiful memories come rushing back to us – the slow drizzles, the aroma of freshly made tea, the misty surroundings, the smell of eucalyptus trees and the smiling faces of our loved ones.
Though we have visited Ooty numerous times since then, this time we decided to visit Ooty differently choosing the offbeat side of it. Because after staying 7 months at home due to the pandemic, all we needed was a peaceful and leisurely getaway somewhere far from the city. And what better than our all time favourite hill station Ooty?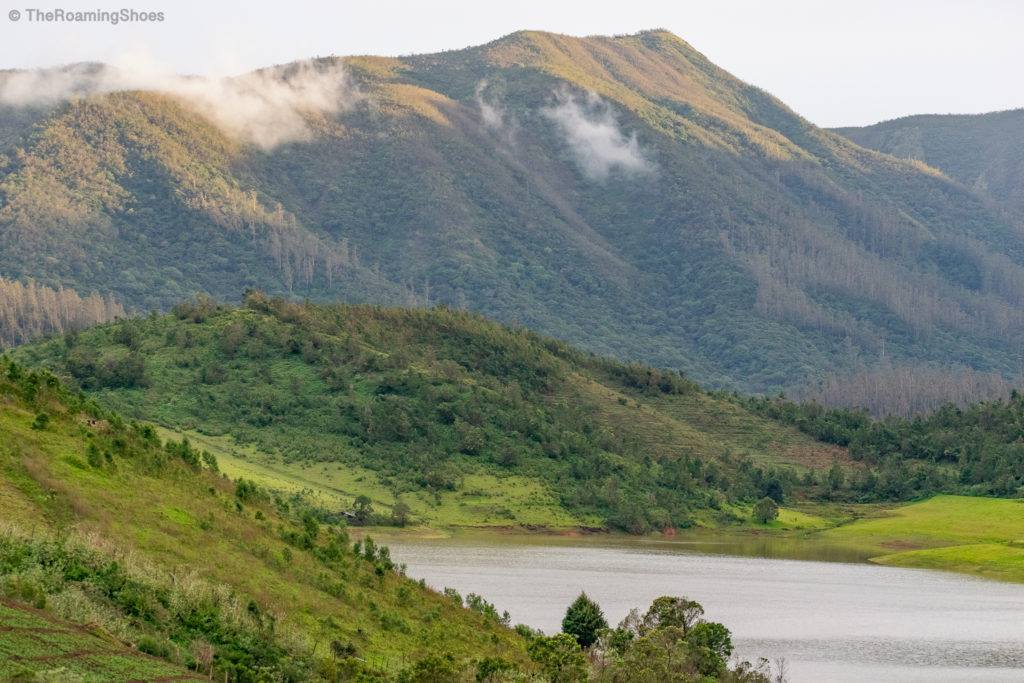 Best time to visit
July to September: I know, this is rainy season. But this is the time Ooty looks it's best. We have visited Ooty twice during this time and absolutely loved the charm the rains bring. With a fresh layer of green, the low hanging clouds and misty mornings and evenings – monsoon is the perfect time to relax and enjoy Ooty's beauty. Having said all the good things, let me also tell you that this is the most uncertain time for sight seeing.
October to February: Another good time to visit excluding the Christmas and New Year time when it gets too crowded. The weather gets a little cold at this time, but the days are pleasant for sightseeings and outdoor activities.
Even though Ooty is regarded as a summer holiday destination, we strongly recommend not visiting in Summer when it gets too crowded.
Reaching Ooty
By Car: If you are travelling during this pandemic, travelling to Ooty by car is the safest option. It takes around 7-8 hours to reach Ooty by car from Bangalore and the views on the way are totally amazing.
By Air: Nearest Airport for Ooty is Coimbatore International Airport at a distance of approximately 90 kilometres. You can hire a cab at the airport to reach Ooty.
By Rail: Nearest Railway station for Ooty is Mettupalayam railway station which is around 40 kms from Ooty. Trains from major cities like Bangalore, Mysore, Chennai and Coimbatore are available for Mettupalayam.
By Bus: There are many buses plying from nearby cities like Bangalore, Mysore, Chennai and Coimbatore to Ooty.
Accommodation in Ooty
Ooty being a very popular holiday destination has numerous options for stay. There are many hotels in the main town providing budget to mid-range stay options. But if you are looking for a relaxing and peaceful vacation, then we recommend choosing an accommodation a little away from the main town area. There are quite a few such properties and you could choose any as per you budget and need.
We stayed at the Destiny Farm Resort which is around 25 kilometres away from Ooty. The resort is a very scenic property set amidst farmlands overlooking the Avalanche Lake and mountain range. It is a very tranquil place with no other hotels or resorts in it's vicinity. We stayed in their superior rooms with a balcony opening to the view of the lake and mountains. You can spend time with the farm animals, enjoy a picnic by the lakeshore, go on a little hike to the nearby hillock or just sit somewhere in the resort compound soaking in the wonderful views all around. Though we had a very nice stay at the resort, there are a few things you should know before booking this property such as accessibility and connectivity. Read our detailed review of the resort here.
Many hotels and resorts in Ooty were closed in September (the time we visited) due to the pandemic. So enquire about their availability as well as the safety standards before booking your stay.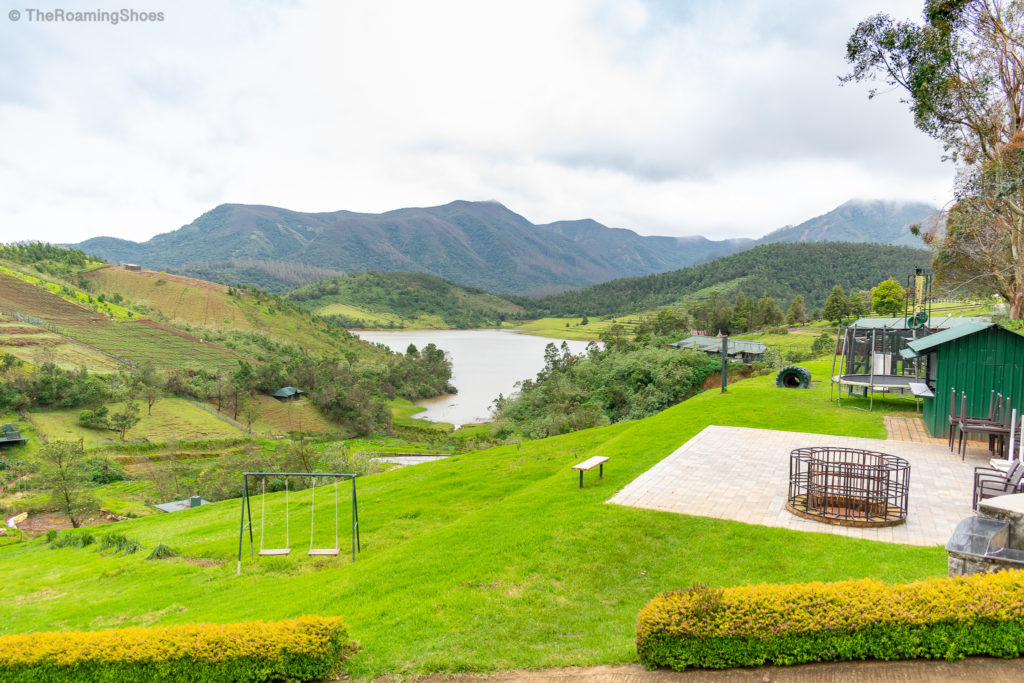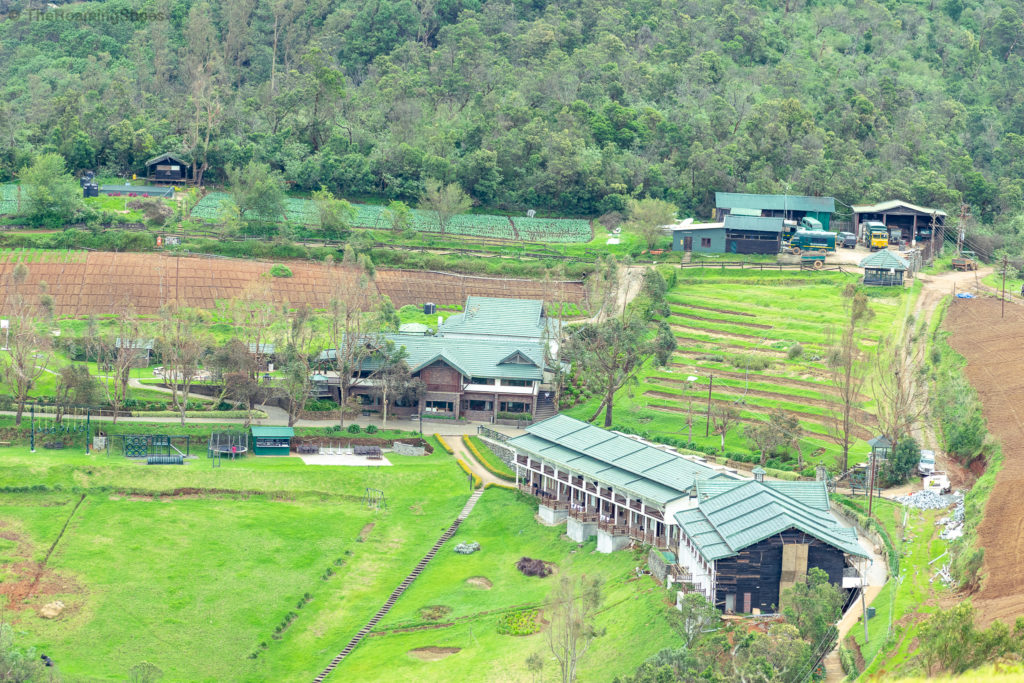 Things to Do
Keep a day or two for doing Nothing
Yes, you read that right. Ooty is the kind of place where you simply can relax for days doing nothing. Enjoy the goodness of unlimited Nilgiri tea, savour the luscious homemade chocolates and soak in the picture-postcard views that would leave your heart reeling with joy. So get lazy, read a book, may be do some yoga and pamper yourself with some 'You Time'.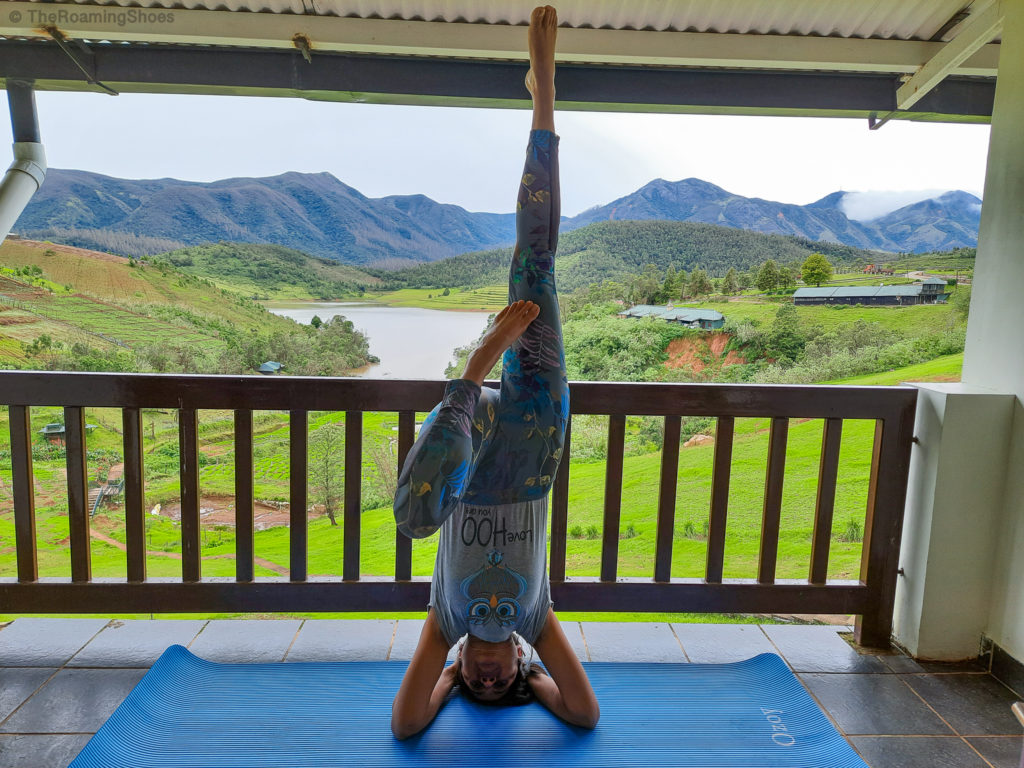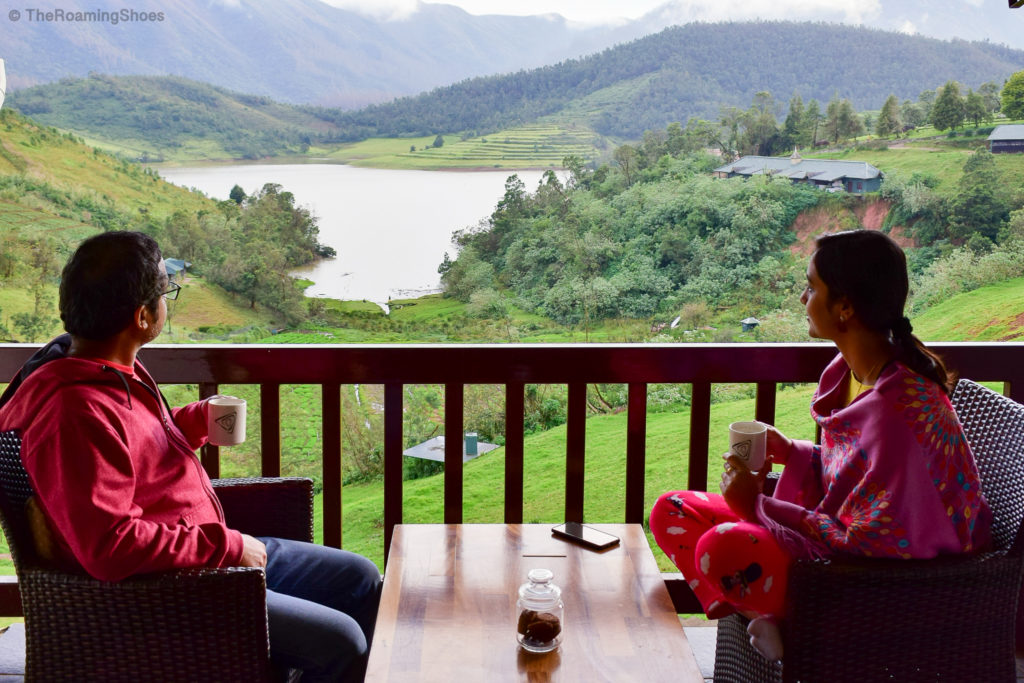 Explore the nature trails
Mornings in Ooty are the best times to go on nature walks when the air is crisp and the sun still gentle. And when you are staying away from the main populous town area, you will surely find some nature trails around. Always talk to your resort or hotel staff for walking trails in the area and they will be able to guide you.
We had this small hiking trail just beside our resort that leads to the top of a small hillock passing through farmlands and narrow muddy pathways. The views from the top were totally out of this world with 360 degree views of the mountains and the Lakes. At one side there was Avalanche Lake rimmed by the verdant Avalanche mountain range and at the other side there was the placid Emerald Lake. And there we were, just the two of us, sitting on that hillock watching the clouds rolling down the hills and taking in that fresh air we crave for in the city.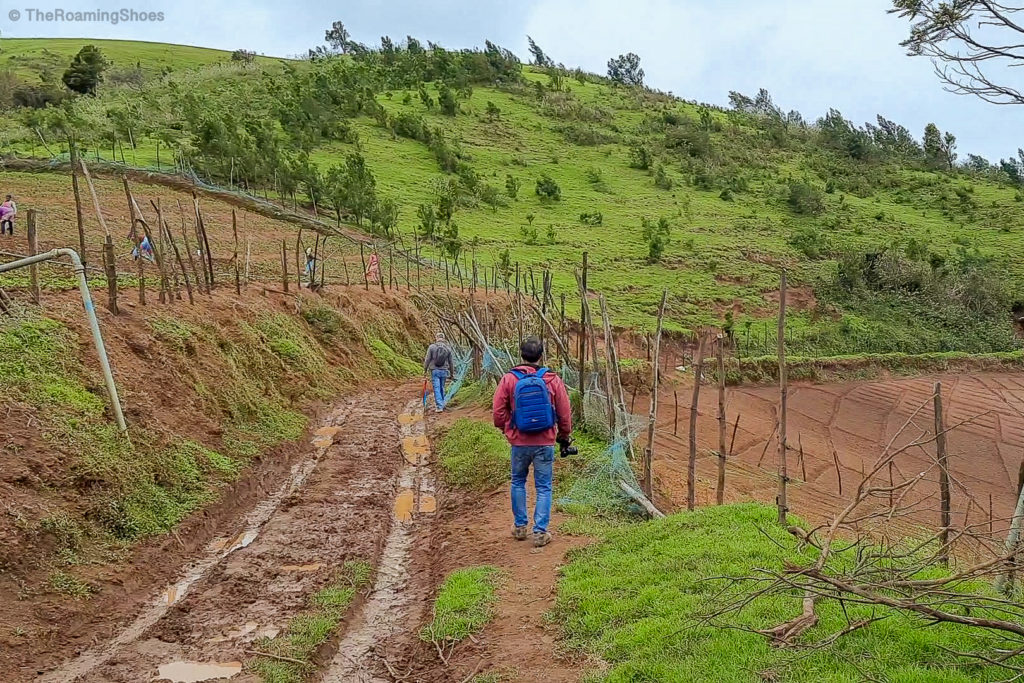 Enjoy a picnic by the lake
Having a picnic at some place nice is always my favourite thing to do on a laid-back vacation. Especially when we visit hill stations, I always make sure to pack a bedsheet and some snacks and we find some place nice where we can sit down for an hour or two immersed in our own little world. Ooty has many such scenic picnic spots. But anytime, our top pick will always be the area around Emerald or Avalanche Lake.
Our resort staff guided us to a picturesque spot by Avalanche Lake in the vicinity of the resort and we had a great time picnicking there. A few games of UNO, little chit chat and then we spent a long time just gazing at the surreal landscape in front of us in total solitude. The cool breeze rippled the surface of the lake and the lapping of the water against the shore created a music that was soothing to the soul. The croaking sound of toads, the distant chirping of birds and the lush mountains in the distance – as if everything was set perfectly to make that place feel like an enchanted land.
Do not stay at the lake till late as it is in the forest area and many wild animals come there in the evening.

If you are travelling during the pandemic, then talk to your hotel or resort and confirm if the lakes are open for picnics yet.

Remember to pick your trash and clean up the place after your picnic.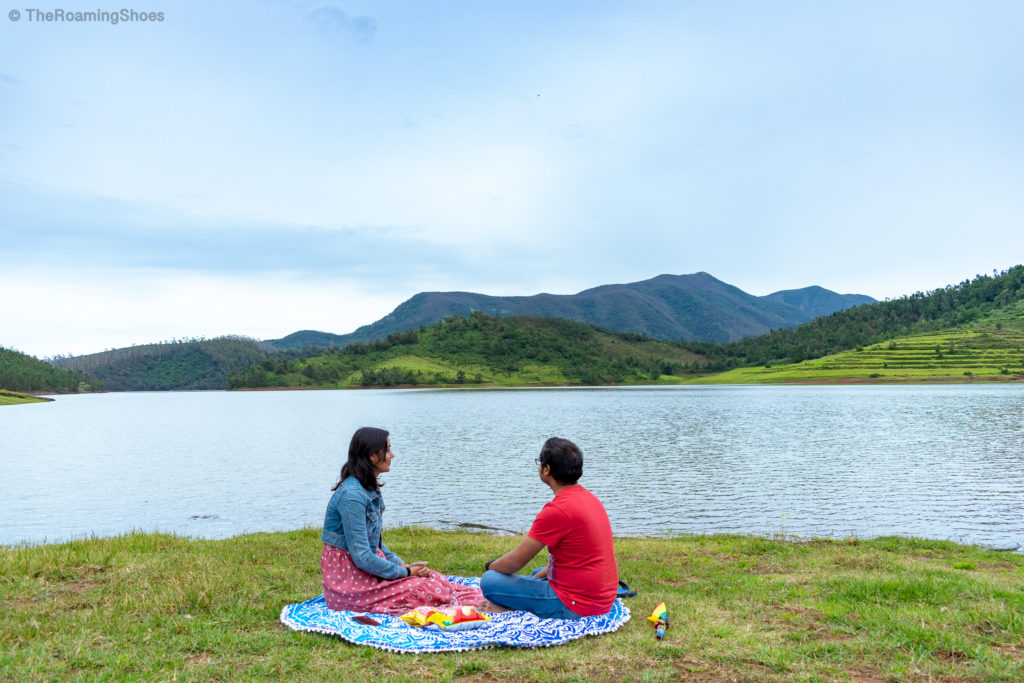 Stroll along the sprawling tea gardens
It is kind of a crime to leave Ooty without visiting it's beautiful tea gardens🙂 . Ooty has many exquisite tea estates and you can check out any of those. Either visit one of the famous tea estates in the town or make a stop at any of the gardens on the way. We chose the latter as the winding roads lined by tea plantations at both sides looked perfect for a pit stop. We parked the car at a distance and just ambled along the tea gardens for sometime taking in the fresh air. The bonus was spotting 2 Malabar squirrels leaping between the branches of the huge tree by the side of the road.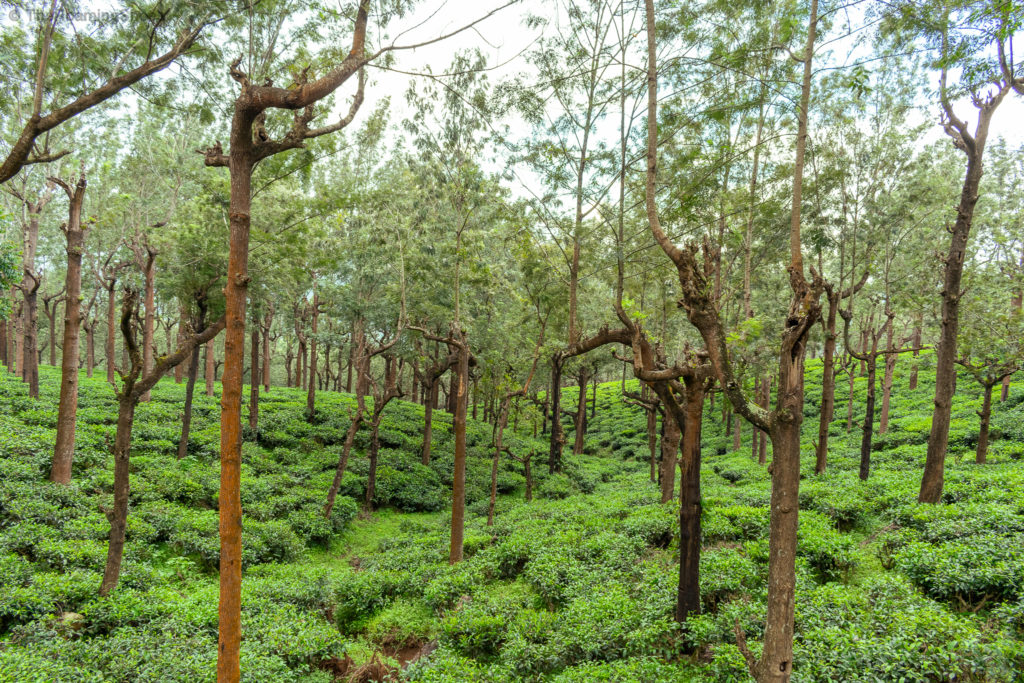 Take loads of pictures
As Chief Si ahl has rightly said – "Take nothing but memories, leave nothing but footprints!" And what better than taking memories in the form of photographs?
Ooty with it's interminable beauty provides so many photo opportunities. Whether it is the vast stretches of tea plantations, or the Eucalyptus tunnels, the rolling hills seasoned with striking harlequin houses or the glittering lakes – everything in Ooty calls for a picture. So whether you are a hobbyist photographer or someone who loves capturing moments with your loved ones on a holiday, fill your heart by freezing moments in the beautiful surroundings of Ooty.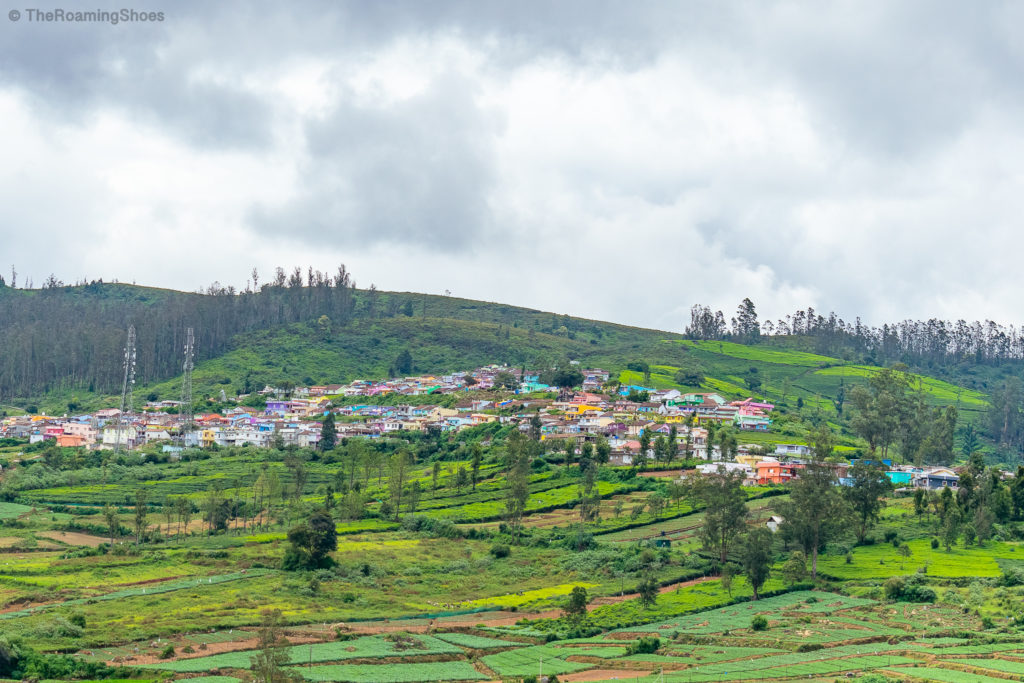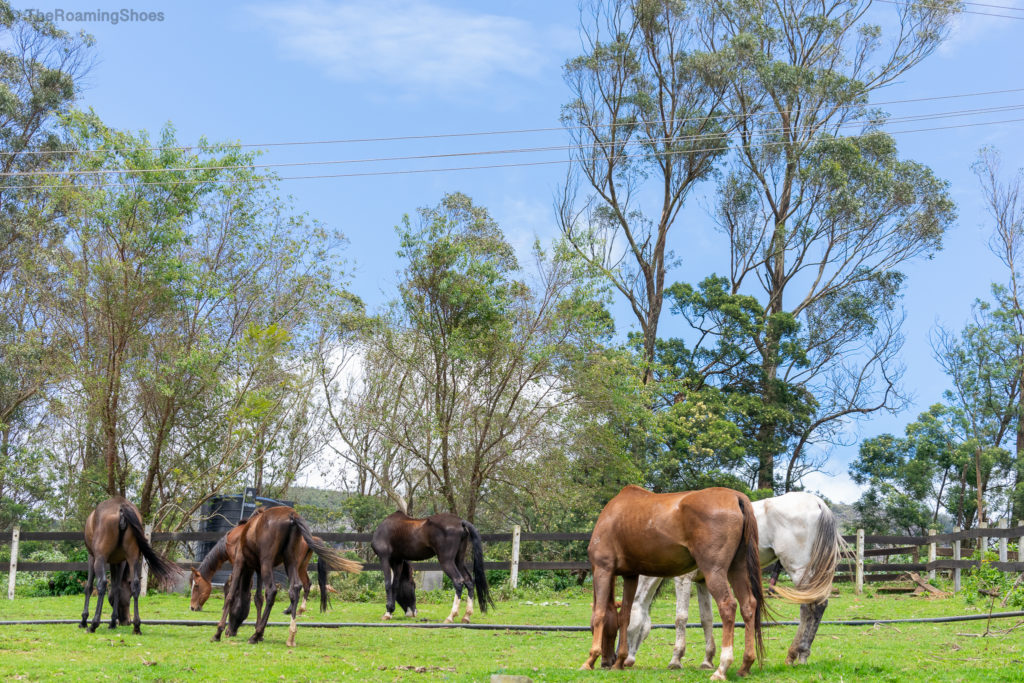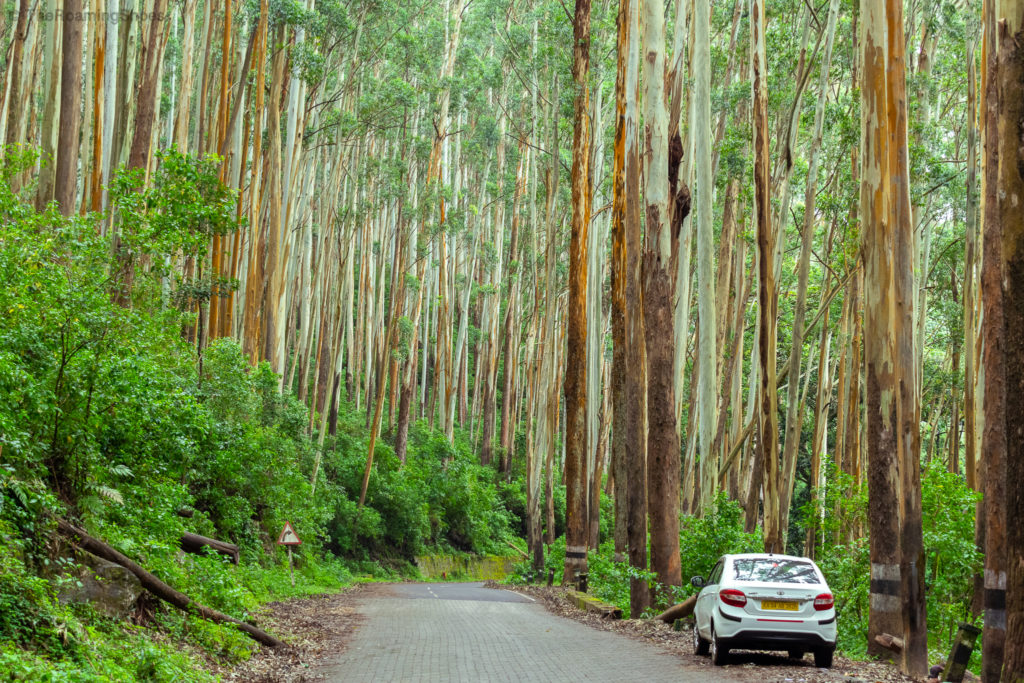 Travel to Ooty during the Pandemic – What you need to know
Here are a few things you need to know if you are travelling to Ooty during this Pandemic.
When we visited in September, an e-pass was mandatory for visiting Ooty. But now, e-pass is no more required. Instead an e-registration has to be done from https://eregister.tnega.org site before your visit. For the e-registration, you need to fill in the details of all passengers as well as the vehicle.
Carry the ID proof of all passengers that you provide during the e-registration (Aadhar / Voter ID / DL etc.). This is strictly checked at the border entry point.
At the entry point in TN border, Covid test is mandatorily done for all passengers entering the state. Results are shared on the mobile number in 2 days. So expect a little wait time here.
If you are interested to visit some of the attractions in Ooty, then confirm with your hotel or resort before. Because as of October 2020, the tourist places in Ooty were closed.
Since the tourist inflow to Ooty has been very less, most of the restaurants are closed in Ooty as well as on the way to Mysore. We had to wait until we reached Mysore (at around 6 pm) to have our lunch. So better finish your lunch before leaving Ooty.
This is all from our end on Ooty. We hope you get a chance to visit Ooty sometime and experience all the nice things it has to offer. If you liked this blog or have any questions related to Ooty, do let us know in the comments.
For more weekend getaways from Bangalore, check out our other posts here.