Our guide to having the most fun time at Pondicherry
There are very few destinations that could give you a lifetime of longing and how much time you may spend there, it never feels enough. Pondicherry (also called Puducherry or lovingly Pondy) is one such destination that stole our hearts with it's gorgeous beaches, incredible heritage, delectable global cuisine and laid-back vibe. Whether you are looking for a relaxing vacation or craving for that romantic getaway – Pondicherry just feels perfect for it. 
We spent 4 incredible days in this lovely beach town cycling through its cutesy lanes, trying out new cuisines and bumming around at the beaches. So here is our guide to help you have the most fun time at Pondicherry.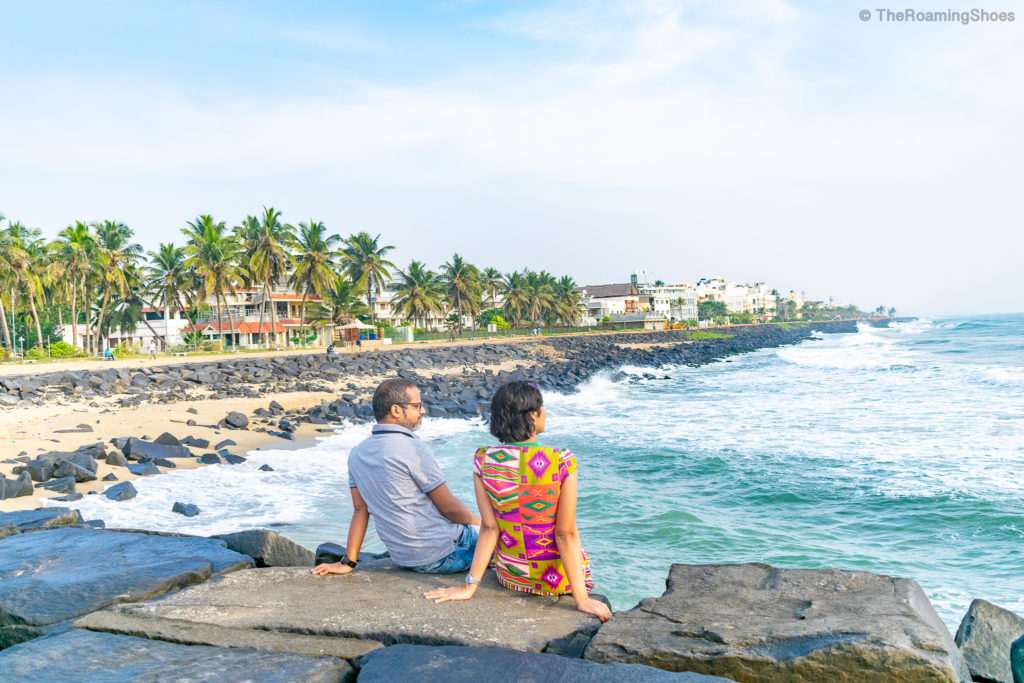 Best Time to Visit Pondicherry
November to February: Weather during this time is mild with temperature ranging between 15-30 degree celsius. Great time for gorgeous sunrise and sunsets by the sea and spending time outdoors. Not to forget, this is the peak season for Pondy and you would find a lot of people at all the places especially during the weekends.
September and October is a good time too being shoulder months. Since it is the time after monsoon, the greenery is soothing and crowd is less too.
July and August receive heavy and prolonged showers. Not a good time unless you just want to relax in your hotel enjoying the rain and reading a book with some good food.
Avoid the summer months of https://dopsiurana.com/gd07rgg20b March-June as it gets too hot (temperature shooting up to 40 degree celsius) and makes it really difficult to go out and explore the town.
Reaching Pondicherry
Pondicherry has a small airport catering to limited number of flights from major cities. Depending on your start point and https://acuasec.com/2njxrlgu flight availability you can either fly directly to Pondicherry or take a flight to Chennai International Airport which is located 150 odd kilometres away from Pondy.
You can also travel by train as Pondicherry Railway station is well connected to other cities. There are Zolpidem Online Reviews bus services too from major cities like Bangalore, Chennai , Coimbatore etc.
If you are travelling from Bangalore, then we would definitely recommend to opt for a https://elmilanoreal.com/7z2pc8l road trip to Pondy . First of all, it is safer to travel by car during this pandemic and then come the views and scenic pit stops which are totally worth the extra time. It takes approx. 7 hours to reach Pondicherry by car from Bangalore.
Moving around in Pondicherry
The best way to explore Pondicherry is to rent a  https://www.jaumebalmes.com/6juhv4pae bike (or scooter) and drive around the city. This is the cheapest option and gives you the flexibility to move at your own time and pace. There are many bike rentals available in the town and the charges depend on the type of vehicle. We rented a Honda Activa through our hotel at a charge of  INR 300 per day. The bonny Vespa scooters cost around INR 600-700 per day.
If you don't want to drive, then  https://culturviajes.org/2023/09/14/jv0vvsui2lx auto rickshaws or tuk-tuks are a great option and are easily available. The bright yellow tuk-tuks are a pleasure to ride and not very expensive too. But do bargain for a price as they quote a bit high. 
Taxis and Ola Cabs are convenient options too if you want to travel to the farther points within or nearby the city.
Accommodation in Pondicherry
There is a wide range of properties when it comes to accommodation in Pondicherry. We recommend staying in the White Town area close to the Promenade so that you have the flexibility to visit the beach anytime. Also, White Town is very peaceful, ideal for leisurely walks and is very well connected. It has so many good cafes and restaurants too.
If your budget permits, then we recommend choosing a heritage property for stay and White Town has quite a few of them. We stayed in https://elartedemedir.com/blog/39c9dndnvv Palais De Mahe, by CGH earth which is just a few steps away from Promenade. The heritage hotel with a vibrant mango-coloured facade, burnished wooden banisters and vintage looking lamp posts was an easy choice for us. But it is not only the exterior of the hotel that is eye-catching, even the interiors look very pretty and somehow soothes you in a mix of yellow and white. The thick-columned corridors lined by potted palms and overlooking the courtyard pool is a perfect place to relax with a book and drink. We chose the deluxe room type which was large room elegantly furnished with classic wooden furnitures and a spacious bathroom with a bathtub. The food was good at the rooftop restaurant and the staff were extremely courteous and helpful. So yes, if you ask us whether we recommend Palais De Mahe, then our answer is definitely YES.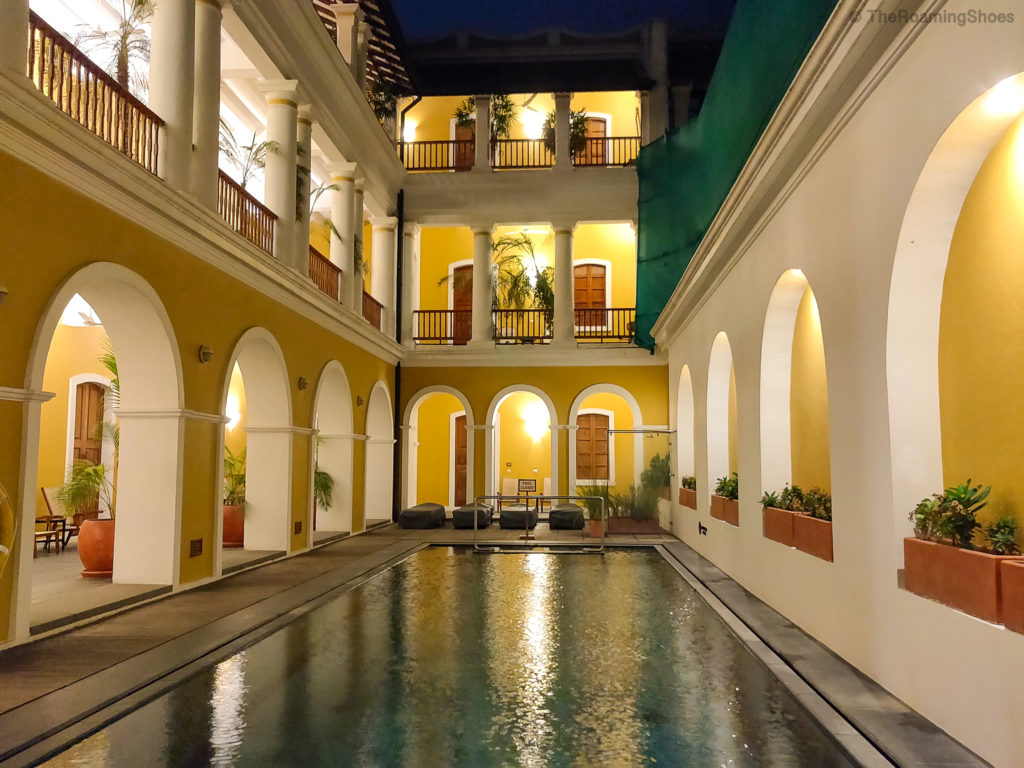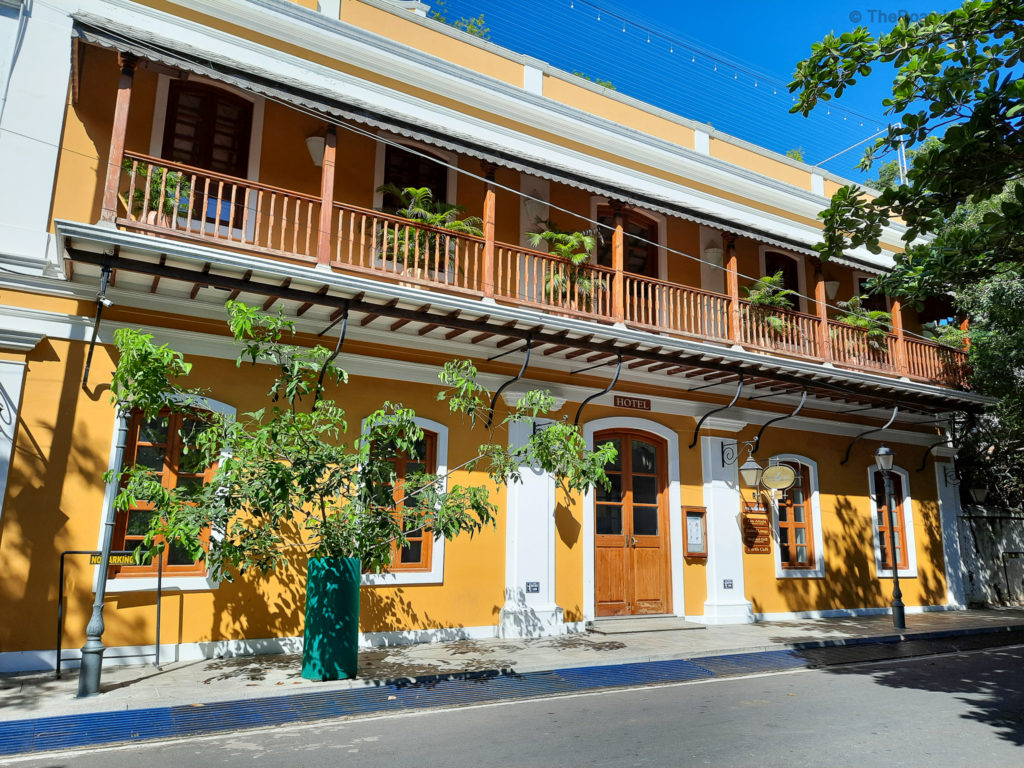 Things to Do in Pondicherry
Here is the list of things we recommend for your Pondicherry trip.
Enjoy sunrise at Rock Beach
Rock Beach is the place where we spent most of our time during our stay in Pondy. With a rocky shore, long promenade for stroll and array of cafes and restaurants nearby, this beach is flocked by many people in the evening and mornings. We visited Rock Beach at different times of the day and it presented us a different yet beautiful view every time. The sea looked enchantingly blue under the afternoon sun and evenings brought the music of vigorously crashing waves against the huge black rocks. But it is the mornings when Rock Beach felt the most surreal. Watching the sunrise, taking a walk in the promenade and sitting in the morning sun looking at the endless sea are the things definitely not to be missed at Rock Beach.
At Rock Beach, Bathing/Swimming is not allowed. No water sports is available.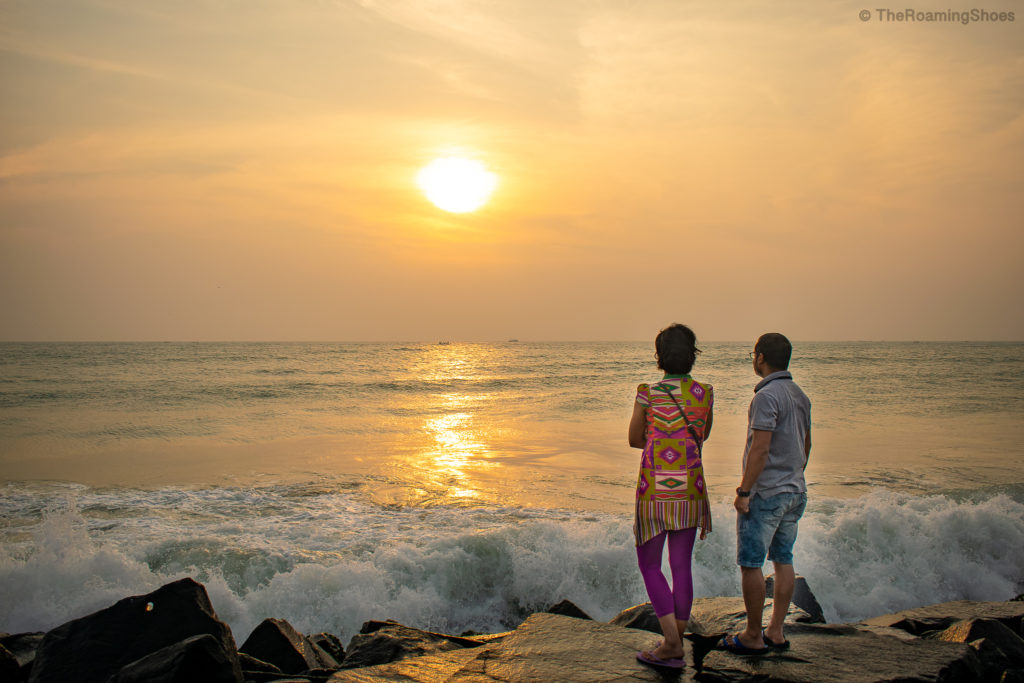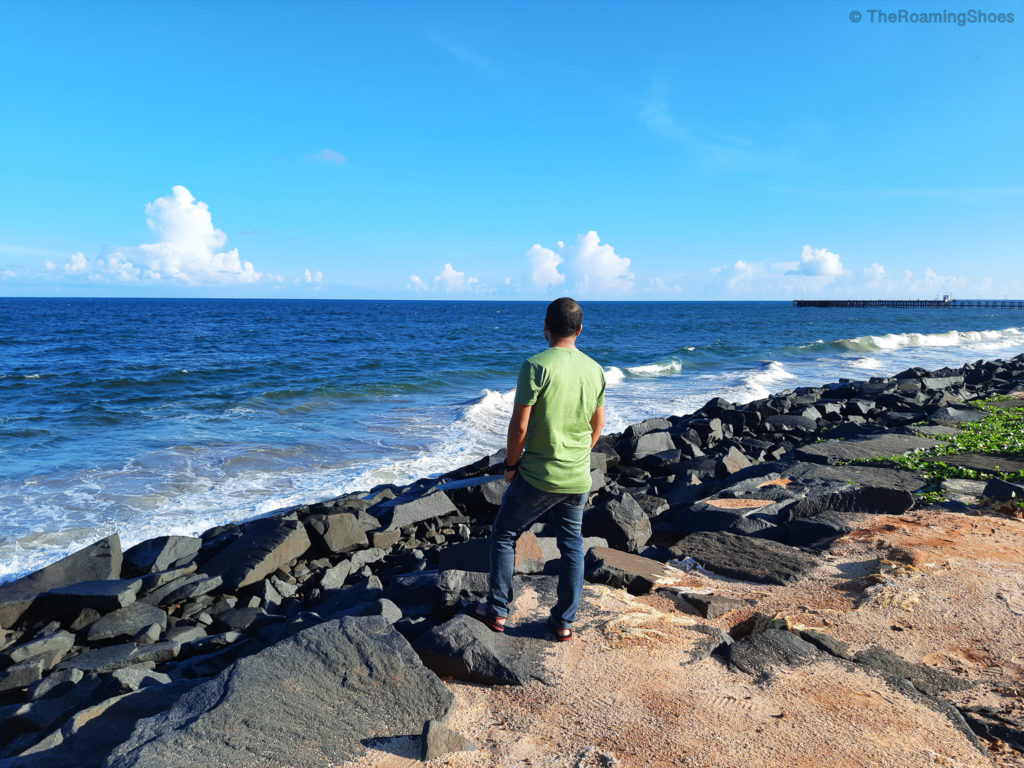 Take a boat ride to Paradise Beach
Paradise Beach truly lives up to it's name. Sandwiched between the sea and the gorgeous backwaters, this is the most picturesque beach in Pondicherry. The area around the beach is called Paradise Island and you can only reach here by taking a boat ride of 10-15 minutes. Away from the mainland, the whole area around this island is very tranquil and refreshingly green. The white sand beach is a perfect place for whiling away time reading a book under one of the thatched gazebos or taking leisure walks on the soft white sand. And don't even get me started on the views🙂 . Morning glories swaying in the breeze, horses grazing by the bluish backwater and seagulls flying over the ocean hunting for fish – every corner of Paradise Island looked absolutely picture-perfect.
Reaching Paradise Island
In order to reach paradise beach, you need to take a boat from Chunnambar Boat House which is approximately 6-7 kilometres from the main town. Both speedboat and normal boats are available. Unless you are in a group, take the shared boats which are cost effective. You can come back from the island on any of the boats returning at the time.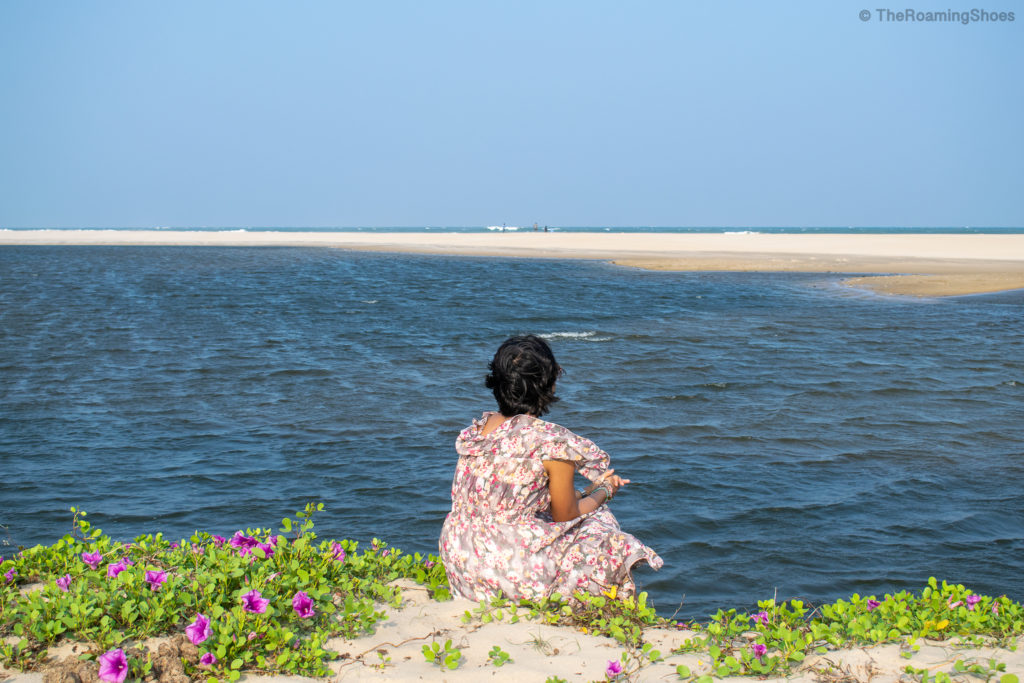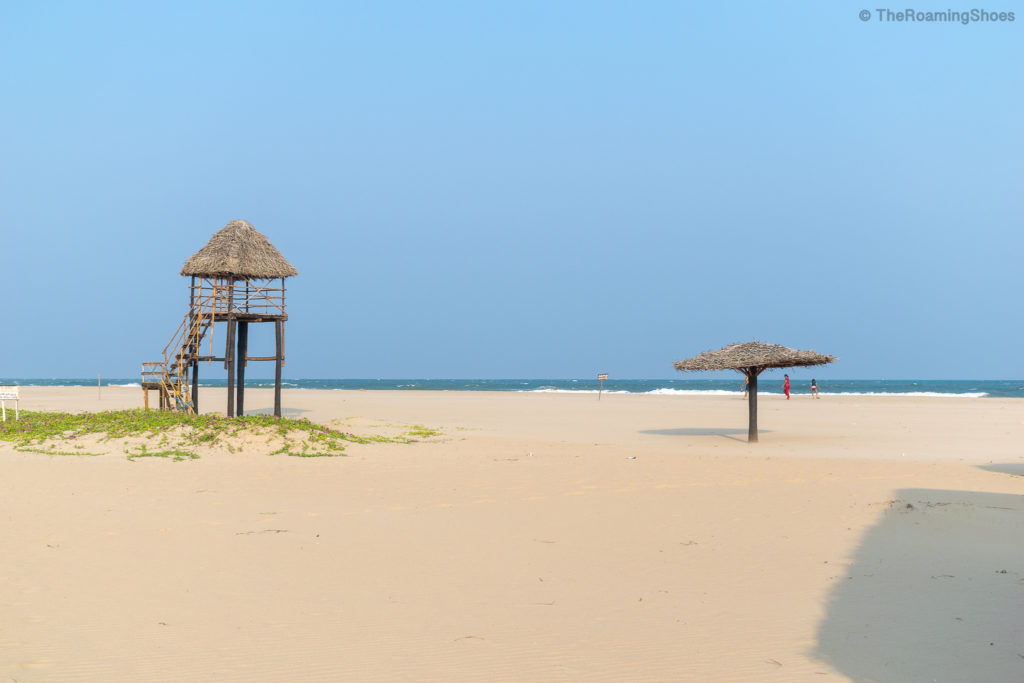 Cycle Around White Town
I love colours and that is why White Town, otherwise known as French Colony instantly became my favourite. Cutesy lanes lined by quirky cafes, flamboyant colonial houses and tree lined boulevards – White Town exudes a feel of a pretty European town. The best way to explore the locality is by renting a bicycle and spending a day or half checking out the different lanes. And we assure you a kaleidoscope of changing colours at every step. Not only the buildings, even the aesthetically painted walls, the bougainvillea trees laden with flowers and beautiful churches popping up here and there make it an experience like no other. Keep your camera handy as the psychedelic backdrops at White Town provide perfect photo opportunities.
Check out the beautiful Churches
You simply can't leave Pondicherry without visiting it's beautiful churches. With impressive exteriors and aesthetic interiors, each Church in Pondicherry looks very different from the other one. Though there are many choices, you can always choose a few depending on your preference and available time. There are many scattered around the White Town area itself. We visited 2 churches while cycling around in White Town and loved both of them.
Immaculate Conception Cathedral: A stunning white church in Mission Street
Our Lady of Angels Church: Close to the promenade area and looks really pretty with a peach and lime coloured exterior. But we liked the interior of this church more for the vibrant designs and bright coloured latticework glass windows.
Another one we definitely recommend to visit is the Basilica of Sacred Heart of Jesus. We saw this one on our way back from Pondy and must say this one is the most gorgeous of all with a very attractive white and red exterior.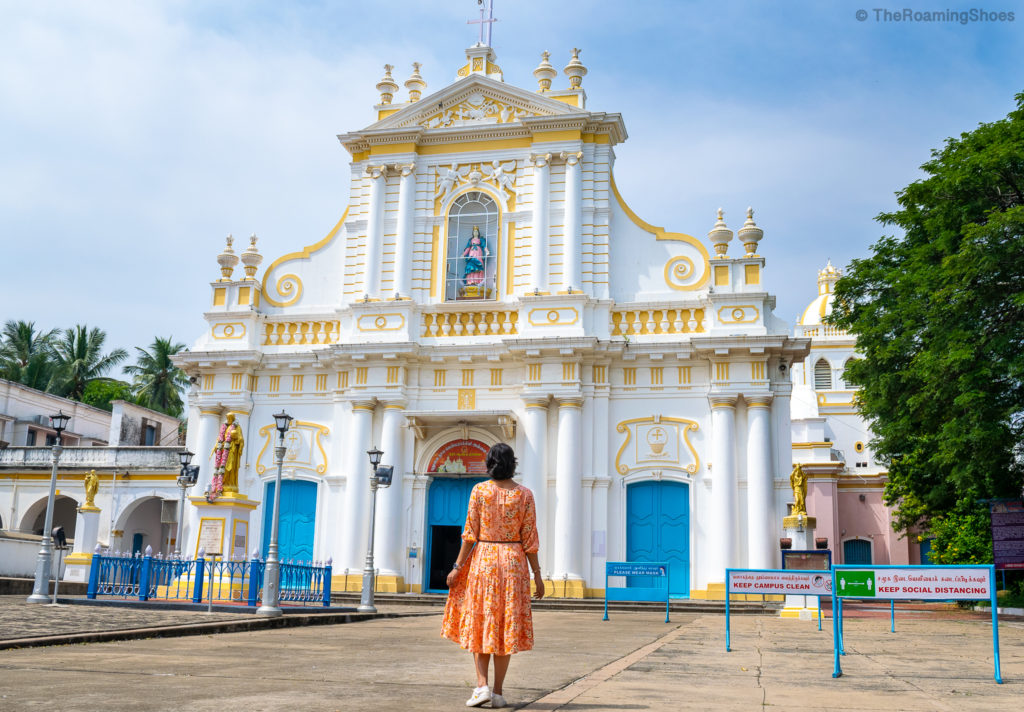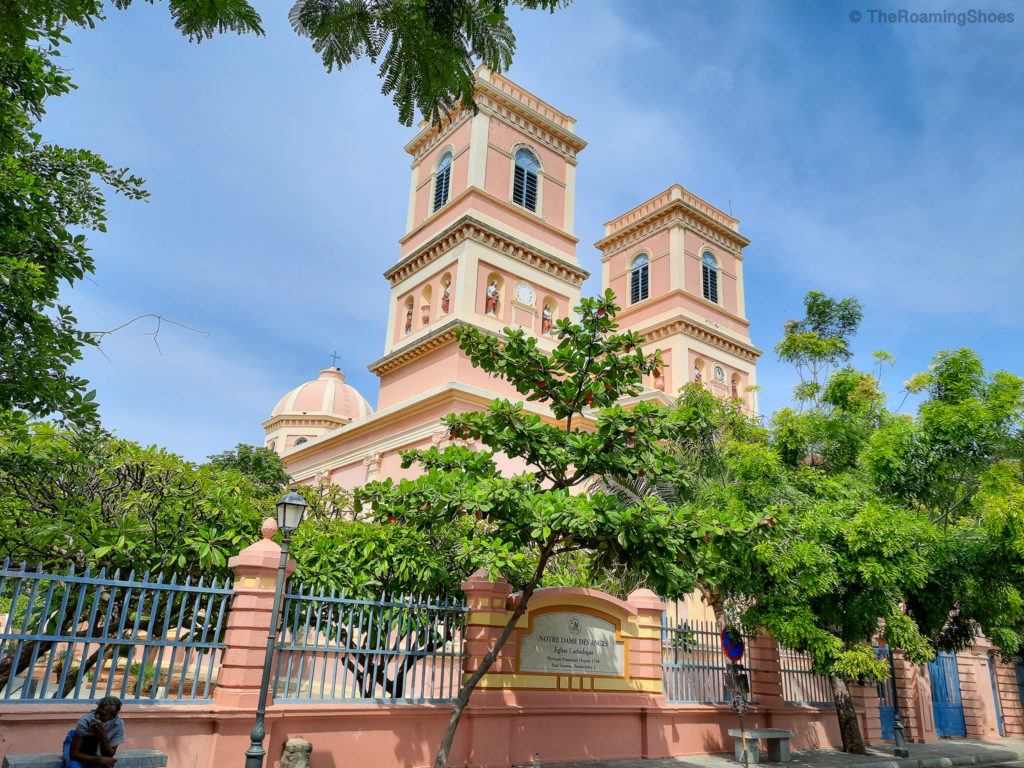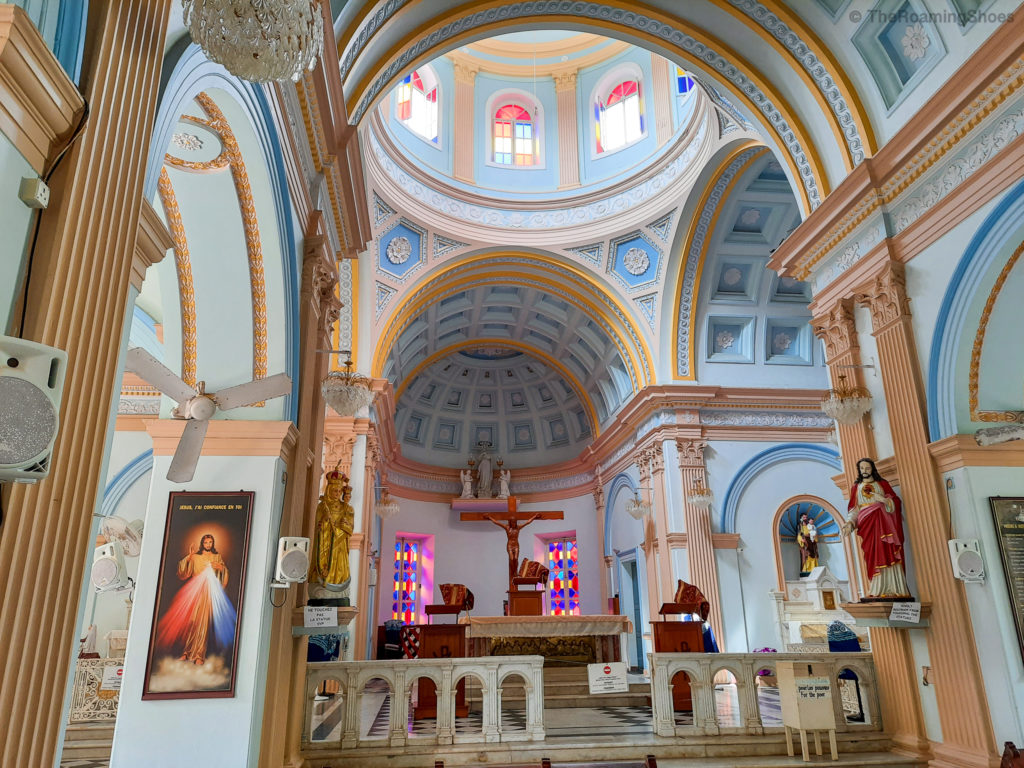 Pay a visit to the Museum
We both are not museum people, yet we recommend paying a visit to the Puducherry Museum. You can drop by the museum as part of exploring White Town. An hour is enough unless you are a history and art enthusiast. The museum though not very big has exhibits showcasing the history of Pondicherry, an array of artefacts excavated from the archeological site of Arikamedu and French sculptures and furnishings from the time of French Rule in Pondicherry. There is also a small section dedicated to the different types of sands and stones which we absolutely loved.
Photography is not allowed inside the museum.

Entry Fee – Applicable (Paid INR 15 each)

Closed on Mondays and National Holidays
Visit Auroville
Auroville holds a very special place in my heart. Ever since I visited the place in 2006 on our study tour, I wanted to come back. The shining golden dome of Matri Mandir, the unparalleled peace inside and the natural beauty of the place got totally etched in my mind. So this time when we visited Pondy, I wanted to take Sush there to experience all the things that I loved about it. Unfortunately Auroville was closed to tourists due to Covid at that time. Nevertheless, if you are visiting Pondy, then do not miss a visit to Auroville. Check out Matri Mandir, have some organic vegan food in one of the restaurants there and take a cycle and explore the huge area inside. You can also buy handicrafts and locally produced organic food products from the shops.
Indulge in a sensory experience at the chic cafes
Let me tell you this – you will be spoilt for choice when it comes to cafes in Pondicherry. Chit chats over coffee and patisserie to ideal brunches or delightful dinners – whatever it is you are looking for, we can guarantee that food will always come with the most pleasing ambience in Pondy. Some of the cafes are even Instagram famous for their quirky graffitis and vivid setting. And what do I say about the food? Starting from crepes, ratatouille to grilled fish and prawns ( not to forget the mouth watering deserts🙂 ) – there are a plethora of options including French and Indian food. We tried a few cafes and will put them basically into 3 categories. The ones where we loved both the food and the ambience (Recommended), and then there are those where we liked the setting, but the food felt average (Can try Out). Also, there are these others that you may want to check out too. Here is the list for your reference.
Recommended
Coromandel Cafe: Our favourite cafe in all of Pondy. We had most of our meals here. Because the food is simply irresistible. The boosting salad, pizza or grilled fish – anything we tried felt super delicious. While the indoor setting is quite chic and best suited for slow-paced dinners, the outdoors gives you a feeling of being amidst nature where you can eat in the company of trees and playful squirrels.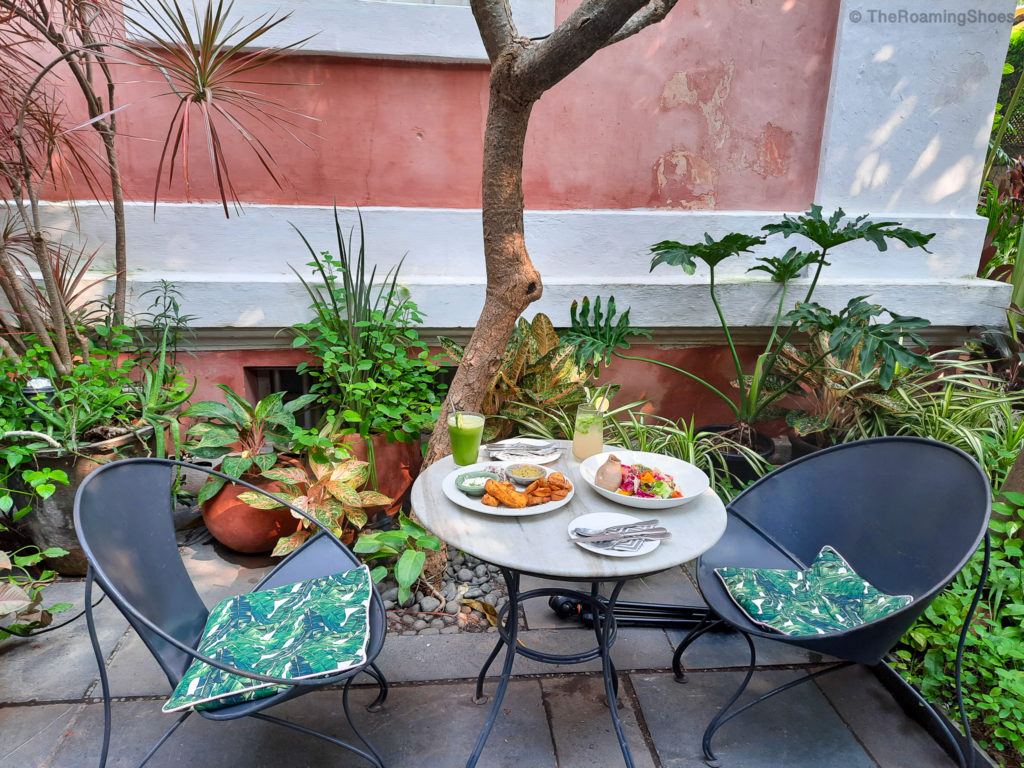 Restaurant at Villa Shanti: A bit expensive, but offers some of the best food in town. Do not miss their soup and Creme Brulee. Sush loved the grilled fish with olive and basil risotto.
Zuka: This is not exactly a cafe, rather a small shop with limited seating options. It was recommended to us by a local and I must say this is a "not to be missed" kind of place if you are a pastry and chocolate lover. Do not forget their "Emergency Chocolate" if you like mildly dark chocolates.
Can Try Out
Cafe Des Arts: Yellow bathed walls, wacky graffitis and a pretty rickshaw welcome you to this pretty cafe. I guess everyone who goes to Pondy clicks a picture against it's vibrant walls 😄 . We tried their crepe and sandwich which tasted okay.
Les Saveurs: This is a pretty small space, so there is not a lot of space between tables. But the staff were very nice including the chef who took his time to ask people about the food. Taste wise food was okay.
Others
Rooftop restaurant at Palais De Mahe (Les Alizés): As we stayed here, we tried their food too. And I must say the sea food was absolutely delectable. Do not miss their curry leaves grilled prawns.
Hope Cafe: We wanted to try the food at this cafe, but could not as dining was closed due to the pandemic. This is the most colourful cafe with walls covered in art and has rave reviews of food too.
Sri Aurobindo Ashram: I know, this is not a cafe. But we have heard great reviews of the food of Shri. Aurobindo Ashram from our friends and family. Even people who love non vegetarian food told us that the Ashram food was so irresistible that they skipped lunch in cafes to go there. It was closed to tourists when we visited in November. But if you get a chance, do try their simple yet delicious vegetarian food.
That's it. We have tried to cover everything that you may need to plan a vacation to Pondicherry. If you have any other questions, do let us know in the comments. We wish you a great trip 🙂 .
Facebook Comments