Jodhpur – Top Experiences in the Blue City
Rustic and appealing with a tiny speck of chaos – This is how I would describe JODHPUR, the famed Blue City of Rajasthan. The city welcomes you with pretty lakes, vibrantly painted lanes and iconic monuments. At the same time, stray animals wandering along the streets and cacophony of honking vehicles trying to make way through the dusty alleyways are also quintessentially Jodhpur. This striking contrast is probably the reason why the city still maintains it's primordial charm. And as you start settling in, it wraps you in its cocoon of colours and warmth.
Tempted to visit Jodhpur? Here is our list of top experiences in the Blue City.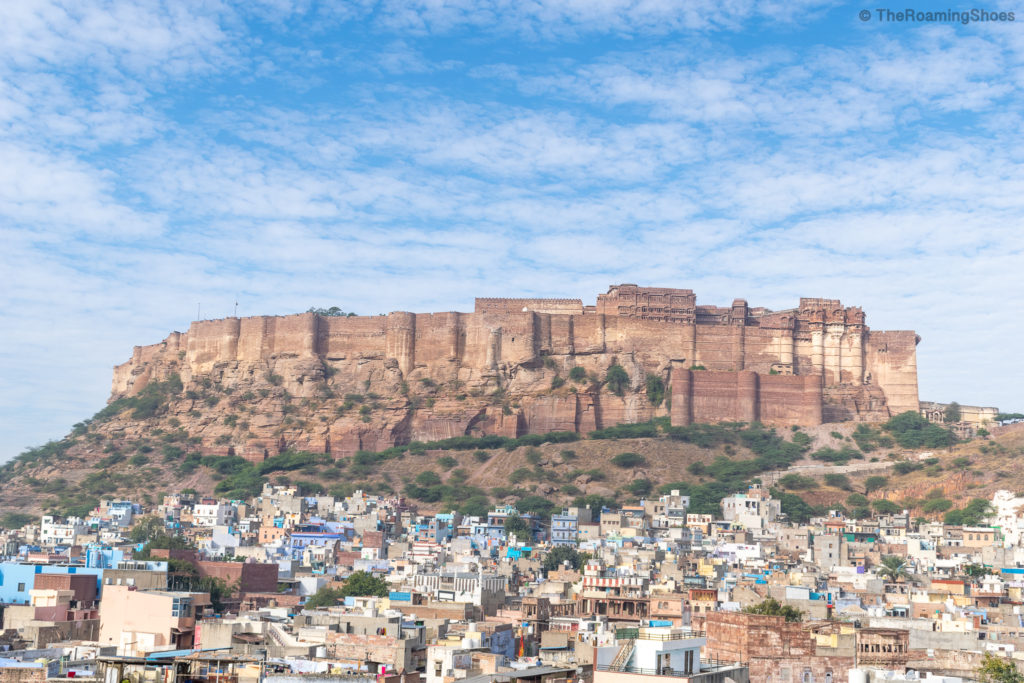 Best Time to visit Jodhpur
November to February

: The climate of Jodhpur is normally hot and humid. So winter months are the best time to visit the city. Day time temperature is pleasant during this time and great for exploring. Mornings and evenings are cold. Expect more crowd as this is peak season.

August to October

: During or just after the monsoons is also a great time to visit Jodhpur.
How to Reach Jodhpur
Jodhpur has a domestic airport which is well connected by flights to/from major cities. The airport is around 5 kms from the main city area.
The city also has a major Railway station connecting to a number of Indian cities by train.
Many Volvo and Deluxe buses also ply from Delhi to Jodhpur on regular basis.
Getting Around in Jodhpur
Auto rickshaws or tuk-tuks are the most convenient options to get around in the town. The charges are affordable (need to haggle a bit though) and you can easily find them everywhere. Above all, We found the auto rickshaw drivers helpful and friendly. One of them even stopped at a point from his side to show us the most surreal evening view of the town.
If you stay somewhere close to the Fort, you can also walk to the different attractions.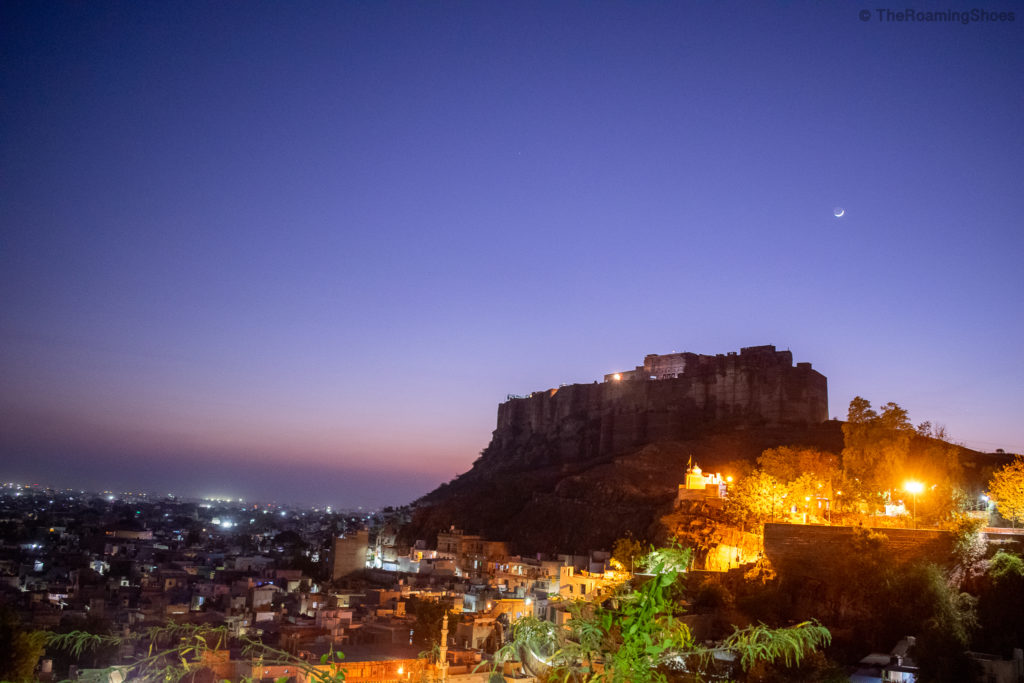 Accommodation
There is no dearth of options for accommodation in Jodhpur. Starting from luxurious heritage properties to backpackers hostels, Jodhpur has stay options suiting every kind of traveller.
For luxury stay
For solo travellers or backpackers
Middle range properties
There are just too many options in this range. But pre book your accommodation if you are travelling in peak season.
We stayed at Kanakariya Heritage which is a small property near to Gulaab Sagar. The hotel has nice spacious rooms and a roof top restaurant with lovely views of the city and Mehrangarh Fort. We stayed in Luxury Deluxe room for 2 nights and the Superior Queen Room for 1 night. Both rooms had view of the fort and were comfortable. Yet we will not recommend this hotel because of the poor service and unprofessional behaviour of the young reception staff who also happen to be the owners. You can get much nicer properties in the area in the same price range.
Read our detailed review of the property here.
Things to Do in Jodhpur
Mehrangarh Fort
One of the largest forts in India, Mehrangarh Fort is the focal point of tourism in Jodhpur. Perched on a cliff high above the city, the fort radiates unrivalled splendour. The huge almond coloured fort may have a rugged exterior, but its interior is as exquisite as it could be. There are expansive courtyards boasting of elaborate stonework and stunning rooms that are sheer manifestation of opulence. Where Sheesh Mahal amazed us with lavish mirror work, Phool mahal won us over with its vibrant motifs, dazzling ceiling and stained glass windows.
Once you complete exploring the fort complex, head towards the back gate (exit gate) of the Fort. The compound outside the gate offers panoramic views of the city including the blue houses. We recommend to time your visit in a way so as not to miss the magical sunset from this point. Be awed by the city bathed in an orange hue at one side and the fort shimmering like liquid gold at the other.
Imagine how exhilarating it would have been to be the only people at this place for the whole time. Yes, this undoubtedly was the most favourite part of our Jodhpur trip🙂
Know Before You Go
You can check the timing and ticket prices as well as book tickets online from the official website of Mehrangarh Museum Trust.
There is a huge number of steps passing through several levels before reaching the main level of the Fort. This is where the different mahals and courtyards are located. You can either take the steps or opt for the lift service which is an additional INR 50. Tickets for the lift can be collected from the entry ticket counter.
You can either driver directly to the fort gate or hike along the narrow lanes flanked by local houses. The last part of the hike is a bit steep, but overall it takes 20-30 minutes from the city.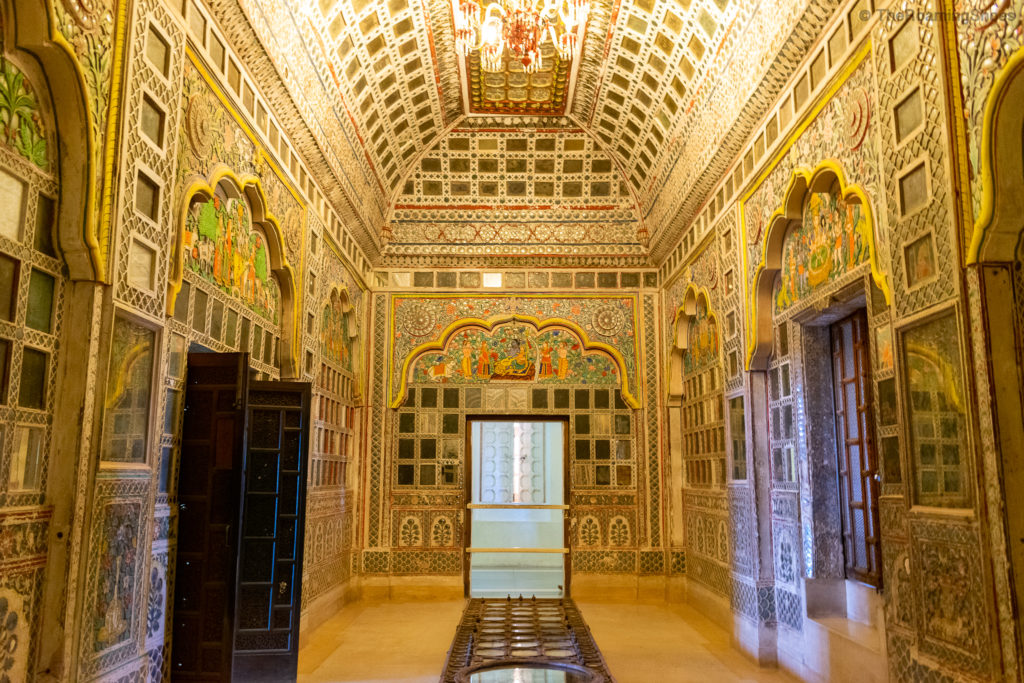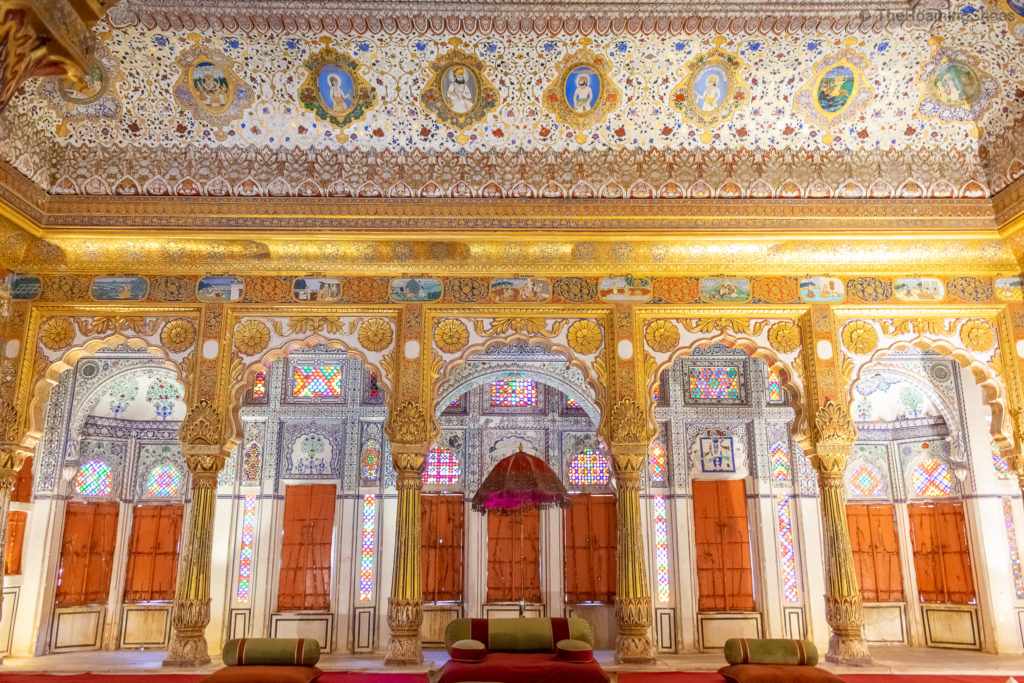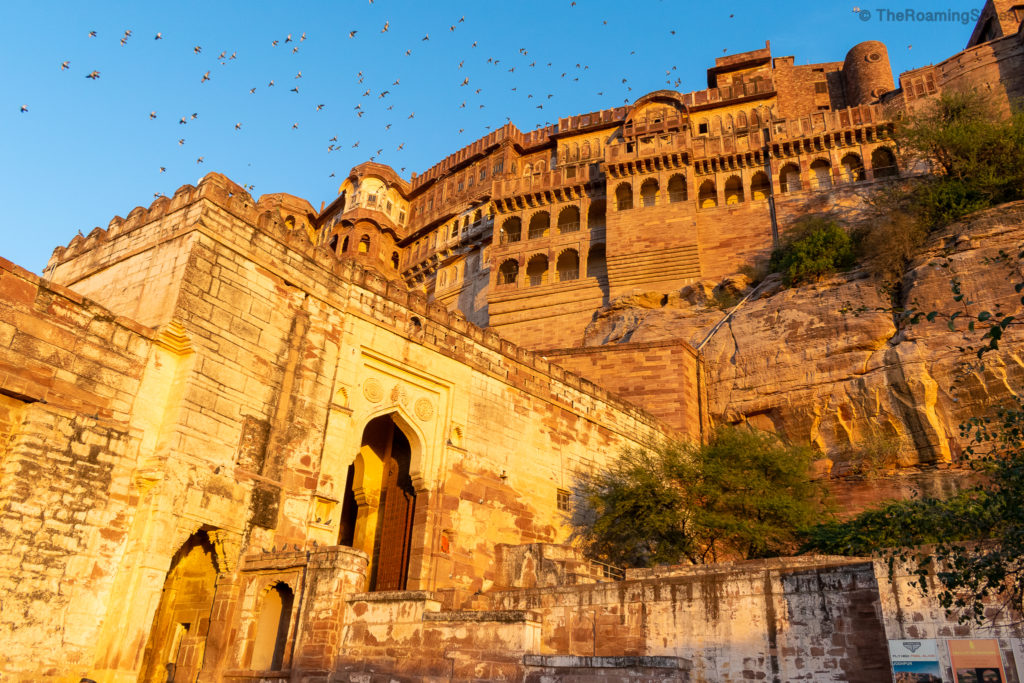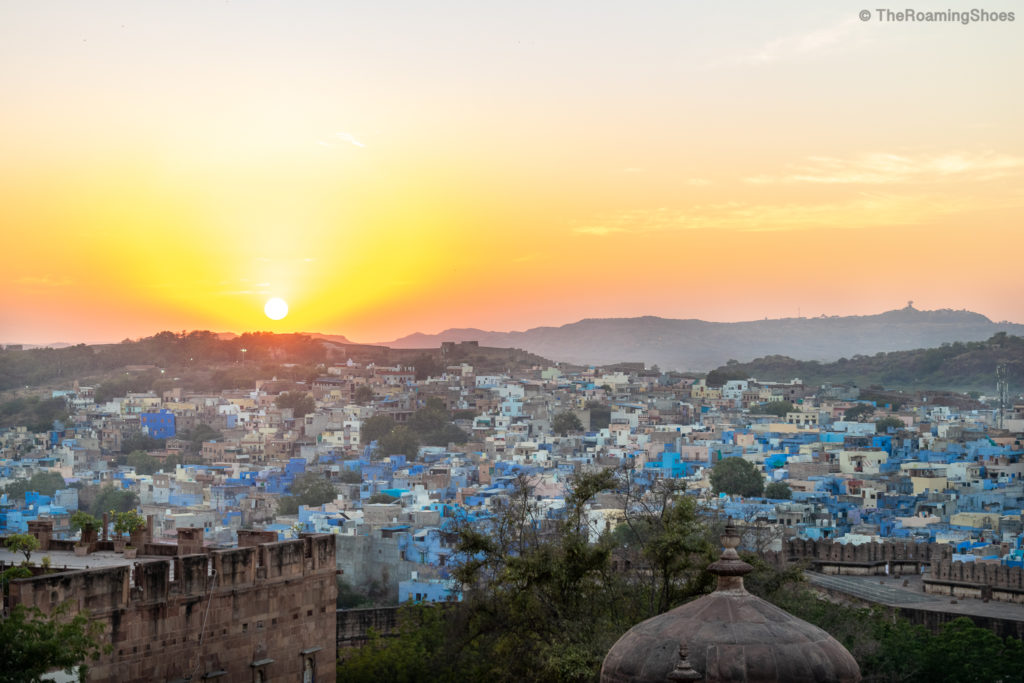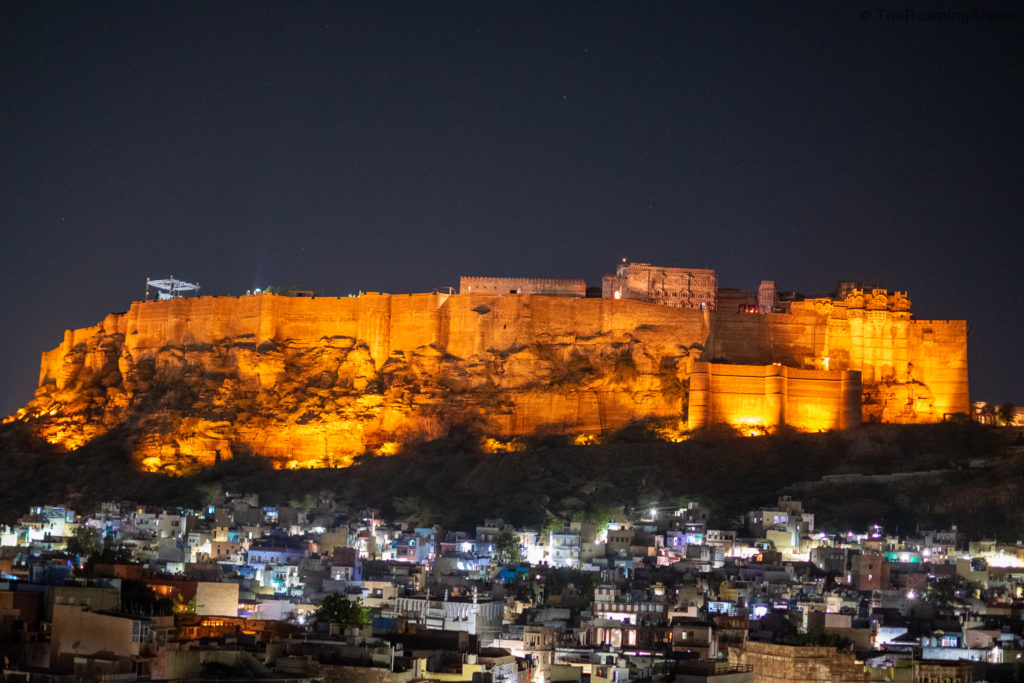 Jaswant Thada
A sublime marble structure set beside a bluish fresh water pond and rimmed by the city walls – Jaswant Thada is a beauty that is not to be missed. Resembling a temple from outside, it is actually a cenotaph that was built in the memory of the late King Maharaja Jaswant Singh II. Since then the area around the Thada has been used as cremation ground for the Kings and the members of the royal family. So you will see a lot of small cenotaphs around the main structure sitting amidst the impeccably manicured garden.
Many people might tell you that Jaswant Thada is just a place for a quick visit and few pictures. But if you are an architecture enthusiast or a nature lover, then we recommend spending an hour or two at this place. Visit during early morning hours when other tourists have not arrived and you will be surprised how much the place has to offer. Take your time to relish the intricate marble carvings and designs all around the structure. Inside the thada, check out the distinctive marble sheets on the walls that emit a warm glow in sunlight like they are ablaze inside. As you come out, do not forget to stop by the exceptionally skilled local artist playing musical instrument in tune with the folk and famous Bollywood songs.
Quick Tip: The surroundings of Jaswant Thada provide most stunning views of Mehrangarh Fort. The area near parking lot is the best for a few pics with the fort.
Know Before You Go
Jaswant Thada is located very near to Mehrangarh Fort, around 1km away. You can easily get auto rickshaws from the fort to the thada and vice versa.

Guides are available near the ticket counter at a very reasonable price and they provide loads of useful information about the place.

For entry fee, guide charges and online ticket booking, refer the official website of Mehrangarh Museum Trust.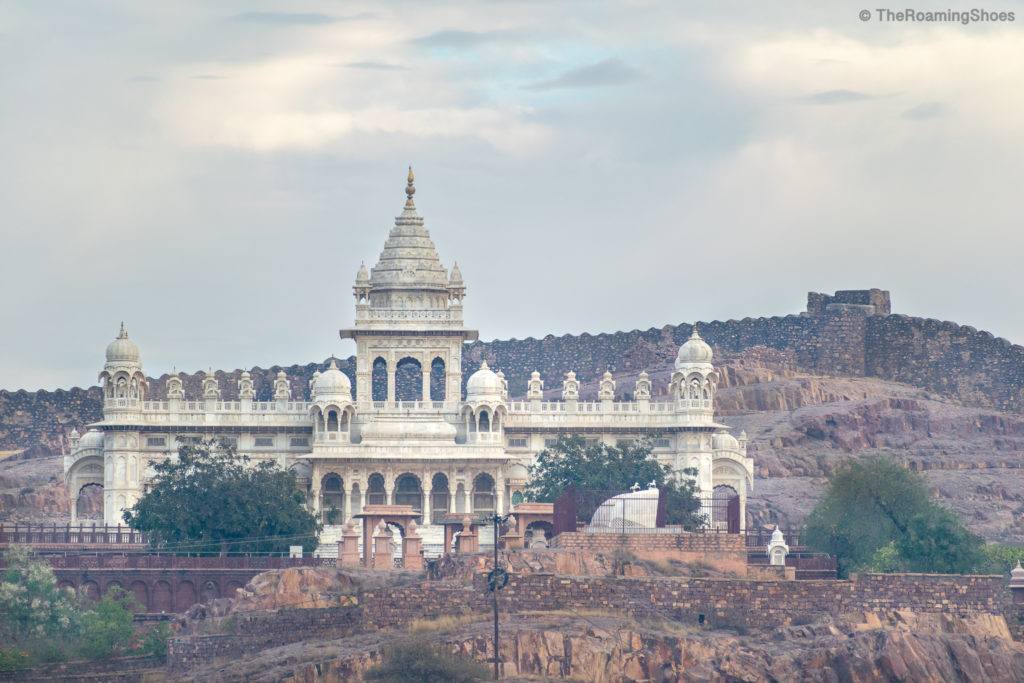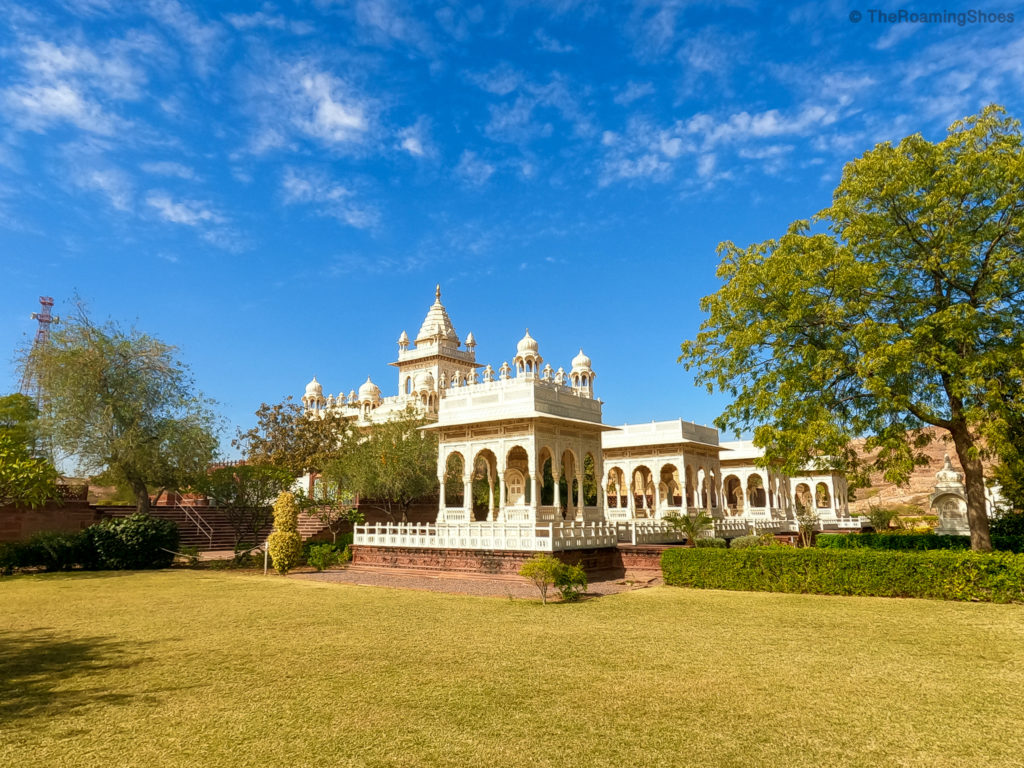 Bishnoi Village Tour
Jodhpur's real charisma lies in its villages. If you are interested in having an insight in to the rural life and witness the work of its local artisans, then opt for the Bishnoi Village tour. This tour usually consists of a jeep safari, visiting houses of different local artisans and a delectable home cooked meal at a local's house. There are many operators who provide half and full day tours. We chose a half day tour with Mr. Chhotaram Prajapat who hails from one of the local villages. And this became the most memorable part of our entire trip.
Driving through the dusty roads in an open jeep, we entered into the rural hinterlands of Jodhpur where everything looked so different, so magical. The arid landscape was peppered with large Sangri trees and was brimming with wildlife. We spotted deers, nilgai, peacocks and many other colourful birds up close. But the highlight of the trip was spotting the gorgeous blackbucks playfully running around in the open, in their natural habitat. The next part was visiting the houses of different local artisans. It was amazing to witness the fine block printing work, the delicate art of making earthen pots and dhurrie making.
The whole tour was incredibly informative and fascinating as our host cum guide told us about the lifestyle and beliefs of the Bishnoi tribe. These are the people who worship nature unlike any other and try and protect their environment to the best of their abilities. As we ended the tour with a fulfilling meal of ghee laced bajra rotis, kadhi and cabbage curry, our hearts felt content and thankful. So if you are visiting Jodhpur, we definitely recommend this trip.
Know Before You Go
Dress moderately going to the villages to avoid unwanted attention
Take a scarf and sunglass as the drive is very very dusty
You can buy products from the local craftsmen as part of your visit. We found the products fairly priced and of great quality. The block print bedshseets we bought are pure cotton and have not shed colour even after 2 washes. (Price paid for kingsize bedsheet with 2 pillow covers: INR 1100)
There is also option to stay in the villages overnight in accommodations operated by locals.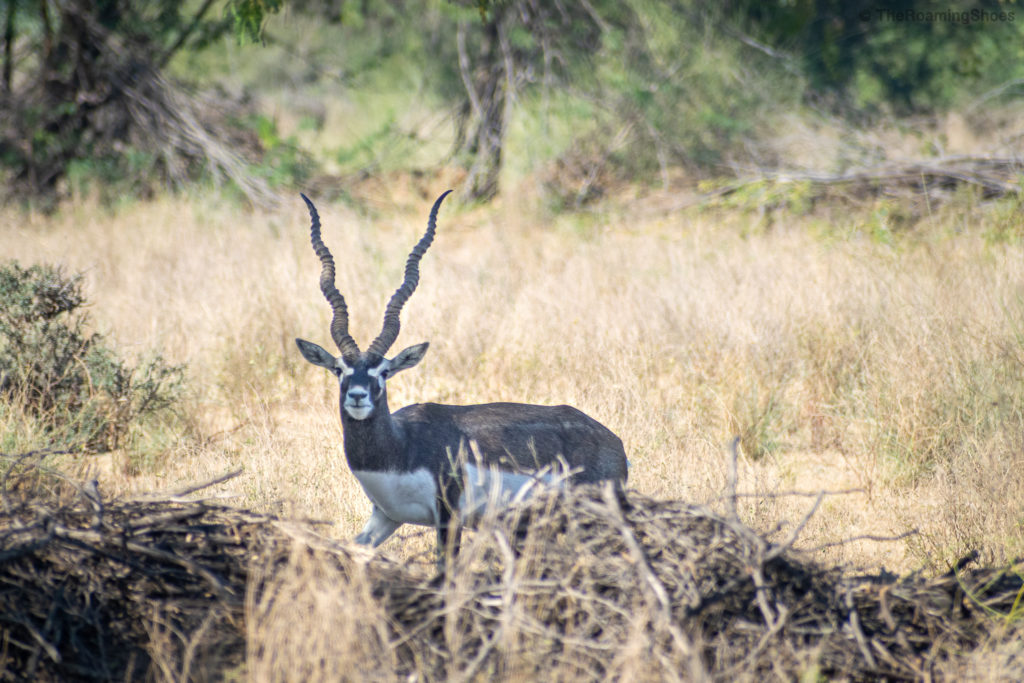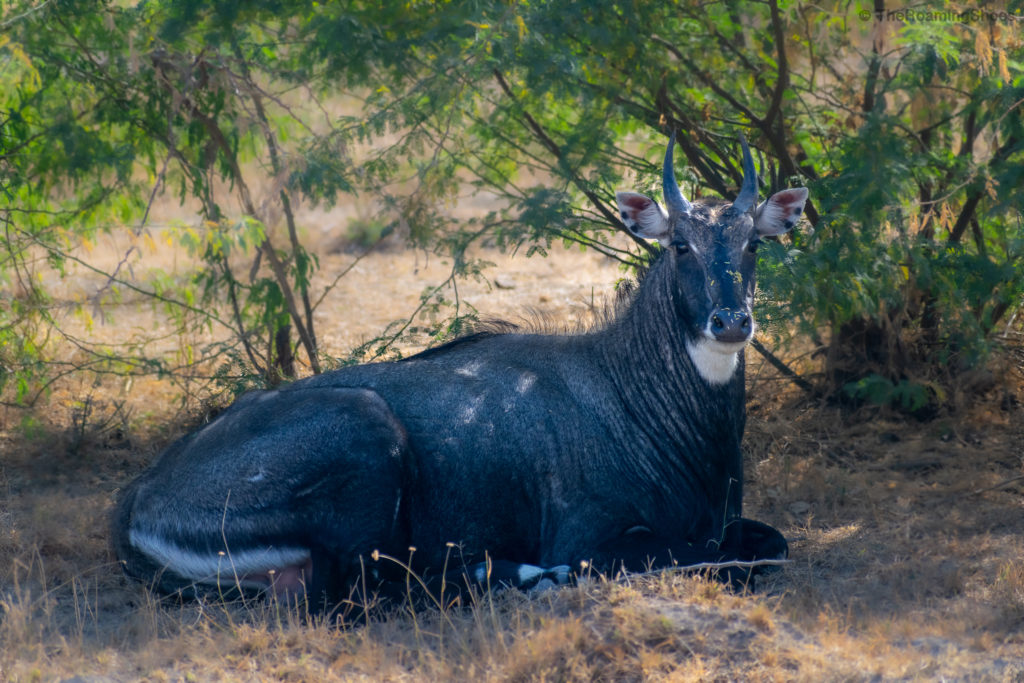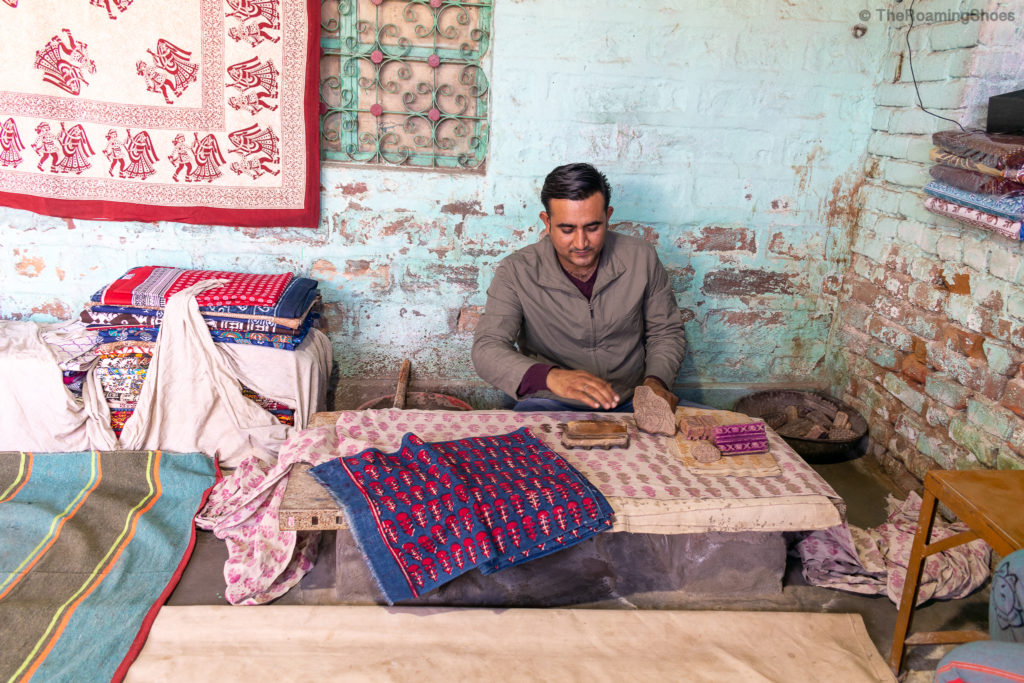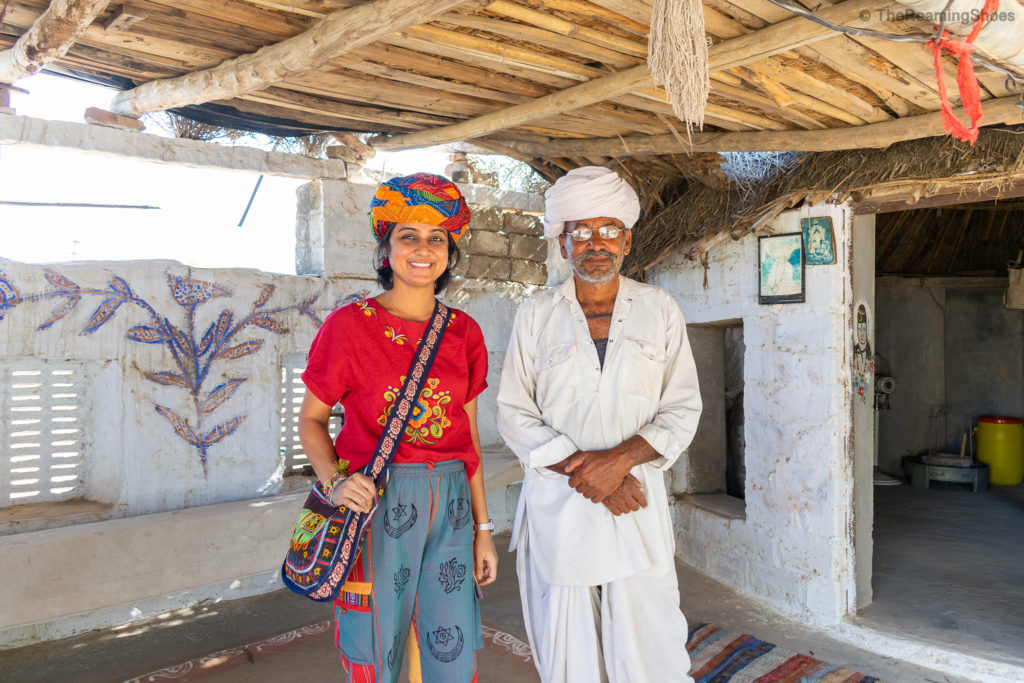 Toorji ka Jhalra
Ancient Stepwells are an integral part of Rajasthan's Rajputana culture. When Panna Meena Ka Kund, the famous stepwell in Jaipur is quite popular among tourists and Instagrammers, Toorji ka Jhalra in Jodhpur almost stays hidden out of sight. Sitting in the narrow lanes of Jodhpur amidst age old buildings, this is a remarkable piece of architecture that holds so much history within. The well is surrounded by diamond-shaped steps that lead to the emerald pool in the middle and looks surreal reflecting its surrounding.
The stepwell is around 300 metres from Clock Tower area and is best visited during early morning or evening hours. You can also enjoy the top view of the well with some coffee from one of the cafes around it.
Word of caution:Taking pictures or visiting with kids? – Be very careful around the well as the steps are narrow and a little slip could end up in grave injuries.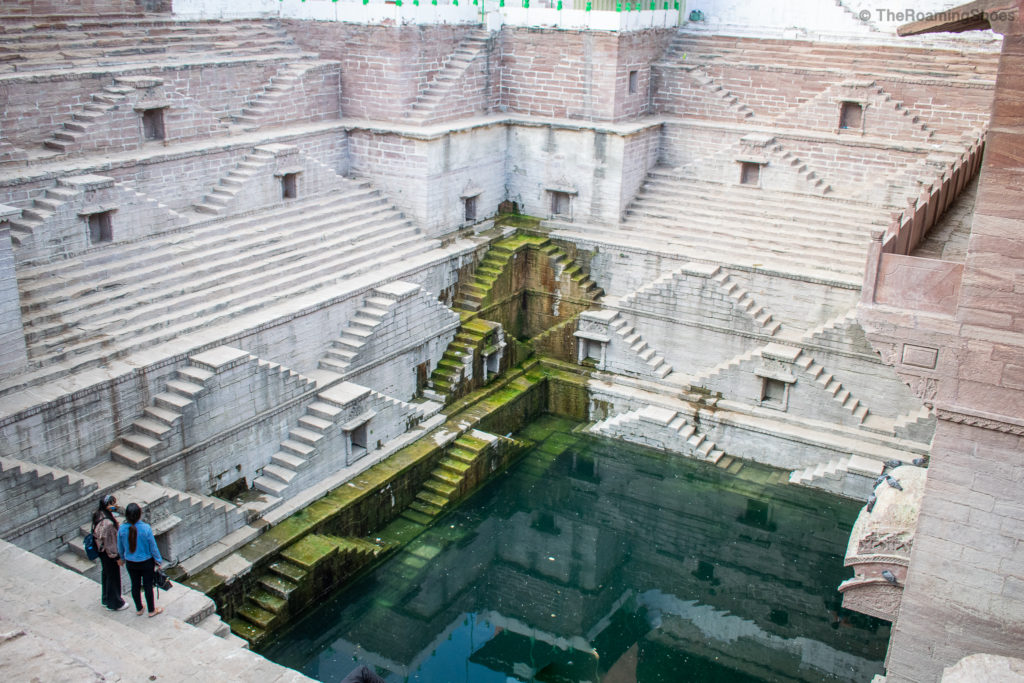 Blue Houses
The blue houses in the old quarters of Jodhpur are the reason the city gets the moniker, the Blue City. The sea of Blue houses are best viewed from Mehrangarh Fort. But if you are interested in checking the age old houses up close, then start either at Navchowkiya or Chandpole. Take an auto (tuktuk) to any of these points and then start walking through the narrow lanes exploring at your own pace. These labyrinth of lanes are flanked by houses and shops that are hundreds of years old and are daubed in Indigo colour. You will meet many smiling and welcoming locals and children who are ever so enthusiastic to know all about you🙂. Keep 1 to 2 hours for the whole tour.
Know Before You Go
There are walking tours organised by different tour agencies for the Blue houses. You can always avail any suiting your time.
The lanes are not as clean as you see in the pics. Some of the streets had garbage dumped at the side and had dog poo every few steps. So always be careful of where you put your next step 🙂
There are some locals who might invite you to their homes claiming of better views from their rooftop. Try to avoid such invitations since they expect (sometimes demand) money at the end.
Dress moderately and wear comfortable clothings. But not very long dresses or skirts that make it difficult to walk, especially when the lanes are not very clean and are steep at places.
Be aware of the stray dogs in some of the streets as they bark at people and chase them even without any provocation.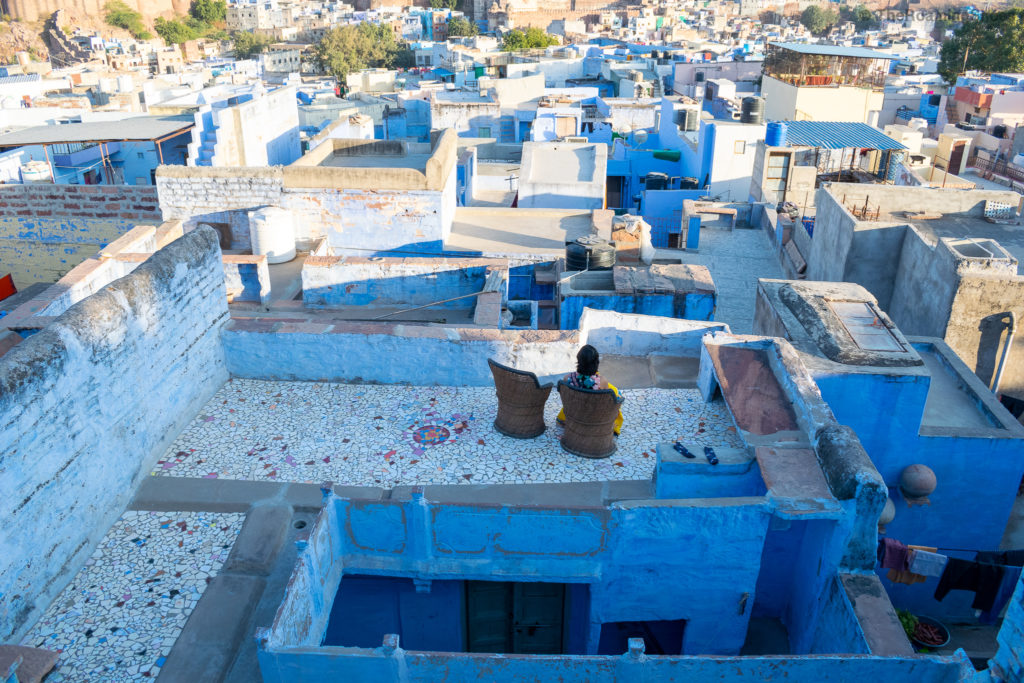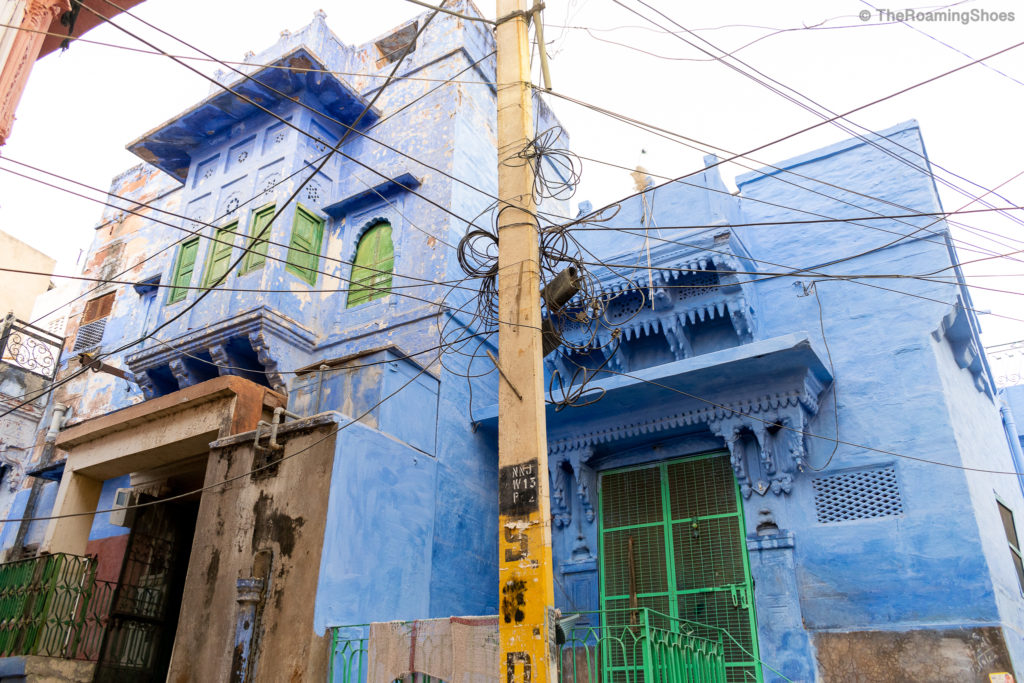 Shopping in the markets
Jodhpur has so much to offer in terms of shopping that you will be tempted to buy almost everything🙂. Starting from the classy juttis to vibrant clothes and pretty bags- the markets of Jodhpur will provide you with never ending options.
If you are someone like me who does not know exactly what to buy and love more options, then Sardar Market is the place for you. This market is a series of lanes around Clock Tower where you will find all kind of items. Colourful bangles, mojris, traditional jackets, vibrant long skirts, spices and other handicrafts – Sardar Market has everything. With both street hawkers and bigger shops set across the area, this is a typical lively local bazaar. So it gets quite crowded and definitely needs some bargaining skills.
We have also heard mixed reviews of National Handloom which sells Rajasthani Handicrafts and clothing under one roof . The prices are reasonable and fixed. You can check this out if you have time.
I bought a traditional cross shoulder bag and a quilted jacket from Jodhpur and both turned out to be of good quality.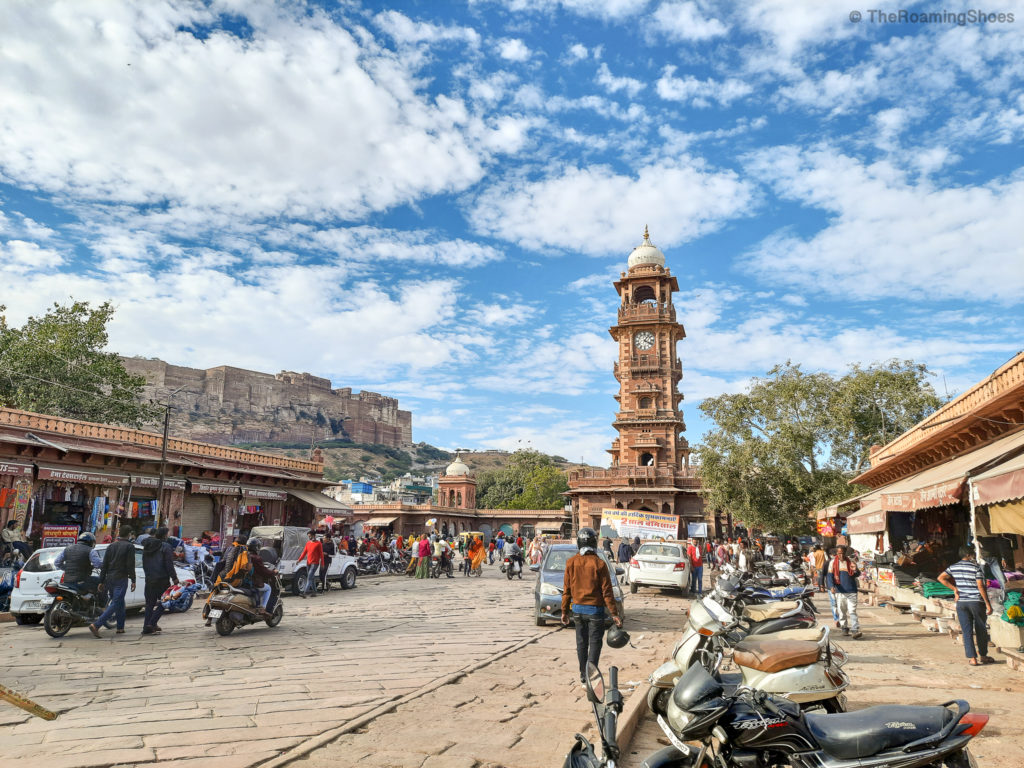 Other things to do in Jodhpur
If you love water bodies and like to spend some quiet time, check out the following. We personally loved both these places.
Morning at Kalyana Lake: A very beautiful lake amidst the greens and perfect to spend early morning or evening. You can watch lots of birds too.
Evening at Gulaab Sagar: Near to the Clock Tower, this man made lake is a gem to spend a peaceful evening. With the backdrop of the majestic Fort, it provides great photo opportunities too.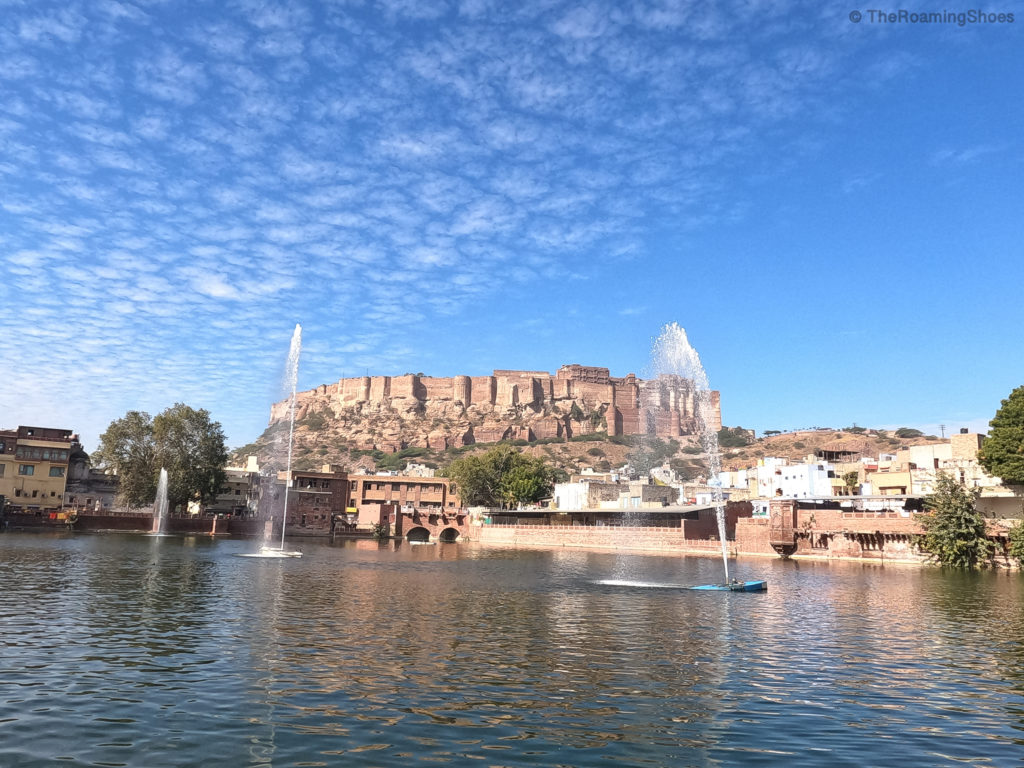 Love adventure? Then these are for you.
Hiking Trail: We were very eager to try the hiking trail around Jaswant Thada that leads to the ancient city walls. But could not due to lack of time. The trail looked promising and what we heard from the guide is that you can spot many flora and fauna in this trail. Also, views of the city, Jaswant Thada and Mehrangarh Fort are amazing from the city walls.
Zip Lining: Feeling some adrenaline rush? Then try the zip line at Mehrangarh Fort. You can enjoy gorgeous views of the city as you soar high above it. Check this for details on zip lining in Jodhpur.
Day Trips
Done exploring the city and still have time? You can opt for day trips to Osian or Khimsar villages to experience the sand dunes and desert safari. Osian is popular for its ancient Hindu and Jain temples whereas Khimsar offers a unique experience of sand dunes punctuated by water bodies. Both these places can be skipped if you have Jaisalmer in your itinerary.
Food – What and Where
Apart from its beauteous monuments, Jodhpur is also a food lover's delight. Here you can relish authentic local cuisine sitting in a rooftop setting overlooking the majestic Mehrangarh Fort or savour lip-smacking street food in simple local outlets. There is a plethora of options when it comes to food in Jodhpur. Starting from sumptuous Thalis to Pyaaj Kachoris and Makhaniya Lassi – there are just so many things to try during your visit.
So here is our list of restaurants and local shops in Jodhpur to treat yourself with a culinary delight.
Nirvana Home Restaurant
This one is our favourite among all, not only for the food, but also for the aesthetics. The restaurant has a very vibrant interior with it's walls and pillars painted in Ramayana stories and serves the most delicious Rajasthani Thali. It also has a beautiful rooftop setting if you like open air spaces.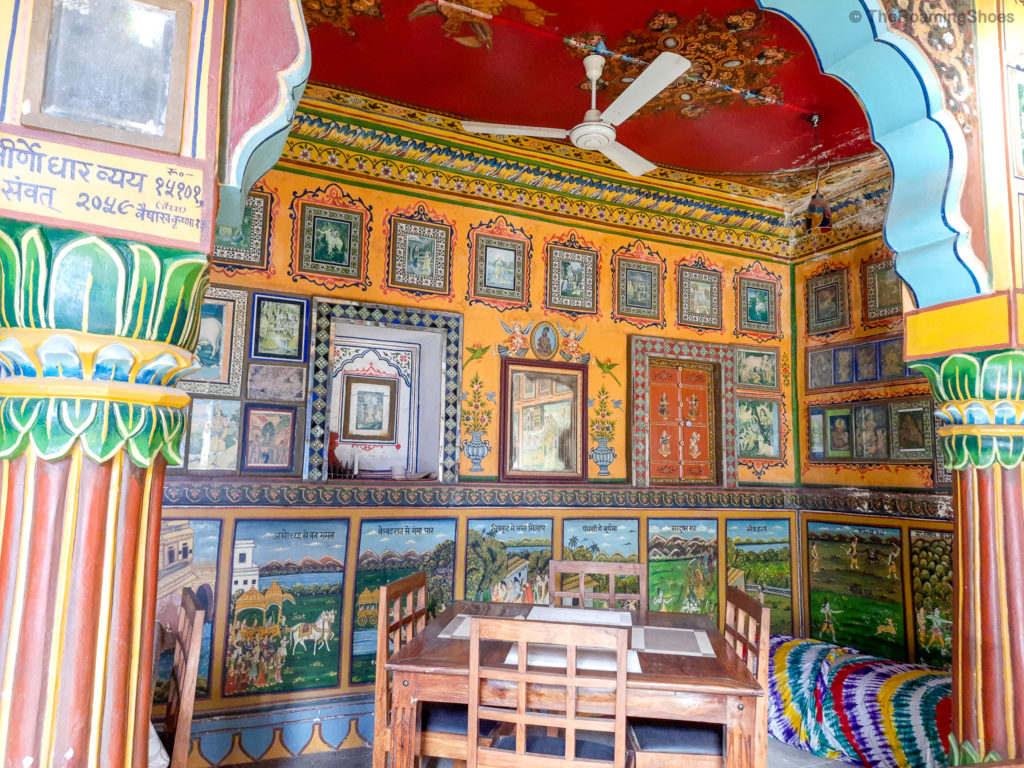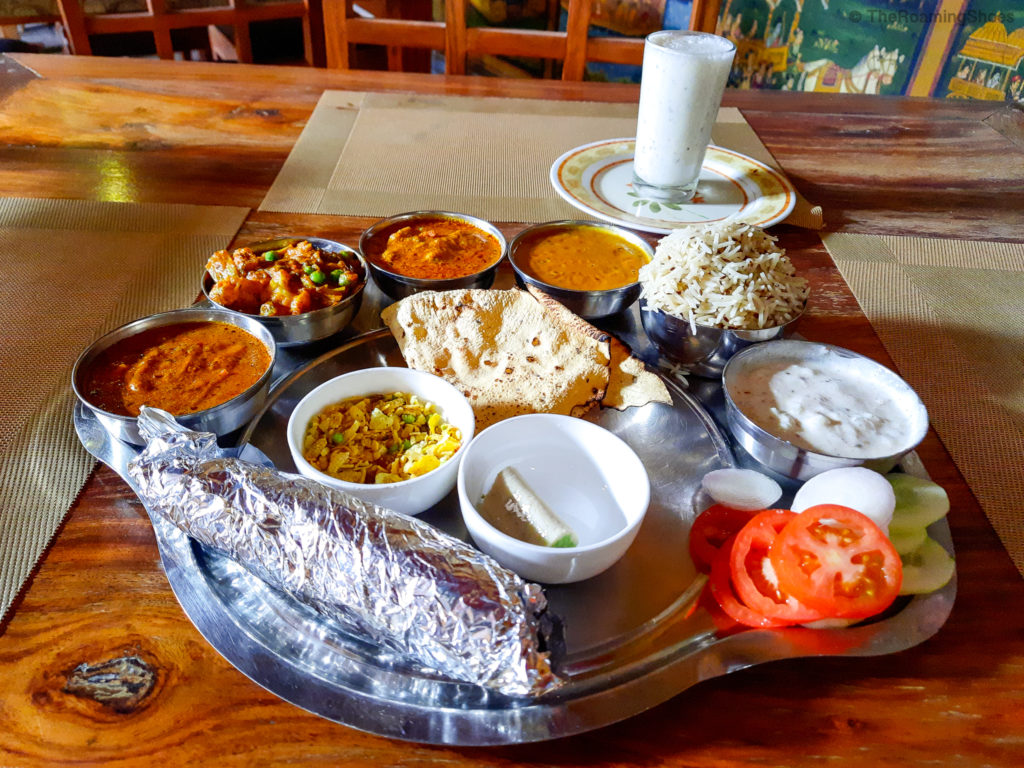 Gypsy Restaurant
Every single local we talked to suggested us this restaurant for authentic Rajasthani Thali. Unfortunately we could not try this as the restaurants used to close at 8pm during our visit due to night curfew. And this was a little farther from where we stayed. But we have heard rave reviews for this both online and offline and definitely recommend it.
Kankariya Heritage Restaurant
This is the roof top restaurant of the hotel we stayed. So had our dinner in the restaurant twice. The food was fresh and tasty, especially the Rajasthani Thali. Dal Baati Churma was also okay. The service was a bit slow, but who wants to leave early when you have the nightly lit handsome fort for the view🙂
Indique (Pal Haveli)
This is a mid-range restaurant with great views of the Fort, Clock Tower and Gulaab Sagar. The candle lit arrangement on the rooftop is best suited for a slow romantic dinner. They were not serving Rajsthani food during our visit. So we ordered some North Indian dishes which tasted delectable.
Kalinga Restaurant for the best Laal Maas
Both Sush and I do not eat mutton. But if you do, then try this restaurant for the piquant Laal Maas which is a famous local dish of Rajasthan. They have a reputation for serving the best Laal Maas in all of Jodhpur.
Shri Mishrilal Hotel (Near Clock Tower)
For the most luscious Makhaniya Lassi that literally melts in the mouth.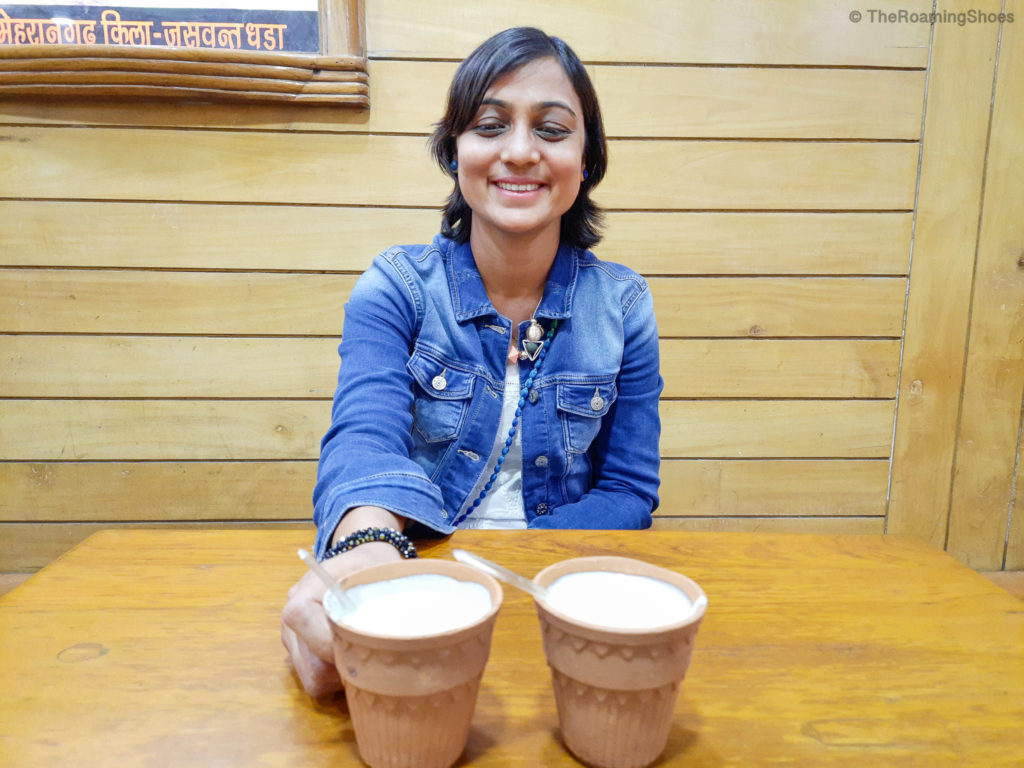 Janta Sweet Home
Popular among locals and tourists alike, this place serves the best Pyaaz Kachori, Mawa Kachori, Mirchi vada and other mouth-watering sweet dishes.
Shahi Samosa
Located near the Clock Tower area, this was suggested to us by one of the locals. This outlet is famous for its delicious Samosas. They also serve Pyaaj Kachori and Mirchi Bada.
Conclusion
This is all about Jodhpur from our end. We have tried to include everything in this article that you might need to plan your trip.
If you found this information useful or have further questions, then let us know in the comments. We will be glad to help🙂 .
Planning a trip to Rajasthan? Check our other blogs here.
Note: All timings and prices mentioned in this blog are applicable as of Jan 2021