Chitradurga – Of Fort, Windmills and Flower fields
Just 200 Kms from Bangalore, lies Chitradurga district, home to a prodigious fort of the same name. But Chitradurga is not only about the fort. The place also entices with its scenic beauty surrounded by hills and umpteen windmills. While other historical sites in Karnataka like Hampi and Badami get ample attention, this gem is still unknown to many. So if you are looking for a day trip or an unconventional weekend getaway around Bangalore, then we certainly recommend a road trip to Chitradurga Fort.
We visited Chitradurga in the month of August when it was bathed in fresh greenery (thanks monsoon!) and the roads were lined by gorgeous flower fields.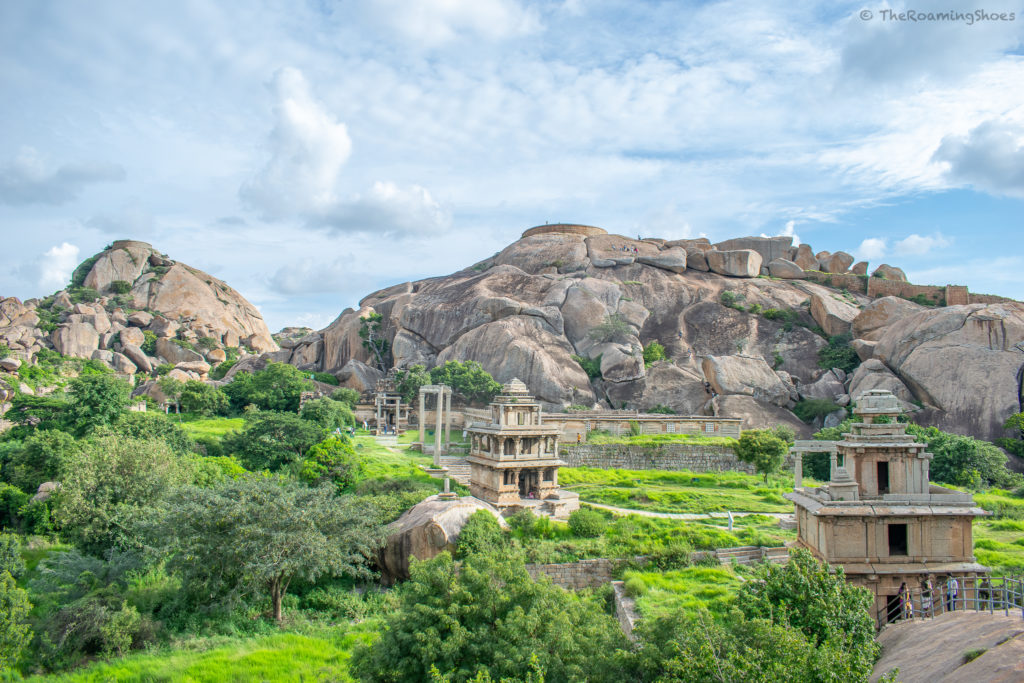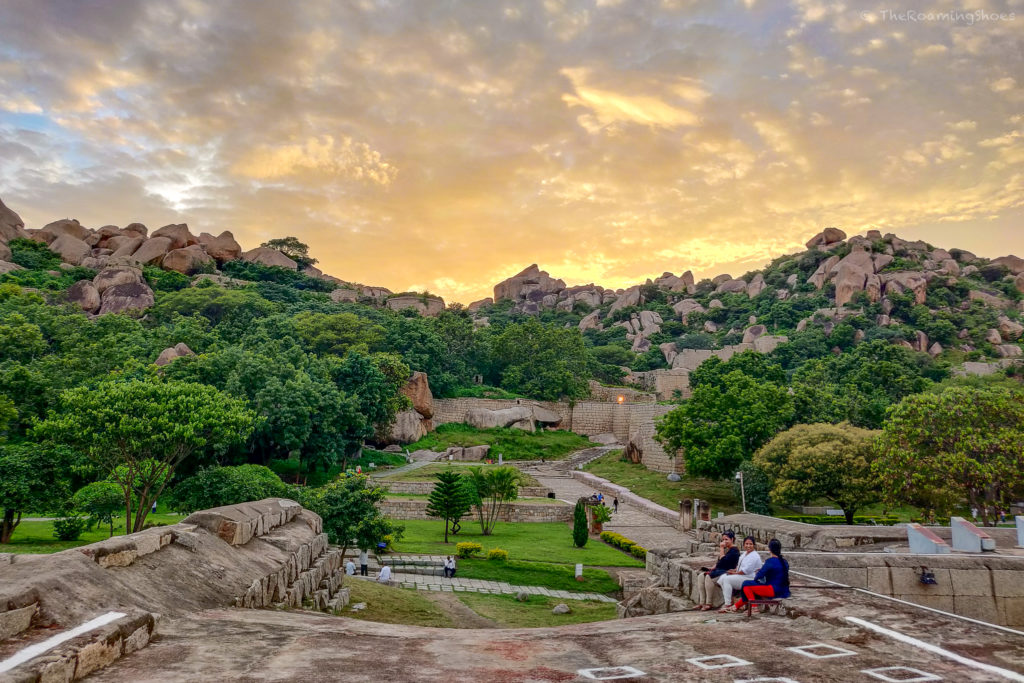 How many days are required to visit Chitradurga Fort?
From Bangalore, it takes approx. 3.5-4 hours to reach Chitradurga Fort by car. And around 3 hours to cover the different attractions inside the Fort. So it is possible to start the day early around 5 am and cover the Fort in a day trip. But if you are interested in other points around, then it gets too exhausting.
Alternatively, you can stay overnight at Chitradurga and cover the Fort and other points of interest at your own pace. This way you don't have to rush and have the freedom to visit the fort premises anytime you want. And let me tell you, evening at the fort feels really peaceful with sky changing colour and sound of birds filling the air.
Where to Stay
For overnight stay, there is only one accommodation option available near Chitradurga Fort – Hotel Mayura Durg. It is set right opposite the fort and is managed by KSTDC. The hotel is a budget property providing accommodation in air-conditioned rooms and dormitories. You can book it from MakeMyTrip.
The hotel is with basic amenities though comfortable, but somehow lacked maintenance. The food was average with very limited options and service was slow. So I would not exactly say, it is a great option. But it is the only option and serves well for a night or two. However, we loved the location of the property surrounded by hillocks, windmills and abundant greenery. You can walk to the fort anytime Or take a walk in the area nearby spotting birds, visit small local temple set under a knoll or sit near a pristine lake hardly visited by any.
So overall, it is a good option looking at the price paid. Double AC room costed us https://www.balantia.com/es/hil5wwaqu INR 2500.
There are few other accommodation options too just a few kilometres away from the fort.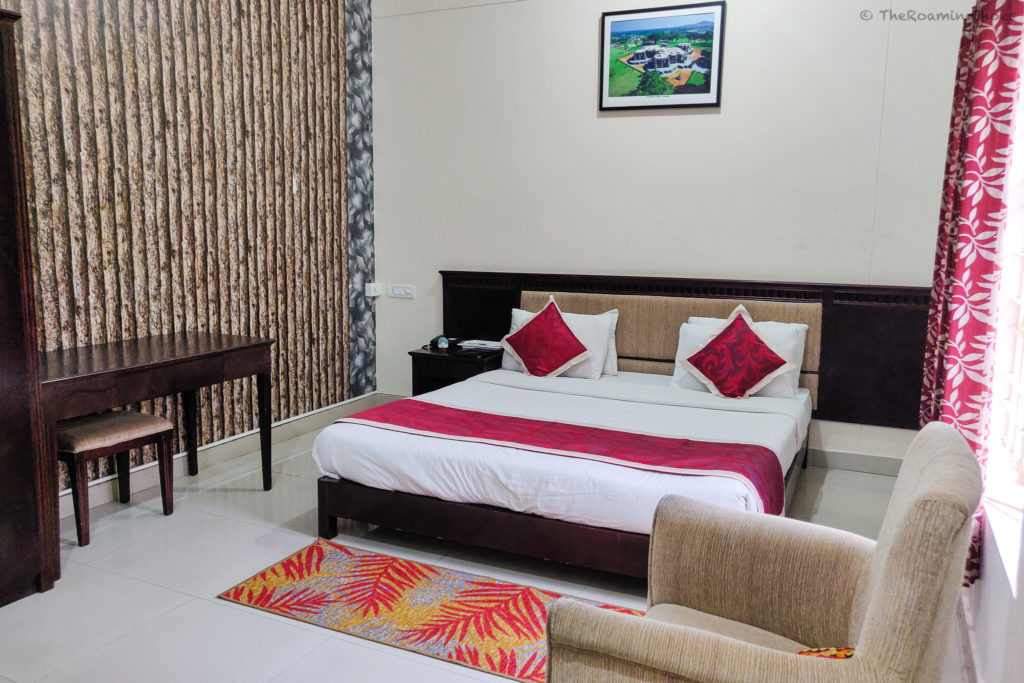 Best time to visit Chitradurga Fort
July-August: This is the ideal time if you want to see the gorgeous Sunflower fields. It may rain during this time. So a bit unpredictable. But it is also the time when you get postcard-like views inside the fort, with a layer of green enveloping every part of it.
https://abressa.com/xvzj7hg9t9 Sep-Oct: Just after the monsoons when the greenery is still there and the days are not too hot.
https://artesaniadelapalma.com/b1ay7ww2t Nov-Feb – Winter months are a good time to visit considering the mild temperature and pleasant days.
Strictly avoid Summer months as the place gets too hot during this time.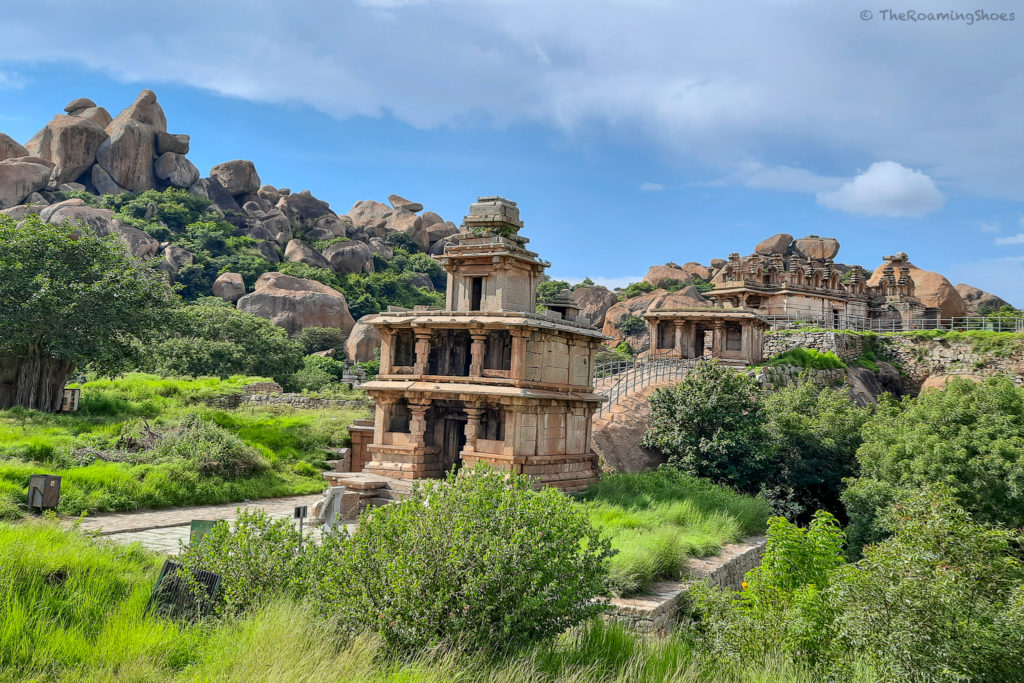 A little about Chitradurga Fort
Do you know why the fort was named Chitradurga? Oh, there is an interesting story. As you step inside the fort, you will find many boulders that resemble the shape of various animals and things such as elephants, crocodiles, boats etc. These shapes are naturally made and that is where the name of the fort comes from – Chitra (art) + Durga (Fort). Locally it is also known as Kallina Kote, meaning the stone fort.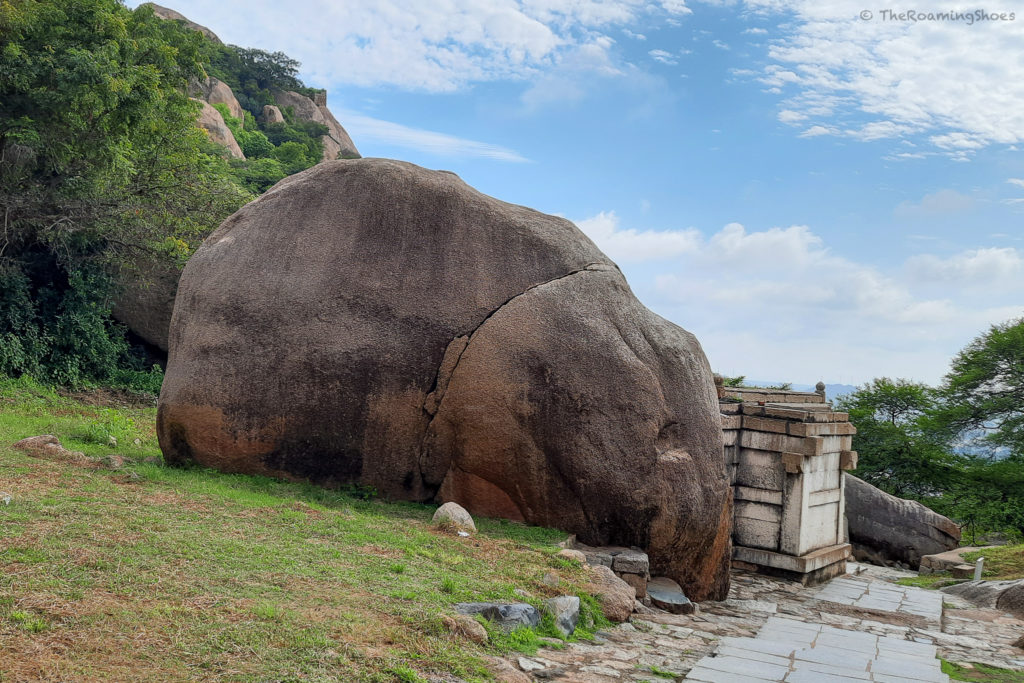 The Fort was built somewhere between 11th to 13th century and was then augmented over centuries by different rulers who occupied it. The massive fort straddles over an area of approx. 1500 acres and originally encompassed the city. With citizens living inside, it had provisions of everything starting from farming to water tanks and means for defending the city.
Chitradurga fort with its ingenious defence mechanism is considered one of the strongest hill fortresses in the country. Once inside the fort, you will find 7 gates which are not in a straight line, instead are placed in a zig zag manner. And every gate has its own safeguarding system that made it almost impossible for the enemy to penetrate it. Also, as the fort is surrounded by lofty hills from every side, it was easy to keep watch and apprehend any hostile movement from outside. But it is not only the defence system of the fort that is impressive. Even the process of rain water harvesting and oil storage are utterly remarkable.
Now this humongous fort stands as a testament to the past glory attracting visitors with it's rugged beauty. The craggy landscape dotted with boulder littered hills and speckled with greens looks like a land from the fantasy movies.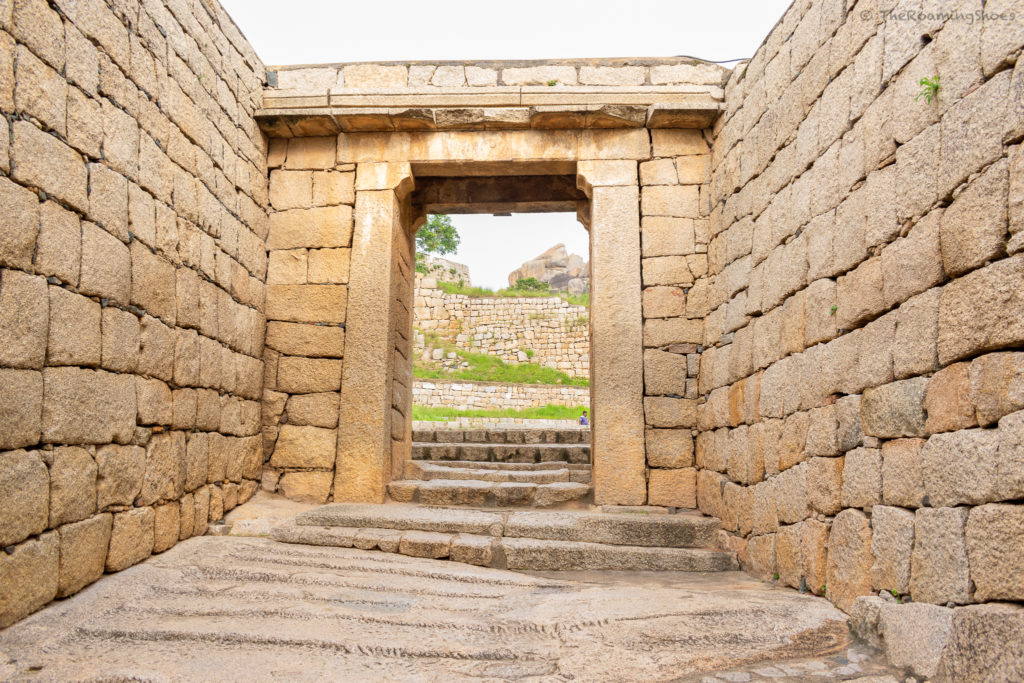 What to see inside Chitradurga Fort
Inside the fort, there are many ancient temples, water reservoirs, secret passages, a matha and oil and grains storage facilities to see. Apart from these points, the inscriptions on the fort wall and the scenic views around would make you want to stop every few steps.
If you seek adventure, then you can climb the Kudurehejje hill to have panoramic views of the town and the fort. But remember to do this either in the morning or evening when it is not too hot.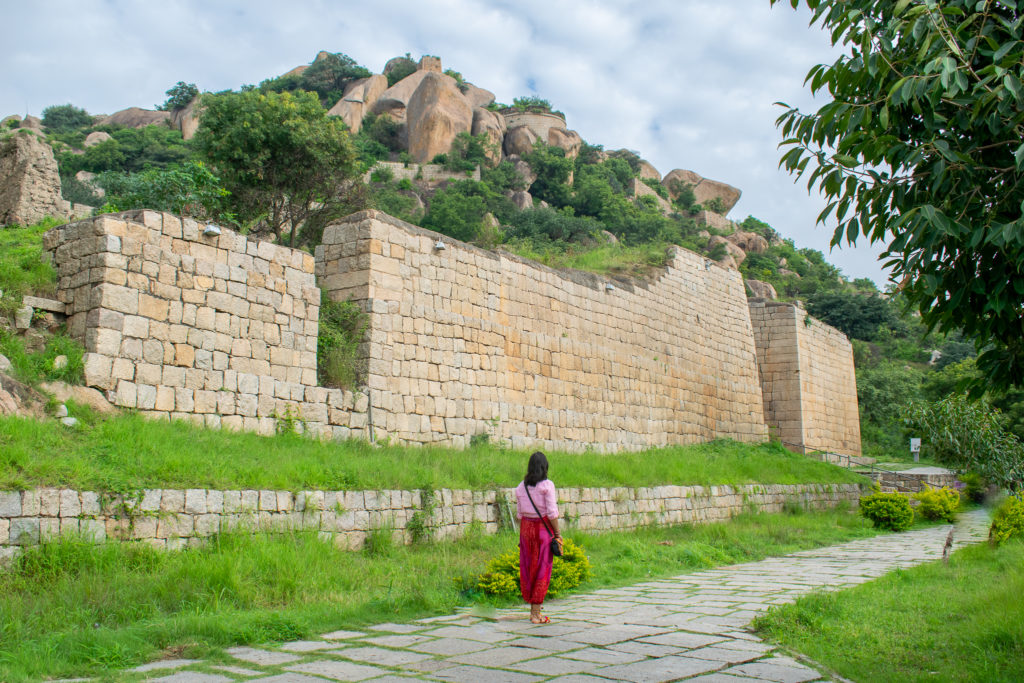 Sampige Siddeshwara and Hidimbeshwara temples
We found this area to be the most picturesque part of the fort and it instantly became our favourite spot. Sitting just below Kudurehejje hill, at one end rests the Sampige Siddeswara temple surrounded by trees. This ancient temple has the coolest surrounding and is very peaceful. At the left side of the temple, there is a mutt which is non-functional, yet a great place for sitting down and relaxing for a while.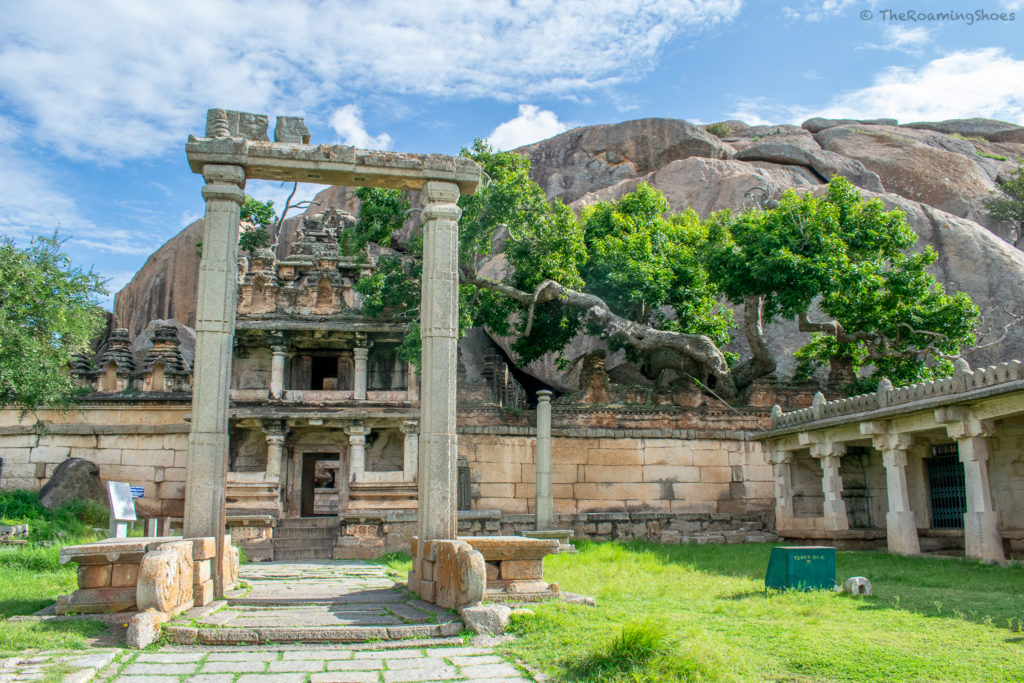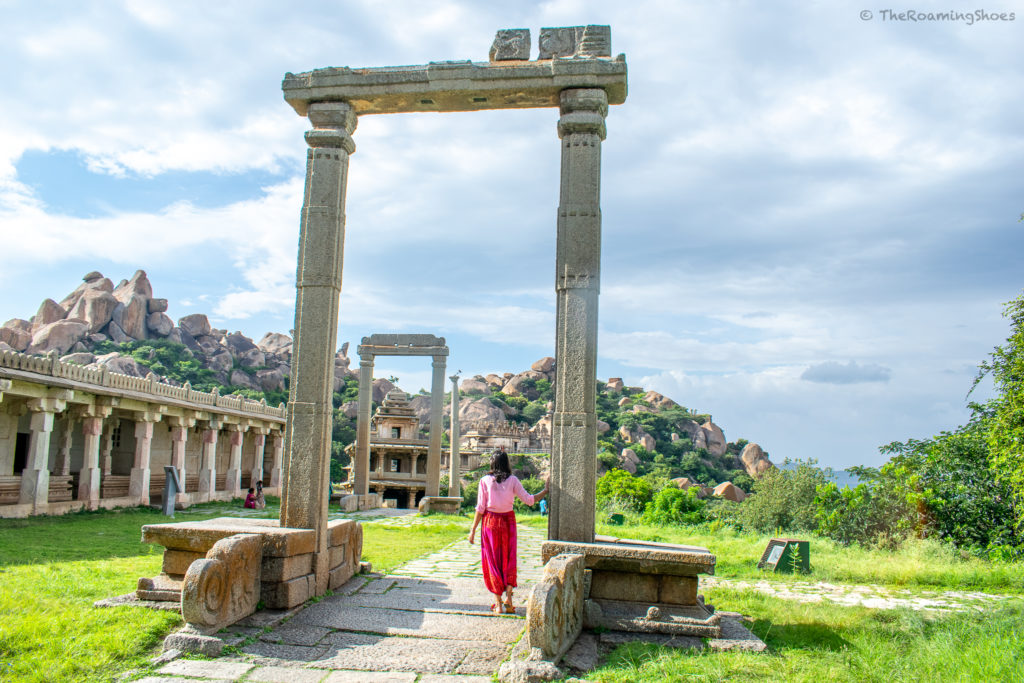 In front of Siddeshwara temple is the Gaalimantapa and then further ahead is the Hidimbeshwara temple. Hidimbeswar temple provides the most amazing views of the surrounding hills, windmills and also part of the city. Dotted with patches of tall grasses, towering stone arches and uneven boulders, the whole set up looked like a scene from a Hollywood fictional movie.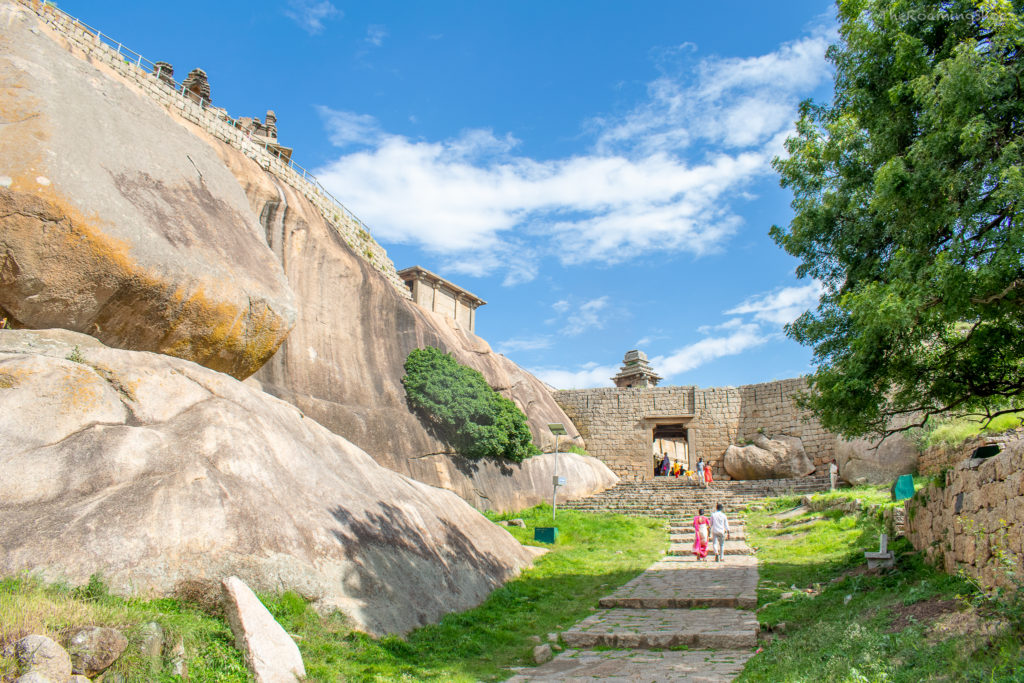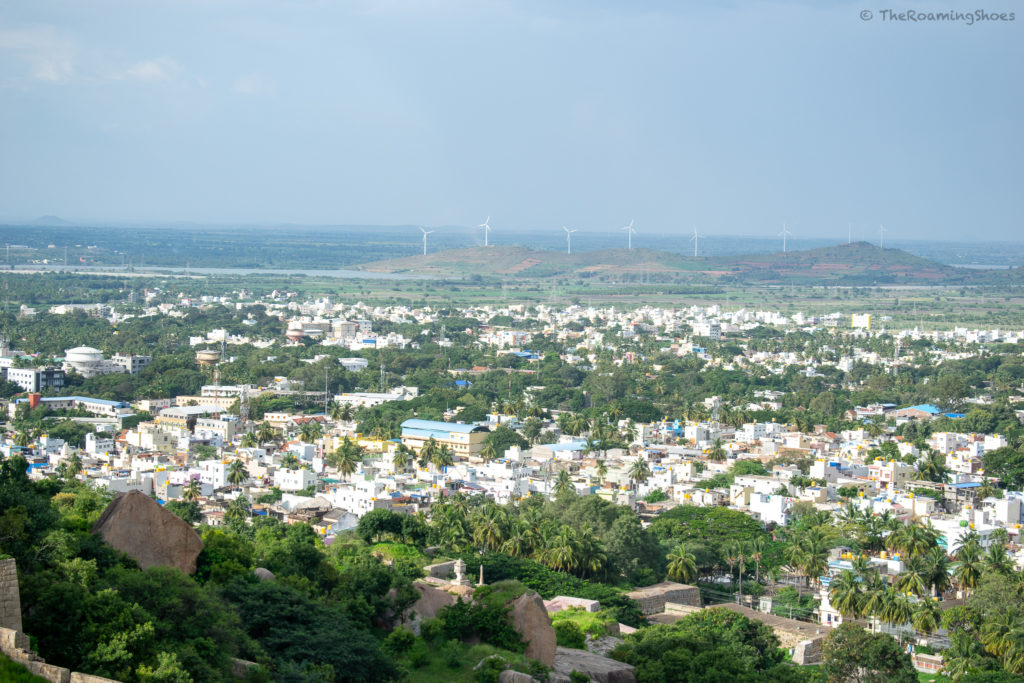 Akka Thangi Honda
Akka Thangi Honda stands for two massive ponds named Akka Honda (Elder Sister Pond) and Thangi Honda (Yonger Sister Pond). These are part of the Fort's well planned and sophisticated rainwater harvesting and water conservation system. The excess water collected in Gopalaswamy Honda flows into Akka Honda and then gradually to Thangi Honda. Not just an engineering marvel, but this spot is also very photogenic sitting below the sparsely vegetated craggy hills.
Onake Obavvana Kindi
Walk a little further from Akka Thangi Honda and you will come across Onake Obavvana Kindi.The spot is named after a woman named Obavva who single handedly fought and delayed the soldiers of Hyder Ali. She was killed in the fight later, yet this place still reminds of her valour and determination.
The legend says, when her husband, a soldier himself was having lunch, Obavva came out to fetch water. She noiced the soldiers of Hyder Ali trying to enter the Fort through a narrow hole through the boulders. The brave woman picked up a pestle (Onake in Kannada) and slaughtered the soldiers one by one as they appeared through the hole. Hence the name Onake Obavvana Kindi for this spot.
Gopalaswamy Honda and Temple
Another major temple inside the Fort is Goapalaswamy Honda. From Akka Thangi Honda, walk further onward and then take a left under a huge boulder that looks like a cave. Walk through the stone gate and after a while, you will come across a vast green pond. That is the Gopalaswamy Honda and a little further up from there lies the Gopalaswamy temple.
Since we visited during Monsoon, the whole area was dotted with tall grass and looked very scenic. I will say, this is the 2nd best spot inside the fort after the Hidimbeshwara temple.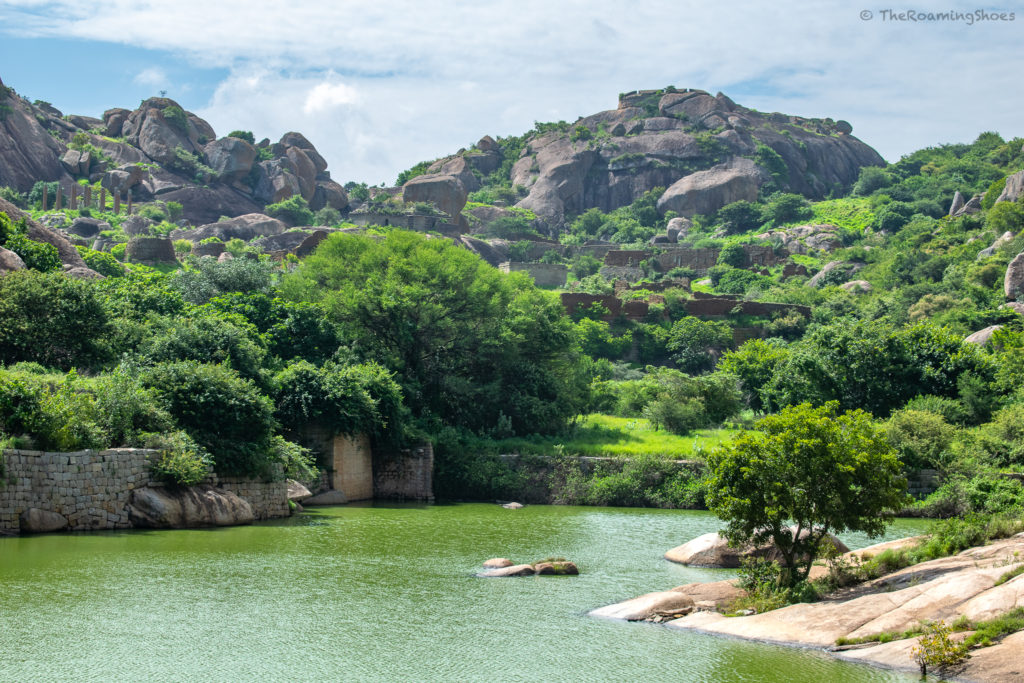 Other important monuments inside the fort come on the way as you walk from the fort gate towards the twin ponds. Check out the Ganesha temple where the big Ganesha idol is carved out of a single boulder, Ekanatheswari Temple and Deepa Stambha etc on your way.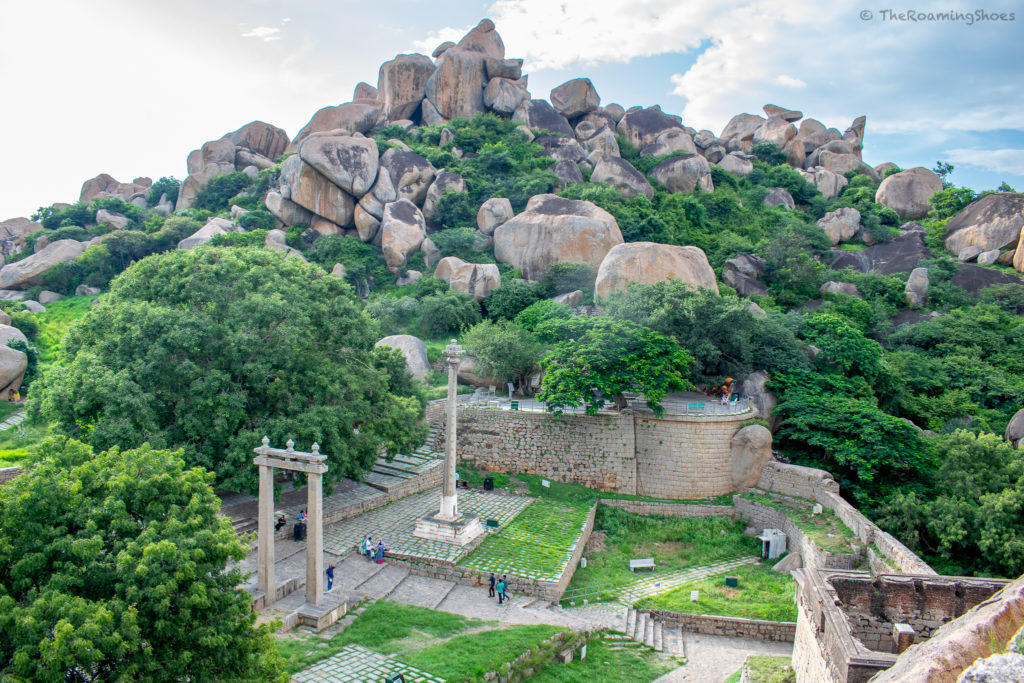 Other things to do around Chitradurga Fort
You can cover a few other places near by as part of Chitradurga Trip.
Get Ambien Online Chandravali Caves and Lake : The pre-historic caves are fascinating and the adjoining Lake adds to the beauty of the place. The caves are located approx. 4 kms away from the fort and require a good 2 hours time to visit.
Jogimatti Forest: Just 10 kms away from the fort, this is kind of a mini hill station in Chitradurga. The forest is a great place for a day's adventure with a waterfall, natural cave, temple and a small zoo. Winter is the best time to visit when the place stays all foggy during the morning.
https://www.a-crear.com/0f4ik48f Vani Vilas Sagar Dam: Vani Vilas Sagar Dam is around 60 KMs from Chitradurga Fort. You can cover it on the way to or from the fort. The dam is huge with hills and windmilss scattered around and enticing emerald water. There is boating facility too. Expect to spend at least an hour at this place. And visit during the evening for best views.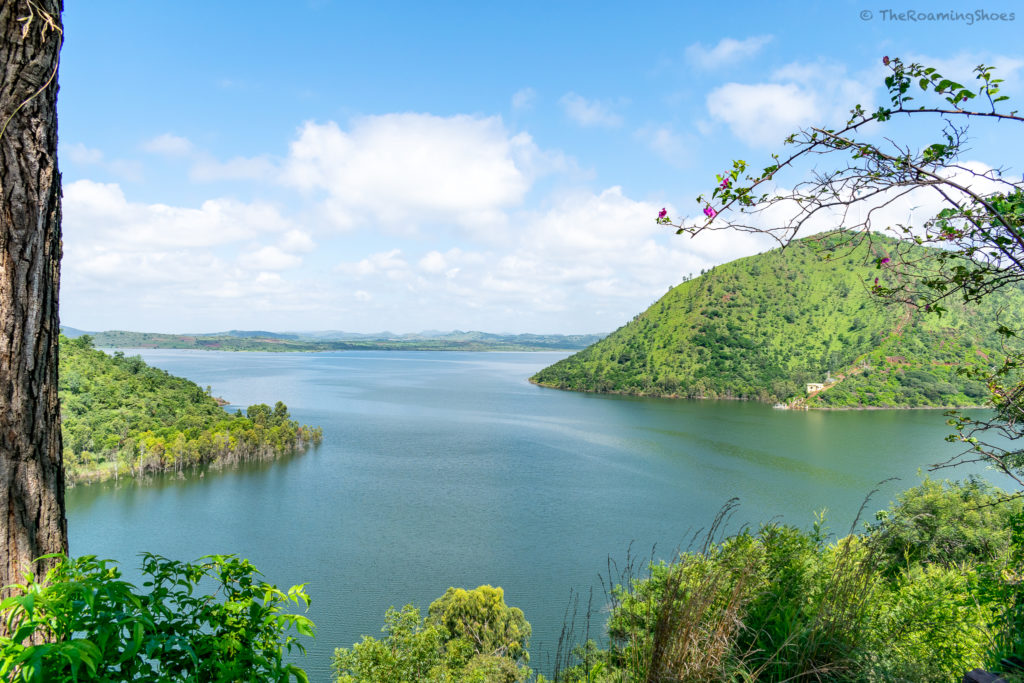 Other than just places to visit, here are a few other interesting things to do near Chitradurga Fort. Indeed these are the things we enjoyed doing the most.
Relax by the Hidden Lake
Yes, you read that right! There is a lake very close to the famous Fort and yet hardly known to any. The lake does not even have a name on Google maps and stays well hidden beyond an elevated ground. We stumbled upon it when we were ambling around just checking out the area. The placid lake surrounded by bouldered hills and greenery is devoid of any tourists except one or two locals passing now and then. You can simply sit here enjoying the calm punctuated by chittering birds and the seductive views. This is where we spent a surreal evening and it still stays as one of our favourite memories from Chitradurga.
To reach the lake, just take right once you come out of the Fort gate. Then take a walk for almost 200 metres and you will find a small temple under a hillock at the right side. Just beside the temple, there is a narrow dirt path leading up. Follow that path and you will reach the lake.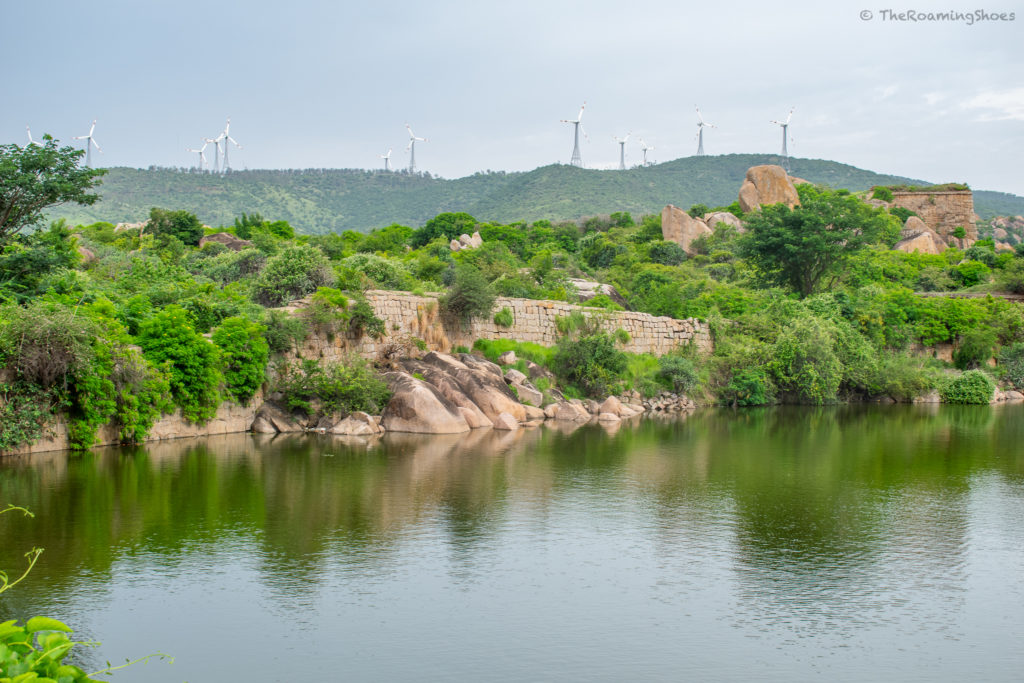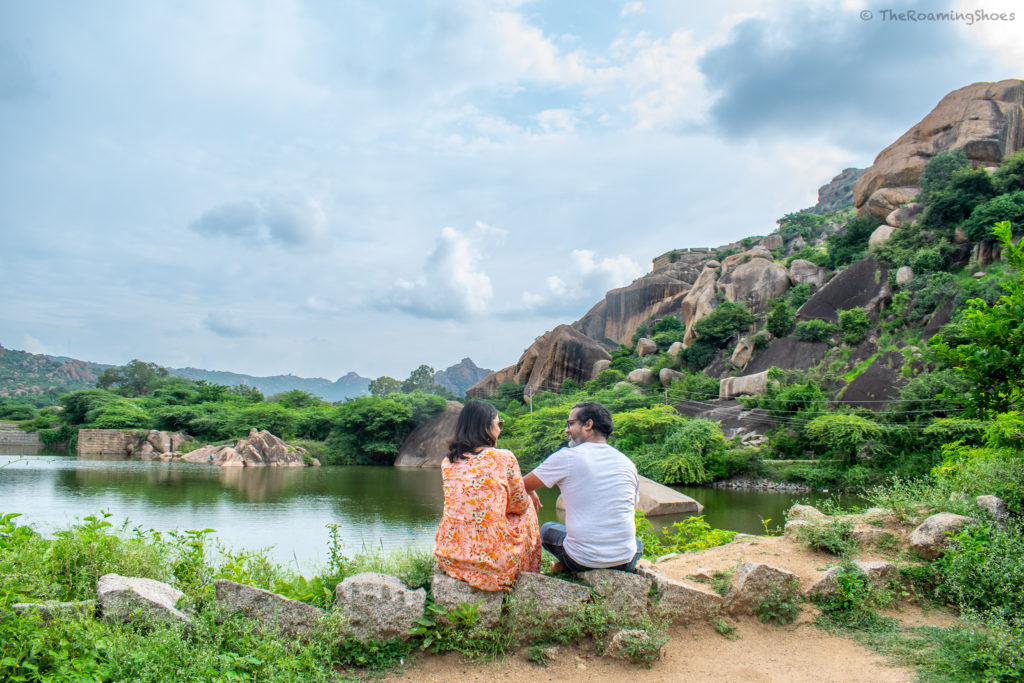 Indulge in Photography and Bird Watching
When we planned our trip to Chitradurga, we expected history and architecture, but never expected to see so many birds. The area inside the fort was teeming with Parrots and Pea fowls. Other than these, we also spotted Kingfisher, Bee Eater, Bulbul, Doves, Owls and many small birds whose names we are not aware of. So if you are a bird photography enthusiast, this place will keep your hands and camera occupied🙂
If not for birds, you will still not be able to resist clicking once you re in Chitradurga. Every corner of this place looks picture perfect and hard to resist. So remember to pack your camera gears for the trip.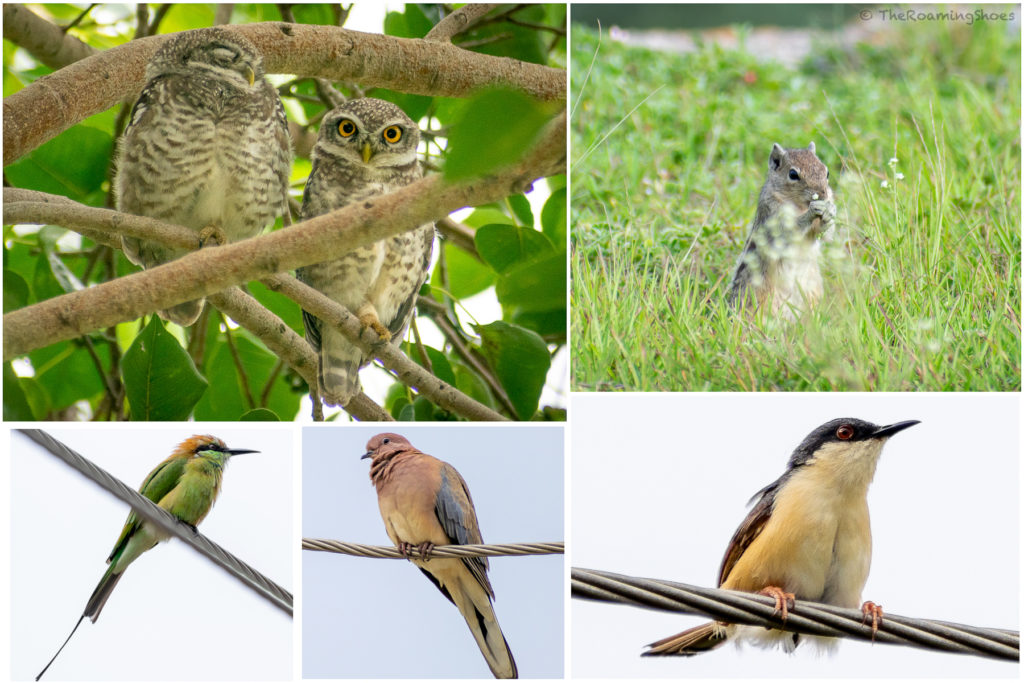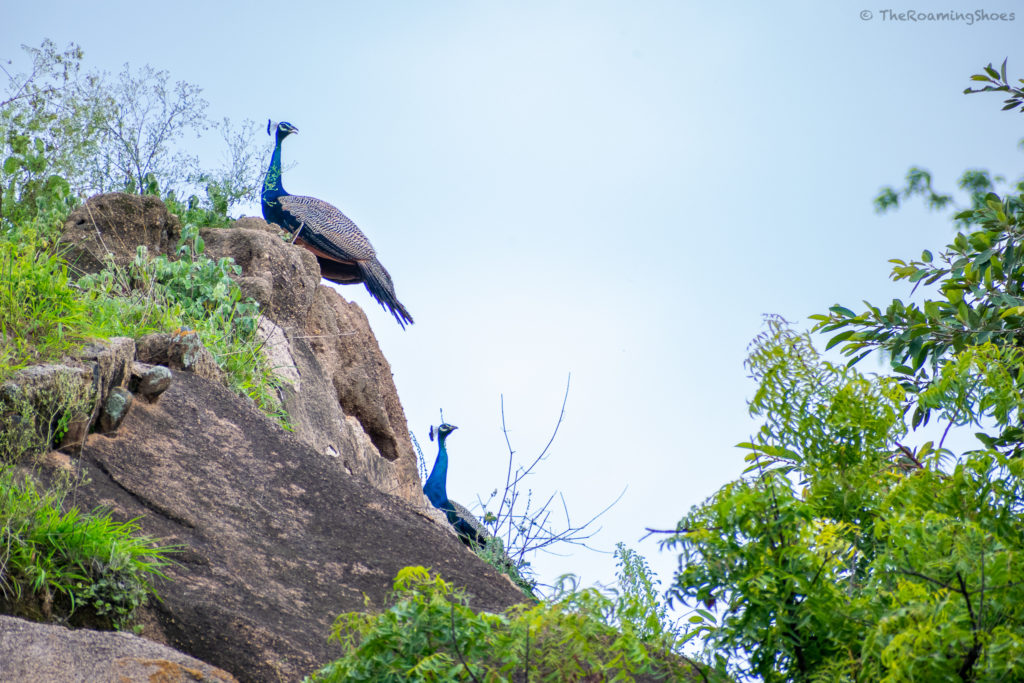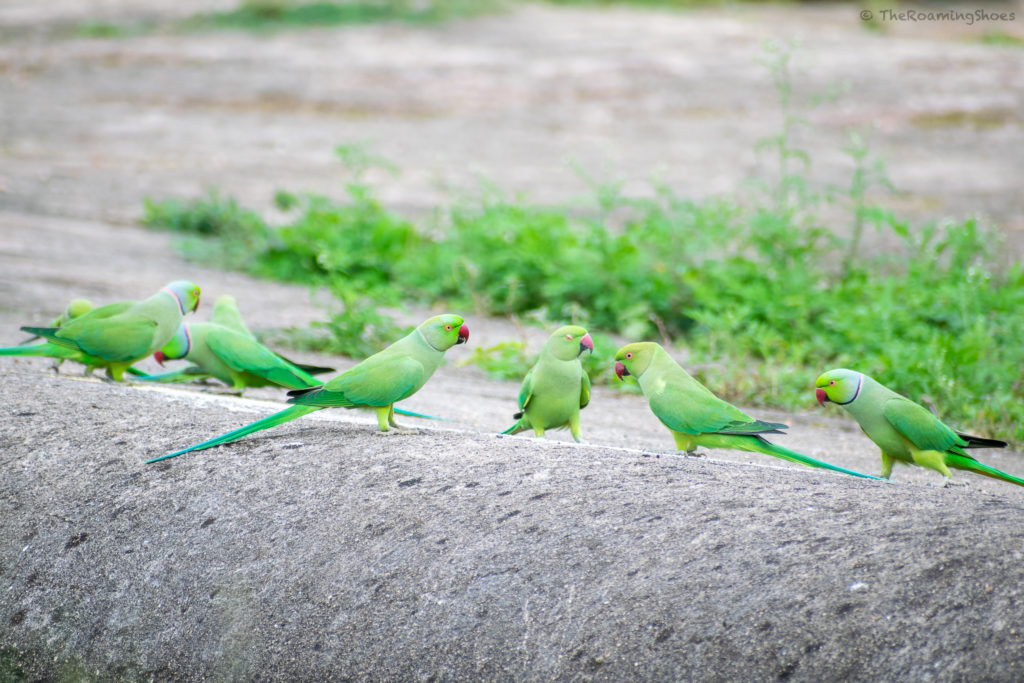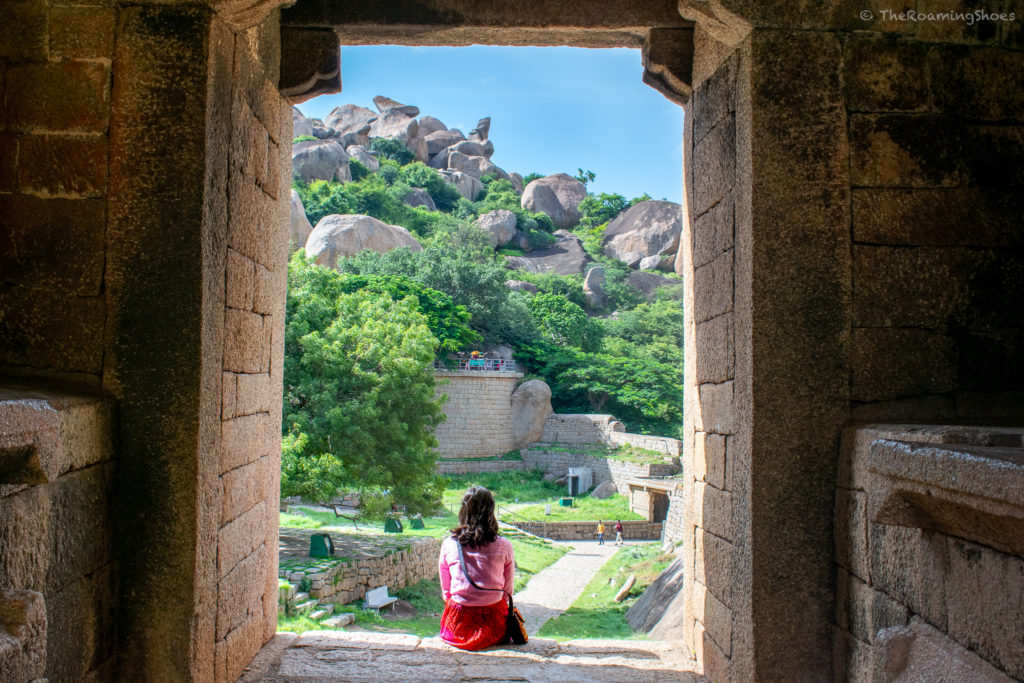 Stop by the Flower Fields
Visit during July-August time and you will be welcomed by vast stretches of Sunflower and Marigold fields on the way to Chitradurga. Some of the fields are just beside the highway where you can stop and take pictures. We stopped at one such field which looked just out of a postcard. The sunflowers swayed in the breeze under the satin sky and the expansive field was complimented by distant windmills in the back drop.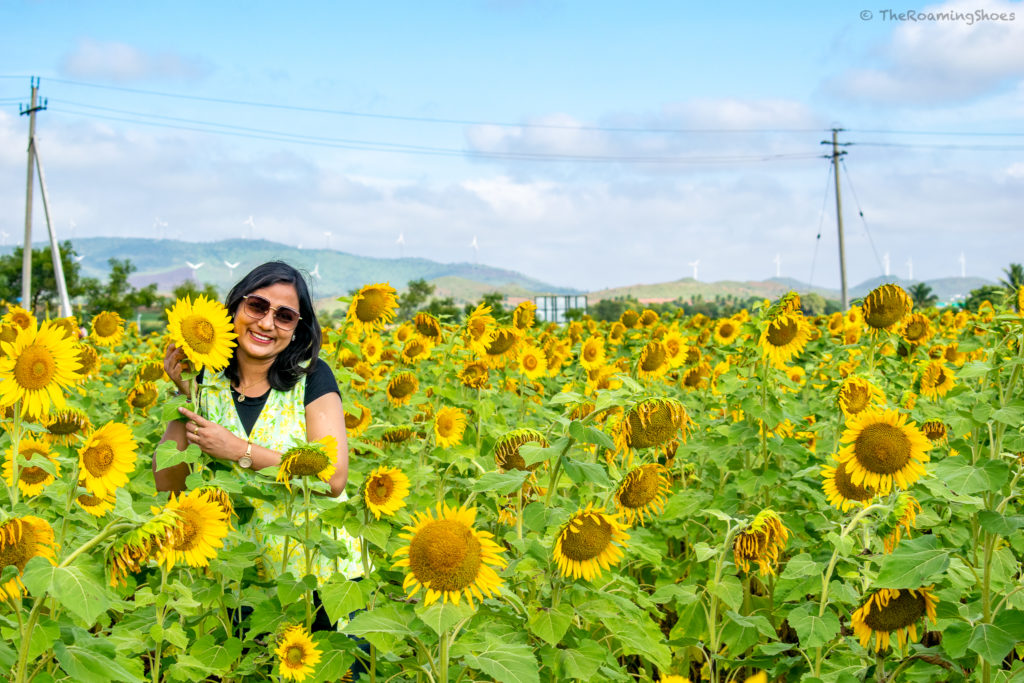 Budget for Chitradurga
We loved Chitradurga. So we decided to stay for 2 nights and this budget is a reflection of that. The cost will come down if you are staying just for a night. Also, conveyance cost will be less if you are traveling by your own car.
Things to pack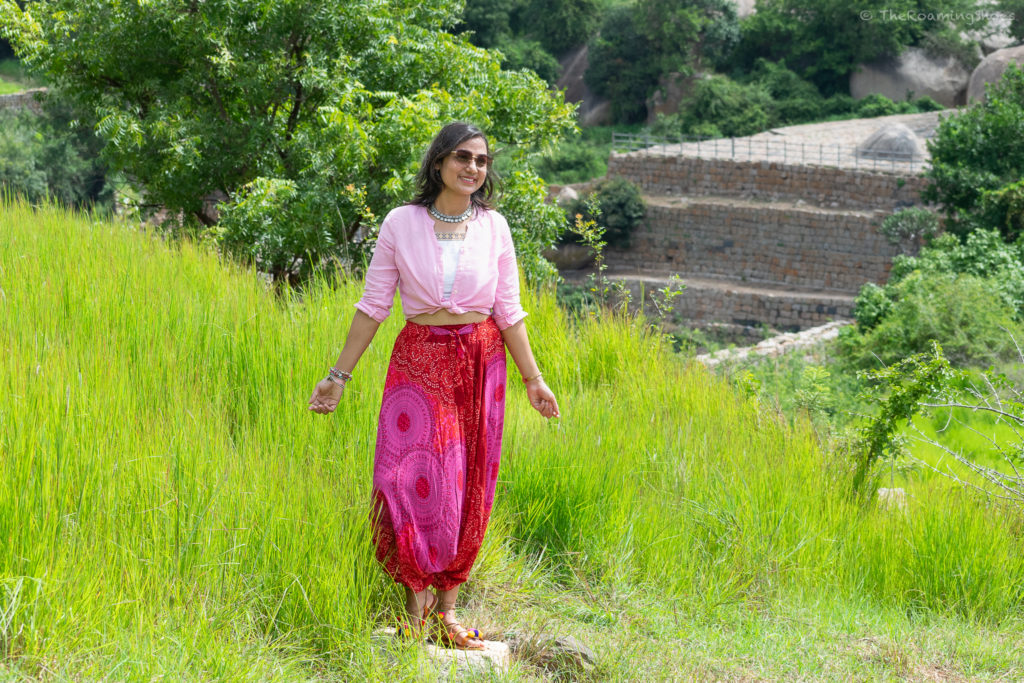 Additional Pointers
Dress conservatively – Chitradurga is a bit conservative. Shorts or revealing clothes may bring unwanted attention/staring. So dress accordingly.
Carry sufficient water – Carry at leat 2 litres of water when you visit the fort. There is no point to refill water once you are inside.
No food options nearby – There are no food options available inside the fort except a small store near the Deepa Stambha selling biscuits/chips etc. Also, there is no proper hotel as such to have food near the fort. So pack your own food or plan the timing of your visit accordingly (unless your accommodation is nearby).
You can cover the fort on your own even without a guide. The route is pretty straight forward. But we recommend to take a guide if you want to know the historical details and interesting stories about the fort. Guide charges are reasonable (INR 200-300) and you can hire a licensed guide from the entrance.
A guided tour is one-way which starts from the main gate and will end at Akka Thangi Honda. The guide won't take you to Hidimbeshwara temple or Goapalaswamy temple. So visit Gopalaswamy Honda and temple once the guide is done and then visit Hidimbeshwara temple on the way back.
If you stay near the fort, we recommend visiting the fort in two phases so as to make it less tiresome. This will also allow more time at specific points. Go for the guided tour in the morning and cover the Goapalaswamy Honda and Temple. Then come back to your hotel and rest. In the evening, visit Sampige Siddeshwara and Hidimbeshwara temple.
Try visiting the fort early morning or evening to have the best experience. The heat gets almost unbearable as the sun moves up.
Chitradurga Fort comes enroute Hampi (from Bangalore). So you can take a detour on the way to/from Hampi.
Fort Timing: 6 AM to 6 PM all days
All prices and timings mentioned in this blog are applicable as of August 2021.
Chitradurga has something for every traveler. Whether you love nature, history, architecture or photography, this beautiful place will never disappoint. Visit the fort once and you would be surprised how much it has to offer.
To help plan your trip to Chitradurga, we have tried to include every little detail in this blog. If you want to know more or have any queries, do tell us in the comments below.
Staying in Bangalore and looking for a getaway? Check our other blogs here.
Facebook Comments