Koh Samui – A complete guide to the romantic tropical paradise
Koh Samui with its finest white sand beaches, lush tropical surroundings and luxury accommodations makes for an ideal romantic getaway. It is the third largest island in Thailand with plentiful beaches of every kind. Some beaches are the hub of activities and nightlife whereas some provide the much needed quiet and solitude. The island is also home to some of the most stunning Buddhist temples. So you see, Koh Samui provides the best of both worlds irrespective of what kind of traveller you are.
We chose Samui for celebrating our 9th Wedding anniversary and loved our time there. Here is our guide to this romantic tropical paradise.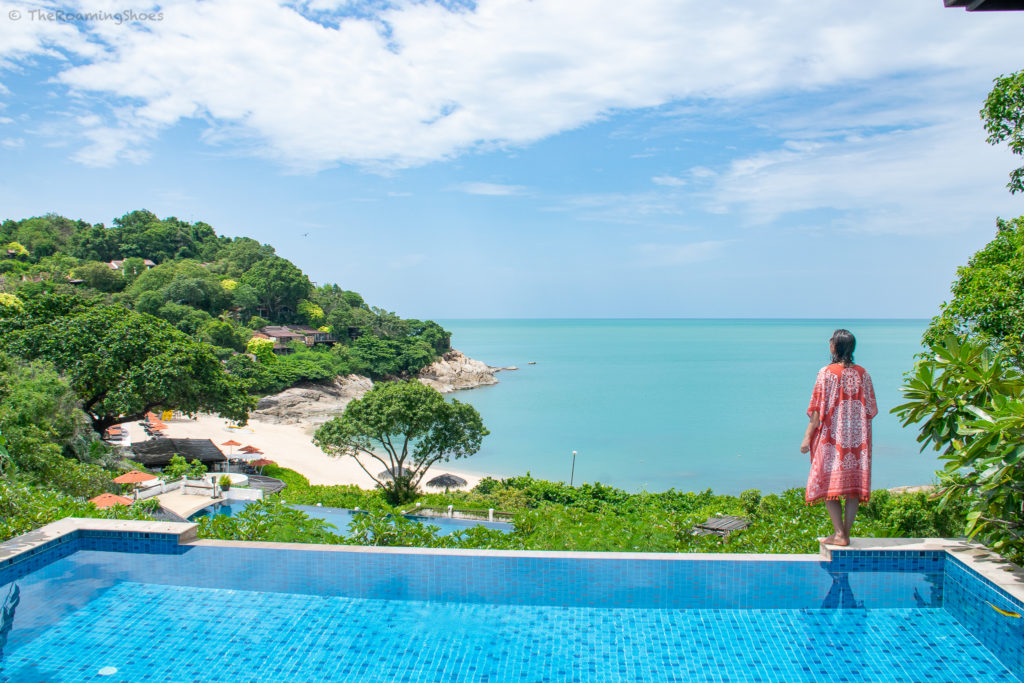 How to Reach Koh Samui
Samui has a small airport (but the cutest one and well equipped too 🙂 ) with a number of flights operating to/from Bangkok. The flying time is  just about an hour. Even in the shoulder season, we had to pay a hefty amount for our return air tickets. But it is definitely the quickest and the easiest option to reach the island. 
Another cheaper yet longer option is to take an overnight train from Bangkok to Surat thani. Then a bus to the Surat thani Pier to catch the ferry to Koh Samui. You can also reach Surat Thani by flight from Bangkok and the rates are much cheaper than the ones to Samui.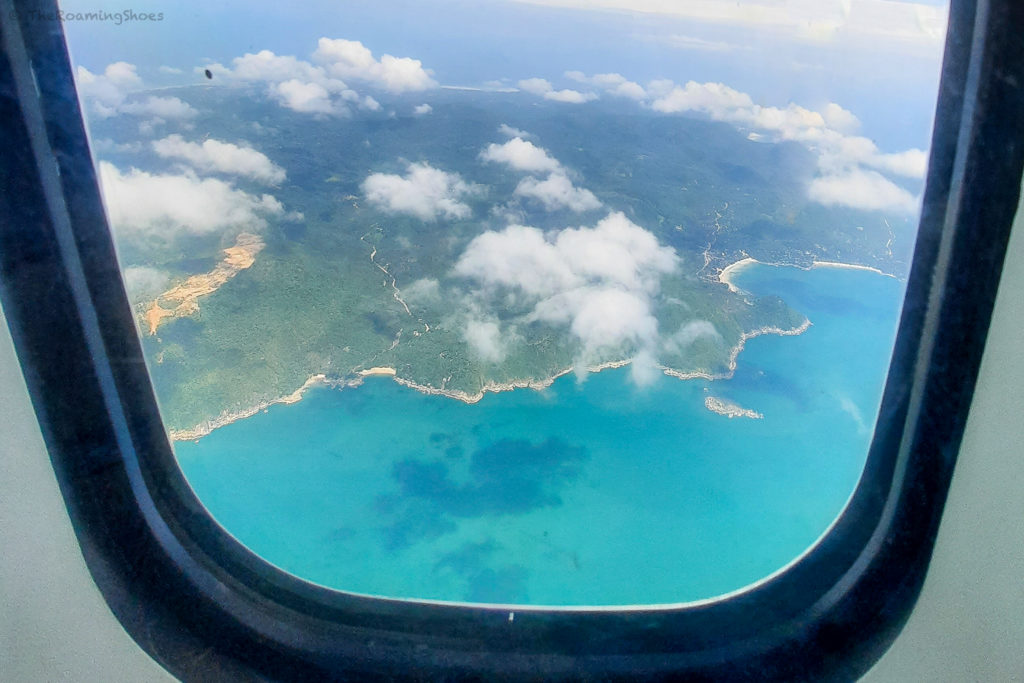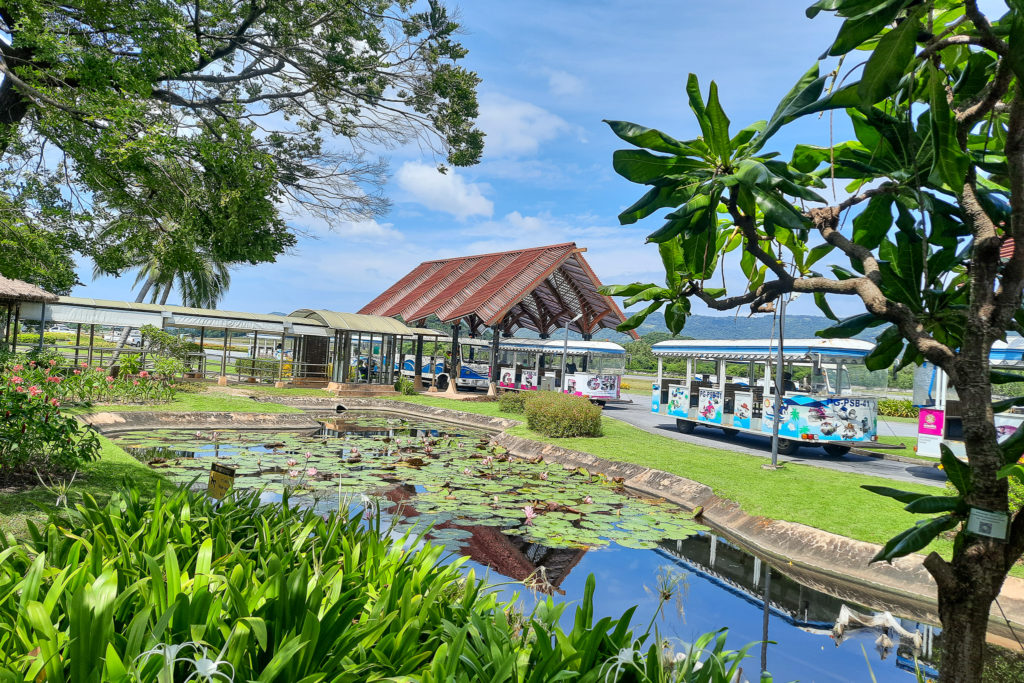 Getting around in Koh Samui
Unlike the mainland, you would not find any tuk-tuks in Samui. So scooters and taxis are the available options to get around in the island. We found taxis more convenient in the heat, But it becomes expensive if you want to keep hopping places. In that case, rented scooters are more convenient with charges coming to approx. 300 Thai Bahts per day.
Grab is also available on the island. But honestly, we never got one 🙂
How many days are enough for Koh Samui
Samui has a great many things to offer to keep you occupied for a week. But we all know, it is not always possible to spend all our time in one place in a time-bound vacation. So ideally 4 days (3 nights stay) should be enough in this Thai island. This will give you adequate time to spend at leisure at your resort and also to check out a few beaches and attractions. You can  indulge in some adventure activities too such as island hopping and snorkelling.
If you are not very interested in checking out places and intend to relax, 3 days (2 nights stay) are good enough.
Accommodation in Koh Samui
Consider these 2 factors while deciding your accommodation in Koh Samui – budget and ambience. Some of the beaches in the island are famous for their iconic luxury accommodations whereas others provide a mix of all ranges. Some have a lively atmosphere with restaurants, activities and nightlife. And others are reposeful. 
If you are looking for a lively area for stay with nightlife, go for Chaweng Beach. It provides a wide range of accommodations and is the most popular beach with a club scene. It has a number of restaurants and water sports too. So expect more crowd.
Another alternative is Lamai Beach which is very scenic and is something the locals recommended to us for a visit. You will find affordable resorts here and a nightlife that is not as loud as Chewang's. Suitable for families and couples.
Crystal Bay (or Silver Beach) has a handful of good budget options by the beach. The beach is great for swimming and sunbathing. Restaurants and bars available nearby. Suitable for backpackers and people looking for beachside stay without burning a hole in the pocket.
If you are looking for a quiet area with a bit of luxury, then Choeng Mon is the place to be. It has some of the best luxury resorts and a laid-back atmosphere suitable particularly for couples and honeymooners.
We stayed at The Tongsai Bay which is located on the northern side of Choeng Mon Beach. It is just 15 mins drive from the airport and is at close distance from the Wat Plai Laem and Big Buddha Statue.
Tongsai Bay exudes the feel of a perfect tropical hideaway with cottages, suites and villas integrated beautifully in to the verdant surrounding. The private beach of the resort offers seclusion and gorgeous sunrise views. The beachside restaurant and bar has a very romantic feel and is ideal for sundowners or a romantic meal in the candle light. There are 2 common pools at the resort. But I personally loved the half moon pool that has gorgeous views of the sea. In terms of activities,  you can opt for paddle boarding, kayaking, snorkelling or windsurfing. The instruments are complimentary and the staff guide the guests with basic instructions to start with. They also arrange for weekly movie nights on the beach with free popcorn 🙂. 
So yes, we thoroughly enjoyed our time at the resort. And definitely recommend it if you are looking for a serene and romantic vacation in affordable luxury.
Choosing the room
All rooms at the resort are generous in size with an exclusive outdoor area and provide utmost privacy. But if you are celebrating a special occasion (and in a mood to splurge 🙂), we recommend choosing one of their pool villas with ocean view. We stayed in one and it felt amazing waking up to the view of the sea and watching the glorious sunrise from our terrace.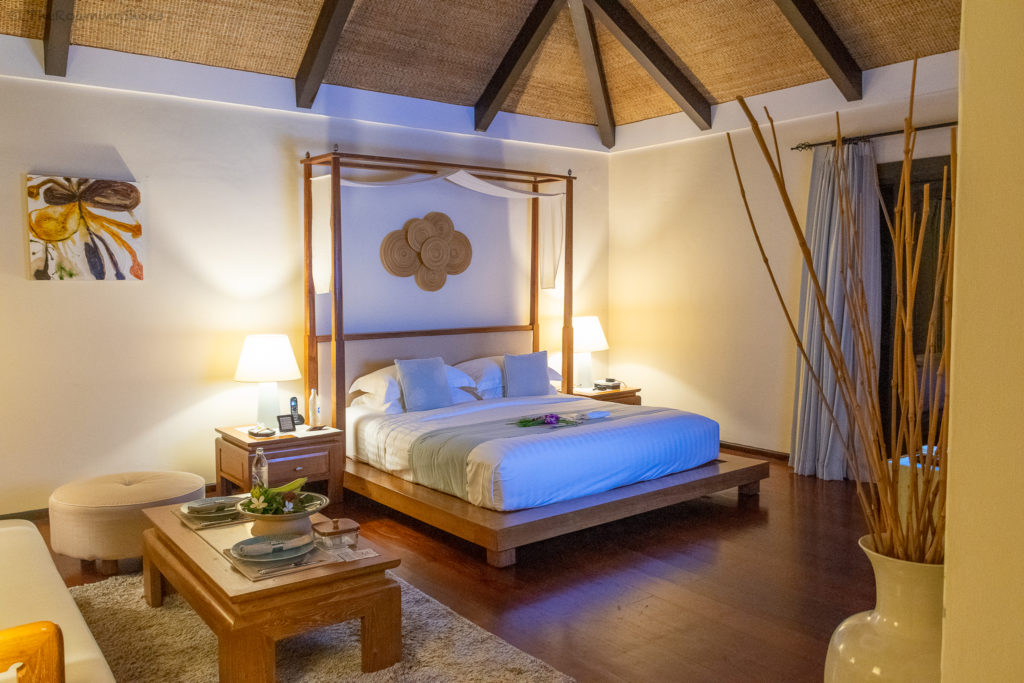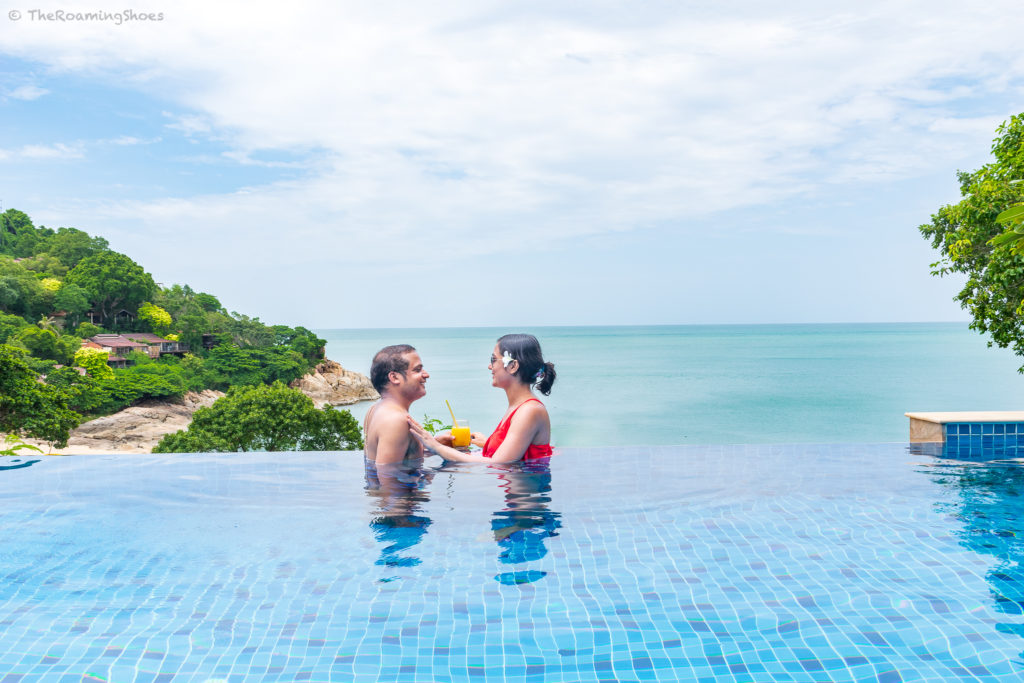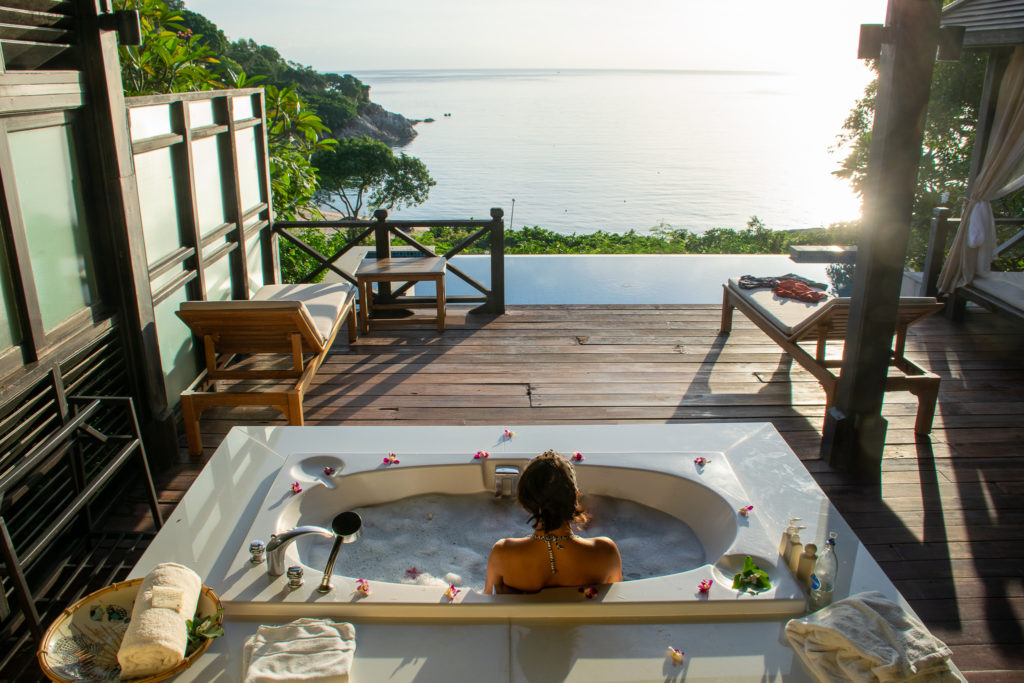 Best time to visit Koh Samui
Now, this is a tricky question. Koh Samui with its tropical climate receives some sort of rainfall all through the year. So there is no guarantee that you will get all sunny and shiny weather for all the days. Having said that, there are months that are considered Dry Season with hardly any rainy days and the Wet Season that receives more rainfall. It actually comes to your preference of what you want to experience.  So here are a few suggestions.
Buy Generic Zolpidem Tartrate Late December – Feb https://acatfcl.cat/iqmhdb3dnf (Dry Season): Sunny, less chances of rain and relatively cooler days. The best time for sunbathing and spending time at the beach. But also the busiest months. So expect more crowd and higher charges everywhere.
Ambien Ordering Mar-Apr (Still Dry Season with minimal rainy days): Days start getting hotter with April bringing the Hottest days. Yet lesser days of rain. Good time for getting involved in water sports like snorkelling or scuba diving.
May-June ( Start of Wet Season – Approx 14 days of Rainfall) https://culturviajes.org/2023/09/14/nrcy5i7g3 : Shoulder season (Avoid the school holiday time in June). There are lesser tourists on the island and it feels much more peaceful. Easier to get hotel bookings and other things at a cheaper price. But expect some rainy days. Occasional showers and overcast sky are a thing during this time. But it is not always rainy and you will have hours or days of sunshine at a stretch with rains in late afternoon and evenings.
https://elartedemedir.com/blog/h7jnojx6ta July-August ( Start of Wet Season – Approx 14-15 days of Rainfall) https://www.jaumebalmes.com/xa8knkvxw : Popular months for visit. So plan your trip in advance and make prior bookings. Expect similar weather like June.
Avoid the typical rainy season which lasts from https://aguasdeburgos.com/reslp3r September to Mid December.
If you are traveling between May-August, keep some buffer days without making a strict itinerary. During our trip in 1st week of June, we had 3 days where it rained from late afternoon to night on one day. And the next day it stayed cloudy the whole morning. But this is also the best time to experience the tropical climate at its best. The perfect combination of watching rain from the comfort of your room and beach bumming in the sun. And let me tell you, dark clouds over the sea look no less magical in Samui.
Things to do or experience in Koh Samui
There are a lot of things to do and see in Koh Samui. Choose depending on your liking and available time.
The Majestic Temples
Thailand has some amazing temples and Koh Samui is no different. There are many temples scattered throughout the island. But when you have limited time, we recommend visiting at least the 2 prominent ones. Both these temples are hardly 5 mins drive away from each other.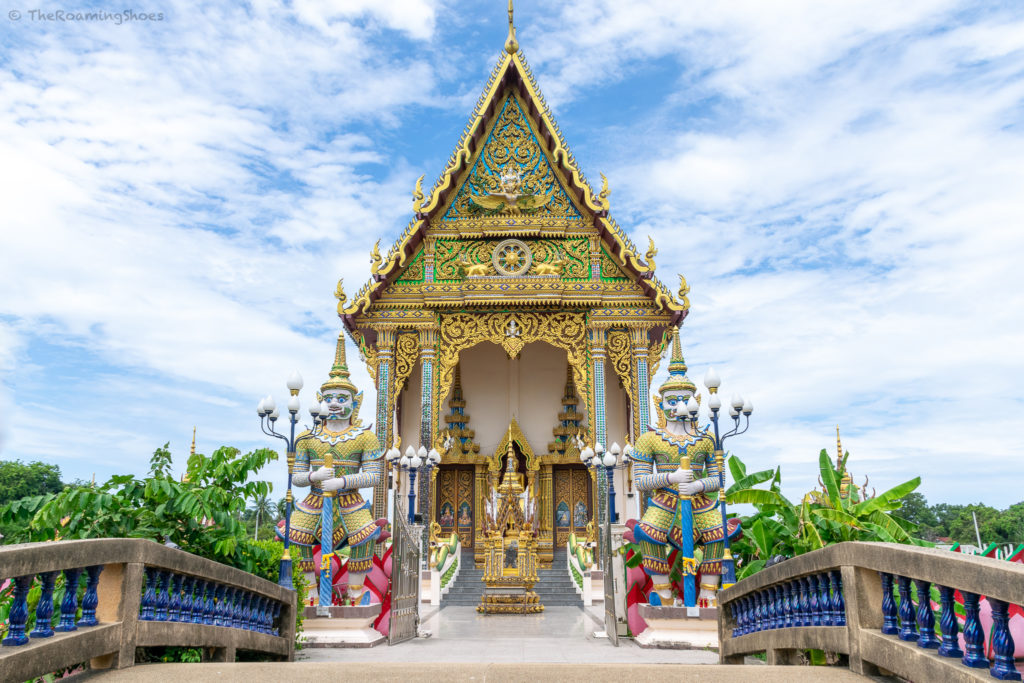 Wat Phra Yai or The Big Buddha Statue
A huge 12 meter high golden Buddha statue sitting on an elevated platform and rimmed by the sea – this is a must see in Samui. The place has a very unique and calming vibe. And the view of the ocean from the mesa is breathtaking. This is my personal favourite from Samui. Because even with tourists around, as I sat down and closed my eyes, I felt exceptionally calm inside.
There is also a small market with a handful of shops in the surrounding. You can buy clothes (especially beach clothes), hats and other knickknacks at a good price (need to haggle a bit for fair price though).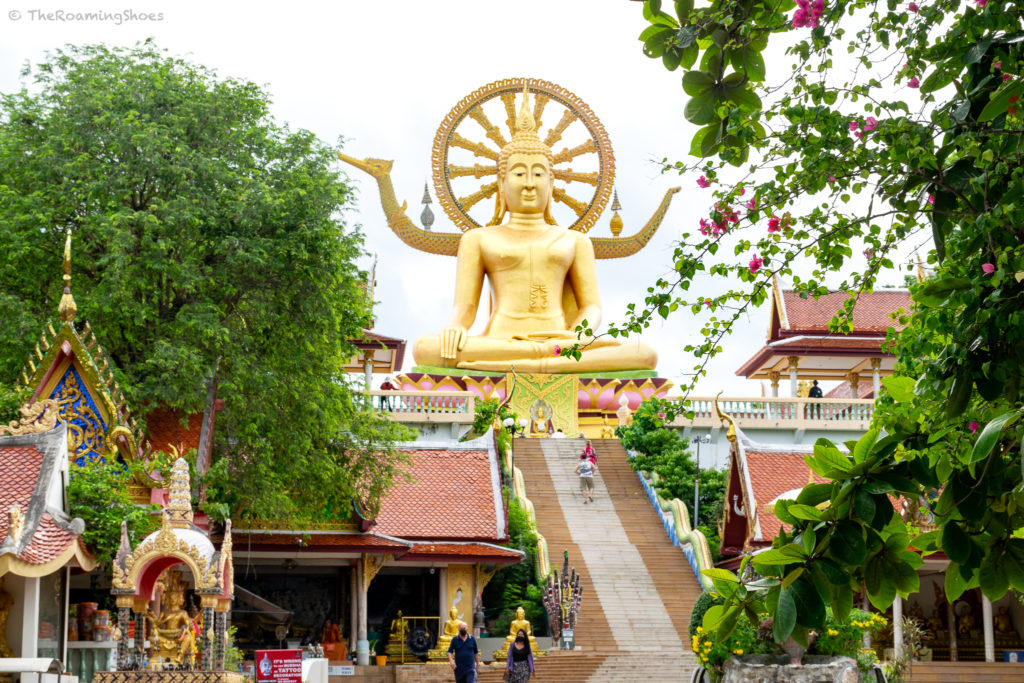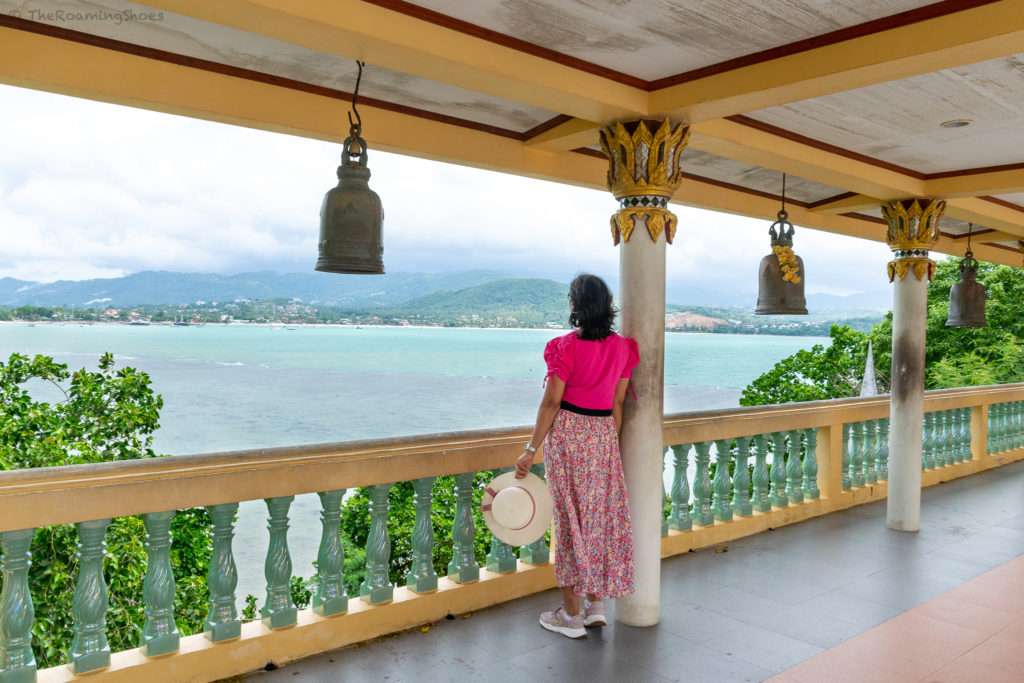 Wat Plai Laem
Wat Plai Laen complex has 2 huge open-air statues, one of a Laughing Buddha and another of the Goddess of Mercy with 18 hands. Both statues are placed on platforms over a lake and have a beautiful set-up. There are also few other ornate shrines in the compound. The place is very photogenic and the attention to details amazing. Oh yes, there are a lot of fishes in the lake that you can feed too.
Dress respectfully (covering knees and shoulders) while visiting the temples.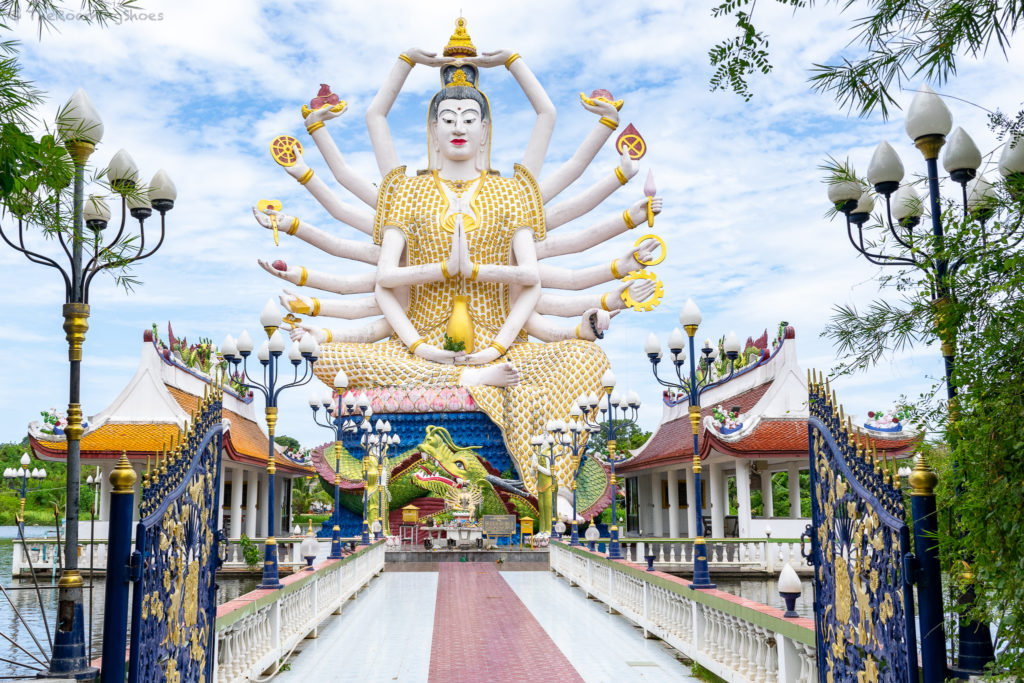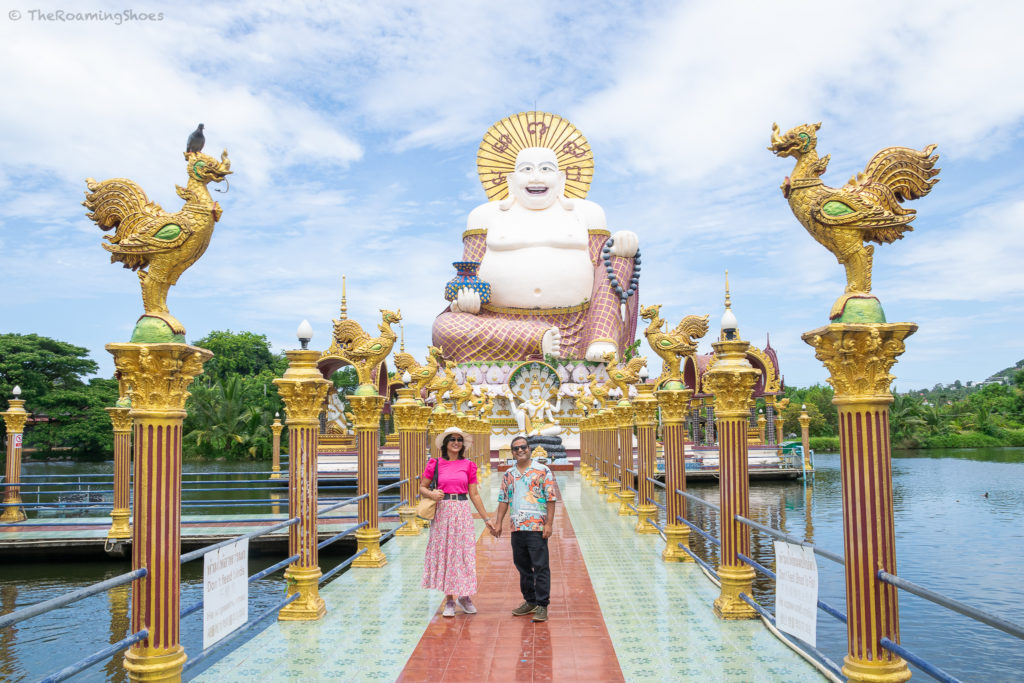 The Beaches
Irrespective of whichever beach you choose for your stay, you simply cannot leave Koh Samui without visiting some of its other beaches. We stayed at Choeng Mon Beach which has the most amazing sunrise views. Tiny pebbles make up its shoreline and a walk here feels like having a foot massage🙂.  Other than this, we definitely recommend visiting the Crystal Bay (aka Silver Beach) and Lamai Beach. 
Crystal Bay is considered the most beautiful beach on the island and I could not agree more. It is a soft white sand beach with black boulders scattered across and flanked by green hills at one side. The water is crystal clear and the colours of the sea look best in the afternoon. Perfect for swimming and watching small fishes. Lamai beach is a little further away (10-15 mins drive) from Crystal Bay. So you can cover both at once.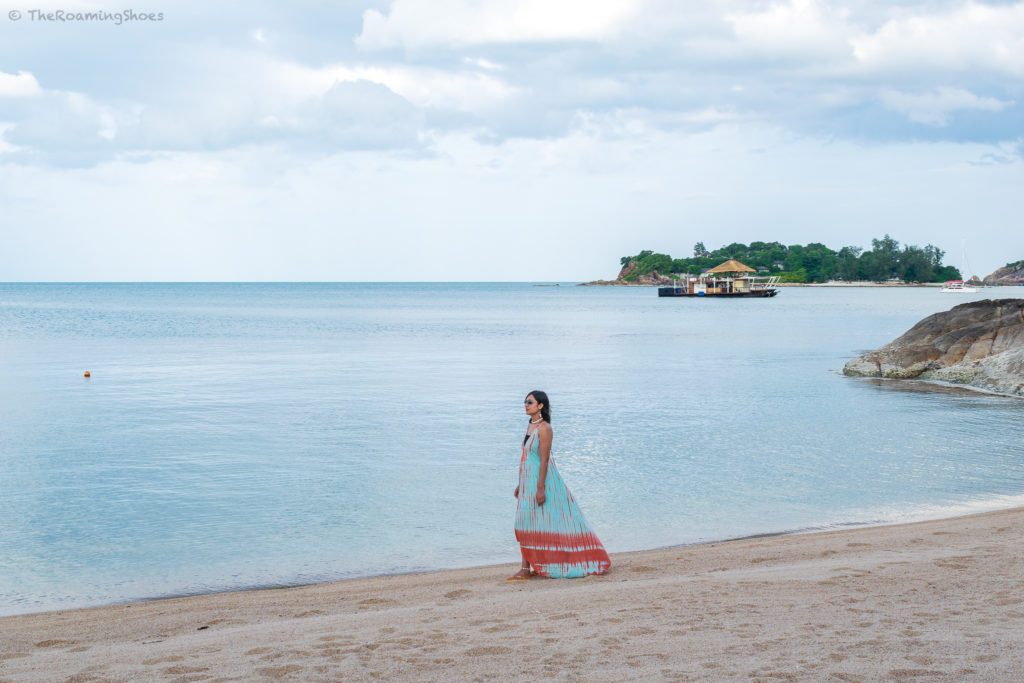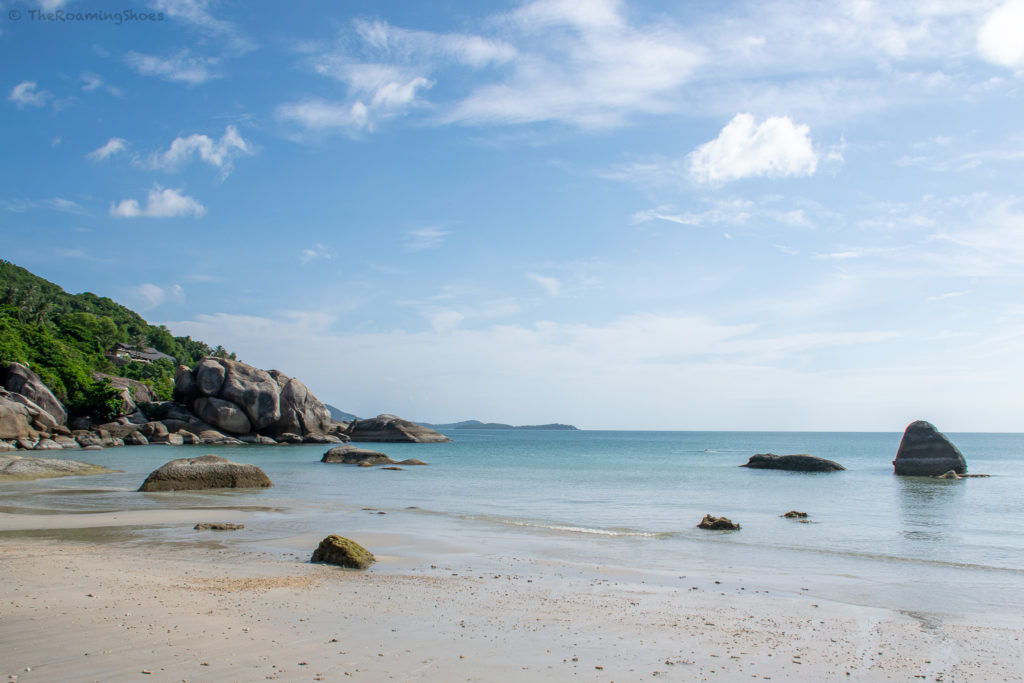 Sunrise and Sunsets
With pristine beaches spread across miles, Koh Samui is a great place to watch sunrise and sunsets over the ocean. For sunrise, Choeng Mon Beach (Chaweng too) offers truly stunning views. Lipa Noi and Taling Ngam beaches have chic restaurants and bars to relish the sunset vistas over a drink.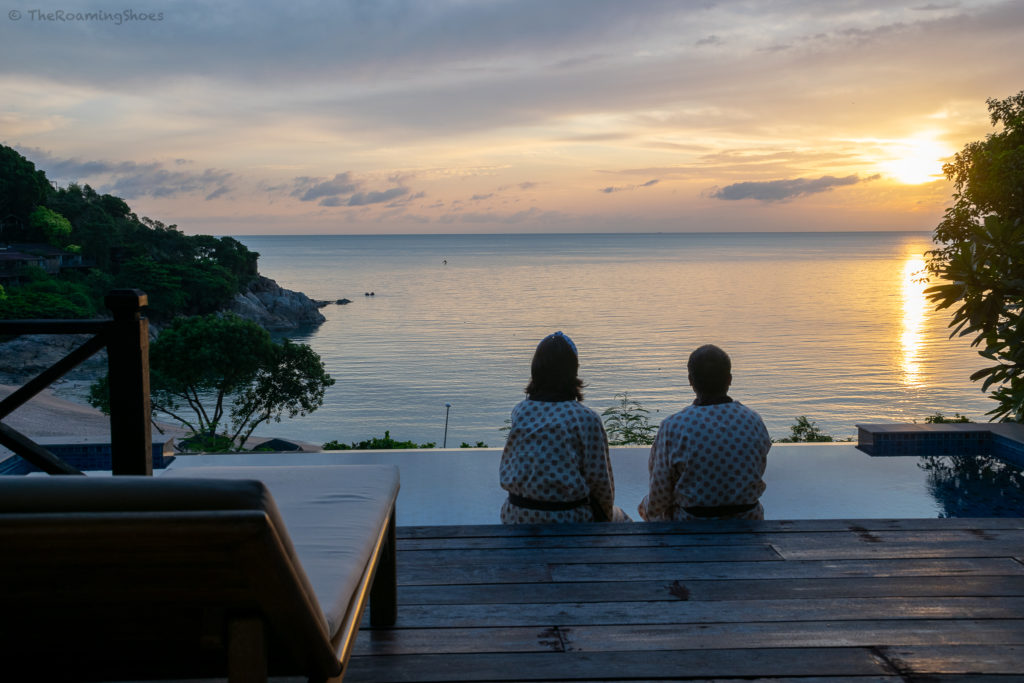 Thai Massage
We took the traditional Thai Massage at our resort. And it was so relaxing that I fell asleep and snored a while before Sush's laughter woke me up😄. Now, I am a person who is very finicky about massages. And yet I loved this experience. 
So I recommend trying the traditional Thai Massage which is a dry massage without the use of oils. If that is not your thing, you can always choose the Thai Oil Massage option. Find the right place (whether at your resort or any massage parlour) and tell them the amount of pressure you want them to apply. And who knows you too may fall asleep like I did😉.
More things to do in Koh Samui
Have more time in the island? Here are a few additional things to indulge in.
Island Excursion
If you have seen and experienced Koh Samui to your heart's content, then head to the neighbouring islands of Koh Phangan and Koh tao. These two are relatively smaller, yet provide a different kind of atmosphere than Samui. Koh Phangan is more about the parties whereas Koh Tao is a popular destination for Snorkelling and scuba diving. If you are not keen on staying on these islands, you can very well cover the two in a day trip by boat. Do check the weather before booking as the ride gets bumpy on bad weather days.
Ang Thong Marine Park
I would definitely recommend this if you have more days at Koh Samui. This marine park is a visual treat with great options to see the rich marine life. This can be done as a day trip from Samui. As part of the trip, you can see the different islands, snorkel and visit view points offering breathtaking views. Again, check the weather before booking your trip as bigger waves and rough sea would not allow snorkelling or swimming.
Waterfalls
Samui's waterfalls may not be the best in the country. But definitely worth checking out if you are visiting just after the wet season. The most notable ones are the Na Muang waterfalls with some mesmerising views and a natural pool to cool off in the heat. If your heart still wants more, Hin Lad and Khun Si waterfalls are lovely too.
Night Market
Night markets of Samui are some of the best places to buy affordable souvenirs and soak in the vibe of the place. There are several night markets in Samui that set down on different days of the week. Chewang is the centre of some of the small night markets and Lamai has one or two. But the biggest one is the Fisherman's Night Market in Bophut with the most number of stalls.
Fisherman's Village
The name might give you an impression of an authentic Thai Fisherman Village. But this place is far from it. Fisherman's village in Bophut is a famous tourist spot for its hippie atmosphere. The walking street is lined by an assortment of shops, bars, restaurants and also a number of massage parlours. The street comes alive in the evening with people flocking here for a meal or drink. But like all touristy places, this too is a bit pricey.
Elephant Sanctuary
Samui Elephant Sanctuary and Samui Elephant Haven are two of the ethical Elephant sanctuaries in Koh Samui. They work towards rescuing and caring for the rescued elephants. If spending time with these majestic creatures (including feeding them) piques your interest, then you can book a tour with one of these sanctuaries. Do remember that this activity is an expensive one with charges of approx. 3000 Baht for person.
Thai Cooking Class
Loved all the Pad Thai, Green Curry and Mango Sticky Rice? Then try making these yourself in a cooking class. You can check with your hotel for booking one or pick any of the other classes available in the island. They let you pick your ingredients from the local market and prepare the dishes step by step. Sounds interesting?
Secret Buddha Garden
If quirky places fascinate you, then Secret Buddha Garden of Samui is the place to be. It is a man made garden on top of a hill in a little outskirt of Samui. The garden has a great many sculptures and small cottages in a forest-like environment. And there is a waterfall inside the garden too.
Packing List for Koh Samui
Accessories
A very good sunscreen with higher SPF and a lot of it. The tropical sun hits differently and almost burns the skin. And, sunscreens are high-priced in Koh Samui.
Hat and sunglasses
Flip Flops for the beach
Mosquito repellant – Yep, this is something you will certainly need in the evenings if you plan to spend time at the beach.
Oil blotting facial sheets and Organic Wet Tissues – If you have oily or combination skin like mine, do pack these 2 items. The skin gets very oily and very soon outdoors. The sheets and tissues come in handy to have a fresh look before the photographs or before stepping in to a restaurant.
Beach bag – If you plan to alternate your time at the beach and visiting attractions or restaurants/cafes. Comes in handy to pack the sarong, a lightweight dress and sunscreen.
Pack a lightweight raincoat and umbrella if you travel in the wet season
Universal Travel Adapter. Some hotels provide this, but not all. So pack one of your own
If you plan to do some water activities like snorkelling/scuba etc, then do not forget to pack waterproof covers for your camera, Go Pro or mobile to capture those moments.
Basic Toiletries
A refillable water bottle that you can carry everywhere. This helps reduce the plastic footprint and also save money on buying water bottles. This way you can fill the water from your hotel room while venturing out.
Clothing
Beach Wear: Swim wear (bikinis, swim pants), Sarong or beach coverups.
Clothes that cover up your knees and shoulders for visiting the temples
Breezy dresses, colourful midi skirts, shorts, baggy trousers and cotton tops and shirts are the best for the hot and humid climate. The clothes get really sweaty after wearing once. So pack accordingly. Also, choose whites and pastels that feel more soothing in the heat.
Evening dresses and sandals for the romantic dinners🙂
Additional things to know
Airport Transfer: For transfer from airport to hotel and vice versa, check with your hotel once for charges. Sometimes the cost is lower than what the taxis at airport charge. Shuttles are also available at the airport.
Early Check In: The hotels and resorts in Koh Samui have check-in time around 2-3 PM. So plan your visit accordingly. There are less chances to get an early check in during high time.
Do not get too obsessed with photographs that you forget local culture. We saw people jumping near the deity for pictures and stepping on the deity's platform with shoes on. Please avoid such things.
Water sports and bike rent: Have heard of many scams regarding this. So consult with your hotel to find a trust worthy provider for renting scooters. Also, check the vehicle thoroughly (take pics and videos too) before you bring the bike along. Same goes for waters sports. Or you may end up paying more.
Keep Buying Zolpidem Uk enough cash for paying for small purchases. Though hotels and restaurants majorly accept cards, smaller outlets, adventure sports etc. will require cash. Koh Samui has many ATMs for cash withdrawal.
Wi-Fi works well in the hotels, cafes etc. Yet it is good to have a local SIM card with data/call facilities. We took one from Bangkok.
Thats all. We had spent days researching and planning for this trip. And now we have included all that information in this article so that you can plan your trip smoothly. If you liked this article or have further queries, do leave us a comment and we will get back to you as soon as we can.
Love visiting beaches? Check our other articles here.
Prices mentioned in this blog are effective as of June 2022
Facebook Comments