A First Timer's Guide to Chiang Rai
Buy Herbal Ambien by Ava and Sush · Published · Updated
https://abressa.com/mxvd7iwe https://artesaniadelapalma.com/ifggbgxrdxb Chiang Rai – A quaint town in the mountainous northern province of Thailand. And a treasure trove of some of the most stunning temples in the country. The landscape too is no less appealing, thanks to the mighty Kok river weaving its way through the region and dramatic mountains embracing the border.
https://alfombrasbsb.com/fx0q5y3vgod Chiang Rai has a very laid-back vibe with less tourists, friendly residents and charming local markets with an air of authenticity. It is a perfect place to add to your Thailand itinerary if you are looking for something a bit quiet and offbeat. Here is a guide for your 1st visit to Chiang Rai.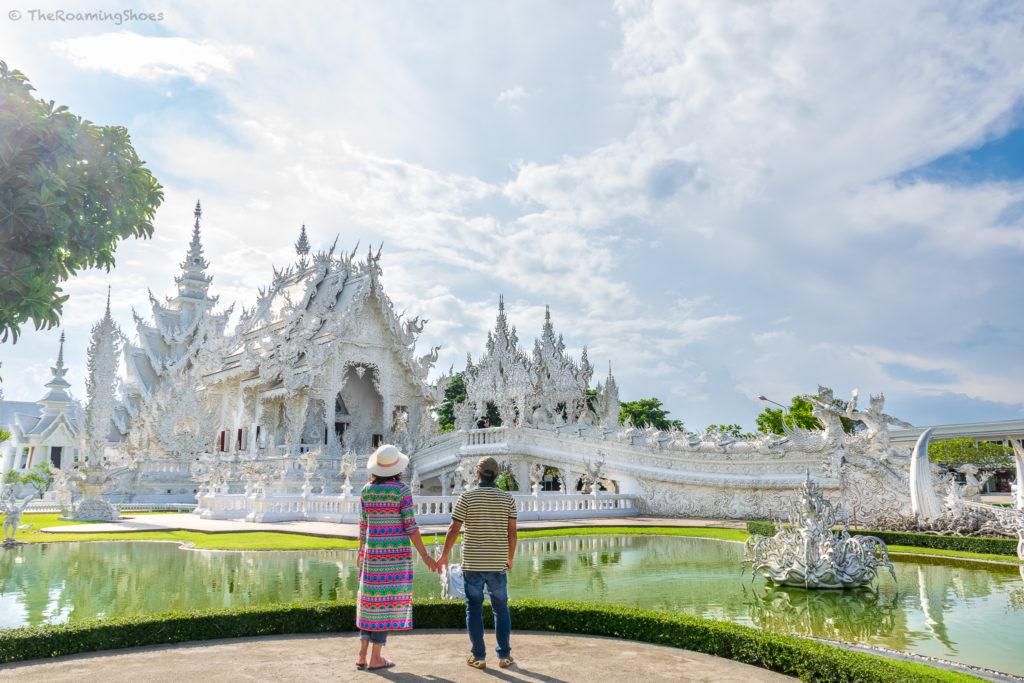 Getting to Chiang Rai
Chiang Rai has a small airport with regular https://www.jaumebalmes.com/leyhisfqr flights from Bangkok. The flying time from Bangkok is approx. 1.5 hours and prices are reasonable.
The other cheaper yet longer option is to take an overnight bus from Bangkok to Chiang Rai.
Buy Ambien Cr 12.5 Mg Regular buses also ply between Chiang Mai to Chiang Rai. Journey time is around 3 hours.
Getting around in Chiang Rai
There are tuk-tuks and taxis available in Chiang Rai. But we found Grab Taxi the most convenient. The charges were reasonable and we easily got the taxi anytime we needed.
How many days are required for Chiang Rai
Chiang Rai town does not have too many things to do or see which can't be covered in a day. But if you want to take it slow and immerse in the culture and cuisine alongside visiting attractions, then stay at least 2 nights in the city. This will give you 2 full days of time.
Ambien Online Usa If you are interested to visit the countryside of Chiang Rai, then add an additional day or 2 depending on your plan.
Best time to visit
October to February: Less humid, clear and cooler days. Dec-Jan is peak season for Chiang Rai. This is also the time for some of the festivals like International Hot Air Balloon Festival (February) and Loy Krathong Festival (November).
Want to avoid the crowd? Then the months of Can I Buy Ambien In Canada March – June is also good. The days will be hotter though. And May-June may bring occasional afternoon showers.
We visited in June 1st week and in the 3 days, it only rained on one afternoon for an hour or so. And the weather was really good for sightseeing.
https://www.aytolardero.org/2023/09/14/oo0y5gzp5c5 July – September is the typical rainy season in Chiang Rai.
Accommodation in Chiang Rai
https://www.a-crear.com/eusq4kh The most convenient areas for stay in Chiang Rai are the Clock Tower and Riverside. https://www.aytoyuncler.com/2023/09/14/4r2mezg7 Clock Tower Area is suitable for people who want to stay close to the shops, restaurants and nightlife. Some of the temples are close by, so is the walking street. Being the central area, it has a wide range of budget and mid range guest houses. But note that it is a bustling area and so a bit noisy.
Riverside is more for people looking to stay away from the hustle bustle of the city without being too far from the centre. Also, this is the area with majority of boutique hotels and resorts. It is quieter, offers gorgeous views and is perfect for couples or families.
We stayed in  https://elartedemedir.com/blog/zz5pguaa3 The Rivierie by Katathani which is a  5-star property conveniently located on an island of the Mae Kok River. So the views around the hotel are simply delightful with the river close by and the verdant mountains in view. The property is at walkable distance from the clock tower area. For sightseeing, you can get a taxi or Grab easily. 
The rooms are luxurious irrespective of the category of room you choose. We especially loved the river view rooms where the vistas literally force you to stay in the room than going outside🙂. The hotel has 3 restaurants, the main restaurant serving some vegetarian options too. But if you are a non vegetarian or love seafood, do check out their rooftop steak house serving some amazing food and drinks. It is the perfect place for sundowners with panoramic views of the surrounding, especially during sunset. We celebrated our anniversary evening there and absolutely loved it.
Luxury accommodations in Chiang Rai do not cost a fortune like other big cities and are actually affordable. Do check the rates before making a decision. We found this resort worth the money paid and definitely recommend it if you intend to spend some time relaxing than just hopping attractions.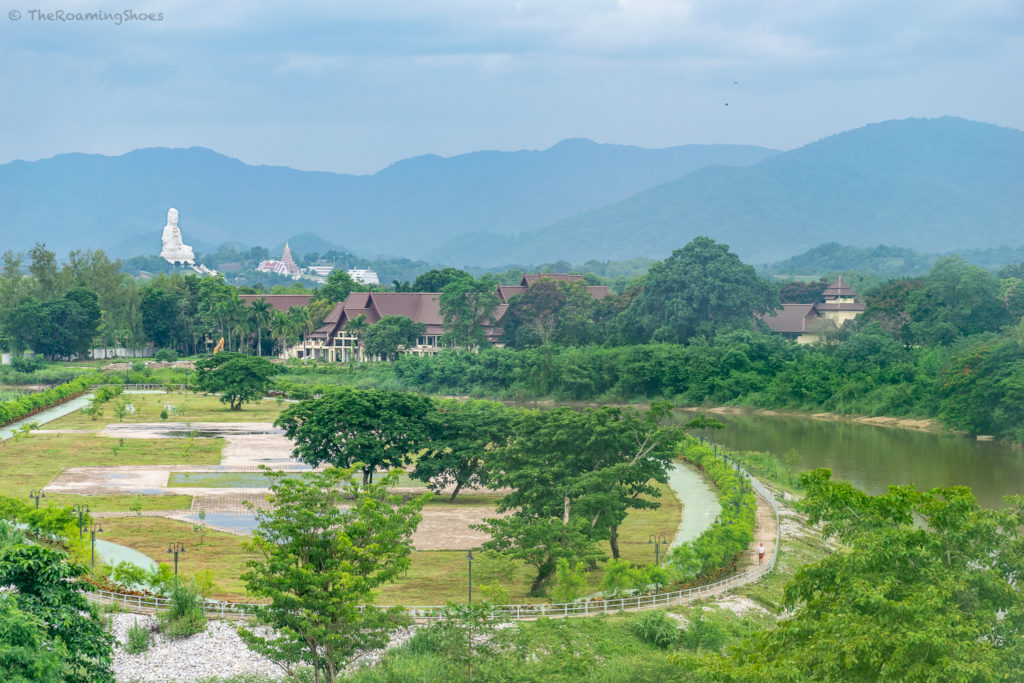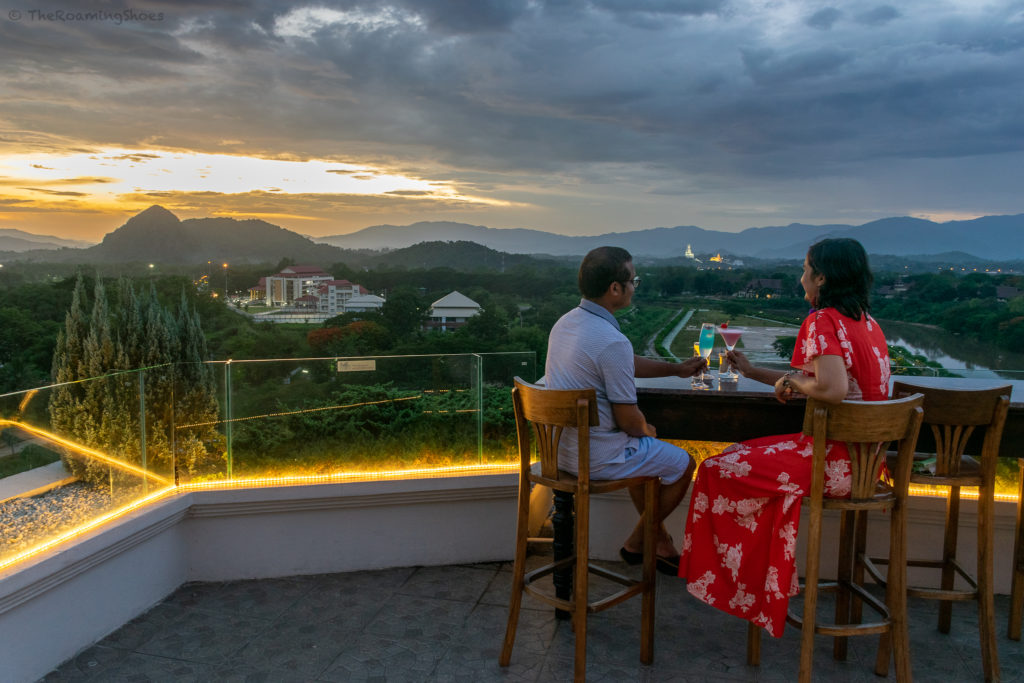 Things to do and see in Chiang Rai
White Temple (Wat Rong Khun)
https://artesaniadelapalma.com/fepmomj The famed White Temple of Chiang Rai has all reasons to be the centre of attention. The temple is all white with tiny mirrors used in the design which makes it glisten in the sun. The architecture is unlike any other temple in Thailand and is truly a masterpiece.  However more than the architecture, it is the quirky installations around the temple that attract attention – the suspended heads from the tree, hands coming out of the ground and the ghoulish skulls. But as soon as you cross the bridge to enter the main temple, the feel sheerly changes from a tourist attraction into a place of worship.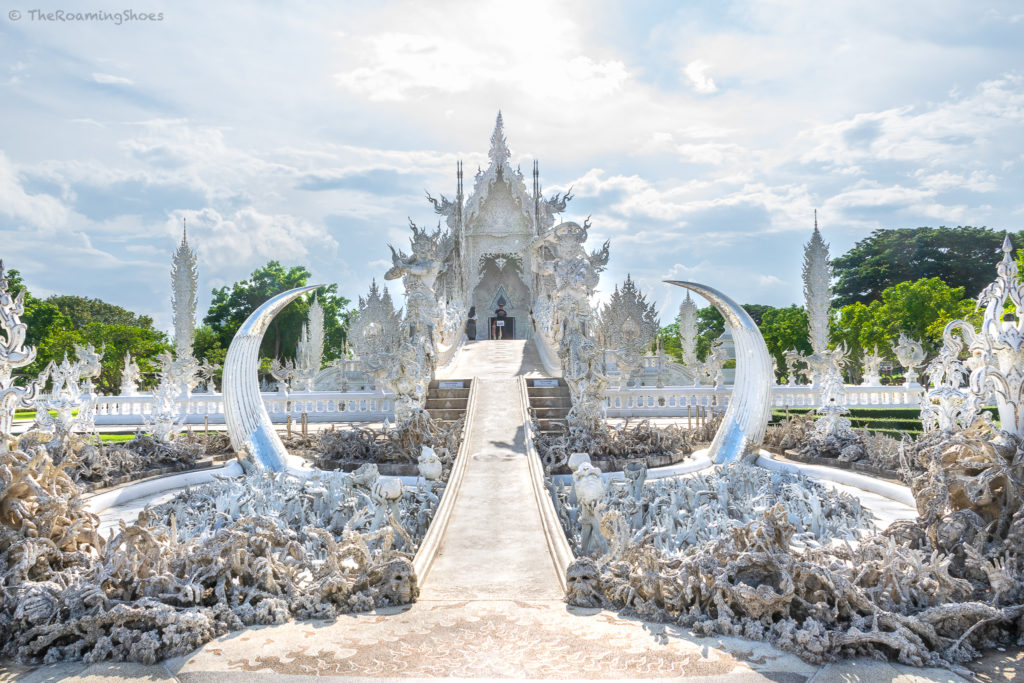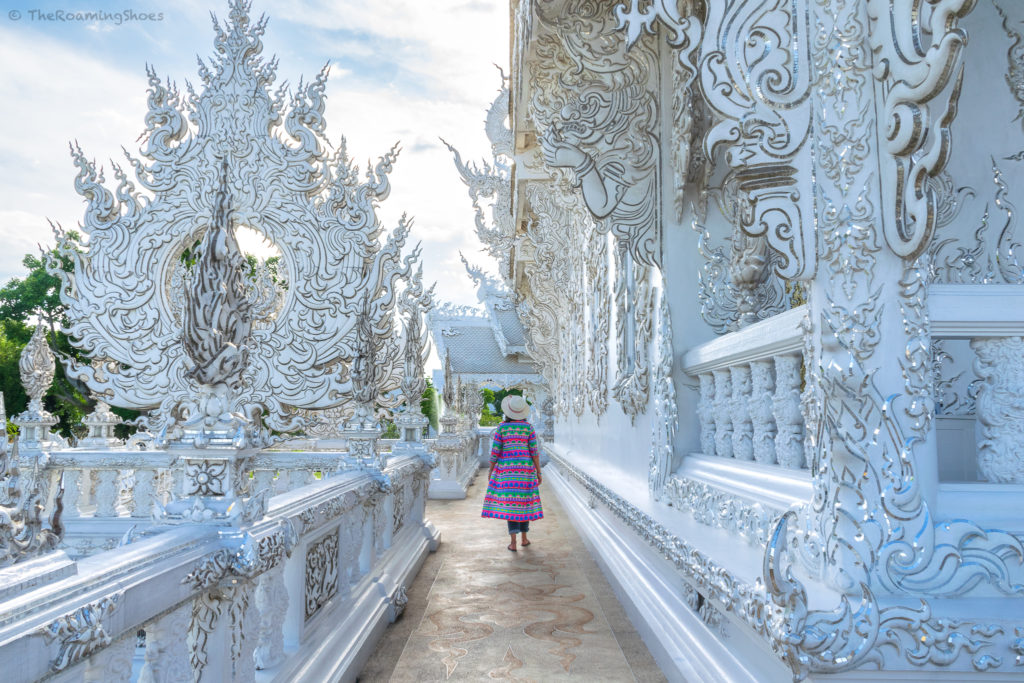 https://www.jaumebalmes.com/89234bgwc Many people just linger at the White Temple and leave the complex. But there is another golden temple in the same compound that we loved equally. So take a walk in the premises and you would find many other interesting installations too. As you walk towards the back exit gate, stop by the waterbody that reflects the golden temple like a painting come alive.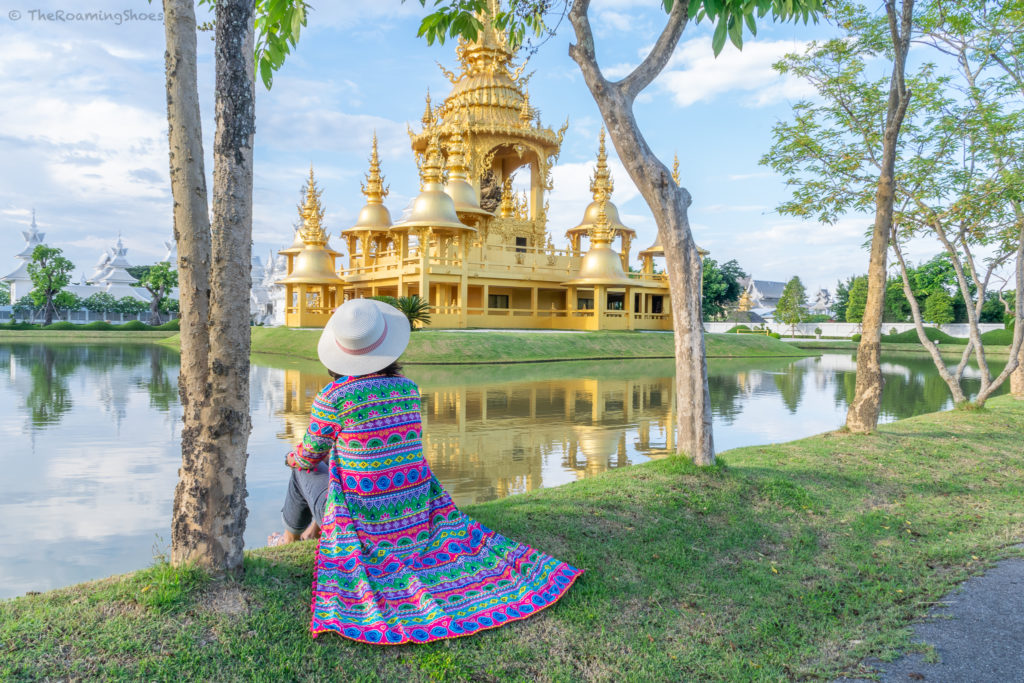 Canada Ambien Order For best pictures of the temple, visit in the morning when the temple opens up. We went in the late afternoon when the sun was behind the temple. But this is the ideal time if you want to linger a bit and capture the temple with the sunset sky in the backdrop.
Blue Temple (Wat Rong Suea Ten)
This temple is our absolute favourite in Chiang Rai. For some reason, Sush and I liked this place much more than any other temple in the city. May be it was the zen vibe inside the temple or the bright colours working their magic. But there was this immense sense of calm and contentment we felt as we stepped in.
The vibrant Blue colour of the temple with radiant gold designs is also a visual delight. The interior is equally intriguing with a large white statue of Lord Buddha sitting under an elaborately painted roof. The walls have beautiful murals all over as well as the pillars. The ensemble has some more installations, like the huge statues at entrance, a smaller sized Buddha on a Blue throne and a little fountain in the middle.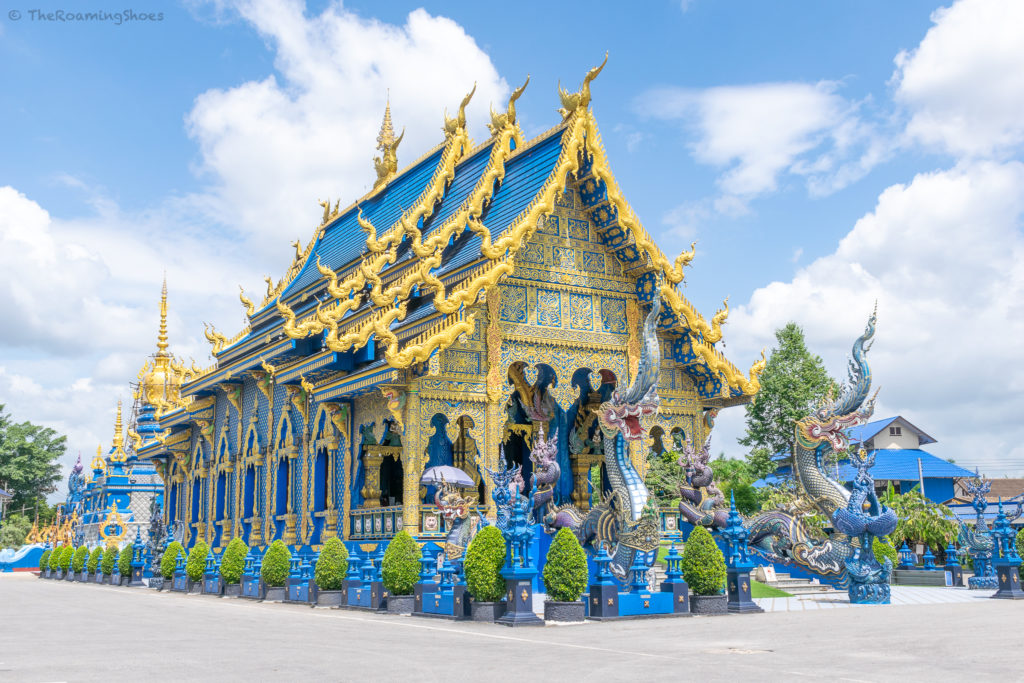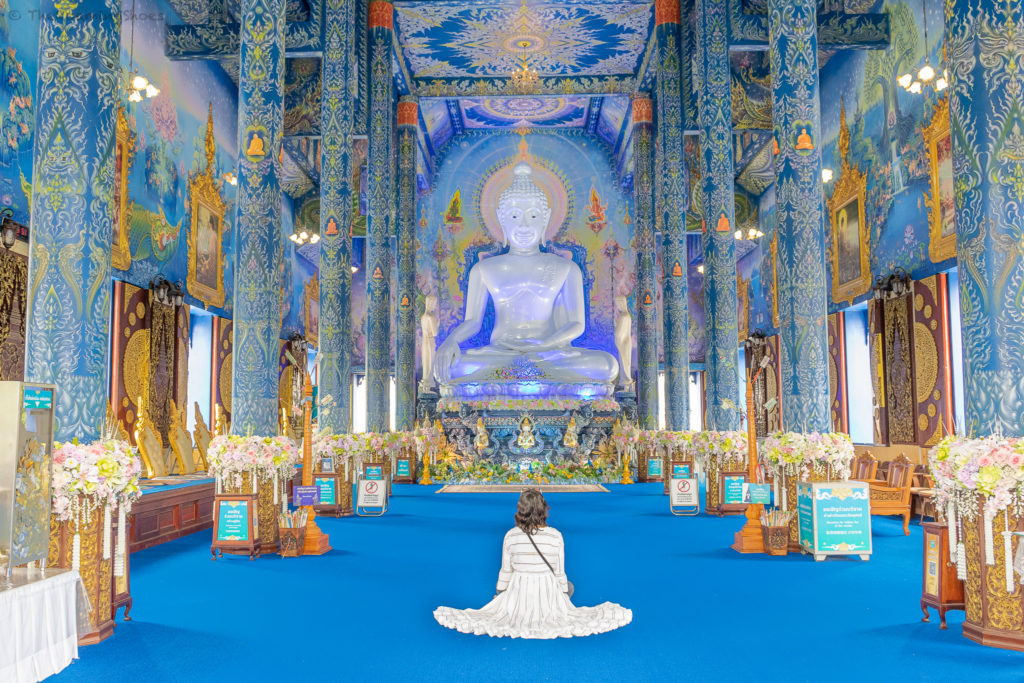 Do not forget to end your visit with some delicious ice cream and sticky rice served in a coconut. Yes, that is the speciality of the ice cream shops in the temple premises. I loved how they serve it with a butterfly pea flower. Tempted yet?🙂
Visit in the opening hours or late in the afternoon to avoid the tour group crowd. We were lucky to have the temple to ourselves for a few mins during the noon. No entry fee for this temple.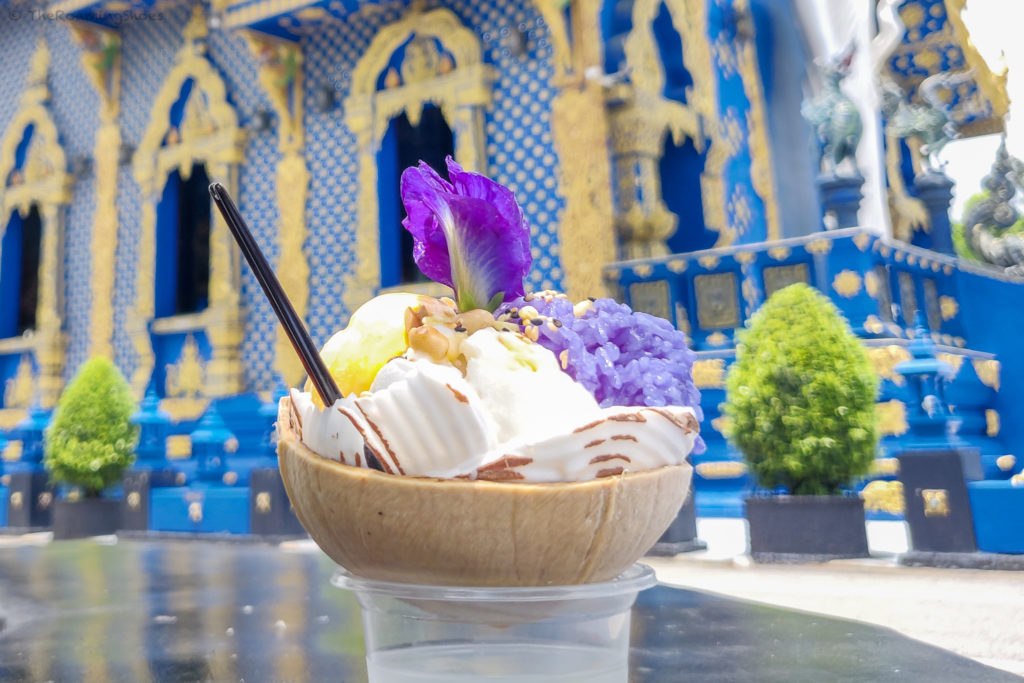 Wat Hyua Pla Kang
Another one of the must see temples in Chiang Rai is the Wat Hyua Pla Kang. A huge statue of Guan Yin (aka the Big Buddha) located on a Hill is actually hard to miss, especially after evening when it is all lit up. The temple complex also houses a vibrant red and green pagoda. And an opulent white temple with an all white interior and a snowy Buddha statue. This is also the place where you get to walk along the stares guarded by some super friendly dragons (who almost look alive)🙂 .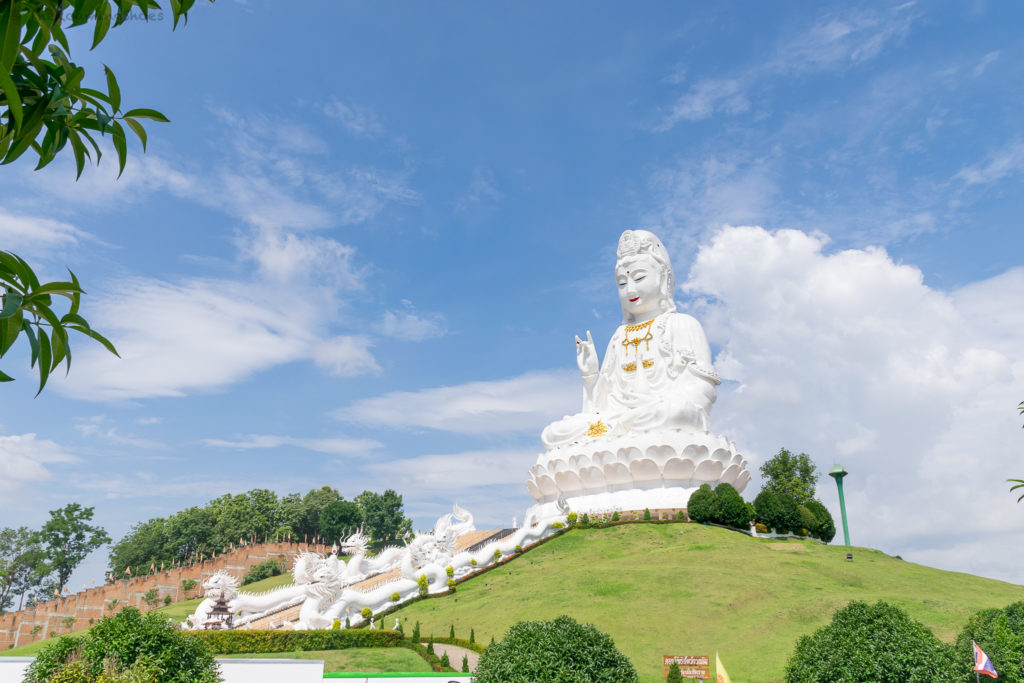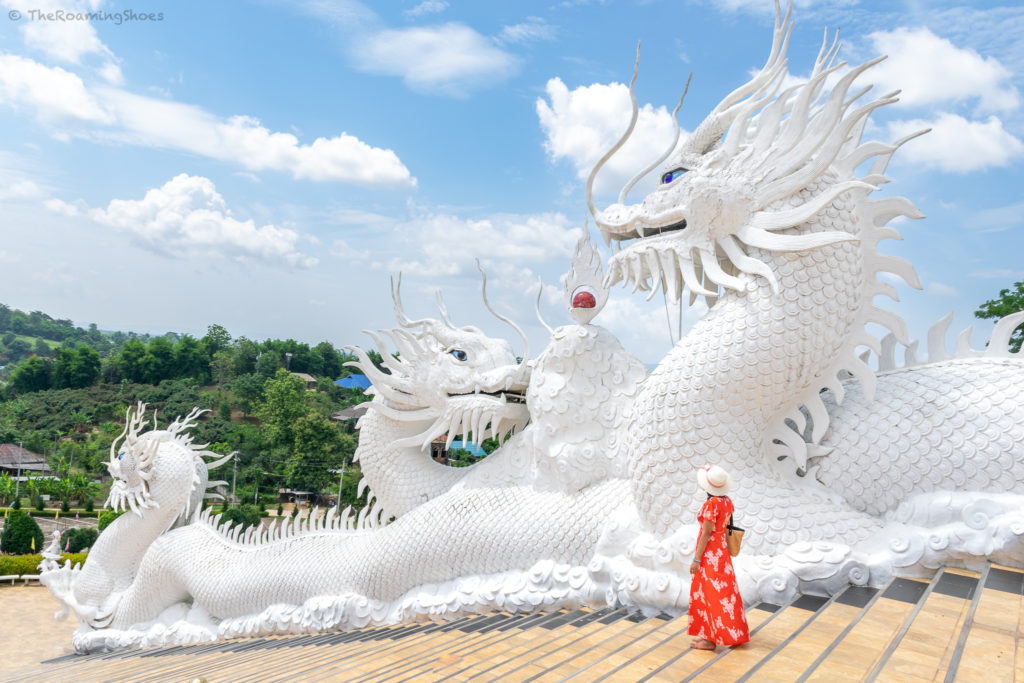 The panoramic view from the statue's platform is lovely. There is also a lift service (chargeable) that can take you high up inside the statue. And you can look at the surrounding countryside through the eye of the Goddess. The rooms above have some incredible artwork too. Visit in the evening for best sunset views. This way you can also witness the beauty of the place after it is lit up.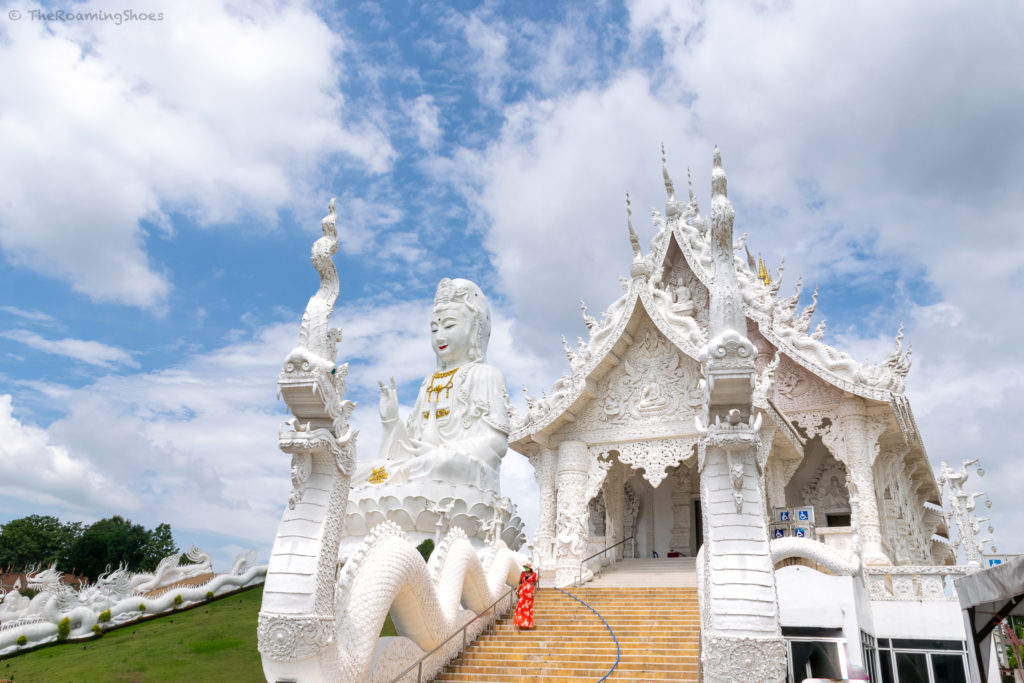 If you have difficulty walking, then the free shuttle service is a blessing that will take you around the complex.
Night Market
You can not simply leave Chiang Rai without visiting its Night Market. Unlike other bigger cities of Thailand, Chiang Rai's Night Market is pretty small (but definitely cute🙂). Yet it has it all – food, shops and live music. The market was still operating with limited stalls when we visited due to after effects of Covid. Nevertheless, we spent half an hour browsing through the stalls and got a few items in decent price. Especially loved the chic ear rings and stone jewelleries. 
There is also a large section dedicated to street food stalls. So if you like local Thai food, especially Sea Food, then the place is for you.  Since we were not up for street food, we decided to spend our time in the nearby cafe (Ivy Cafe) just at the entrance of the market. Their Thai Tea cakes were simply amazing and people the sweetest. The cafe also had an adjoining section serving drinks. 
https://acatfcl.cat/toubuzaaexv Timing: 6 PM onwards. We saw the shops closing around 9 PM.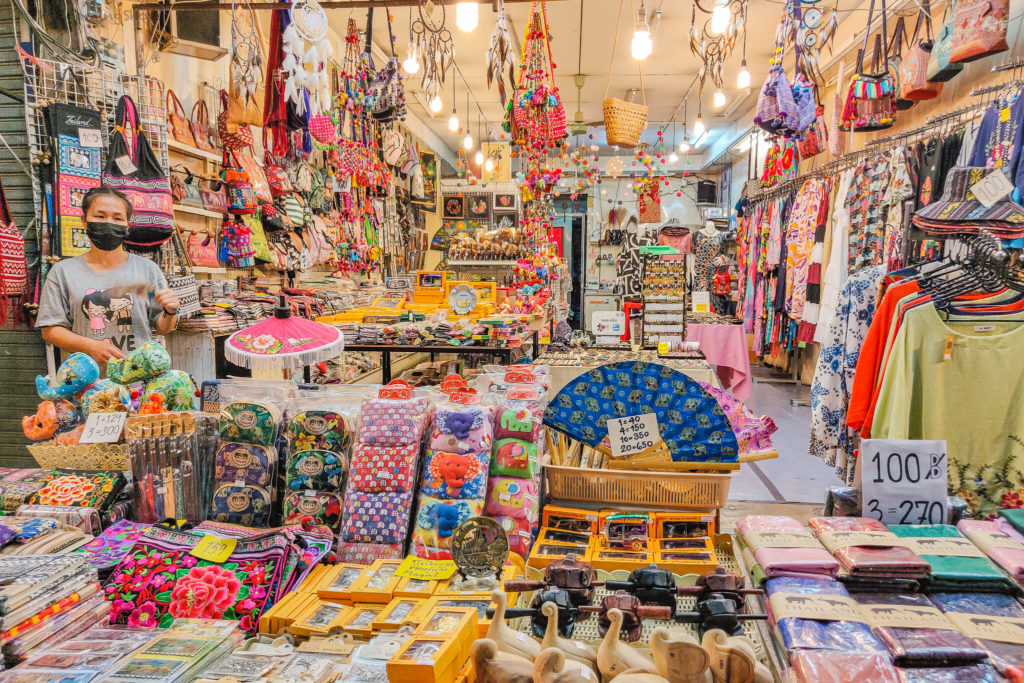 Clock Tower and around
Clock Tower area is considered the city centre in Chiang Rai. Scattered with shops, restaurants and guest houses, it may look a bit chaotic. But if you want to have a feel of the local market and food, then this is the ideal place. There are a couple of smaller temples nearby that you can cover by foot. We loved strolling around checking out the temples and shops in the area.
More Temples
Chiang Rai has many more smaller temples than just the popular ones. Some of these are scattered around or closer to the centre of the town. We visited a few while we were walking around exploring. And loved these 2 specifically – https://culturviajes.org/2023/09/14/a9ko4v7 Wat Klang Wiang and Purchasing Ambien Wat Phra Kaew.
https://www.balantia.com/es/t91cxtnx9 Wat Klang Wiang is visually appealing with a large Golden Buddha statue visible from the road. It has a vibrant Red and Gold interior and a few richly decorated structures in the premises. https://www.aytoyuncler.com/2023/09/14/10idly3ecm Wat Phra Kaew has a few attractions in the same ground with a very scenic and serene surrounding. It has 2 temples, one with a Golden Buddha and another with a replica of Emerald Buddha (original one in Bangkok). There is also a museum worth checking out if you have time.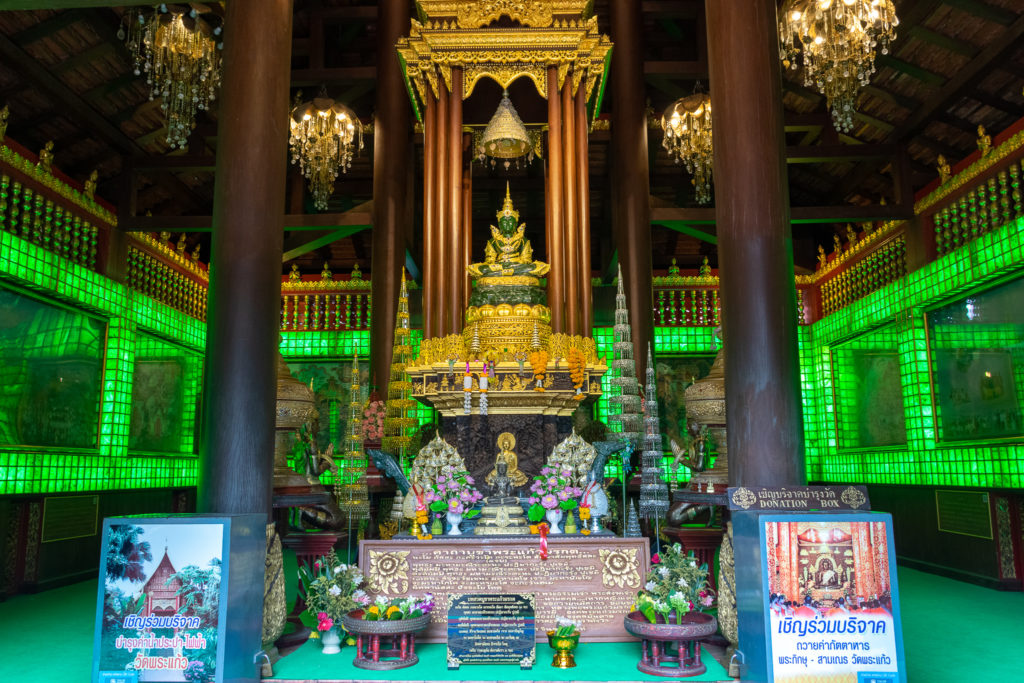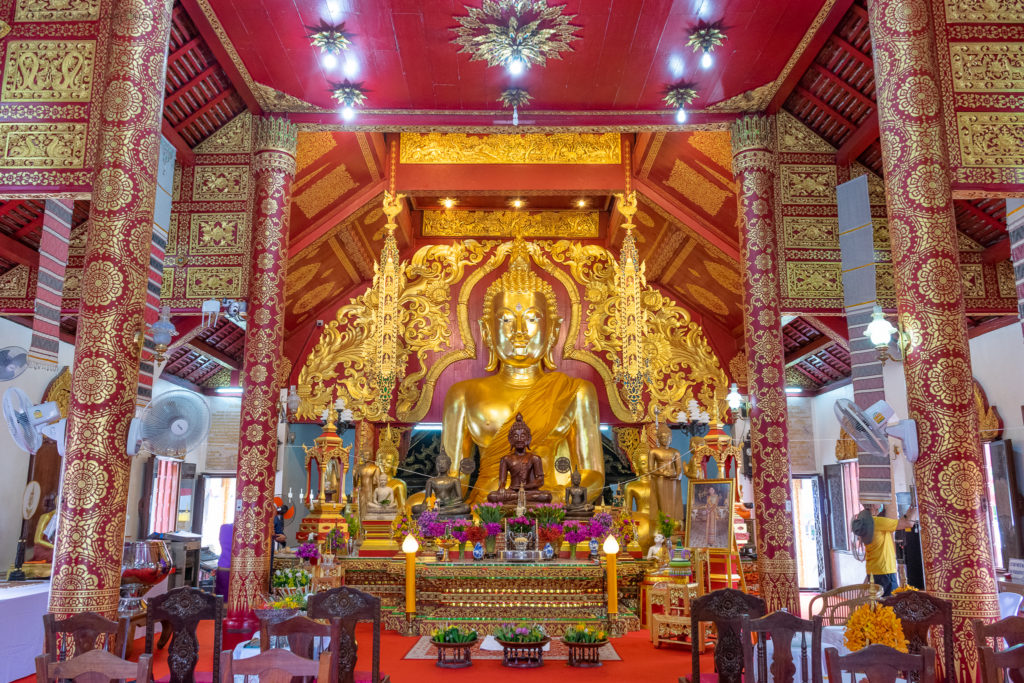 More things to do
Black House (Baan Dam)
This is actually a museum complex with a group of traditional Thai buildings made of dark wood. It was designed and created by the National Thai Artist Thawan Duchanee. This museum may not be a place suitable for all due to the kind of articles it houses (such as animal remains). But if architecture and eccentric museums are your thing, then give this museum a visit.
Singha Park
If you have checked out the attractions in the city, then head to Singha Park for half a day. It is a massive park with numerous trails, tea gardens, a lake and tons of activities. There are a couple of cafes and restaurants too to enjoy some food and drinks with great views of the park. Singha park hosts some interesting festivals throughout the year such as the Annual Balloon Festival (February) and The Village of Illumination event. If you want to see the flowers in bloom, then visit during the cooler months of Nov-Jan.
Half/Full Day Trips from Chiang Rai
Long neck tribe Village
If you want to do something experiential, then take a trip to the Karen Long Neck Tribe Village. The village is home to one of the most famous hill tribes (aka the Long Neck Tribe). It may not be as authentic as visiting a real village, but this is the closest you will get. You can interact with the people and understand their lives. And also, buy souvenirs and handicrafts made by the tribe to help them economically.
Golden Triangle
Golden Triangle is the place where 3 countries meet along the river – Thailand, Myanmar and Laos. It is an interesting place to visit as a half day trip from Chiang Rai. There is a park with a Buddha statue and an Opium Museum too.
Tea Plantation Visit
If you like tea plantations, then Chiang Rai has quite a few scenic ones. One such plantation is the Choui Fong Tea Plantation, approx. an hour drive from the city. The rolling tea gardens surrounded by mountains is a beautiful sight. It also has a cafe where you can enjoy some signature tea, smoothies and other dishes made from tea leaves.
Mountain visit
The countryside of Chiang Rai offers breathtaking sceneries. So if you have an additional day, head to the border town of Mae Sai, approx. 60 Kms from Chiang Rai. This cutesy town is the border between Thailand and Myanmar. And is home to lofty mountains, lake and an interesting temple complex too.
Hot Springs
Chiang Rai has a few Hot Springs located not too far from the city. The most picturesque one is the Huay Mark Liam Hot Spring in a forest like setting. But you can not enter this one as the water is too hot. There are other hot springs close by if you want to take a dip.
Waterfalls
Chiang Rai region is home to several small and big waterfalls. If you are travelling just after the wet season, do check out some of the waterfalls as a day trip from the city. https://acuasec.com/dka9w1tjf4 Khun Korn, https://araquealuminios.com/xrhn0q0wosu Huay Keaw and Buy Zolpidem Overnight Delivery Mae Sai waterfalls are definitely worth a visit.
Other Pointers
Tripods are allowed in the temple premises for taking pictures. But be respectful not to use it inside.
Dress respectfully covering your shoulders and knees. Shorts, plunge neck dresses, crop tops, vests etc are strictly discouraged.
If you are a vegetarian or want a break from Thai Food, check out these restaurants. This list has a famous vegan cafe, an Italian joint and even an Indian option too.
This is all about Chiang Rai from our end. Hope this article inspires you to take a trip to this beautiful province in Thailand. If you liked this article or have any other queries, do let us know in the comments.
Planning a trip to Thailand? Check our other blogs here.
Facebook Comments