Fireflies mantled Nights and Misty Mornings – A different Coorg
This world is full of wonders, the kind of wonder that takes your breath away and makes you feel humbled. And we were lucky to have one such magical experience on our last trip to Coorg. Standing under a lush canopy on a faint moonlit night, I felt goosebumps rise all over my body, looking at the extraordinary scene unravel in front of us. Thousands of fireflies twinkling among the trees like a sky full of stars. It seemed almost unreal, for it was a dream come true, a moment I will cherish forever.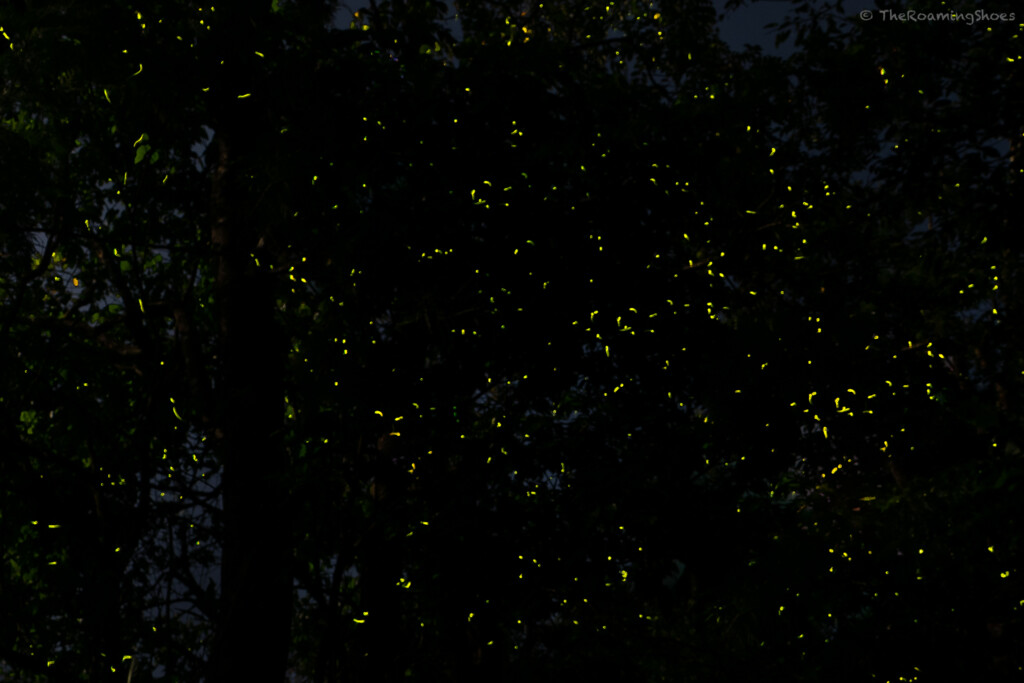 Where and When can you experience this
This firefly gathering is a very unique phenomenon and can only be witnessed at specific places in India (mainly the Western Ghats). And this happens during a certain period of time. Coorg in Karnataka is one of those places. In order to experience this, plan your visit during March last week – April 3rd week. The best period is Mid April.
We stayed at Rainforest Retreat, Madikeri to witness this. This is the only accommodation in Coorg which offers this experience as per our knowledge.
What to expect from the Accommodation
The accommodation at Rainforest Retreat is pretty basic though comfortable. The whole place is set up inside a plantation under a thick canopy of trees. So expect being greeted by colourful Butterflies, spotting different kinds of birds and even some crawlies going about their lives leisurely.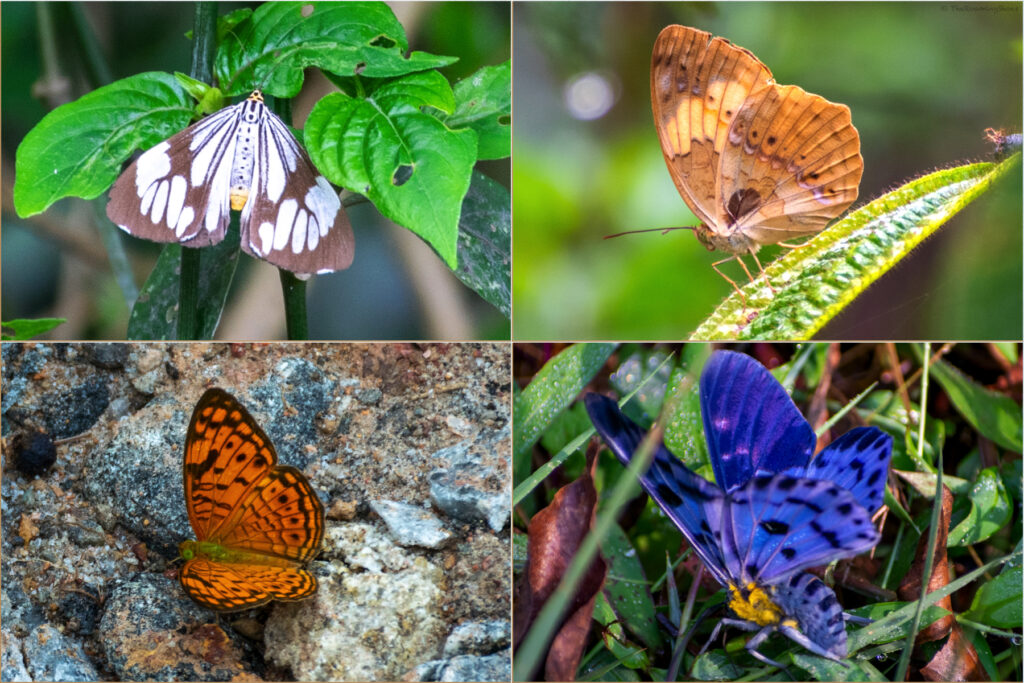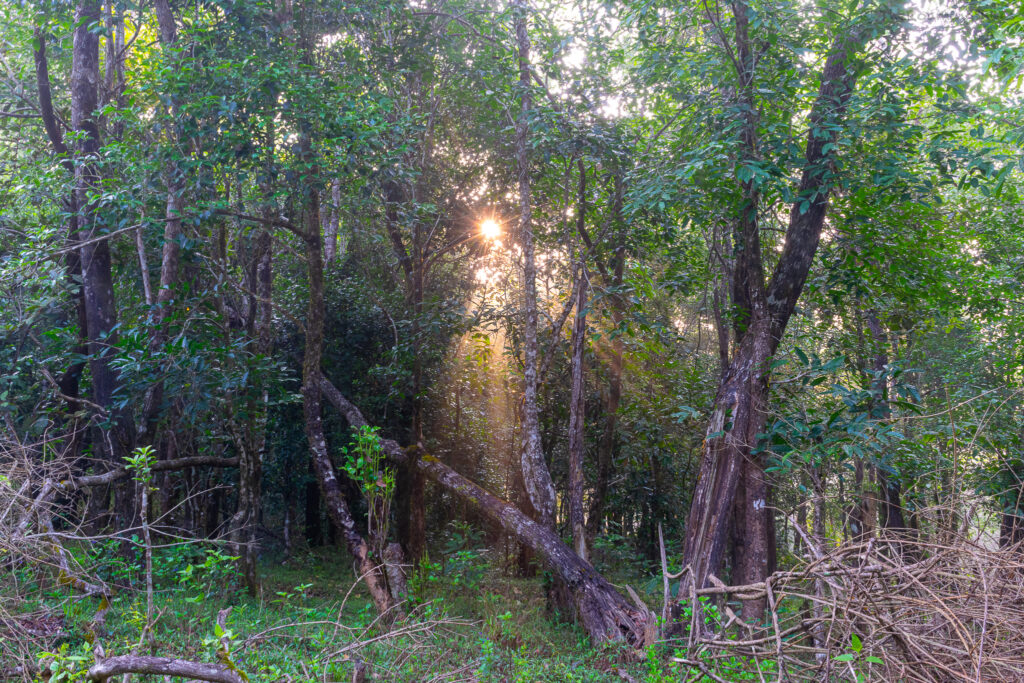 Stay
They offer cottages of various categories based on different traveller's needs. We stayed in a Deluxe Cottage which is close to the common dining area and is suitable for couples or a small family with kids. The room was spacious enough with a queen bed and a dual bunk bed and had a large living room next to it. It had an attached vintage looking tiled bathroom and hot water was available on need basis. And the best part was the verandah that opened to the lush view and reminded me so much of my native village in Odisha.
So the place had everything a nature lover may need, but none that city dwellers like us use on day to day basis. So no TV, phone, electric kettle or internet in the rooms (not even charging points). Charging points and wi-fi are only available in the common dining area.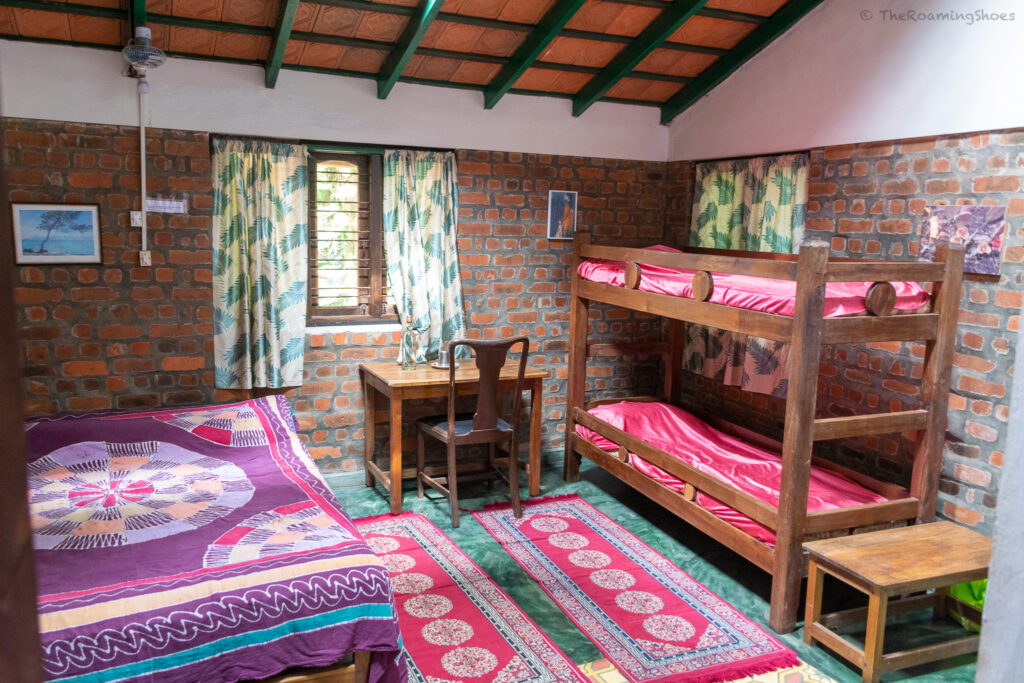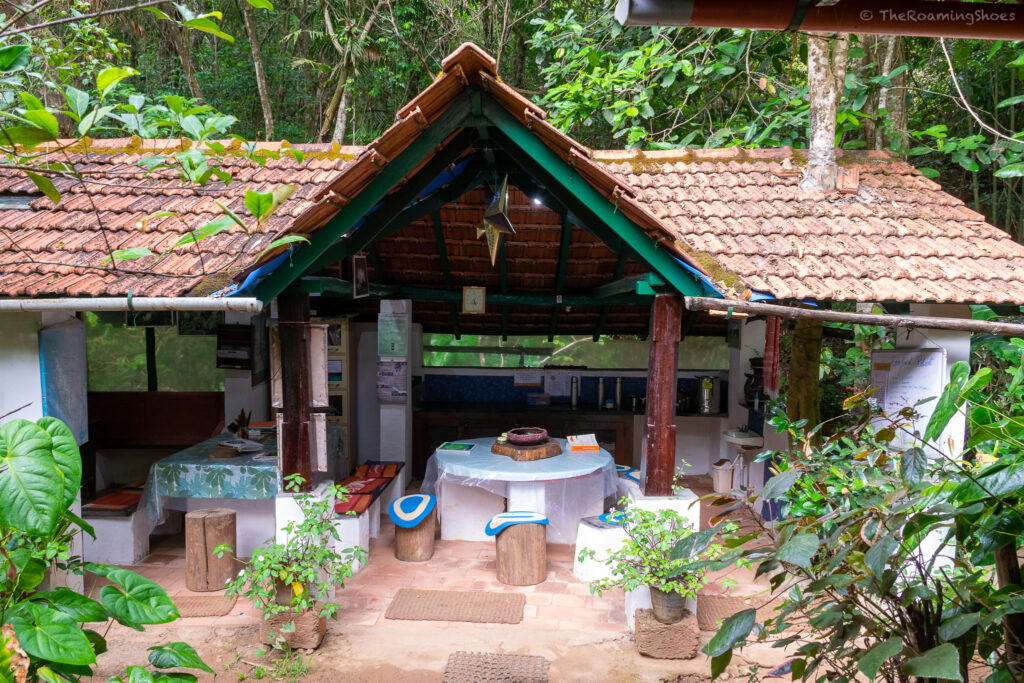 Food
The food is made from organically grown items and is super tasty. Anything and everything we had was absolutely delicious and had a homely touch to it. Both vegetarian as well as non vegetarian options were available. Food as well as tea coffee are served in the common dining area during specified times and this community dining is what I loved the most. Because that gives you the opportunity to talk to the other guests. So the atmosphere was always lively with interesting conversations.
Charges and Inclusions
We paid INR 4400 (INR 4000 for room + 10% tax) for one night for the deluxe room. Apart from breakfast which is included in the stay, lunch and dinner are charged separately at approx. INR 400 + 10% tax per person. Guided nature walks, treks and fireflies watching is included in the stay. You can also explore their coffee plantation on your own.
This was in 2022. So refer their website or email them for the latest prices.
The only thing I was a bit concerned about was the non availability of any form of communication with the people managing the place at night. There is no phone in the room and the mobile networks do not work there. No wifi later at night and so you are absolutely cut off. And since they run on Solar power, all lights are switched off at night and it becomes more tedious if by any chance you need their assistance then. I hope the accommodation takes care of this in the future.
How many days required for the stay?
Choose 2 night for your stay if you are opting for some treks. Also, as it is the time of rain, one night may be a bit risky if you want to watch the fireflies. We were lucky that the rain stopped just before 10 pm and we could see the fireflies that night.
Additional Pointers
If you are planning on a weekend, book at least a month in advance as weekends get fully booked during the fireflies season.
Choose a cottage close to the dining area if you are going with kids or elderly people. They also had cottages in the opposite side of the road which is a 5 min walk through the plantation to the dining area. And it may not be convenient for everyone especially at night.
The Fireflies Experience
Now coming to the main experience of watching the fireflies. Once dinner is over, at around 9:30-10pm, the fireflies guided tour begins. The caretakers at the accommodation take the guests into the plantation area where the fireflies gather in large numbers. Once we entered the plantation, we could see the twinkling lights everywhere. But there are certain areas where the fireflies gather in more numbers and the guides help you into those areas.
It feels surreal when the torch lights are turned off and all you can see are are the tiny lights of the fireflies flickering amidst the trees. Since we were there mid of April which is the peak season, we could see thousands of fireflies. We just found a spot to set our tripod and camera and took a few pictures. But standing there and watching those fireflies for hours was an experience I can not express in words. It is something to be seen with your naked eyes to be believed.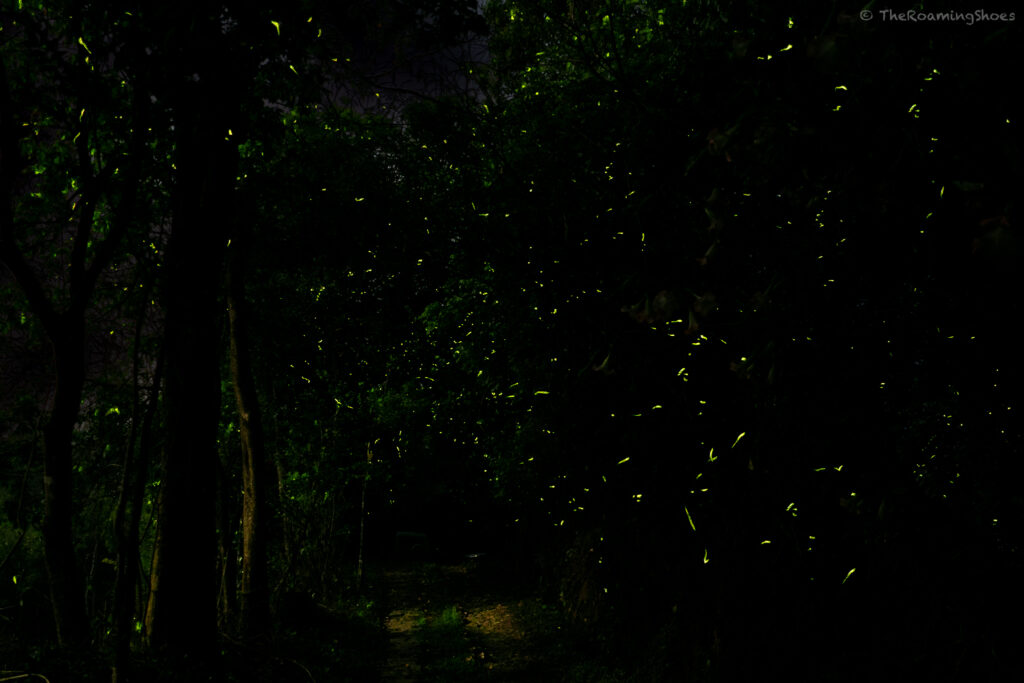 What to Carry
A pair of good Shoes: With good grip since the path is muddy and preferably with high neck to avoid the leeches. Waterproof ones are the best choice.
Torch light/Emergency light: Required for walking inside the plantation for watching fireflies. And if you are someone like me who can't sleep in absolute darkness, then carry an extra pair of torch batteries too. I kept the torch on all night with its face down
Dettol/Sanitizer: To remove the leeches if they come in contact with your skin
Umbrella: Occasional showers are quite common during this time
Camera and Tripod: After all, we do not want to miss capturing the Fireflies, right?
Powerbank: Since only the common area has charging points, it may sometimes get fully occupied. So carry a power bank for your charging needs.
Clothing: Mainly Pants, tops/shirts/t-shirts. And a lightweight jacket with hoodie since it gets a bit cold in the morning and night
Light Snacks: Carry some snacks especially if you are traveling with kids. They only provide biscuits with tea/coffee in the evening.
Reusable water bottles: Carry a few water bottles and you can refill from the dining area since they do not provide plastic water bottles
Required Medicines
Additional Places to Visit in Coorg
If this is your first visit to Coorg, then add a day or two more to this trip and you can also cover the other attractions.
Namdroling Monastery or Golden Temple: You can visit this on your way back since it actually comes under Mysore district. The monastery is very beautiful and is one of its kind in South India.
Dubare Elephant Camp: If you want to see the elephants and even get involved in feeding or bathing them. [I don't encourage the rides though.] This is a good place if you are traveling with kids.
Chiklihole Reservoir: More of an offbeat destination in Coorg. But has a very lush surrounding and offers gorgeous sunset views.
Mandalpatti View Point: Good for a sunset visit. Take a jeep ride to the top to enjoy panoramic views of the surrounding.
Abbi/Abbey Falls: The most popular falls in Coorg. Looks gorgeous during monsoons or just after.
Tala Cauvery / Tala Kaveri: This is considered the source of river Cauvery. And is considered a sacred place with a small temple present there. Since the place is on a hill top, it provides great views of the surrounding, especially early mornings feel enchanting surrounded by fog.
The Final Words
Sush and I, both have been immensely lucky to have spent a good part of our childhood in 2 small villages of Odisha. So the loud chirping of crickets at night, the sound of raindrop falling on the tree leaves and sight of twinkling fireflies after sundown always bring back that warm and fuzzy feeling. This whole experience at Coorg was like going back to the childhood days as we got to experience all of this again. And we both truly enjoyed it. If you are someone like us, someone who loves unadulterated experiences over luxury, then this is for you.
So go ahead and plan your trip to Coorg this Fireflies season. Hope our blog helps you plan your trip. Leave us a comment if you enjoyed reading this article or have any additionally queries.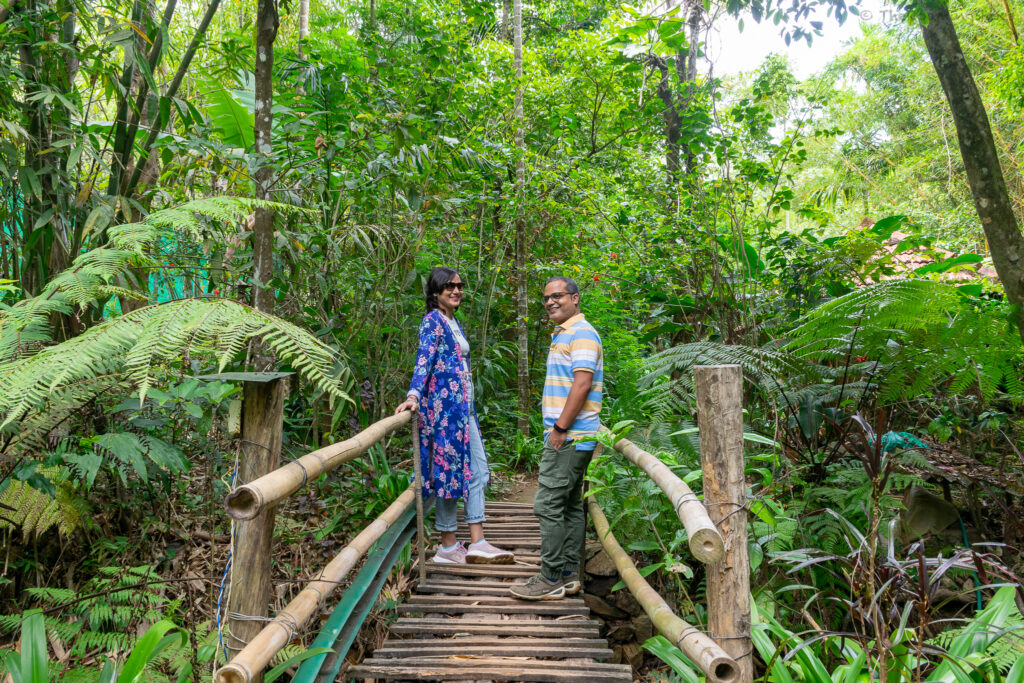 Want to know about other interesting places or experiences in Karnataka? Read our other blogs here.