Things not to miss in Mysore – A Regular's Guide
Mysore has a very special place in our hearts. When Sush and I came to Bangalore initially, Mysore was our go to destination whenever friends or family visited. We have been to this historic city so many times that we gradually lost count. Yet, there was so much more to see and experience when we recently visited Mysore after a gap of almost 10 long years. It was a mix of old and new where we revisited some of our favourite spots, and at the same time explored the new additions.
So after exploring every nook and cranny of this beautiful city over numerous visits, here is the list of things we recommend not to miss in Mysore.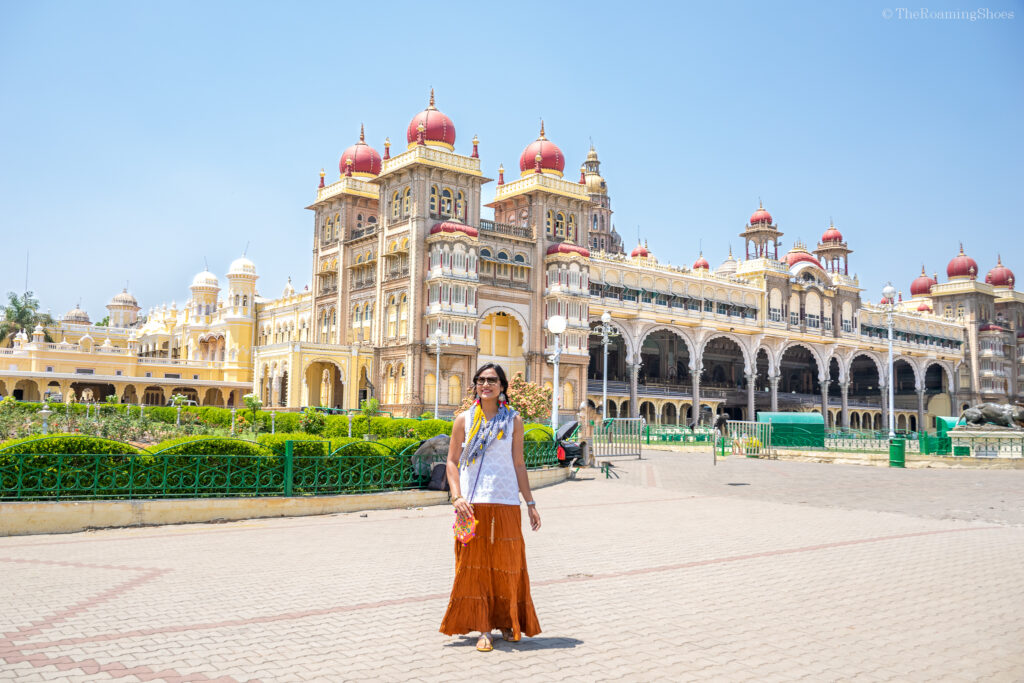 Things NOT TO MISS in Mysore
Mysore Palace and Illumination
Mysore palace with its grand exterior and vibrant and artistic interiors is a must see in Mysore. This palace even after so many visits still leaves me in awe like it did the very first time. So set aside a good 2 hours to explore the palace in the day. But more than that, make sure to be there when the monument is illuminated in the evening. This is the time when the palace comes to life decked in thousands of candescent light bulbs. We were swept off our feet when the entire palace compound went dark and the lights of the palace came into life creating a shining outline. It was a visual splendor, an experience like no other.
Know before you go:
Palace illumination happens everyday for 15 mins at the end of the light and sound show that continues for 45 mins. The show happens everyday (except Sunday and Govt Holidays) in Kannada and English depicting the rich history of Mysore. Tickets are applicable for the show. Check the timing and fees here (https://mysorepalace.karnataka.gov.in/timings.html)
On Sundays, the palace is illuminated for an hour and no entry fee is required.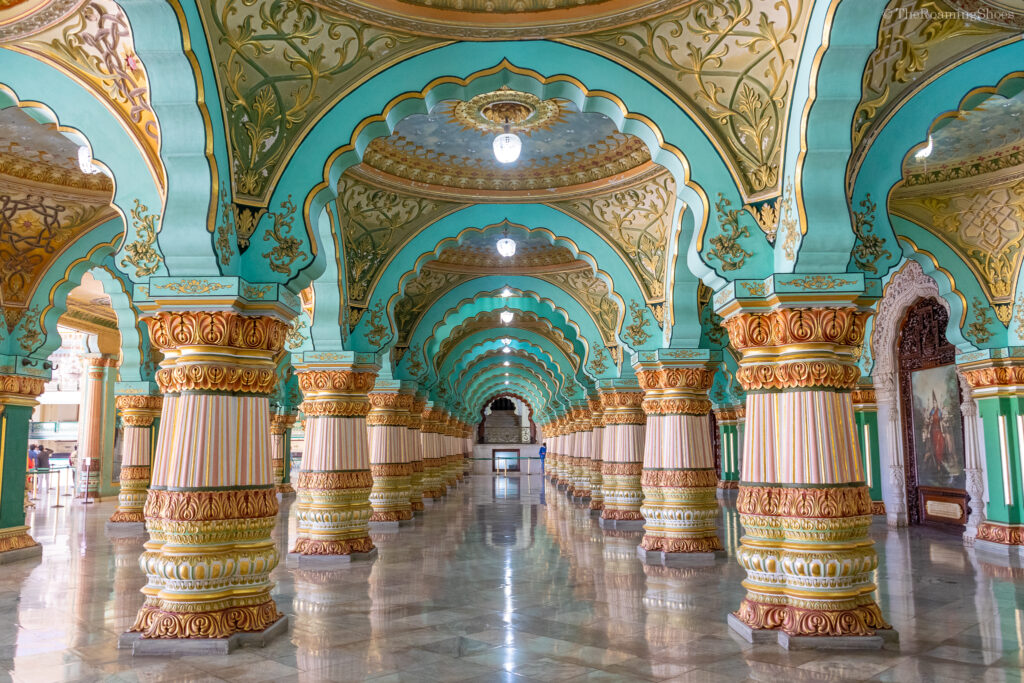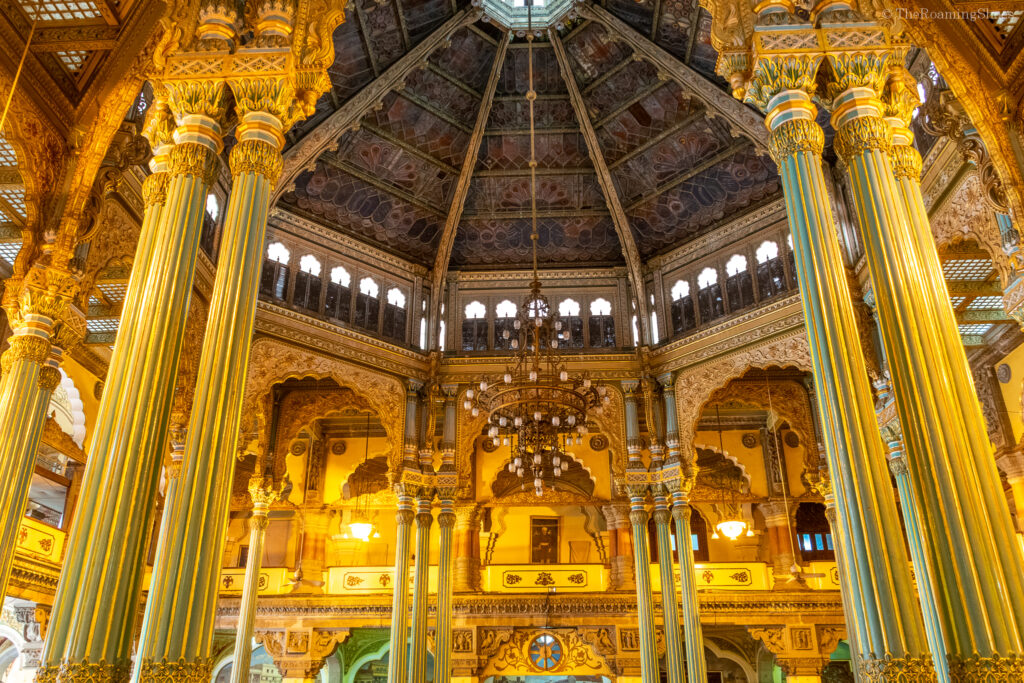 Vrindavan garden Light and Sound Show
Vrindavan Garden is a huge picturesque area with plentiful greenery, colourful flowers and many fountains. It is a perfect family spot where you can just sit down on the grass relaxing while the kids run around. The light sound show is the highlight of this place which still remains as enchanting as it was many years ago. The water dancing to the tunes under different coloured lights is a beautiful sight. After watching many such shows (both in India and abroad), I would say this is definitely one of the best.
So go around 4-5pm to spend some time exploring the garden, may be take a boat ride and end the evening with the light and sound show. Check the show timings here (https://www.mysoretourism.org.in/brindavan-gardens-mysore).
Update as of 7 May 2023:
Light Sound show in Vrindavan Garden is not happening for the past few weeks due to maintenance work. It is expected to continue for some more time.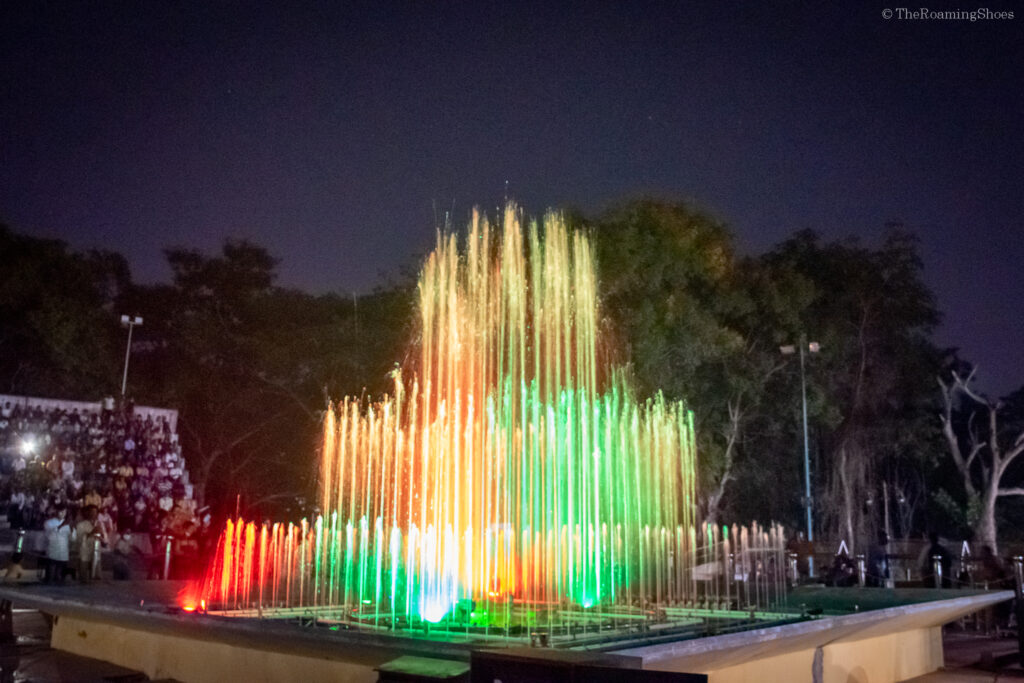 Lokaranjan Aqua World Underwater Zone
This one is a recently added jewel to the Heritage city and is one of its kind. The place is suitable for both children and adults. It was so exciting to walk through the tunnels where you get to see many different fishes swimming overhead. The aquarium has many such tunnels and also a good collection of different varieties of fishes.
Entry Fee – INR 199 for adults, INR 149 for children
Try to go early if you are visiting on a weekend since it gets quite crowded.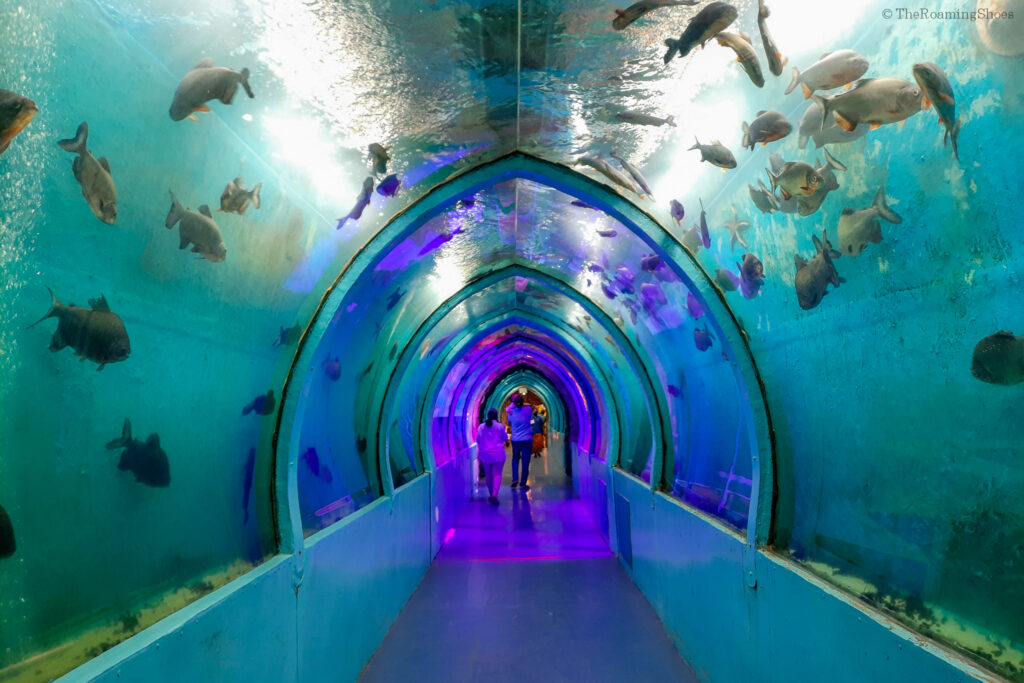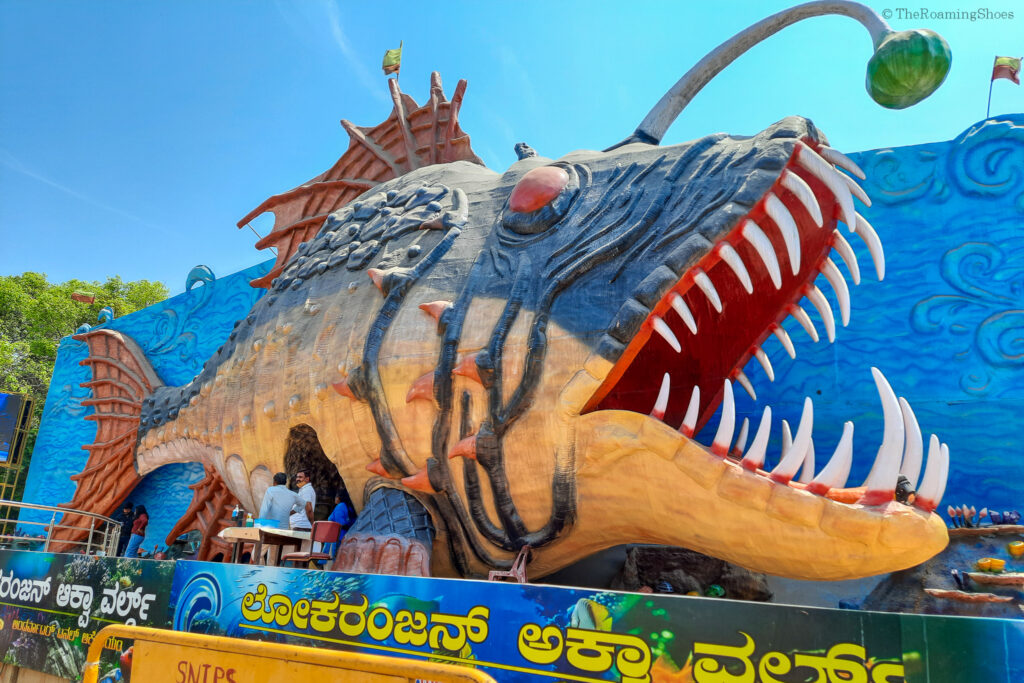 Mysore Rail Museum and Toy train Ride
One of my personal favorites in Mysuru, this place is a must visit if you have kids or love train travel (like me 🙂 ). Though it is a museum, it is unlike any other being an open air one and with lush surroundings. There are many vintage locomotives on display and a very cute toy train to take you on a joyful ride. An old coach has been turned into a cafe where you can end the visit with some tea and snacks. Keep an hour or may be two if you are visiting with kids.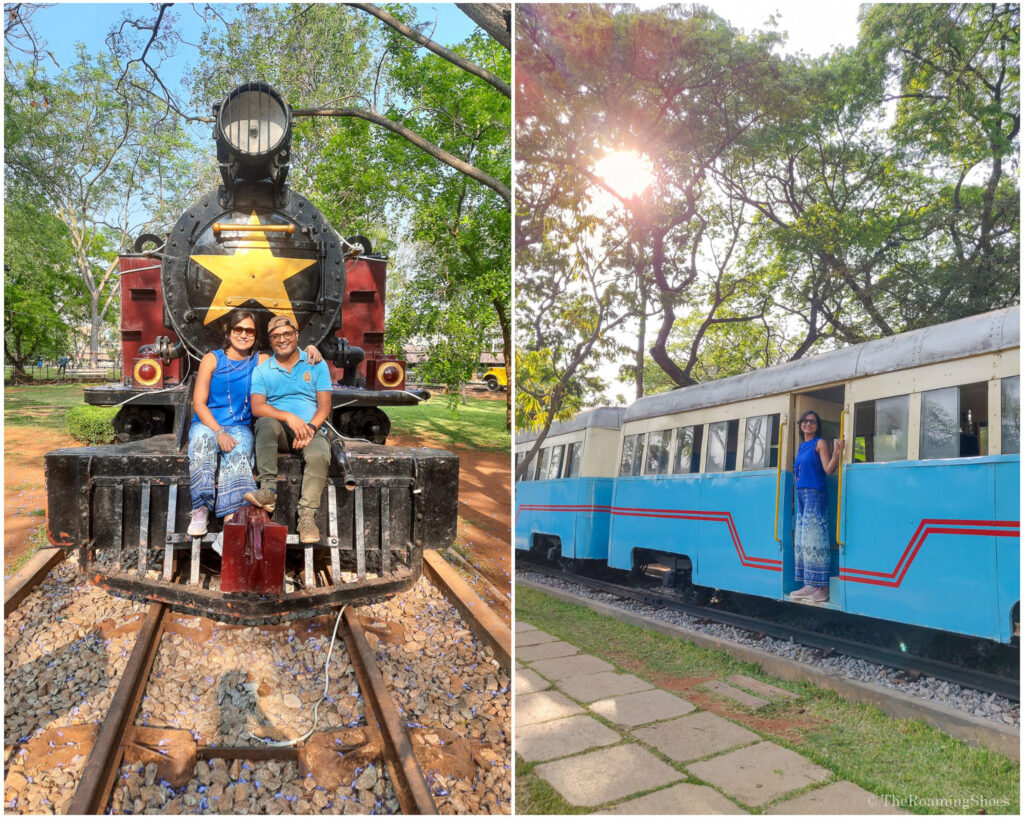 Keranji Lake and Boating
This is the 1st time we visited Keranji Lake and I must say we loved our time there. The lake is huge and has a beautiful park around it. If you go during winter, you can spot a lot of birds from the watch tower inside the park. The park also has an aviary with a wide variety of birds including peacocks, Hornbills, pheasants and even Cranes . But the best part is the boating in the enormous lake which is a very enjoyable experience. All in all, a great place to spend half day amidst nature right in the middle of the city.
Entry Fee: INR 50 per adult and INR 25 for children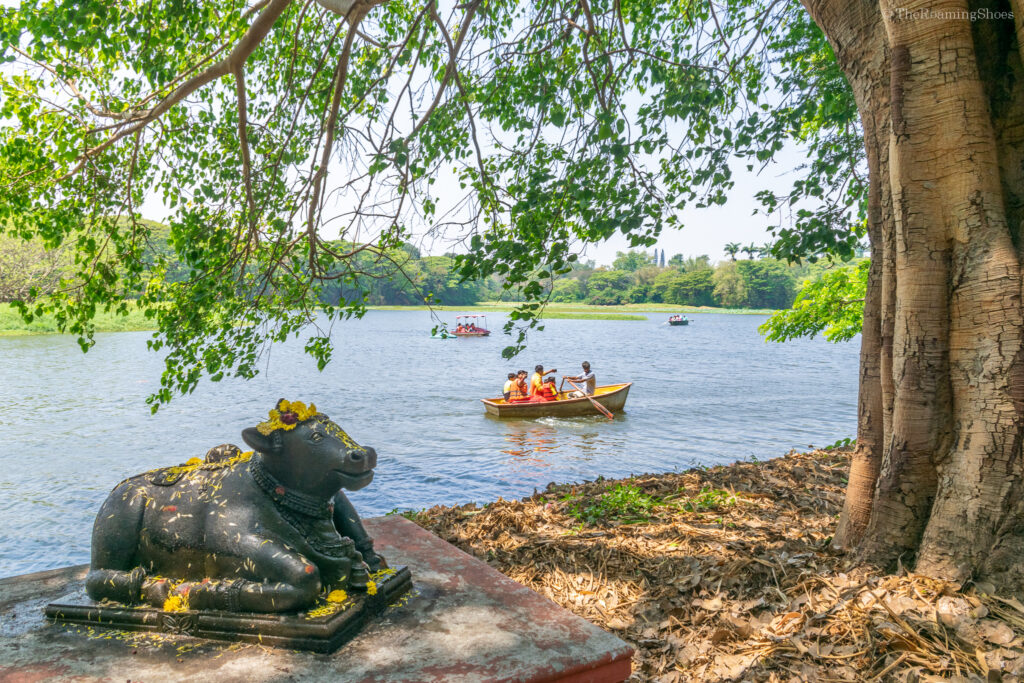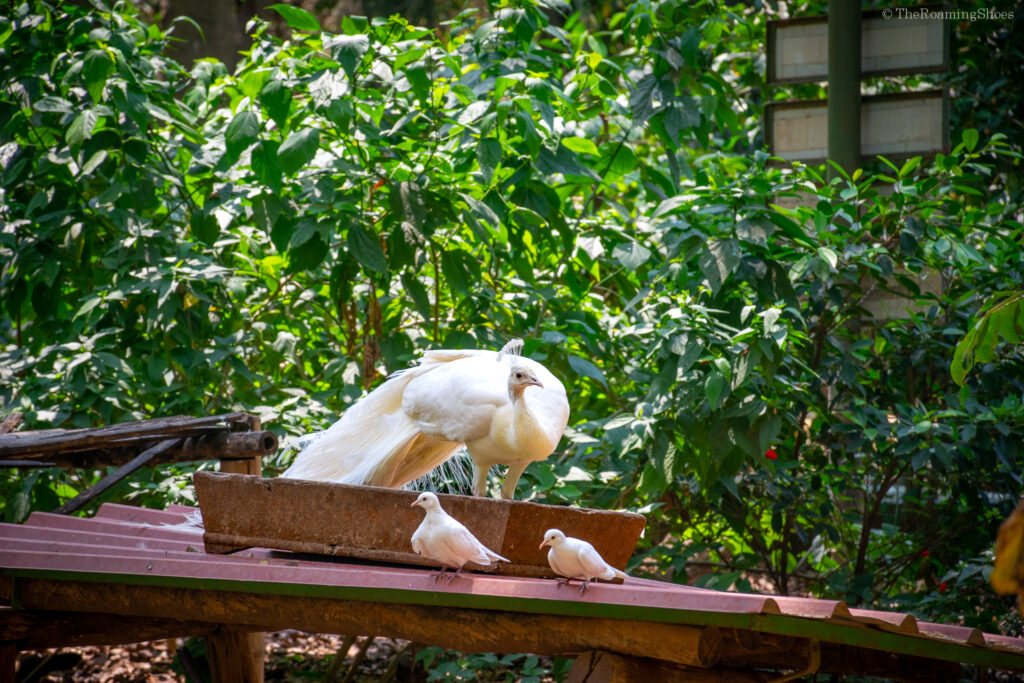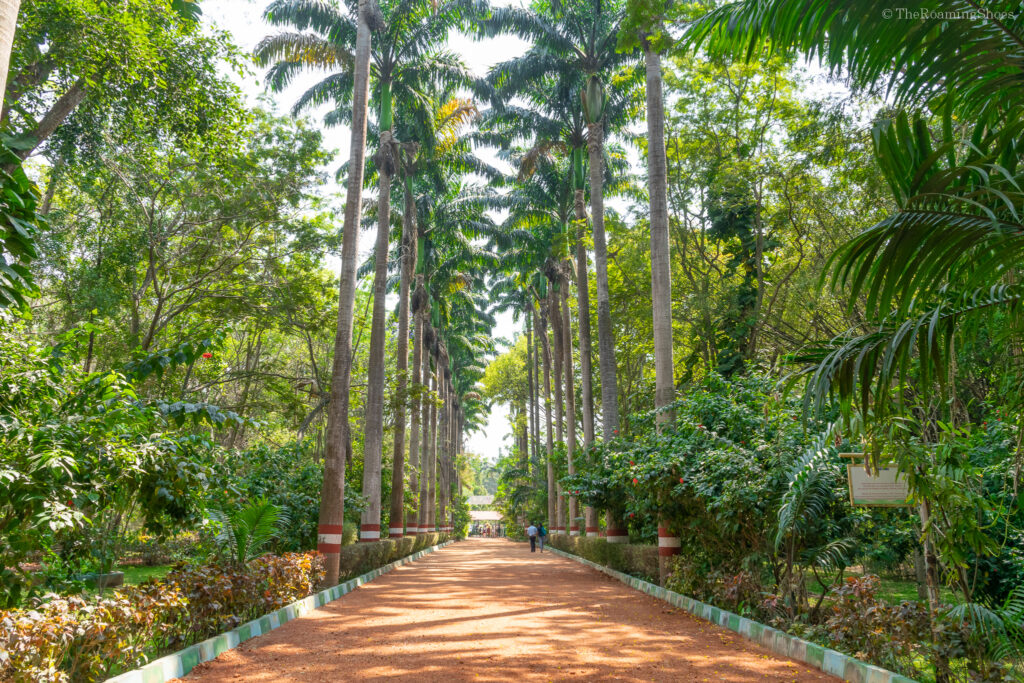 Sri Venugopala Swamy Temple and Backwaters
An almost hidden gem, Sri Venugopala Swamy Temple is located inside a village by the calm KRS backwaters. The temple is a stunning piece of architecture and provides excellent views of the backwaters. Some locals provide Coracle rides in the backwater which is very enjoyable.
Since this is approx. 10 kilometers from Vrindavan Gardens, you can actually combine both together for your visit. I would say visiting late in the afternoon so that you can spend some time around the temple and backwaters before coming back to Vrindavan Gardens. The sunset views from the backwater are gorgeous if you can stay a bit longer.
Know Before You Go:
The last few kilometres to the temple were in pretty bad shape when we visited. So the ride is dusty and a bit bumpy.
Like any other tourist place, we found a lot of trash around the backwater too. It was sad to hear from locals how some unruly people come here to drink late in the evenings, dump their trash and create nuisance. So keep your expectations right.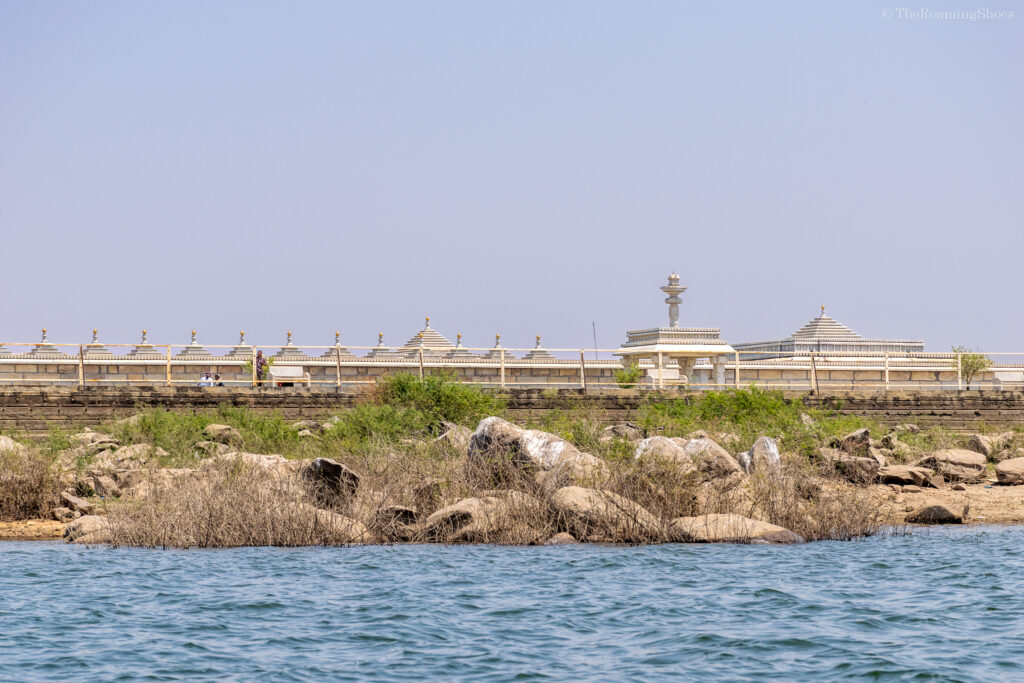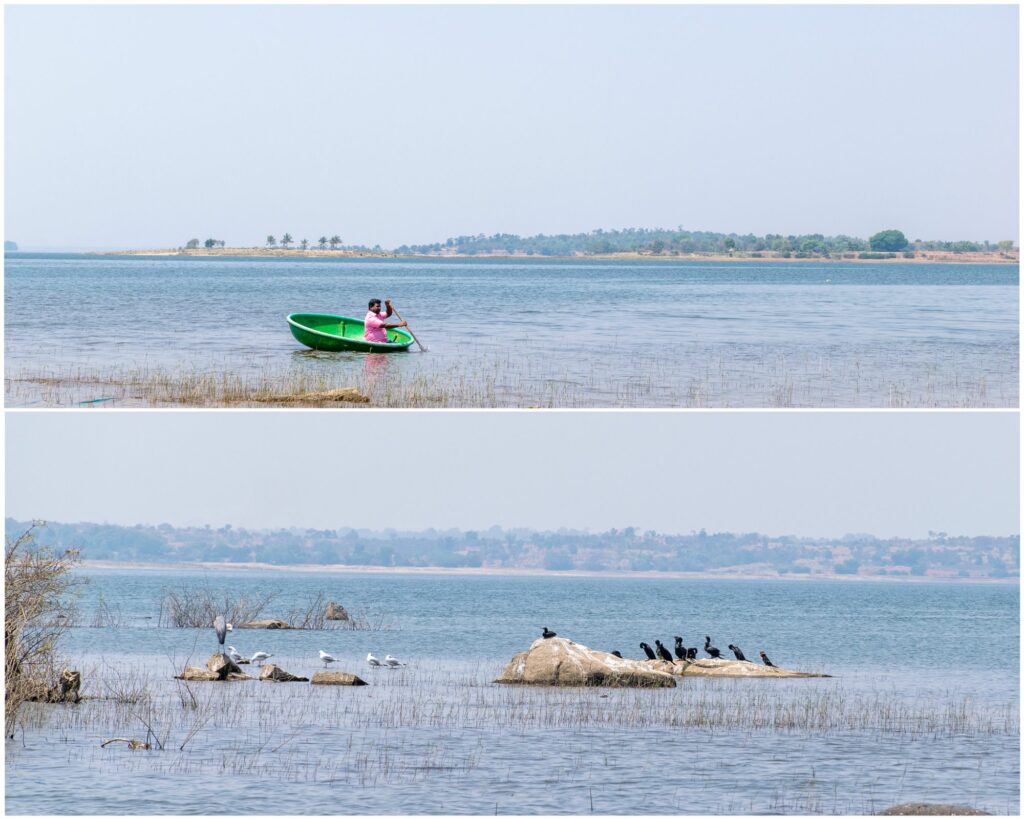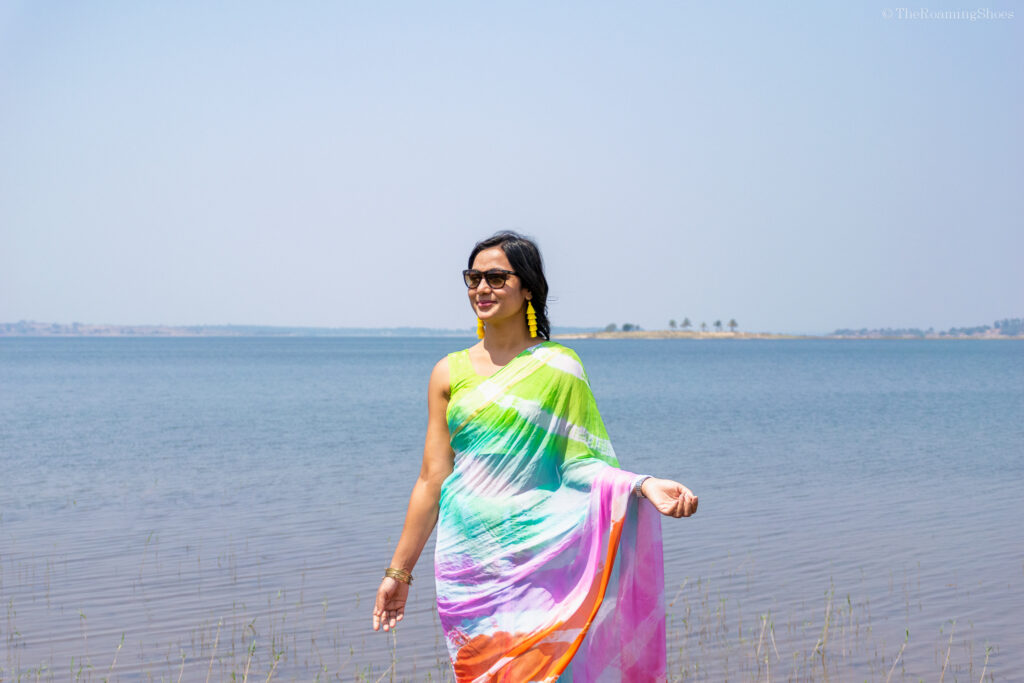 Stay inside a palace
On our past visits to Mysore, I remember looking at Lalitha Mahal Palace from afar, wondering how the inside of this dazzling white palace may look like. This erstwhile palace has been turned into a hotel and they have rooms where you can stay without having to spend a fortune.
The palace is stunning inside out. Bright-coloured tiled corridors, vintage spiral staircases and ornate pillars captivate the eyes as soon as you step inside. The dining hall is the most gorgeous one in the Aqua shade with a high ceiling and domed skylights. Even the outer grounds of the palace is beautiful with a garden and an outdoor pool. So I would say its a lovely experience to add to your Mysore list.
Just so you know, they do not allow taking pictures with camera, only mobile pics are allowed in the premises.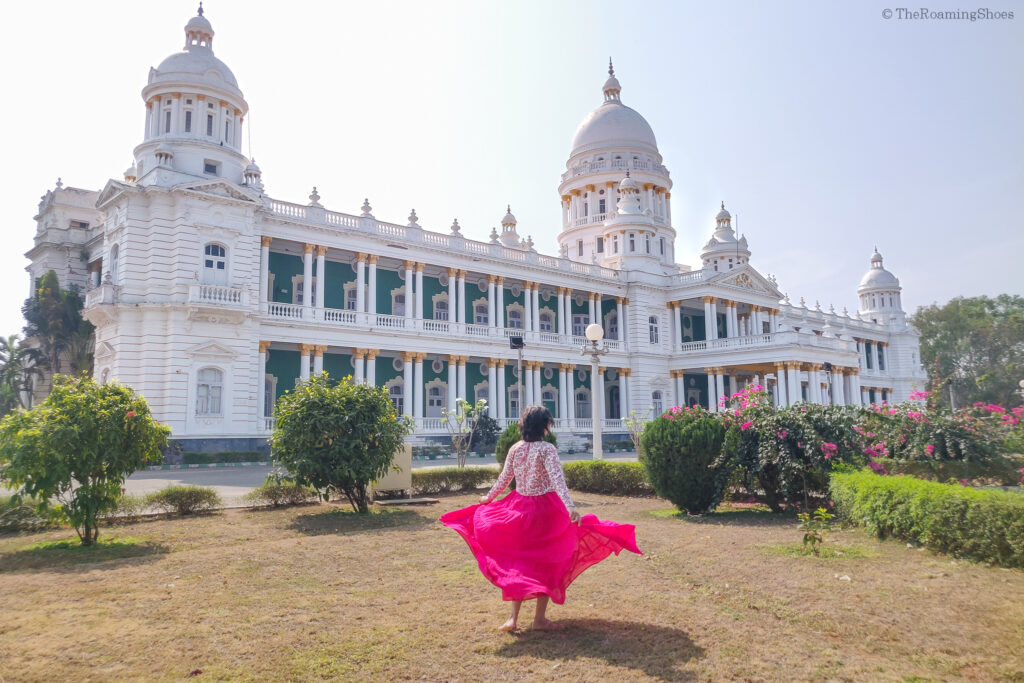 Eating South Indian Thali at one of the oldest eateries
While in the city, I recommend having food in one of the many old eateries. We chose a restaurant (Hotel Siddharth) not too far from the Palace and loved their South Indian Thali. It came with a Mysore Pak that literally melted in mouth. Also, do not forget to try the Mysore famous Mylari Dosa as part of your visit.
Other Things to Do in Mysore
If it is your first time in Mysore, then I recommend including one or more of the following places depending on your preference and available time.
Sri Chamundeshwari Temple
One of the most prominent temples of Mysore, located on top of a hill. Offers scenic views of the city and a great drive through the winding road.
Sri Chamarajendra Zoological gardens
A good place to visit if you are traveling with kids. The zoo is huge with a very verdant surrounding and housing a lot of different animals, reptiles and birds.
St Philomena's Cathedral
This one is one of the tallest churches in India and with a very beautiful architecture. Good for a half an hour visit.
Jaganmohan Palace Art Gallery
If you are an avid art lover or history enthusiast, then do include this in your Mysore itinerary. It houses fascinating paintings, antique French Clocks, intricate ivory items and musical instruments. It also provides insight in to the Royal family's history. The gallery is spread over 3 floors and takes at least an hour if you take your time appreciating each item.
Photography prohibited inside the Gallery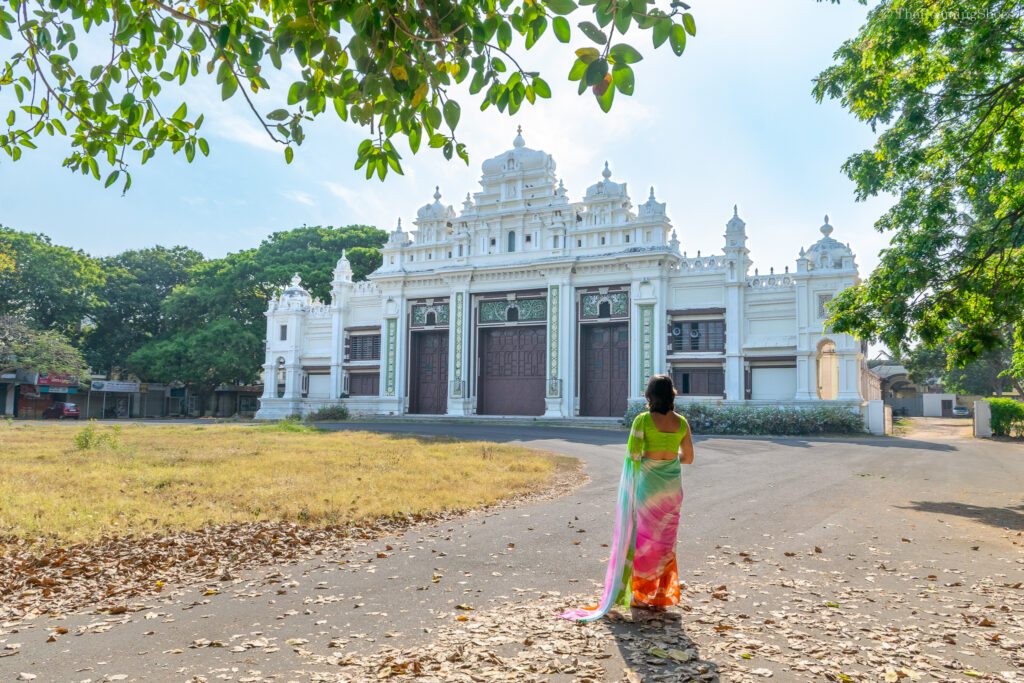 Disclaimer: All charges/entry fees etc. mentioned in this blog are effective as of Mar 2022
That's all from our end. Hope you find this blog useful for planning your trip to Mysore. Also, if you are driving to Mysore from Bangalore, do not miss Thatte Idli at Bidadi for breakfast and some Maddur Vada on your way back. And yes, if you want the authentic taste, then we recommend not going into the restaurants, but trying these out on the local stalls by the highway.
Leave us a comment if you find this blog useful or have any other suggestions regarding the places or experiences in Mysore. Looking for more interesting places in Karnataka? Do check our other Karnataka posts.